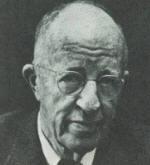 George Watts Carr, Sr. (1893-1975) had the greatest single role of any architect in creating the fashionable period revival look of Forest Hills. Between 1926 and 1927 Carr headed the new Durham office of architects, Northup and O'Brien, a firm long established in Winston-Salem. Carr was primarily responsible for the projects that the firm produced in the Durham area. From 1927 to 1961, he had his own practice in Durham. 
Carr was at home with all of the popular period styles. His most elaborate Forest Hills commission was Pinecrest, the English Manor Revival estate built in the mid-I920s by Forest Hills developer James Cobb as his own home (Pinecrest's English Garden is on tour). The majority of Carr's Forest Hills designs were in the Colonial Revival style and range from sparsely ornamented buildings, such as the Forest Hills Clubhouse, to more elaborate houses embellished with richly appointed elements. His seven Colonial Revival designs on Oak Drive are characterized by entrance surrounds and decorative cornices that emulate authentic Colonial decora- tive elements (the Webb-Hobgood House is on tour). r The largest single project on which Carr's firm worked was the 2,000 bed Marine Hospital at Camp Lejeune, NC. His firm was engaged in projects on the base for four years. Along with associates J. E. Greiner of Baltimore, he also designed the Cherry Point Marine Air Base, the North Carolina Ports Authority Terminal at Morehead City, and several buildings at the US Naval Academy at Annapolis. He was named to the Advisory Panel for planning the United States Capitol and grounds. Carr designed buildings at North Carolina Central University, NC State, and UNC Chapel Hill, as well as county hospitals in eastern and central North Carolina. A major hospital project was the Veterans Hospital here in Durham. 
Carr received honor awards from the North Carolina Chapter of the AlA where he served as Vice President in 1936 and 1937. His son Robert ("Judge") W. Carr became associated with his father's firm and later continued the architec- tural practice in his own name. George Watt's Carr's grandson, Edgar Toms Carr, is now associated with the firm as well. Carr became less active in the firm in 1974, but continued as Consulting Architect with Carr, Harrison, Pruden and DePasquale until his death in 1975.