04.14.14 (Courtesy Joe McClernon)
Lots upon which this house was built were conveyed by Hope Valley Incorporated (Successor to Mebane and Sharpe) / LS Booker + wife Katherine Booker to CC Council and his wife Mary Council on 10.12.1928. (DB76, P278)
No house is listed in the city directories until 1931, and tax records point to the house being built in 1930. The National Register nomination describes it as "two-story side-gable brick Colonial Revival- style house with exterior end chimneys and an entrance with a transom and sidelights and a 1-bay porch with fluted columns, a cornice with a garland and dentil detailing, and a semicircular pediment. Other features are 6-over-6 sash windows, a left side sunporch with wood roof railing, and a right side open porch with columns and a wood roof railing."
Carlyle Ceasar Council was "vice-president-secretary" of the Durham Herald Co. and business manager of both the Morning Herald and the Durham Sun in 1931. He would go on to become President of the company and remain so until his death in 1964. He assumed similar roles as the parent company expanded into radio with WDNC and television with WTVD.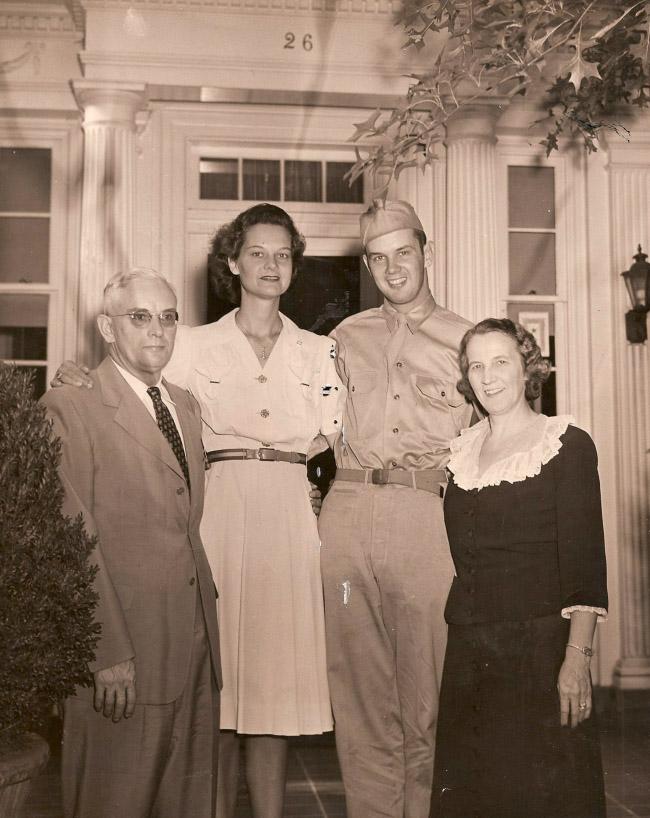 Council family in front of their house at 26 Oak Drive, 1943. (Courtesy Council family via Joe McClernon)
He and his wife Mary lived in the house through his death in 1964. Mary Council died in 1983.