Open Durham is a highly interlinked digital archive, a community-sourced inventory of information about people, places, and history in Durham, North Carolina. Like the city itself, this project has evolved. It grew out of the blog "Endangered Durham," started by Gary Kueber in reaction to the ongoing demolition of the city's historic structures back in August 2006. Writing with passion and urgency sustained over several years, Gary posted about thousands of places, incrementally building a rich resource that demanded a more versatile and inclusive platform. Open Durham was born out of these efforts in October 2011, its first iterations the work of Gary in cooperation with others including Christina Dulude, Alisa Herr, Rebekah Miel, Cuberis, and QuickBrownFox Design.
On May 26, 2016, Gary donated the site and its contents to Preservation Durham. The advocacy non-profit has embraced the opportunity to broaden access and participation in the important project of documenting community history; its volunteers have continuously expanded the base of stories on Open Durham and sought new partnerships in the process. Beginning in fall 2021, with the support of generous donors, Preservation Durham embarked on a wholesale rebuild of Open Durham around a new and more user-friendly platform. The present site, launched in January 2023, and the versatile Whereabouts installation profile on which it was based, are the result of collaboration with Jay Beaton Consulting.
Preservation Durham is proud to steward the incredible resource of Open Durham, but we cannot do it without you! Please contribute new content, and consider donating to help sustain and expand Open Durham.
Our Team
Nicholas C. Levy - Editor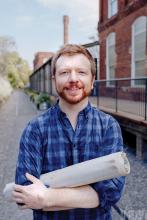 Nick is an urban, social, and economic historian. He recently completed his PhD in the Department of History at Stanford University, and is a Visiting Fellow at the Center for Slavic, Eurasian and East European Studies at UNC-Chapel Hill. His roots are in Moore County, NC, and Atlanta, but he'd been a big fan of Durham long before making the Golden Belt neighborhood home in 2016. Since 2018, he has been working to expand and update Open Durham, simultaneously serving on the Board of Directors for Preservation Durham and - since 2019 - the Friends of Geer Cemetery.
Contact him with any questions or ideas about the site, to schedule one-on-one or group consultations about expanding content, or to inquire about creating new community storytelling resources on the Whereabouts platform.
Content Notes
We are grateful both to individual contributors and to partner institutions without whom the content on Open Durham could not have been assembled and shared. Many of the images on this site are in the public domain, while others are subject to usage agreements or reproduced for this particular project under standards of educational fair use. We can neither convey permissions given to Open Durham nor provide contact information for individuals and institutions cited as sources for material on this site. We strongly encourage all users adding content to gain clear permission if using materials they did not personally produce, and clearly attribute images and other information.
Help
We plan to host a number of events introducing community members to the new Open Durham interface. You can always get help from our volunteers in person at our monthly Open Durham Open House events, co-hosted with our friends at the Durham County Library's North Carolina Collection. Details for the upcoming dates on the Library website calendar are linked below:
Monday, January 23rd, 5:30-7pm (calendar)
Monday, February 27th, 5:30-7pm (calendar)
Monday, March 27th, 5:30-7pm (calendar)
Monday, April 24th, 5:30-7pm (calendar)
Check back here for updates and for links to tutorials. In the meantime, be sure to make use of the "walk-through" feature when adding or editing Buildings and Objects of Interest.