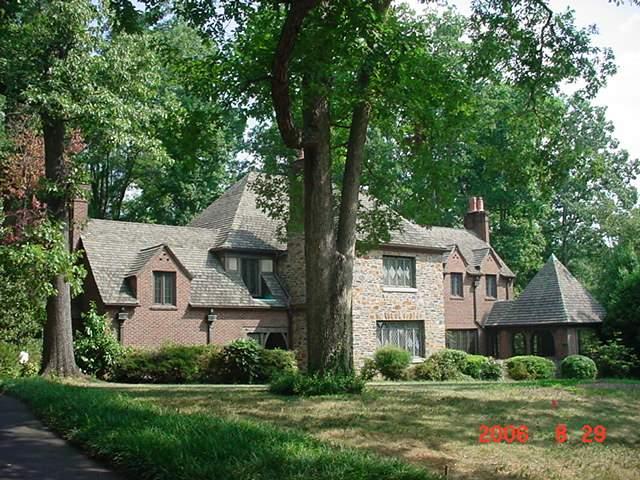 From the 1998 Preservation Durham tour booklet:
George Watts Carr, leading architect for many of the elegant homes in Forest Hills, designed this house for Parks Alexander and his wife Josephine. Alexander founded Alexander Motor Company, Durham's first Ford Agency, located on East Main Street.
This house, built of dark red brick, stone and half-timbered plaster, is a Tudor Revival style house and stands out among the classic clapboard Colonial Revival houses which dominate Oak Drive. The irregular facade of the house includes a wing extending from the front of the central block that is made of the same local stone as that used to build Duke University's West Campus. A small pyramid-roofed pavilion projects from the front of the house and is actually a screened porch opening off of the Living Room. The roofline is accented with three large brick chimneys, each with different terra cotta chimney pots at the top of corbelled stacks.
Inside, the house carries on the Tudor Revival scheme with Gothic arched doorways leading from a central entrance hall. The u-foot high Living Room ceiling is decorated with a molded plaster cornice and carved stone fireplace. Found painted gray by current owners Walter and Linda Daniels, the cornice with its grape cluster design is now highlighted in rich colors. The rough plaster walls in this room are also original. Past a monumental staircase to the left of the front door is a richly stained paneled study with beamed ceiling and diamond-paned leaded windows which bow in the middle to refract light.
Off the dining room, the butler's pantry retains its original cabinetry. The kitchen has been tastefully updated combining both old cabinetry and new built-ins, including a wine rack and modern suspended lighting. Look closely at the mirror in the Powder Room which hides a window into the breezeway. The breezeway connects the house to a two-car garage, probably the earliest in Durham, accessible from the rear of the house.