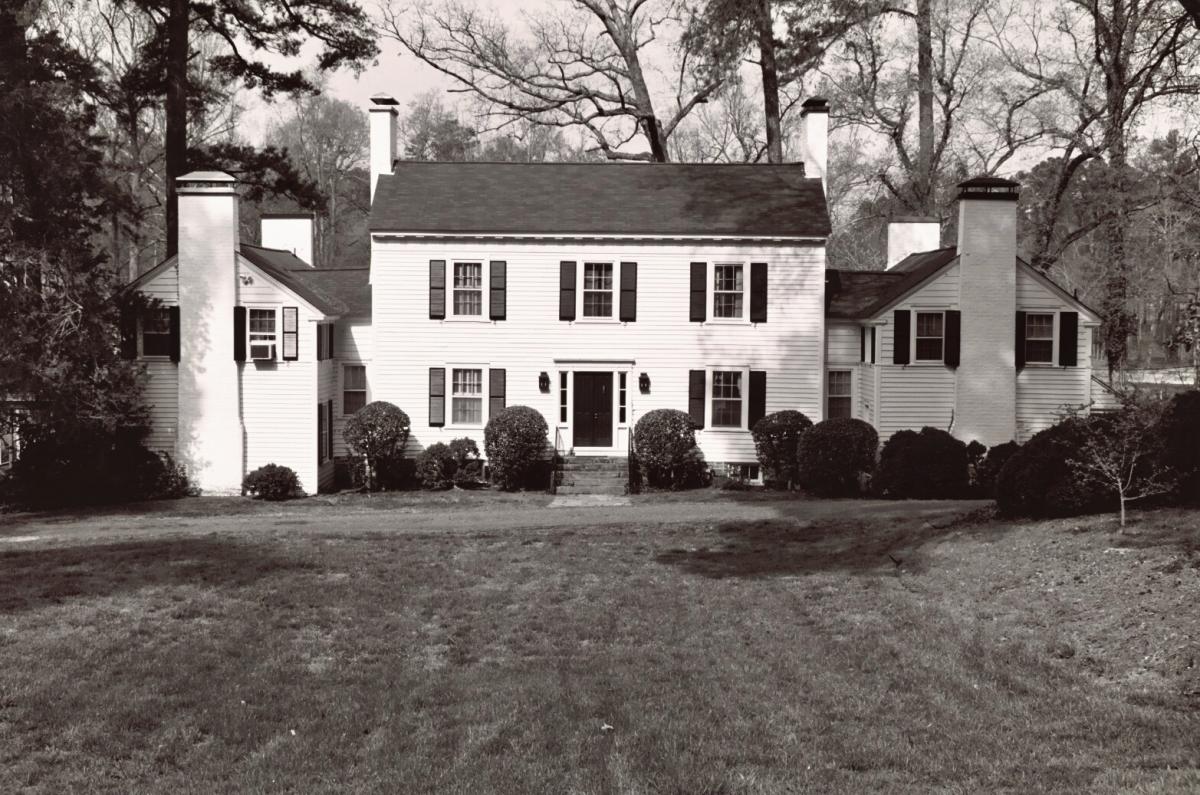 (c.2008, Courtesy of Tad DeBerry)
From the 2009 National Historic Register listing for Hope Valley:
Shepherd-Mebane House
2814 Chelsea Circle, ca. 1800, moved and expanded 1927, Contributing Building
Distinct early form and finishes of this two-story, side-gabled, Federal-style dwelling with weatherboard exterior contrast with the other houses in Hope Valley; main block dates to circa 1800 and features 6/6 sash and a central classical entrance; flanking one-and-a-half-story front-gabled wings each have frieze at cornice embellished with triglyphs, mutules, and diamond metopes, neoclassical entrance, and shed- roofed side porch; 6/6 sash date to just after the house was moved in 1927. The house originally stood south of this location on Hope Valley Road, where it was the center of George Shepherd's farm. Shepherd, who died in 1888, was likely not the original owner, since construction details on the elevation facing the golf course, such as the trabeated surround at the entrance and horizontal flush boards sheathing the wall beneath the shed roof, indicate that the house was built around the turn of the nineteenth century. Hope Valley developer Jesse Mebane moved the house to Chelsea Circle and expanded it in 1927 as the neighborhood was being initially developed. Robert W. Carr reports that his father, George Watts Carr, designed the 1927 additions to the house.
Guesthouse and Garage
2814 Chelsea Circle, ca. 1927, Contributing Building
One-and-a-half-story, side-gabled guesthouse with weatherboard sheathing, six-over-six sash, French doors beneath bracketed shed-roof porch, and single-bay garage at west end.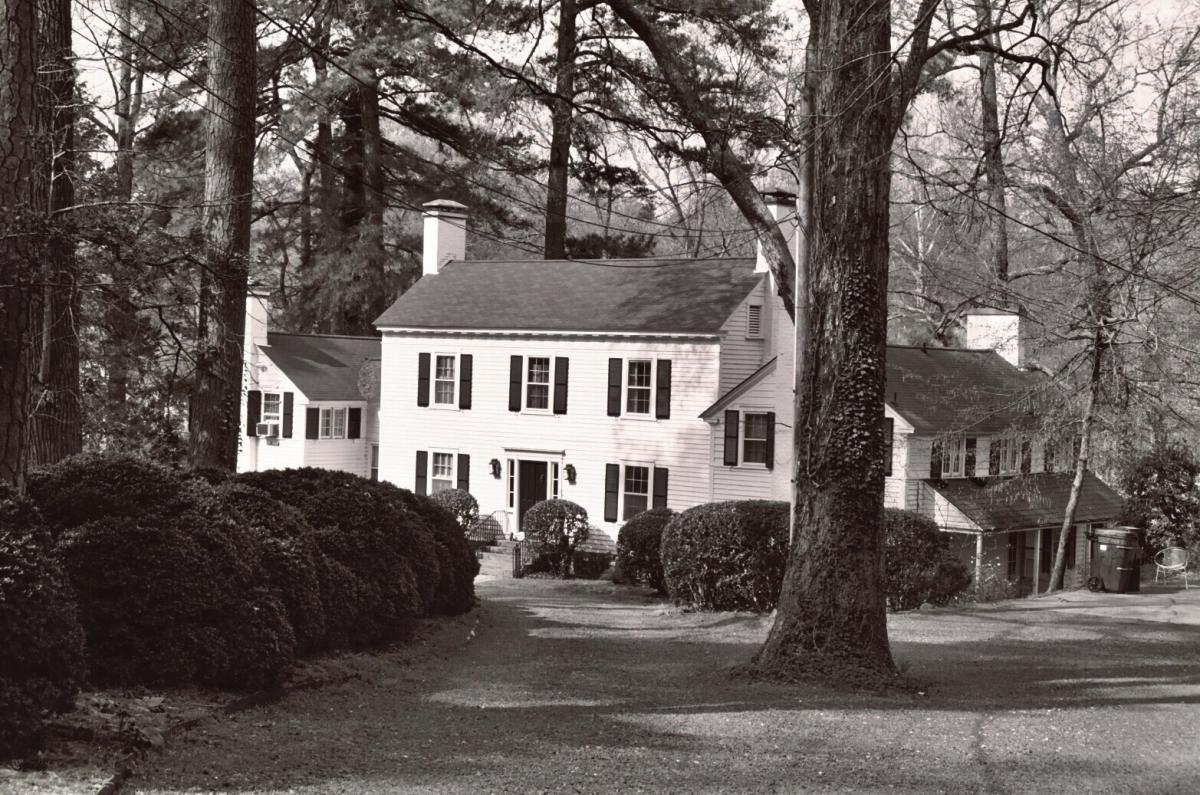 (c.2008, Courtesy of Tad DeBerry)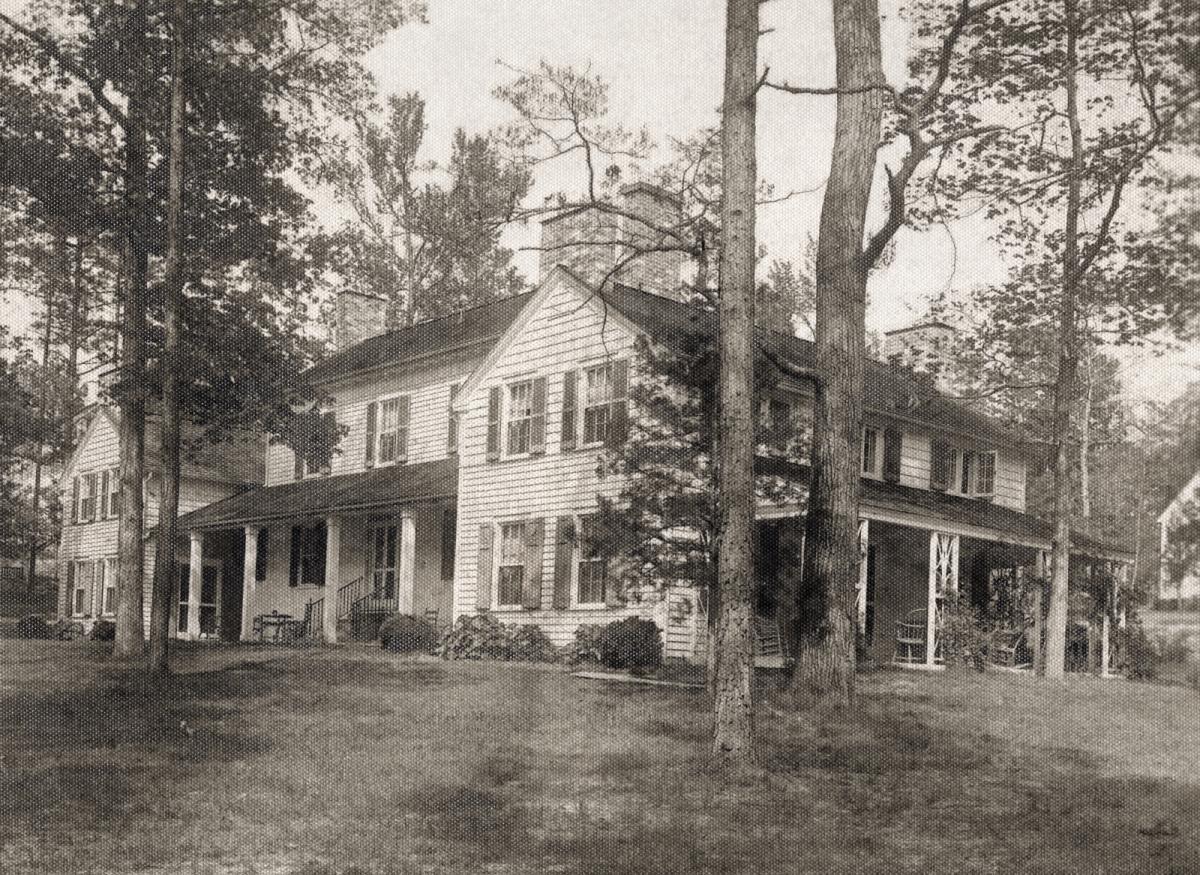 (Rear, golf course-facing view of the newly relocated and expanded house in the late 1920s.  Scan from collection of Tad DeBerry)
 (Front view showing the garden kept by Pearl Mebane, late 1920s. Scan from collection of Tad DeBerry)
For more than half a century from 1962 to early 2019, the house belonged to the Peete family - longtime Duke University professor of surgery Dr. William P. J. Peete (1921-2004) and his wife Mary Frances Peete.
Despite its unique combination of architectural styles and historical significance, the developers that purchased the property have plans to demolish the Shepherd-Mebane house and build from scratch on the site.
On May 22, 2019, an evening news report from WRAL TV put this Hope Valley home - thought to be the city's oldest standing building - in the spotlight along with another endangered National Register Historic District contributing structure across town, the Rowland-Gregory House on Holloway Street (built c.1912).
UPDATE: Unfortunately, efforts to encourage the preservation of this unique part of Durham's built environment were unsuccessful.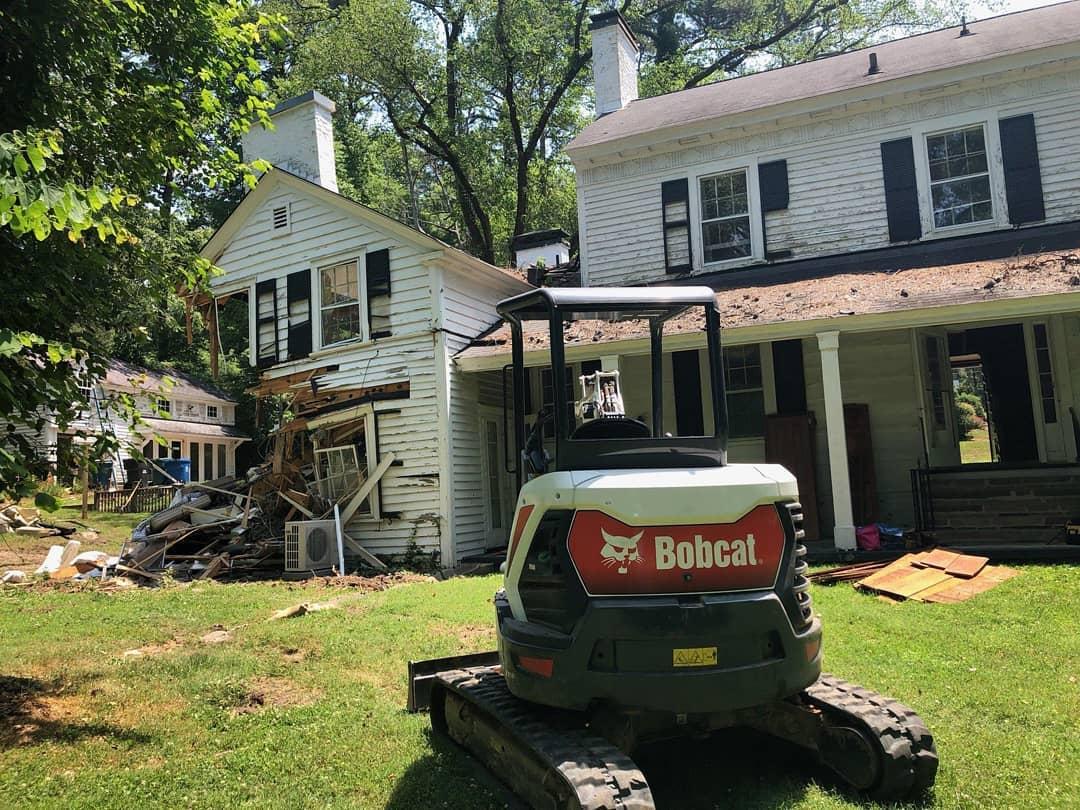 Late May 2019, demolition began on the newer wings of the home.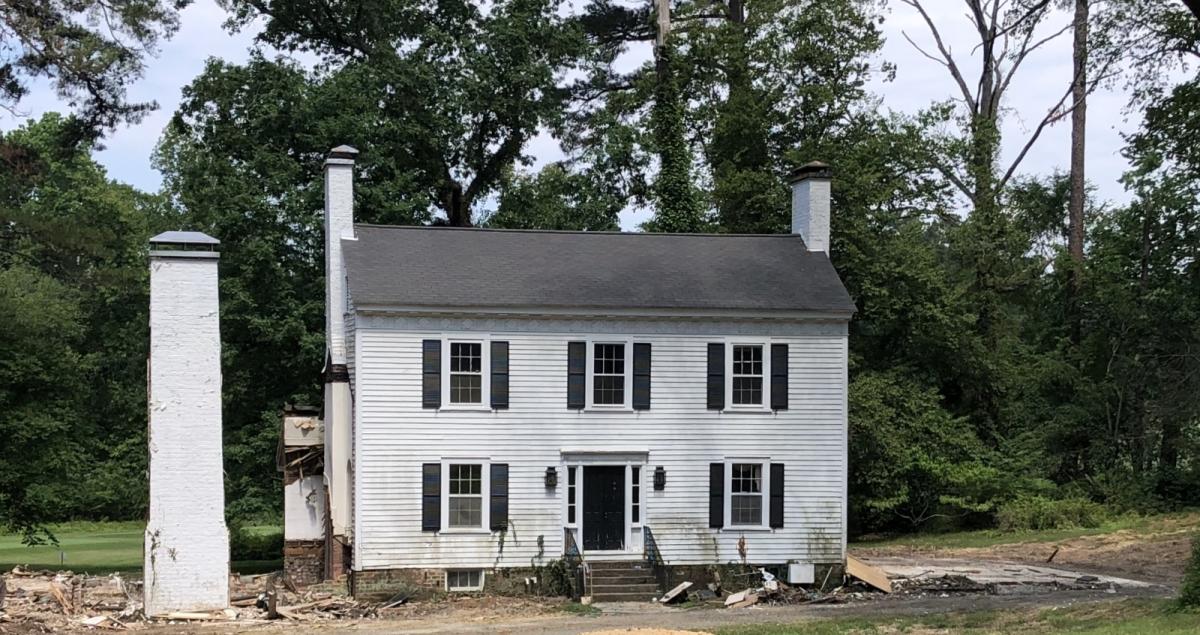 For a few weeks, the older central portion of the Shepherd-Mebane House remained, stripped of the wings.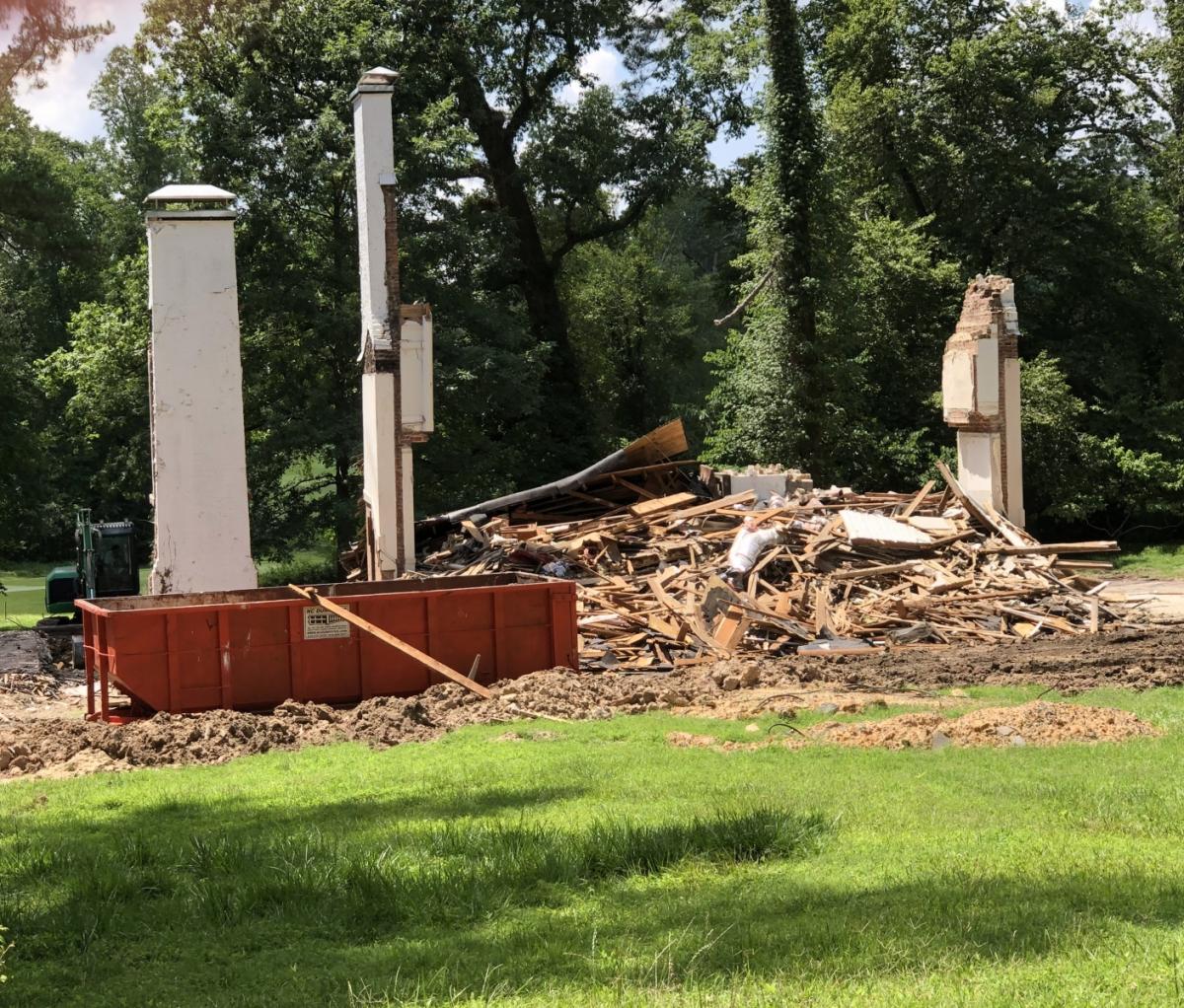 By mid-summer 2019 the demolition of the oldest house in Durham was complete.