WEST DURHAM GRADED SCHOOL NO. 2 / EK POWE SCHOOL / ELEMENTARY SCHOOL
Built in
1912, 1928
/ Modified in
1924
,
1949
,
1961
,
1975
In tours
This building does not appear in any tours yet.
Last updated
Tue, 06/26/2012 - 3:29pm by gary
Location
36° 0' 47.7216" N, 78° 55' 20.9244" W
Comments
Built in
1912, 1928
/ Modified in
1924
,
1949
,
1961
,
1975
It's a bit murky as to whether a school existed at Ninth and West Knox (C) Streets prior to 1912. Per Jean Anderson, the West Durham Graded School on Swift Avenue was formed from the consolidation of Northside School and Piney Grove School. Piney Grove was located on Swift Avenue, however, she notes only that Northside was located "north of the railroad tracks."
Investigation (for anything West Durham related) is hampered by the fact that city directories don't reliably report information about West Durham prior to annexation in 1925, and the Sanborn Fire Insurance maps do not cover the area prior to 1913.
What is clear is that by 1912, the West Durham Graded School on Swift Avenue had too many students to accommodate; a new West Durham Graded School, aptly termed West Durham Graded School No. 2, was commissioned for the C and Ninth St. site.
A masonry structure, very similar to the East Durham graded school that was constructed around the same time (later YE Smith school) that still stands on South Driver St., was built at C Street and Ninth Street in 1912. Although the architect of this school is not noted, the strong similarity to the East Durham Graded School makes it likely that it was also designed by Fred Githens, of Tilton and Githens Architects of New York. (Tilton was best known for designing many public libraries nationwide, including Durham's 1921 public library.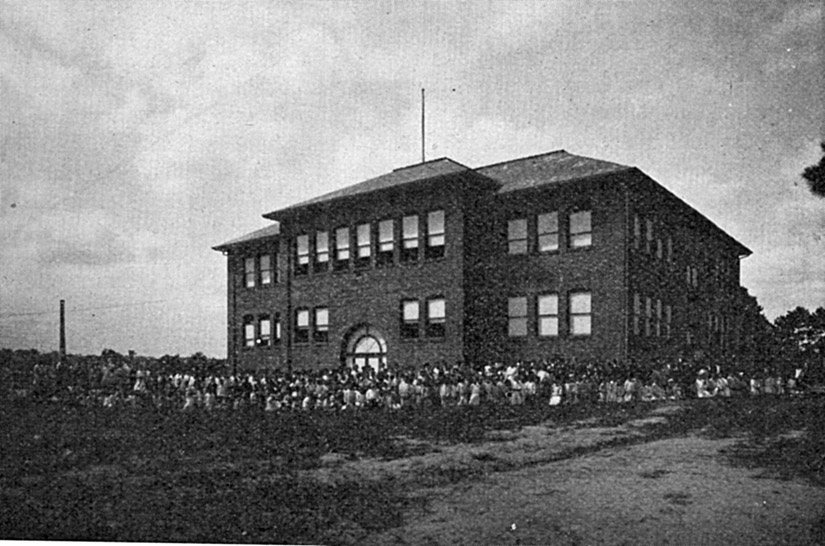 West Durham Graded School, 1910s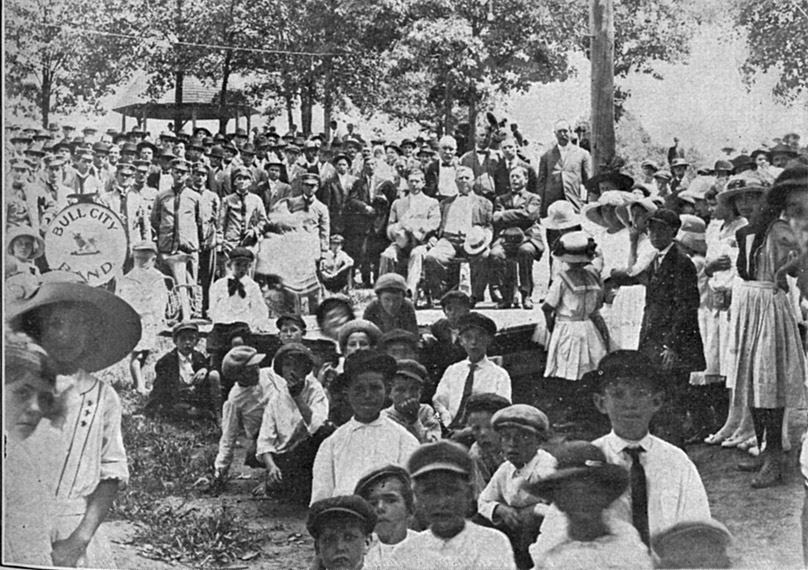 "Opening Celebration of New West Durham Graded School"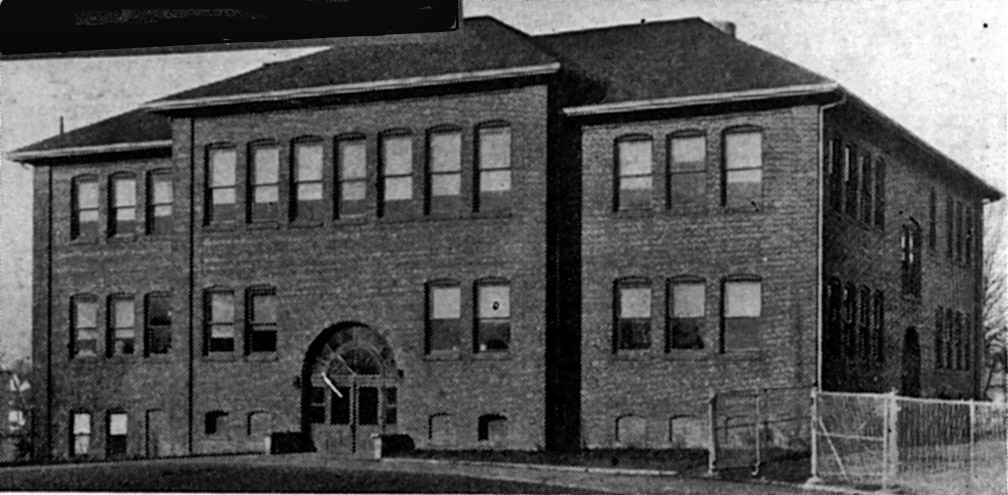 West Durham Graded School No. 2, 1926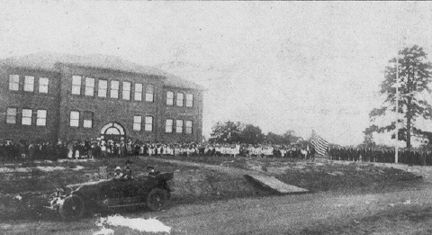 (Courtesy Old West Durham)
It is pertinent to note, once again, that the school system in Durham was segregated by race, and that African-American students were not allowed to attend any of the schools referenced in this post. African-American students in West Durham and the West End attended the West End School, also known as the Fitzgerald School. African-American students living farther to the west attended the Hickstown School
It appears that West Durham Graded School No. 1 only existed for a few years after the opening of WDGS No. 2. By 1921, the county school system had constructed Southside School on Erwin Road as its replacement. The West Durham Graded School No. 2 became known as Northside School.
The ongoing growth of West Durham necessitated ongoing growth of the school system. An addition was made to the rear of the Northside/WDGS 2 structure in 1924. However, this was insufficient. A large neoclassical structure, designed by Durham architects Atwood and Nash was built to the south of the 1912/24 masonry school building in 1928.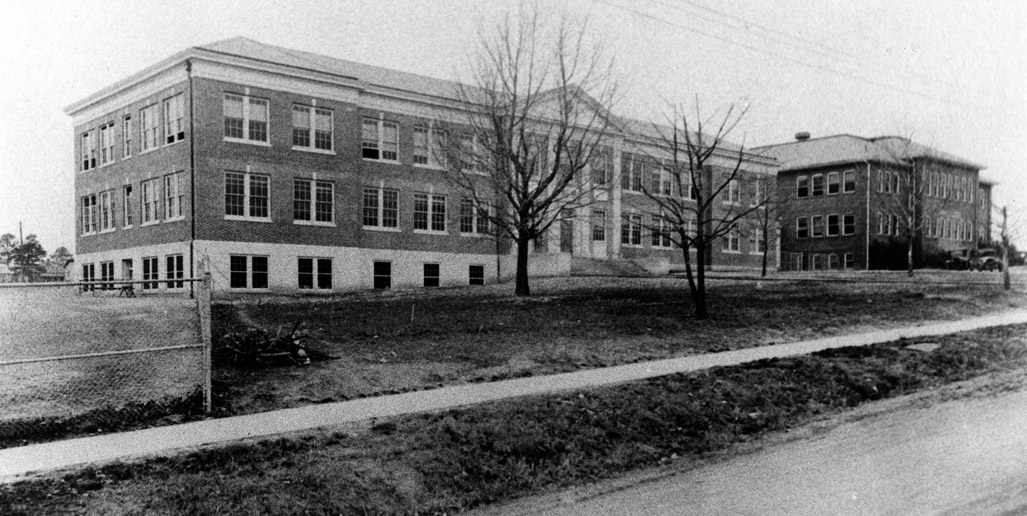 Looking northwest from B/Green St., 1930. The 1912 school building is on the right, the 1928 building on the left.
(Courtesy Durham County Library / North Carolina Collection)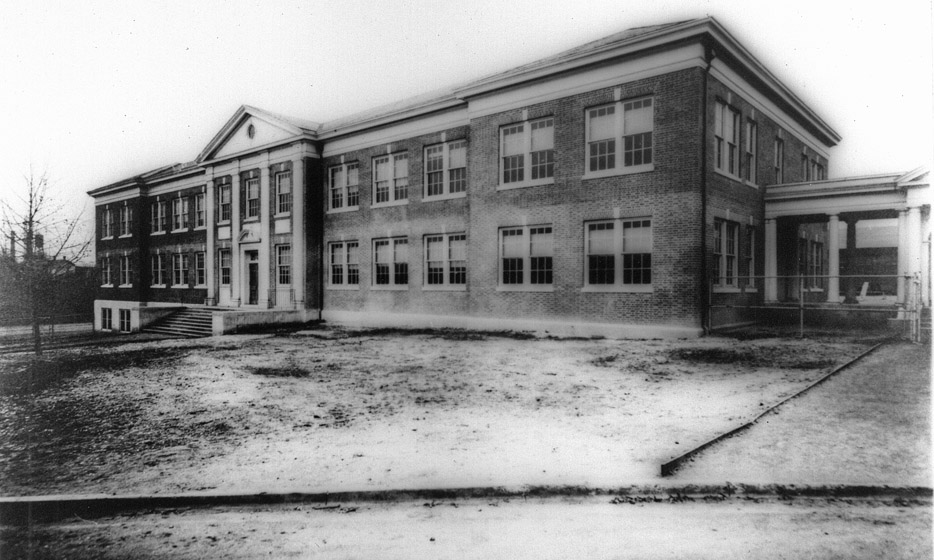 1928 building, looking southwest.
(Courtesy Durham County Library / North Carolina Collection)
After the annexation of West Durham by the city of Durham, students attended high school at the city high school. The 1912 masonry structure at C and Ninth became the West Durham Junior High School, while the 1928 structure became the West Durham Northside Elementary School.
At some point after Erwin Mills general manager and county Board of Education member EK Powe died in 1929, the school was renamed in his honor. (Per the city directories, by the mid 1930s.)
In 1949, the original frame gymnasium was replaced with a brick structure. This was likely built by George W. Kane, general contractor.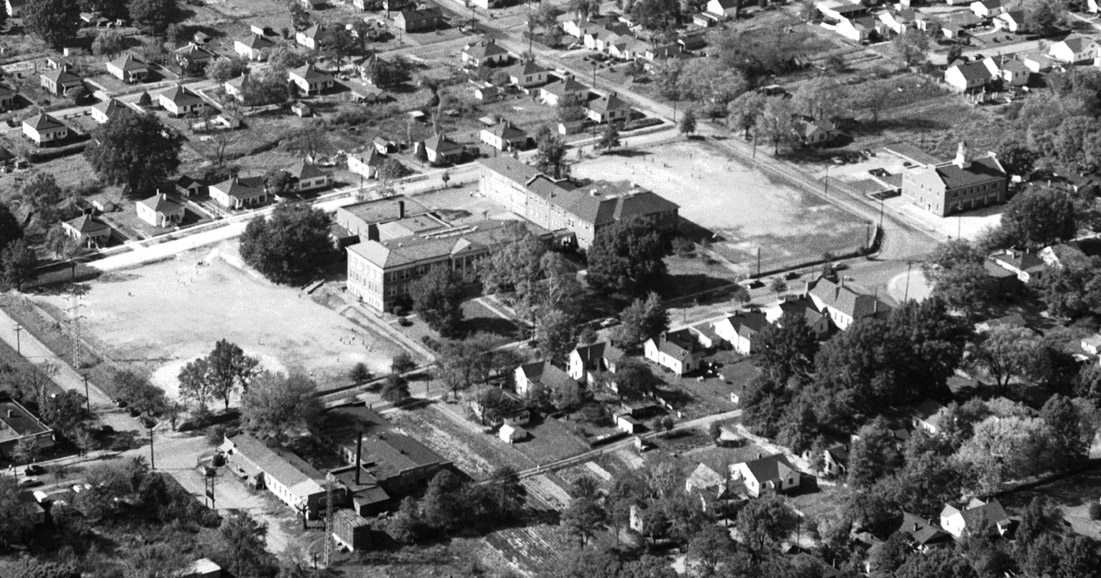 Aerial of the school, looking northwest, early 1950s.
(Courtesy The Herald-Sun Newspaper)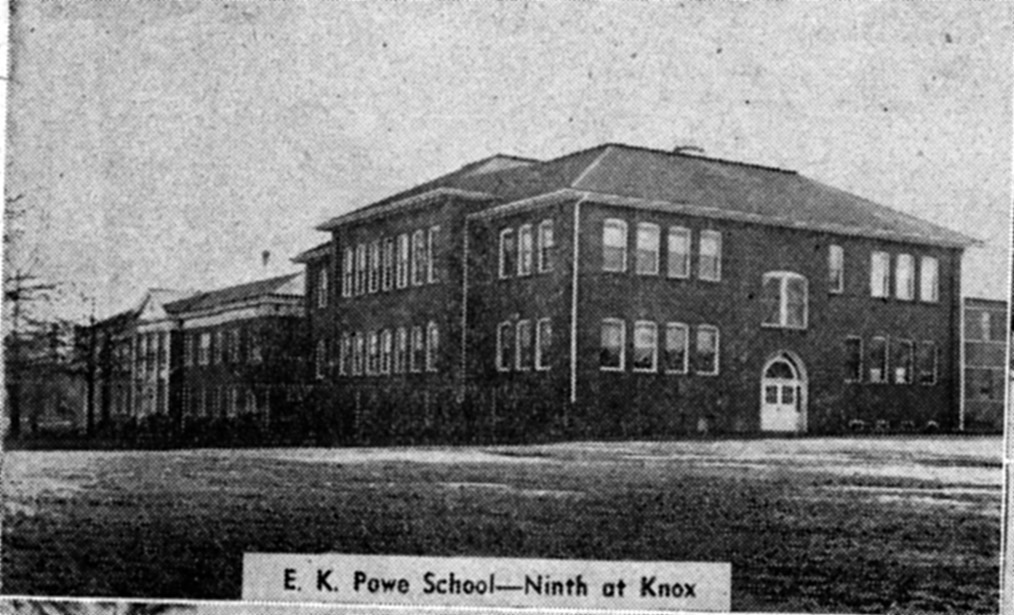 EK Powe, 1953
(Courtesy The Herald-Sun Newspaper)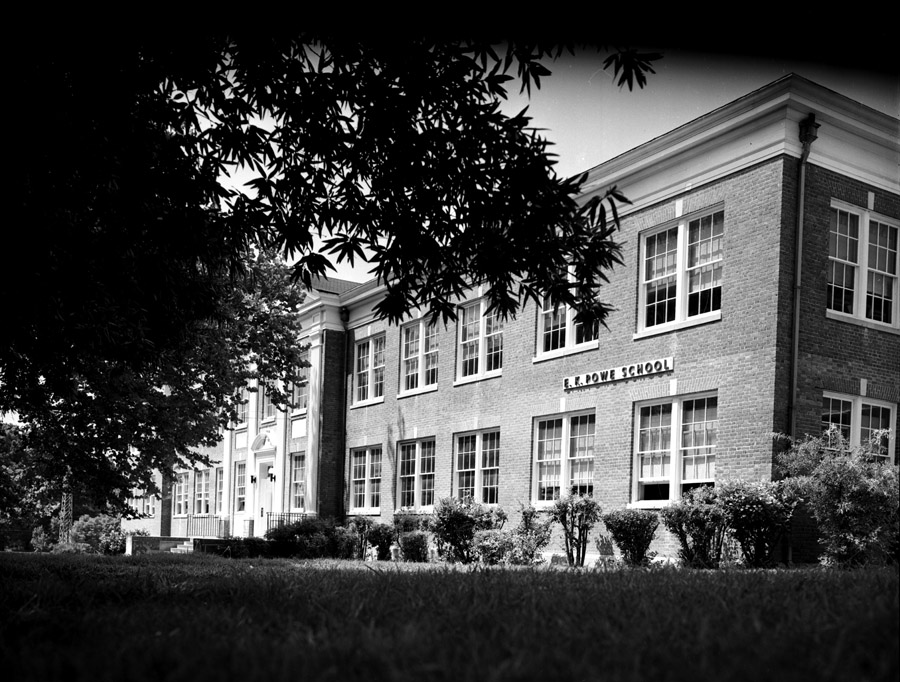 1928 structure, looking southwest, 1950s.
(Courtesy The Herald-Sun Newspaper)
In 1961, a classroom wing was extended to the west from the 1928 structure. Sometime in the 1960s-1970s , the 1912 school building was demolished, and, in 1975, a new classroom wing was extended north from the 1928 structure.
Today the school is a K through 5 elementary school, with a "strong Arts and Science focus." I'm not a parent, so I know little about the perceived quality of various schools, but I'm always thrilled to see the school system embrace a neighborhood school - a place that kids could conceivably walk and bike to, rather than the all-too-popular suburban behemoth sites.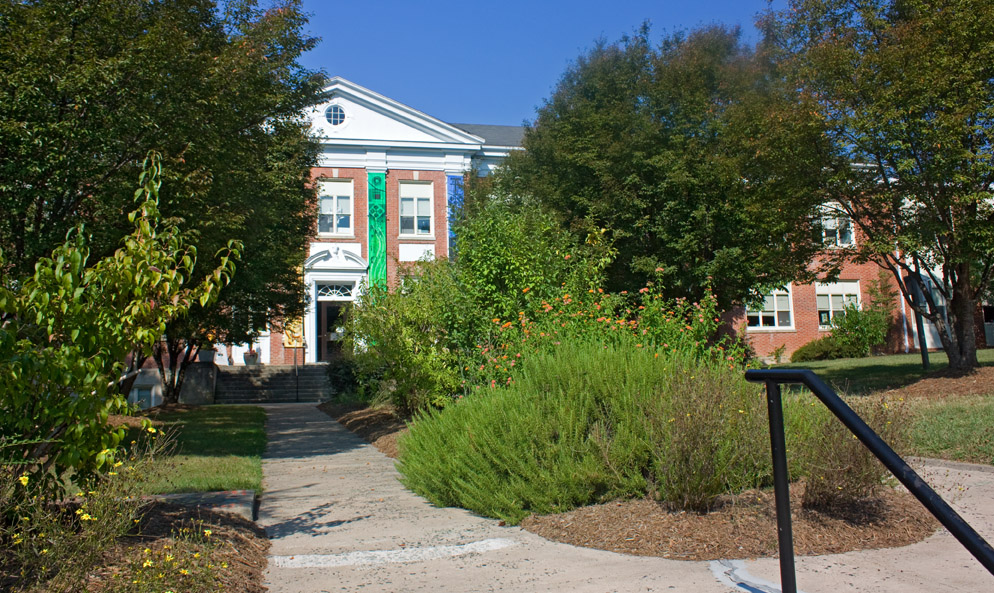 1928 EK Powe school building, mostly obscured by trees, 091209.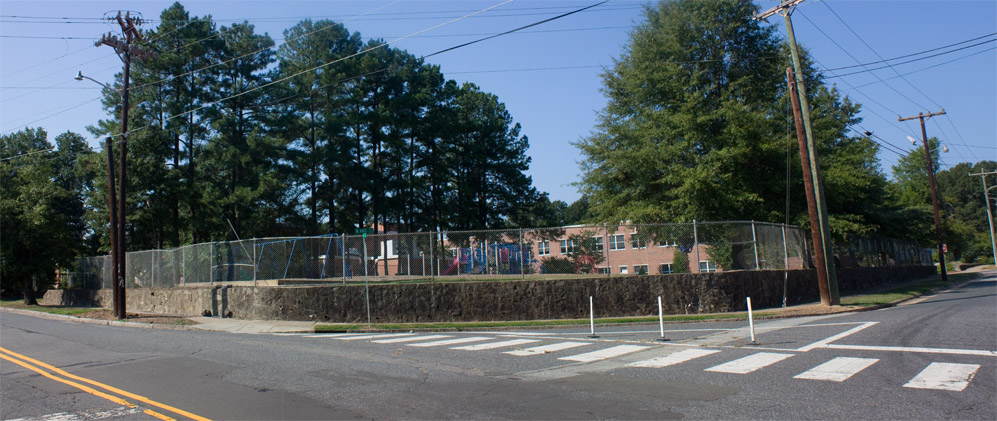 Retaining wall around the site of the original school building, 09.12.09
Find this spot on a Google Map.
36.013256,-78.922479