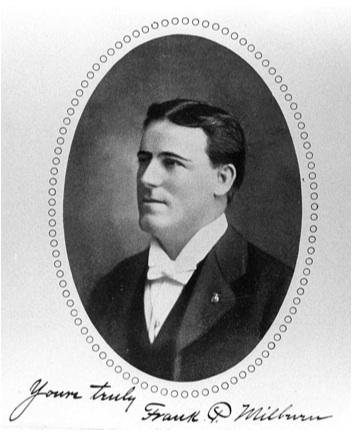 Milburn was born December 12, 1868, in Bowling Green, Kentucky, he was the son of Rebecca Anne Sutphin and Thomas T. Milburn, a builder. He studied at Arkansas Industrial University in Fayetteville, Arkansas, from 1882 to 1883 and then returned to Kentucky, where he spent six years working with his father. Thomas Milburn enjoyed a strong reputation throughout central Kentucky. In the 1870s he designed and built courthouses in Rockcastle, Wayne, and Russell counties, and for most of the following decade he concentrated on small commercial and domestic projects. In 1888 the father-and-son team began building courthouses in Clay and Powell counties. Thus, by the time he reached his early twenties, Frank Milburn understood the fundamental stages of the building process, from the preparation of plans and specifications to the procurement of materials and actual construction.
Vivian concisely describes the path that would contribute to Milburn's later treatment by the architectural establishment - specific architectural education, licensure, and the like are relatively recent innovations - as with other institutions that successfully created standards, academic rigor, and barriers to the entry of competitors (like medicine) during this period, architecture began to shift from a mentorship- and practical-focused model to a academic model in the late 19th century. Milburn, unfortunately, was born too late to be accepted into the pantheon on the basis of his work alone, as he had contemporaries who had attended the early prominent architecture schools.
In 1890, Milburn established a practice in Kenova, WV - but he would move throughout his career to the place offering the highest volume of work at the time. Milburn earned commissions for courthouses early on, likely from connections made during work with his father. The volume of his work - meaning both commissions sought and earned - was extraordinary throughout his career; he produced designs, on average, for 25 to 55 new buildings per year throughout his career. He moved to Winston(-Salem) in 1893 to commence work on the Forsyth County Courthouse. In 1896, he built the Mecklenberg County Courthouse, and in 1900, he moved to Columbia, SC and completed the South Carolina statehouse in 1903. He produced standardized designs for smaller county courthouses, with variations that could be added for distinction.
Vivian notes that although contemporary press repeatedly praised his work, he was largely ignored by the nascent architectural establishment:
Although contemporary accounts generally praised the aesthetics of his work, he failed to attract the attention of the national architectural press. Milburn's name was conspicuously absent from the pages of the July 1911 Architectural Record, a special issue on southern architecture that featured work by architects in cities such as New Orleans, Memphis, and Atlanta as well as buildings designed by northern architects for southern markets. Nor was Milburn mentioned in Fiske Kimball's article "Recent Architecture in the South," which appeared in the same publication in 1924
UNC made significant use of Milburn as well - I haven't attempted to account for all of the structures on UNC's campus designed by Milburn, but the YMCA, the President's house, and the Carnegie Library are some notables.
In 1906, Milburn set up a more permanent home for his practice in Washington, DC. He had hired Michael Heister in 1903, and by 1909, the firm was known as Milburn and Heister.
The firm began to attract commissions for large Federal office buildings in Washington, including the ten-story Interstate Commerce Commission Building (1912), the eleven-story Department of Commerce Building (1912–13), and the nine-story Department of Labor Building (1916–17). The firm's work in DC was extensive - so much so that Milburn's obituary attributed half of the buildings in the business district to his firm's designs.
Milburn's health deteriorated in the early 1920s, and in 1925 T. Yancey Milburn left Durham to oversee the main office in Washington, DC. In September 1926, Frank Milburn died of a heart attack in Asheville, NC at age 56. Obituaries widely praised the architect and his prolific contributions to the cityscapes of the south and mid-Atlantic.