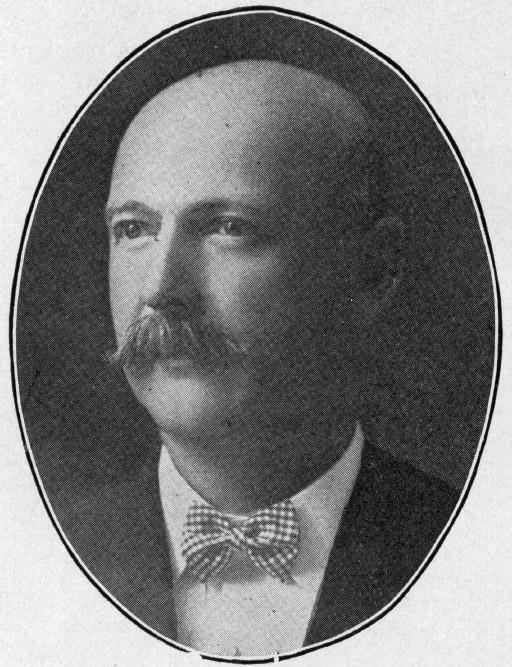 (1910 Durham Illustrated.)
HILL C. LINTHICUM.
One of the best known architects of North Carolina is Hill C. Linthicum, senior member of the firm of Linthicum & Rose, whose offices and draughting rooms are located in the HiIl Building, on Market Street. Mr. Linthicum has been a resident of Durham for over a quarter of a century, and in that time has designed and superintended the construction of many of the most imposing buildings in and about the city of Durham, notably the Y. M. C. A., the Telephone Exchange, and the handsome new Duke office building just erected by the Duke Land and Improvement Co., as well as many of this city's handsome residences.
Mr. Lintiliculll was born in Chatham, Pittsylvania County, Va.. on April 8th, 1860. the son of William H. Linthicum, an architect and builder of reputation, who had built the Duke factory in this city, and, during his life was widely known throughout the entire State. Mr. Hill C. Lintllicum was educated in the Danville Academy, and has made a life study of architecture. He is a member of the N. C. Architectural Association. With his experience of over twenty-five years, and his continuous study of the new ideas as they are introduced, makes him unquestionably one of the most able men in his profession in the entire South, being as he is, most proficient not only in architectural design but in structural engineering as well. He is particularly well known for his work on school Luildillg, having designed many in all parts of the South. Outside his professional work, Mr. Linthicum is well known throughout the city.  He is an active fraternal man and a member of the Odd Fellows, the Masons, the Knights of Pythias and other organizations. He makes his horne on Jackson Street, having just completed at the corner of Willard a very handsome residence.