In the early 19th century, the eastern section of what is now downtown Durham was a community called Dilliardsville; the name Dillard is probably a corruption of the earlier name. Dilliardsville was named after * Dilliard, and was the location of the local post office from 183* to 184*, when civilization, and I use the term loosely, moved eastward to Prattsburg.

On the Blount map of Durham's Station c. 1867, the street appears as "New Dillard Street" and is described as a wagon road cutoff connecting the Fayetteville Road with the precursor to Holloway Street. The 1881 Gray map shows Dillard Street extending southward to the NC railroad tracks.
In the 1870s, Dillard Street was developed with housing, but in the 1880s and 1890s, much of this pleasant housing was supplanted with elaborate Victorian mansions, lending Dillard Street the nickname "Mansion Row." Tobacco tycoons Julian Shakespeare Carr built his sumptuous "Somerset Villa" and his brother-in-law, Edward J. Parrish, among others, built lavish homes there.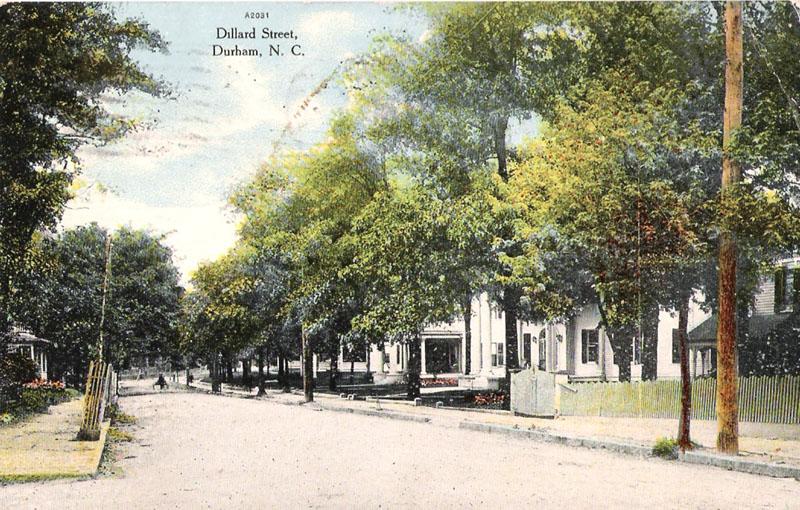 Dillard Street had lost its status as a top tier address by the 1920s, when Somerset Villa was torn down, and Forest Hills and Hope Valley became the neighborhoods of choice for the gentry. Incremental residential->commerical conversion combined with heavy-handed urban renewal in the 1960s have left only the c. 1900 Markham House at 204 N. Dillard and the 1910 C.C. Thomas House at 206 N. Dillard standing as of 2012.
See also South Dillard Street