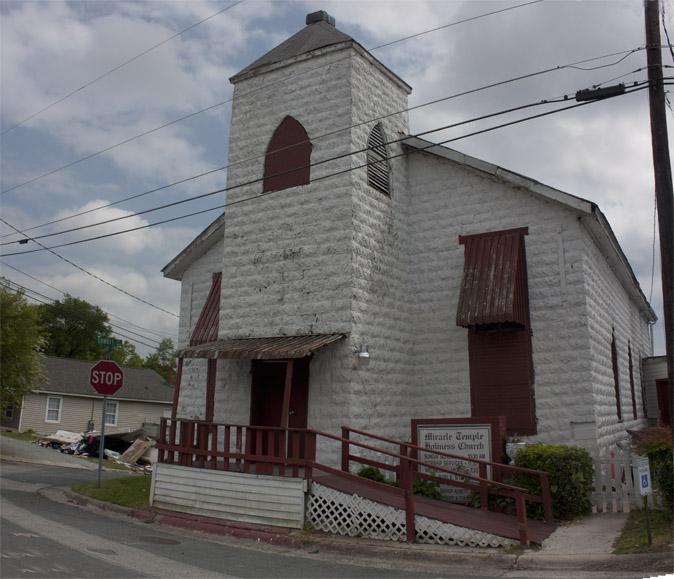 05.08.11     I repeatedly would see the back of this old church from the Durham Freeway while driving under the R. Kelly Bryant bridge - I finally explored this little strip of land between East Pettigrew until I found it and the north side of the bridge.   Per the website of the current congregation, Ebenezer Baptist Church was established in 1909, moving that same year into a frame house on Lakeland Street (then known as Bailey Street.)  
Mrs. Barrett remembers when the church members would sit on wash benches with no backs.  "We didn't have a lot of money, so dues were about 25 cents a week," recalls Mrs. Barrett.
To boost the church treasury, the members would hold rallies and sales on holidays. Sandwiches would sell for ten cents and lemonade for five cents a glass.  Mrs. Barrett's grandfather would fill up a wagonload of members and carry the group to a lake at Bilbo, North Carolina, for baptism. [...]
In 1910-1912, the ever growing congregation was situated in a school building. With the encouragement from one of the local pastors the congregation began to build a community church building. He suggested the church be named Ebenezer. It was in 1912, under the leadership of Rev. E.J. Carrington, the congregation moved into a little wooden church on the corner of Glenn and Sowell Street. Some years later, the wooden structure was torn down and a stone church was rebuilt in the same location.  
In 1951, the church, under the pastoral of Rev. T.A. Grady, took on the task of building a new church that would accommodate its ever increasing membership. Ebenezer was located on Glenn Street until 1968. Due to construction of the East West Expressway, the church was forced to move to its present location on 2200 South Alston Ave
.   (I don't find the church listed in the city directory on Glenn St. until the 1919 city directory, (not listed in the previous one - 1915) but that may be a boundary issue.)   The building currently houses the Miracle Temple Holiness Church