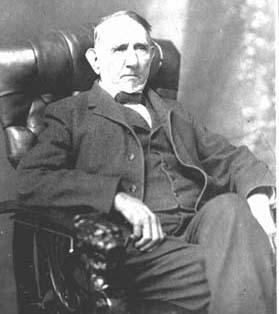 From Wikipedia:
Duke was born in Orange County, North Carolina (present day Durham County, North Carolina), to Taylor Duke (c1770–1849) and Dicey Jones (c1780–1860). On August 9, 1842, he married Mary Caroline Clinton (1825–1847) with whom he had two children: Sidney Taylor Duke (1844–1858) and Brodie Leonidas Duke (1846–1919).
After Mary Duke's death at age twenty-two, he married Artelia Roney (1829–1858) on December 9, 1852. Both Mary and Artelia died of typhoid fever. With Artelia Duke, he had three children: Mary Elizabeth Duke (1853–1893) who married Robert E. Lyon; Benjamin Newton Duke (1855–1929) and James Buchanan Duke (1856–1925).
Washington Duke served in the Confederate Navy (1863–1865) during the American Civil War against his will. He was vigorously opposed to slavery though some have mistakenly concluded that he owned slaves because he once purchased a slave. In reality he was purchasing the slave's freedom and he set her free immediately after the purchase as is shown by the census records shortly thereafter when she was living on his land as a free woman. It is also alleged that he was once recorded selling slaves but this is not correct either. He mentioned that slaves might be sold at the same time as a sale of his property. He did not say they were his slaves and, in fact, the 1860 census, just prior to this "recorded" event shows that he did not own slaves. The third reason some claim that he owned slaves is that he once hired a slave from a slave owner to work for him on a temporary basis during which that slave escaped. It has been reported that he actually assisted the slave in the escape and he hired him so that the slave would have time to get to a northern state before Washington reported him missing.
After the war, he grew tobacco, but in 1874, he sold his rural home and moved to the city of Durham, where he began his tobacco business. His workers hand processed tobacco into a form that could be sold by the bag for pipe smokers or hand rolled into cigarettes. In 1881, the W. Duke Sons and Company was established as a tobacco manufacturer and was soon a marketer of pre-rolled cigarettes. In 1884 he was nominated by the Republican Party for North Carolina State Treasurer, an elected position, and lost
After a "tobacco war" among the five large manufacturers, Washington's son James Duke became president of the dominant American Tobacco Company and son Benjamin its vice-president. They would build the company into a multi-national corporation and a monopoly. In 1880 the Dukes were residing in Durham, and Washington was living with his son James and two sisters-in-law: Bettie Roney (born c.1830) and Annie Roney (born c.1846). Also in the household were Jennie Procter (born c.1862) as "house assistant" and two servants: Louisa Sparkman (born c.1867); and Laura Hopkins (born c.1869).
Duke used his influence to have Trinity College moved to Durham. The institution opened its new campus in 1892 with him and son Benjamin as its principal benefactors. In 1896, Duke gifted the college with $100,000 (about $2,200,000 in 2005 dollars) on the condition that it open its doors to women. Trinity College was renamed in honor of Duke in 1924, becoming Duke University.
Washington Duke was interred in Memorial Chapel in the Duke University Chapel on the campus of Duke University. He is memorialized by a statue at the entrance to Duke's East Campus.