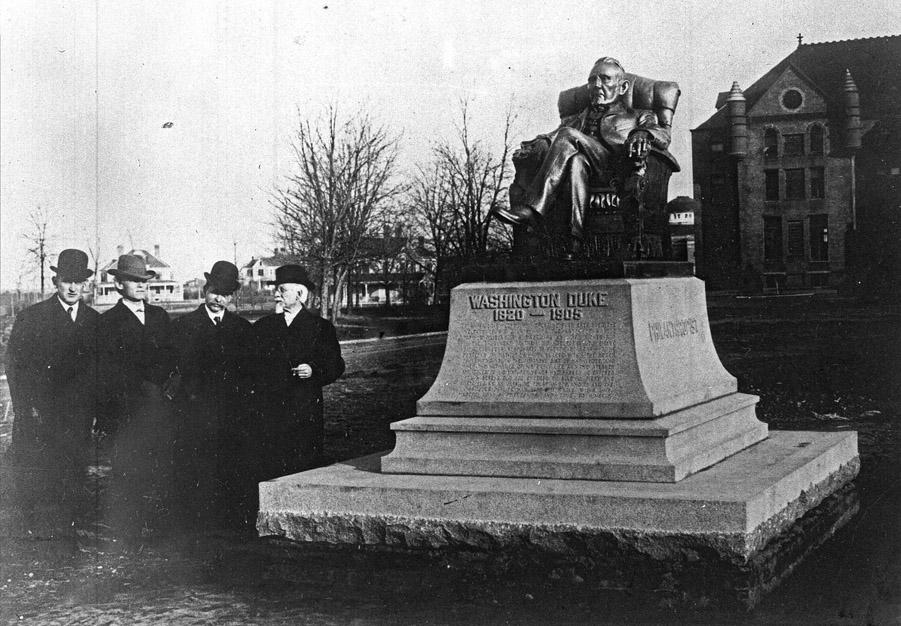 ~1908
Commissioned after the death of Washington Duke in 1905, and created by Edward V. Valentine, who has design a well-known seated statue of Robert E. Lee, and a statue of Thomas Jefferson at UVA, the Washington Duke statue is well-travelled. As can be seen in the undated photo above, it was originally placed in front of the Washington Duke Building in 1908. It remained in the same place immediately after the construction of the East and West Duke Buildings.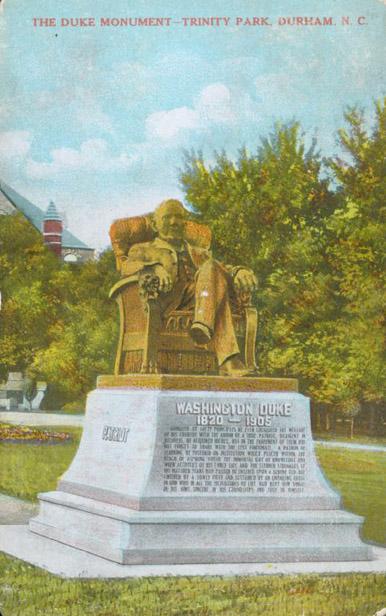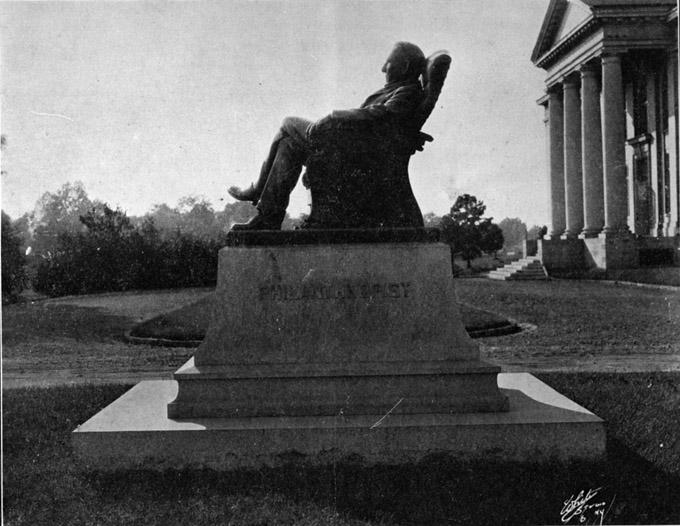 However, shortly after the shift in the entryway to Trinity College in ~1912, the statue was place atop a small hill just to the south of the East and West Duke buildings, centered in the roadway.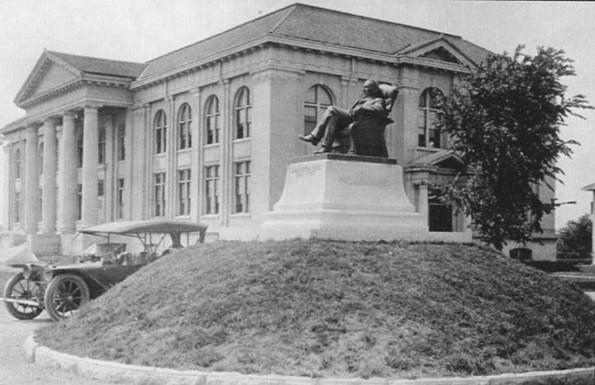 With West Duke in the background, 1915
In 1921, it was moved again, to a position between the two buildings, with the monument placed on grade.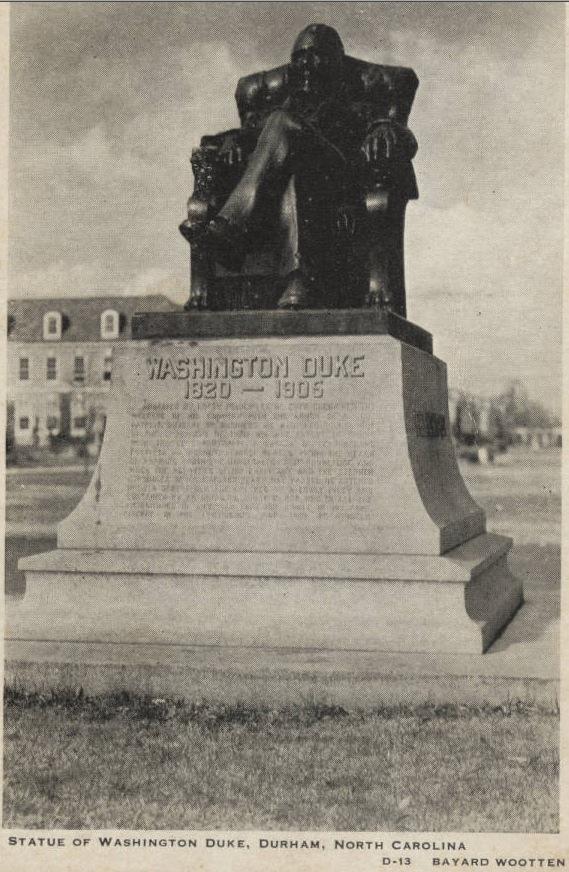 The statue has been fodder for many Duke student stories and shenanigans over the decades - including the rumor that Mr. Duke will stand up when passed by a virgin.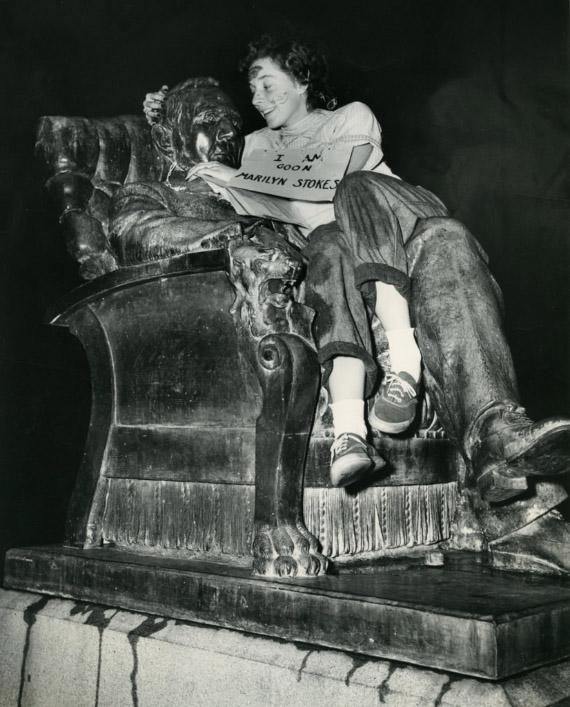 1948 (Duke Yearlook)
The base reads:
WASHINGTON DUKE / 1820-1905 / ANIMATED BY LOFTY PRINCIPLES HE EVER CHERISHED THE / WELFARE OF HIS COUNTRY WITH THE ARDOR OF A TRUE / PATRIOT; DILIGENT IN BUSINESS HE ACQUIRED RICHES, BUT / IN THE ENJOYMENT OF THEM DID NOT FORGET TO SHARE / WITH THE LESS FORTUNATE; A PATRON OF LEARNING HE / FOSTERED AN INSTITUTION WHICH PLACED WITHIN THE REACH / OF ASPIRING YOUTH THE IMMORTAL GIFT OF KNOWLEDGE; AND / WHEN THE ACTIVITIES OF HIS EARLY LIFE AND THE STERNER / STRUGGLES OF HIS MATURER YEARS HAD PASSED HE ENTERED / UPON A SERENE OLD AGE CHEERED BY A LOWLY PIETY AND / SUSTAINED BY AN UNFAILING TRUST IN GOD, WHO IN ALL THE / VICISSITUDES OF LIFE HAD KEPT HIM SINGLE IN HIS AIMS, / SINCERE IN HIS FRIENDSHIPS AND TRUE TO HIMSELF.

North face: "FRIEND TO TRUTH! OF SOUL SINCERE, / IN ACTION FAITHFUL, AND IN HONOR CLEAR."

East face: PHILANTHROPIST

West face: PATRIOT

Base, east face: EDWARD V. VALENTINE FECIT / 1908 GORHAM CO. FOUNDERS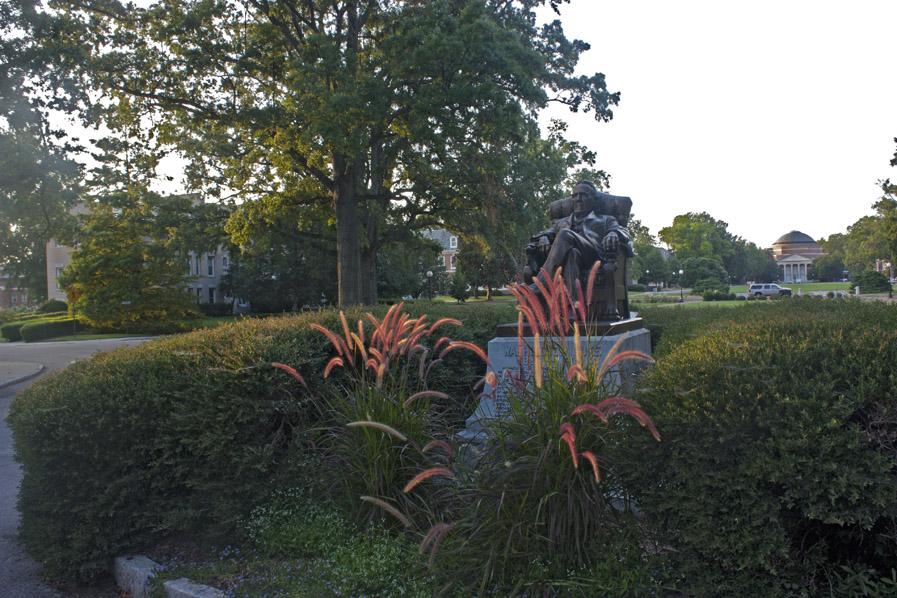 8.16.10