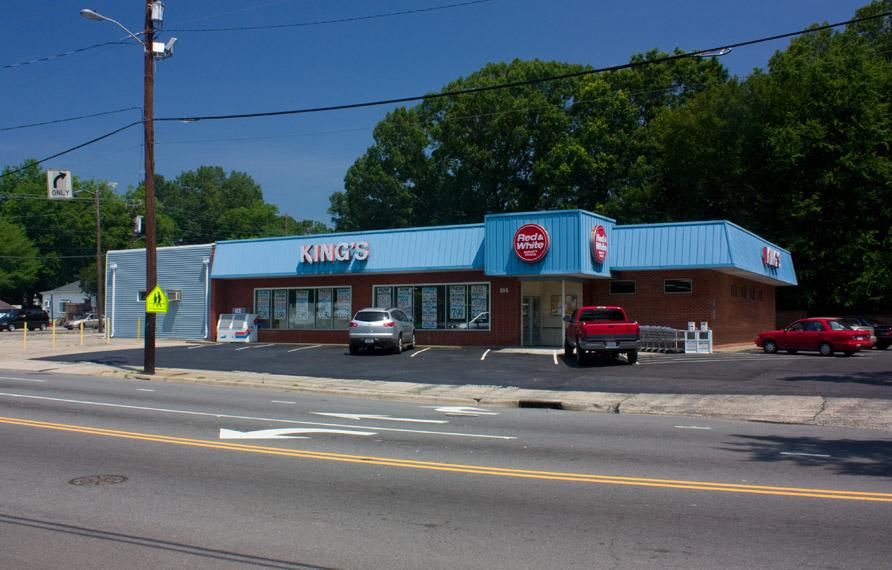 As far as I know, the last of the once common Red and White grocery stores in Durham is King's, at North Roxboro and East Club Boulevard. It's likely the oldest continually operating supermarket left in Durham.

Opened by William Brinkley Sr.and his wife in 1956, King's was one of a new wave of supermarkets to open in the 1950s, and part of the development of Club Blvd. and Roxboro spurred by the construction of the US 70 bypass in 1950. Within 6 years, there were 3 grocery stores at this corner - King's, the Piggly Wiggly on the southeast corner, and Fowler's near the southwest corner.
Per King's new website:
The late William Brinkley Sr. opened the doors of Kings Red and White back in October of 1956. His goal was to provide quality meats and fresh produce to the local residents of the greater Durham area. Over fifty years and three generations later his mission is still being carried out. King's (which is operated now by his wife Oprah King and their two sons Brink King Jr. and Ronnie King), is still serving the customers and local patrons of not only Durham, but all up and down the East Coast.

Today, only King's survives, and it has cultivated a very loyal following - being the oldest supermarket doesn't mean you can't have a Facebook page....