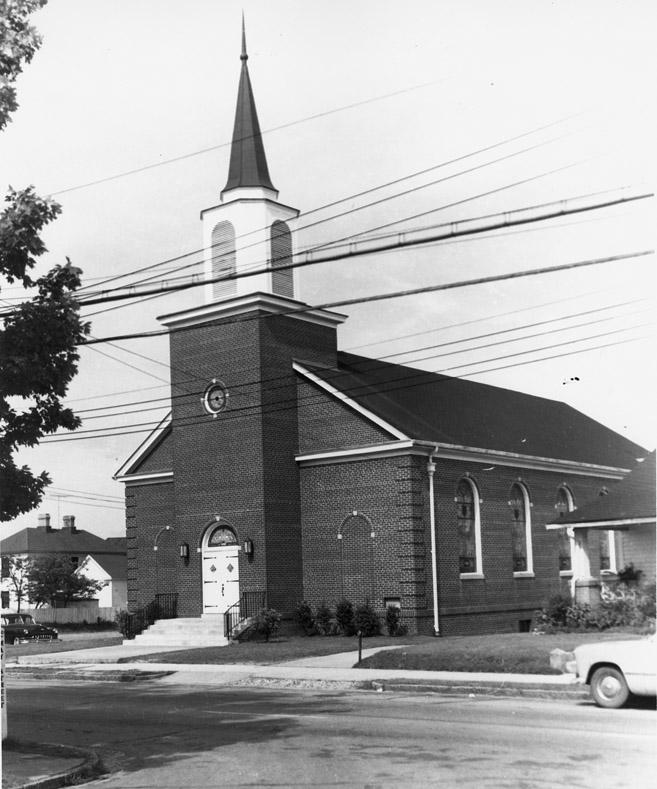 Union Missionary Baptist, 1960s.

Union Missionary Baptist was founded in 1897, when John Robinson, Ed Hockaday, and John Thomas, with the help of Aaron Moore and White Rock Baptist Church organized a Sunday School for Baptist families living in the East End.

The group initially held their meetings in a rented log cabin on Corporation Street, but soon began efforts to organize a church. Working with deacons from the Mount Vernon Baptist Church, they purchased a 175 x 75 foot lot from the Rigsbee estate located on Glendale Avenue (approximately here.) They built a "modest frame structure" which they named the Union Baptist Church.

By the 1920s, the church congregation had grown significantly, with membership nearing 400 people. Dissension over plans to move or expand the church led to the decision by some members to split from the congregation to form a new church, eventually named Mount Gilead Baptist Church. Plans for a new structure for Union Missionary Baptist were delayed by the death of Reverend John A. Lewis.

In 1926 Reverend Ananias S. Croom of Salisbury, NC took the helm of the church, and remained its leader over the subsequent 37 years. During his tenure, a new site for the church was selected on North Roxboro Street, a few blocks to the east of the older frame church. Construction began in 1954, and was completed in 1955. Per the church website:

"A grand march from Glendale Avenue to the Roxboro Street site highlighted the occasion. The new church was a state of the arts [sic] facility for its day.... In addition to a spacious sanctuary, the building included a comprehensive educational wing and a large fellowship hall with a kitchen. Ample office space was also included."

The current pastor, Reverend Kenneth Hammond, was elected to lead the church in 1991, and began his tenure in 1992. In 2000, the church demolished the adjacent Broadway Sandwich shop (on the southeast corner of N. Roxboro and Dowd to build a new $3.5 million "worship center and administrative space."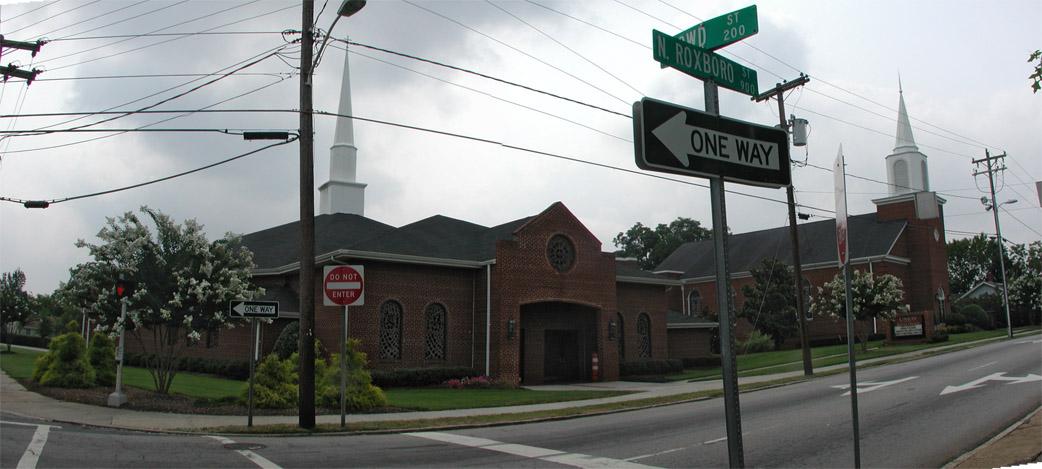 Newer building in the foreground and 1954 sanctuary in the background, August 2006.

In 2006, the church demolished the former Royal Ice Cream Parlor, site of very early anti-segregation protests. They built a school on the site, although not on the former building footprint of the Royal Ice Cream Parlor, which is landscaping and driveway for the school. The church has significant landholdings surrounding their buildings, both north of Dowd St. and west of N. Roxboro.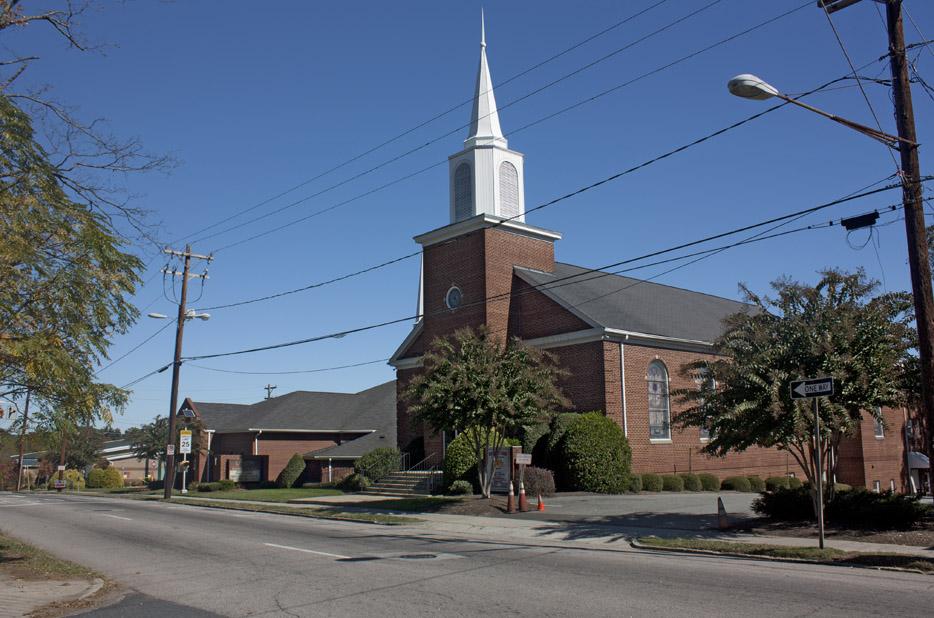 UMB, 10.22.10

Find this spot on a Google Map.

35.99996,-78.89367