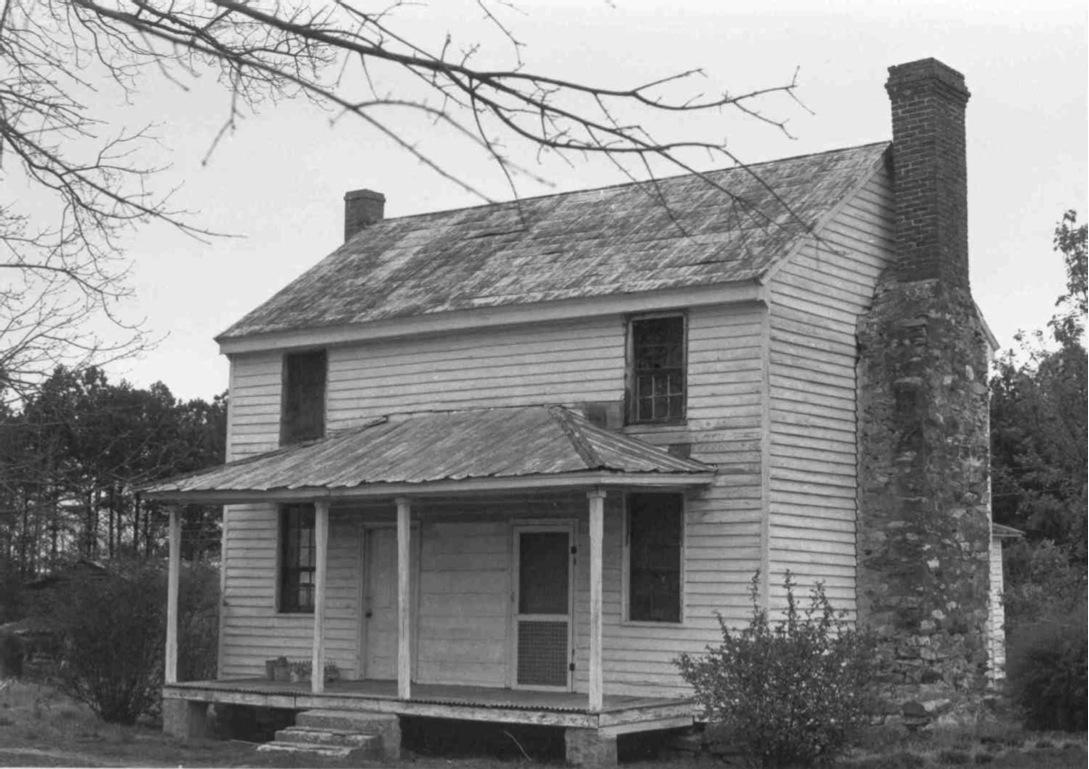 Per the County Historic Inventory:
According to Ervin Roberts, his grandfather, Gaston Roberts, built this extraordinary I-house from 1860-1870, a long construction period no doubt caused by the Civil War. The house is one of Durham County's best Federal-Greek Revival transitional style dwellings and also includes several Georgian-style decorative elements.
In the Federal style, the main block of the dwelling is tall, there is a boxed cornice beneath the eaves, and the roof is flush with the wall on gable ends. Fenestration also follows an early pattern; in the center of the front facade there are paired entry doors flanked by nine-over-six windows in end bays, and above these, six-over-six windows on the second floor. In the Greek Revival style are the four-paneled front doors and simple moldings with small plain corner blocks on door and window surrounds. Flush sheathing that covers the wall between the two entrances suggests that the present full facade hip-roof porch replaced a once-smaller porch. On the south gable end, an original fieldstone and brick chimney remains but its counterpart on the north end is now a modern stove chimney. Metal tiles cover the roof of the main block. The roof of the porch, and a long one-story ell that connects a former kitchen to the house are sheet metal. A shallow back porch is found at the juncture of the ell and the main block.
The dwelling has an unusual variant of the hall-parlor plan; the two rooms do not access each other on the first floor, and the second-floor can be reached only from the hall. The ell has direct access from the parlor but must be entered from the hall by crossing the back porch. All rooms are finished with wide hand-planed boards. In the hall, exceptional decorative woodwork is found: horizontal wainscoting has traces of painted graining, a fine Georgian-style paneled mantel and eight-panel door leading to the back porch may have been taken from an earlier dwelling; and a Greek Revival double-vertical-panel door opens onto a boxed stair.
There are several log outbuildings near the house, a V-notched double-crib barn, a diamond- notched corncrib, and a one-pen square-notched tenant house.
Unfortunately, as of 2011, the house is abandoned and for sale to be removed from the property.