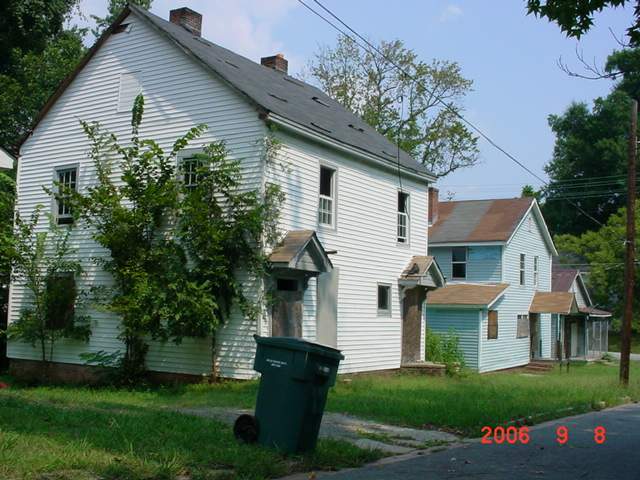 (Below in italics is from the 2009 National Register listing; not verified for accuracy by this author.)
This two-story duplex retains its original form and some original features. The four-bay, double- pile building has a brick foundation, German-profile wood siding, and an asphalt-shingled, side- gabled roof. Two small gabled roofs shelter the front entrances with decorative knee brackets and curved gable trim. The building has two ridgeline brick chimneys and openings in the side gables where windows or vents once were. The front doors are boarded and the house has a mixture of six-over-six and one-over-one replacement windows throughout. A two-story, hip-roofed block on the right (east) side of the house (originally a single-story porch) was recently removed and current renovations are restoring the original window pattern. Constructed as a duplex, the earliest known resident is Charles S. Parrish (agent, Durham Life Insurance Company) in 1929.
Was owned and worked on by Bill Graham prior to his sudden death in 2013; as of October 2013, this very remuddled hot mess is on the market along with 511 Ottawa.