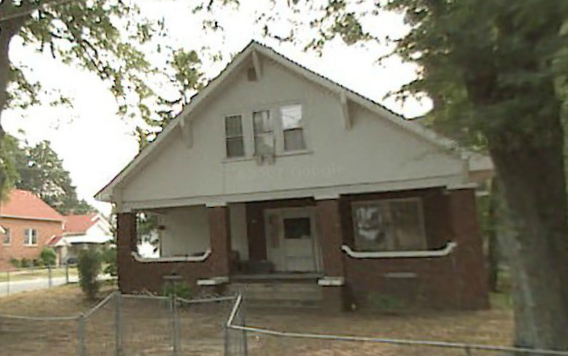 (Below in italics is from the 2004 East Durham National Register listing; not verified for accuracy by this author.)
Dock W. Brown House. Substantial 1 and 1/2 story brick bungalow with side and front- gabled roofs and an engaged porch with a dentil frieze, brick posts, and a solid brick railing with ramped concrete coping. The entrance has sidelights. The porch wraps around the north side but has been enclosed on this side. Windows have 4-over-1 vertical sashes. The eave brackets are covered in vinyl. 1930-1940 CDs: Dock W. Brown owner/occupant (D. W. Brown Dry Cleaners).
C Shed. 1930s. Shed-roofed building with German siding. 
The view from the side/back of the house along Southgate street :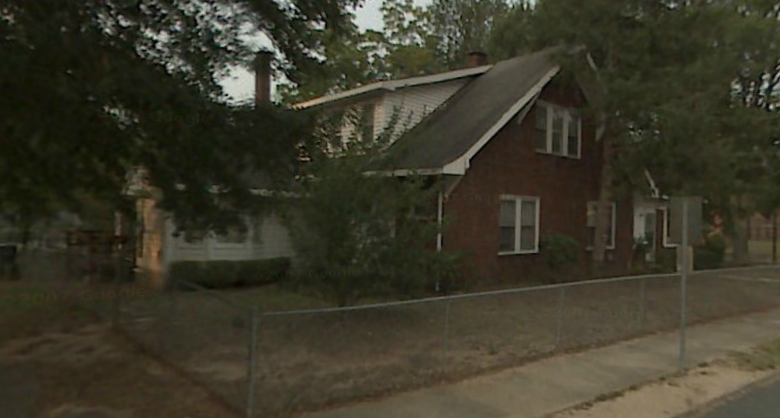 This house was owned by DW Brown, who owned DW Brown Cleaners located at 314 South Driver Street. While other businesses in the neighborhood switched owners, changed names, moved around, succeeded and failed, the cleaners was in that same location for upwards of 30 years.  
By the 1950's DW Brown had a total of 4 locations, the Driver Street location as well as stores on North Mangum Street, Angier Avenue and West Proctor Street.