36.017718019612, -78.926886420957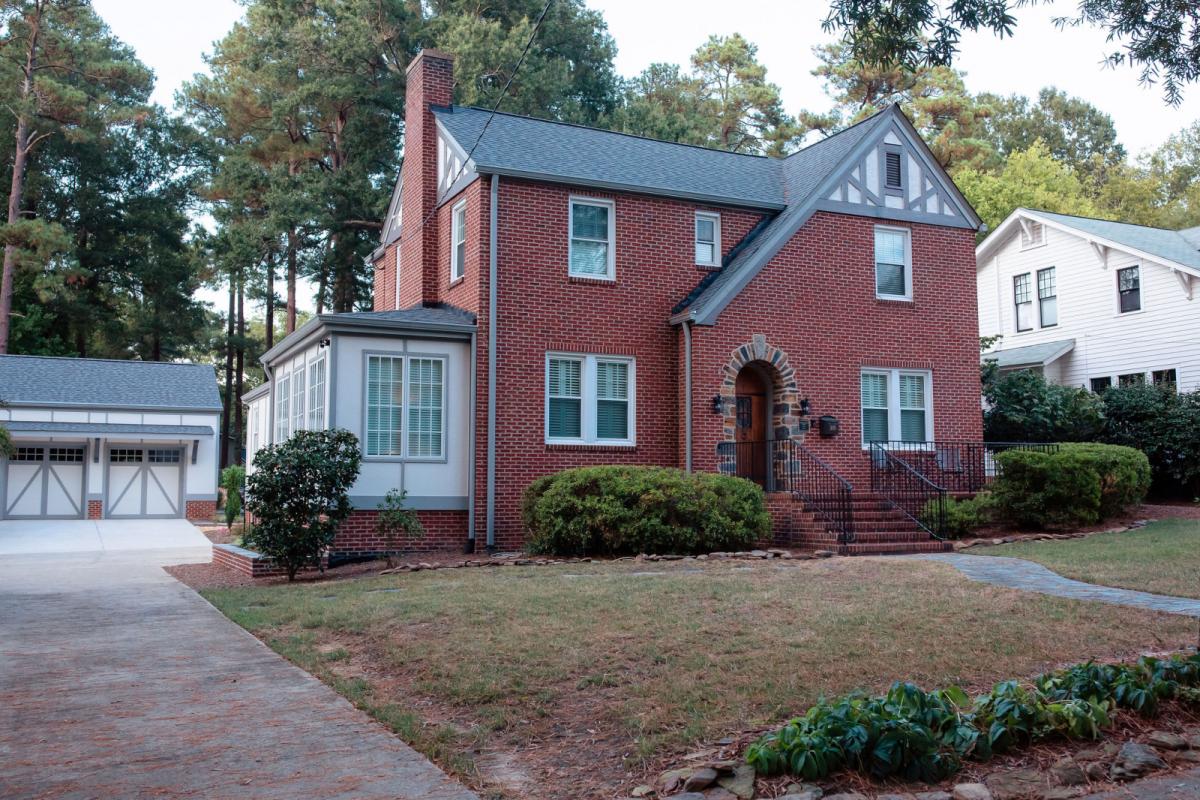 2116 W. Club Blvd. (Photograph by Pam Lappegard for Preservation Durham)
  What follows is an excerpt from the booklet for the 2021 Preservation Durham Historic Home Tour (
click here to learn more and get tickets
to see this and other fantastic Tudor Revival homes across town in person October 16th and 17th!):  
The Biggs House near Oval Park in Watts-Hillandale displays a restrained articulation of the Tudor Revival Style most likely due to its construction date in 1933 in the early years of the Great Depression. A slightly projecting two-story gable with varied eave heights and a crowning triangle of decorative half-timbering attaches off center to a two-story side-gabled main block that serves as the core for this upright red-brick house. At the inviting entrance, tabs of multi-hued cut stone topped by a granite keystone frame an arched plank windowed door with bold wrought iron strap hinges.  
In 1930, less than a year after their July 1929 wedding, Helen Lillabel Massey Biggs and Walter Archibald Biggs, both graduates of Duke University, purchased a lot on the north side of West Club Boulevard and contracted George Hackney to design a house for them.  It was one of the architect's first private residential commissions. Born in Chatham County in 1905, Hackney graduated from North Carolina State College of Agriculture and Engineering (now N. C. State University) in Architectural Engineering in 1927. He came to Durham to help with the construction of Duke's new Gothic West Campus.  That massive project ignited a new bloom of interest in the Tudor Revival Style in Durham....