Stoner House, approx 1920 (postcard sent in 1924.)
Back of postcard from Dr. Ira Stoner, 1924.
One of my favorite odd and slightly spooky houses in Durham is now much less so in bright blue, and looks surprisingly more fairy talesque.
National Register Entry:
Dr. Ira J. Stoner House. Unusual 2-story, front gabled, Shingle Style house features clipped gables, a wood shake exterior, Craftsman 12-over-1 sash windows, eave brackets, and exposed rafter tails. The flat-roofed entry porch has a round-arched entrance, battered posts, and a roof balcony. The side entry is essentially the same without the balcony. One of the first houses built in this area, then known as Oakland Heights, for Dr. Stoner and his wife.
Sara Lachenman, of Four over One Design did additional research on the house and was kind enough to provide it: 
In 1915, deeds show architect Hill C. Linthicum purchasing a number of lots in Club Acres and Hester Heights from the West End Land Company.  By 1917, both Hill C. and his son Henry Colvin (also an architect) are listed as living on Club Boulevard near 12th (now Carolina Avenue), in an unknown house.  In 1916, Hill passed the piece of property at 1106 Alabama to H. Colvin and daughter-in-law Catherine - it is "the southern half of lot No. 75 of the West End Land company Hester property." The elder Hill kept ownership of the northern half of the property, now the site of the small brick ranch house at 1108 Alabama.  By the 1919 city directory, H. Colvin and Catherine are listed as living at "16th corner D, Oakland Heights" - Englewood was D and Alabama was Sixteenth Street.
Hill C. continued to live on Club Boulevard until his untimely death in 1919, due to sudden heart failure.  It appears that his son and daughter-in-law soon moved back into his house on Club, as it is listed as their residence in 1921, the same year they sold the house on Alabama, to Dr. Ira J. Stoner.  It appears he lived there alone for a number of years, with his wife, Lizzie, appearing in city directories about 1930.  The doctor practiced medicine in Durham for 10 years after relocating from Jonesville, Michigan, and had an office at 1916 1/2 West Trinity Avenue first, then at 331 West Main Street - later the Snow Building. 
Stoner passed away in June of 1931, and funeral services were held at 1106 Alabama.  His obituary lists his membership in the Masonic order, the West Durham Methodist church, the North Carolina Medical society, and the American Medical association, among others.  Further, "he served as a captain in the medical corps of the United States army and had been commissioned as major in the medical reserve corps" (Durham Herald, Wednesday, June 24, 1931).  Lizzie Stoner remained in the house and retained ownership until 1944.
With J.W. Wilkinson's ownership of the Alabama house in 1945, it became a rental property.  The first tenant was Charles E. Patterson, of the US Army, with his wife Olivia R.  In 1950, Harry B. and Charlotte G. O'Rear lived there; Harry was a physician at Duke Hospital.  It was probably near the end of Wilkinson's ownership or after his sale of the property to Mamie Tetree Wilson in 1964 that the house was divided into apartments, and has remained as such until the recent remodeling.  Luckily, despite the years of deferred maintenance, the house retains a surprising degree of architectural integrity in its form, exterior materials, fenestration, and detailing.

David and Kelly Parker purchased the house in August 2010 for $120,000. David runs Riverbank Construction, and has been renovating the house since that time.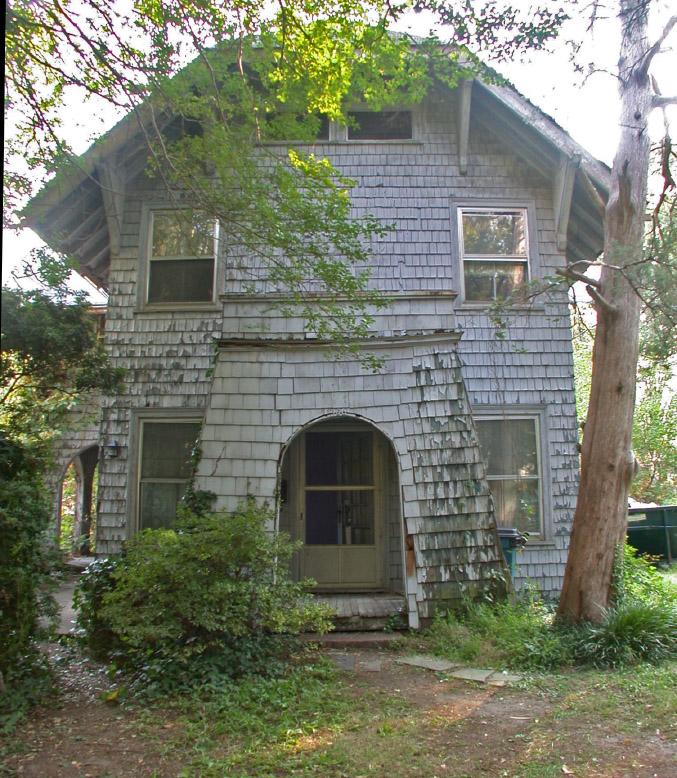 October 2010 (Courtesy Sara Lachenman)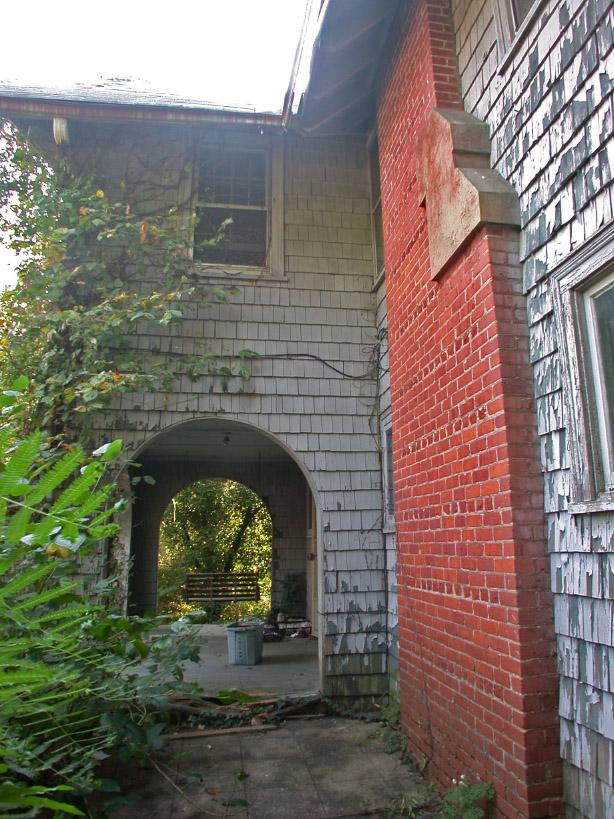 October 2010 (Courtesy Sara Lachenman)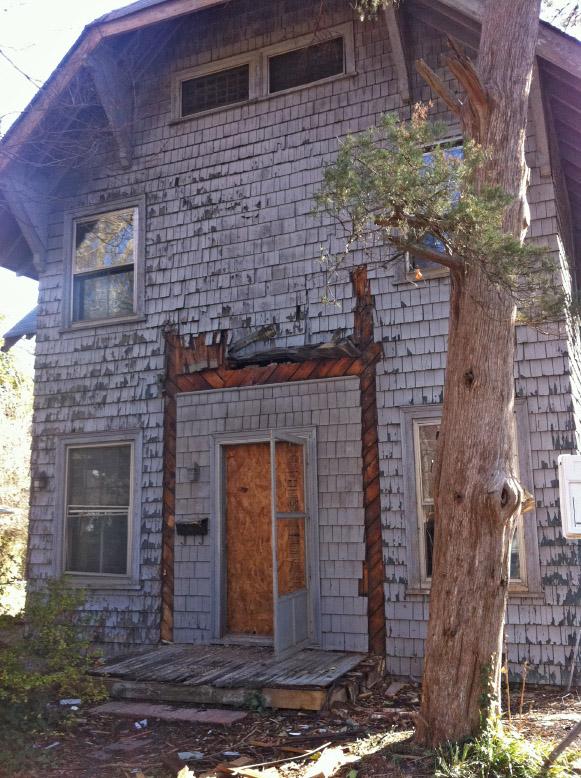 03.01.11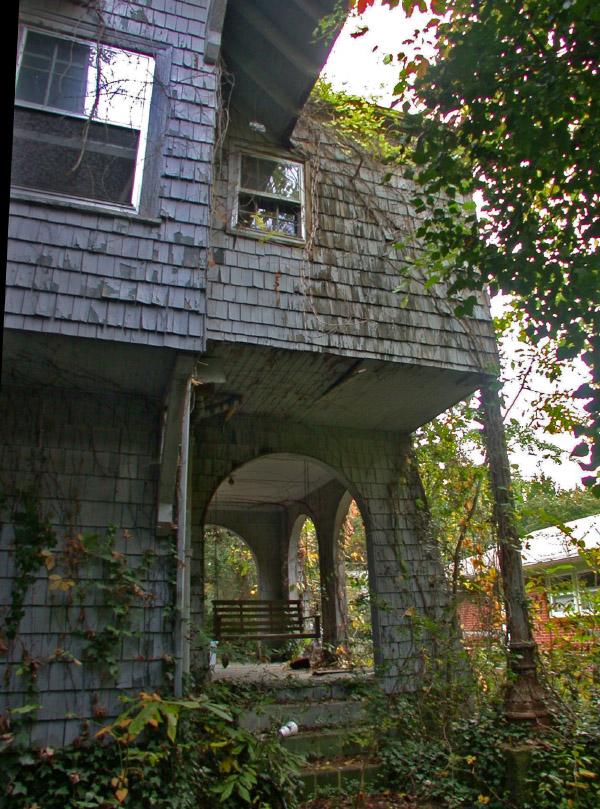 The back addition is held up by, seemingly, a lamppost. 
03.01.11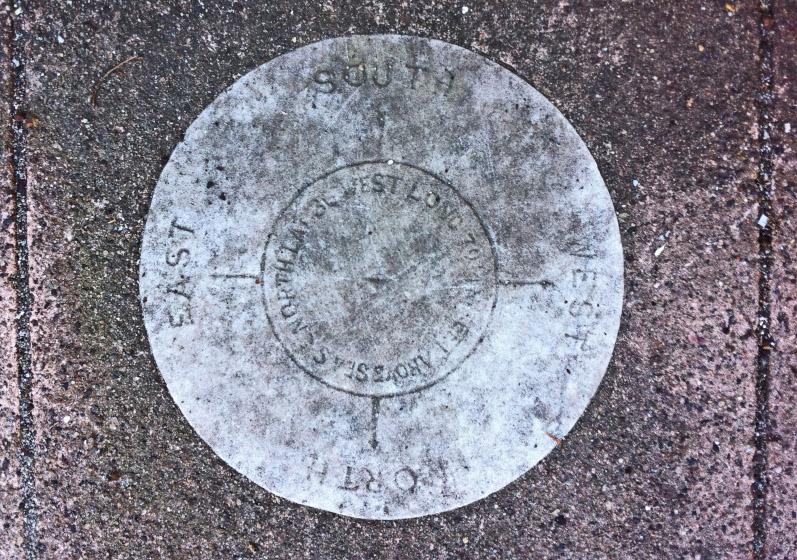 Historic Geotagging! I love it. (Courtesy Sara Lachenman)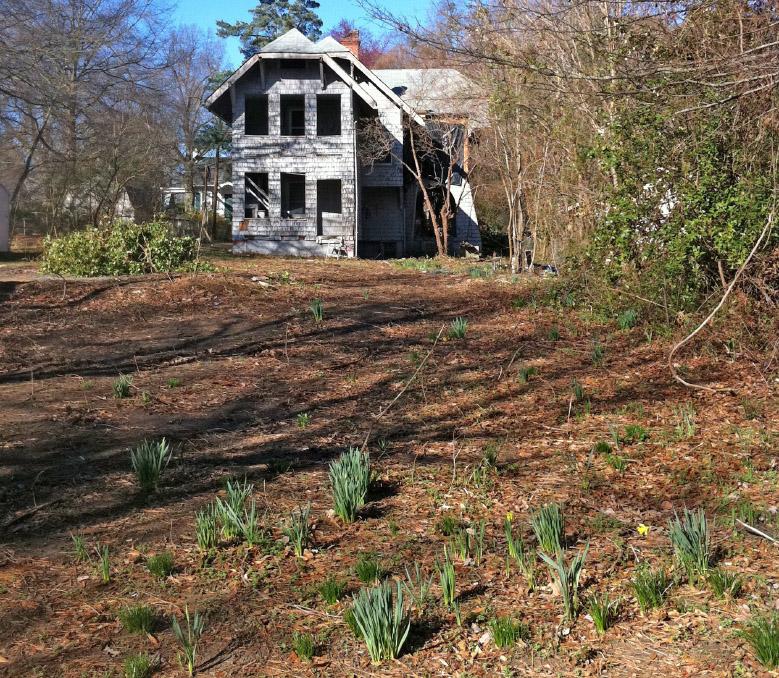 03.01.11 (Courtesy Sara Lachenman)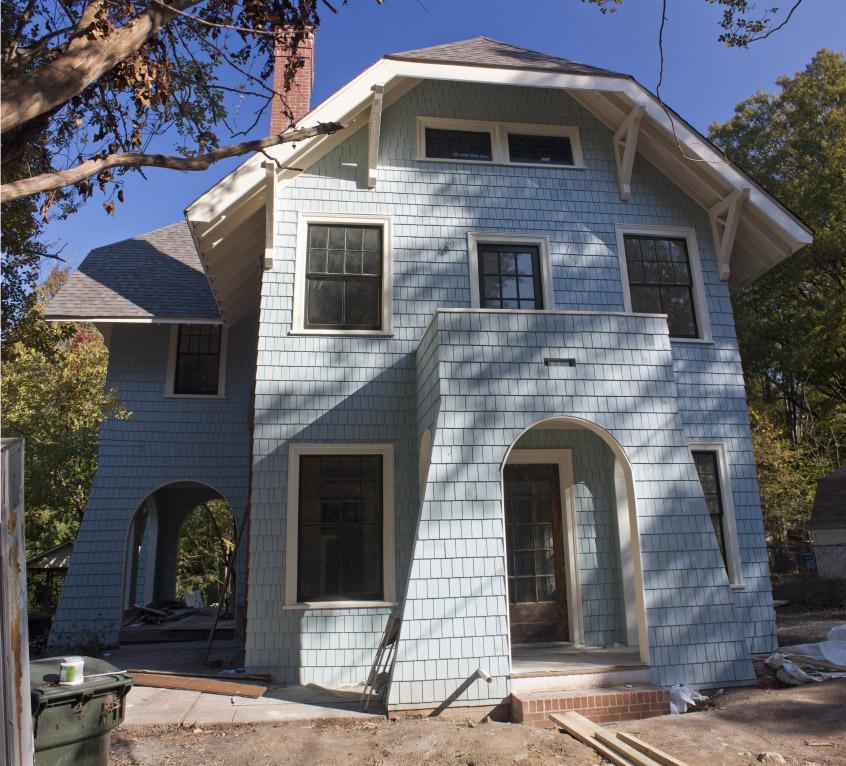 10.30.11