The origins of Northgate Park, the neighborhood, are not as well-defined as some of Durham's earlier neighborhoods. It appears that efforts to develop the neighborhood extend back to ~1908, although the neighborhood did not really develop to any significant extent until the 1940s. 
On 01.25.1908, WD Clements, NF Thompson, PI Edwards, and CD Edwards formed the North Durham Land Company. On 02.08.1908, they and their families conveyed ~48 acres to the NDLC in exchange for shares. (DB 37, P 459.) The land description reads as follows:
Situate about two miles North of the City of Durham… and on the west side of the Durham and Roxboro Macadam Road adjoining the lands of James Blackwell heirs lands formerly owned by HH Vickers lands of JW Hutchins, lands now or formerly owned by JS Woods and WD Pool and lands of FC Geer and bounded and described as follows to-wit: Beginning at a [?branch] WD Pool corner in the line of the Blackwell heirs and running thence with their line north 54 ¾ degrees east 12 chains and 18 links to an ash on the West side of Ellerby creek HH Vickers corner, thence with his line North 55 degrees East 10 chains to an old oak stump, thence North 3 ¾ degrees East 4 chains and 13 links to an iron stake JW Hutchings [sic] Southwest corner, thence with his line South 86 ¾ degrees East 17 chains and 14 links to the center of the Durham and Roxboro Macadam Road, thence with said road South 3 degrees West 18 chains and 85 links to stake on the Western side of said road in FC Geer's line, thence with his line North 84 ¼ degrees West 21 chains and 87 links to pointers on the creek near the south of a ditch WD Pool's corner, thence with his line North 85 ½ degrees West 12 chains and 18 links to the beginning, containing 47 ¾ acres more or less, according to survey made July 27, 1905 by CE Belvin, surveyor the land on the East side of said Durham and Roxboro Macadam road, formerly belonging to this tract, not being included in this deed, said land being known as the William Farthing (deceased) Home Place.
It seems clear that much of the land that is now Northgate Park (and Colonial Village) was part of the William Farthing land. The old Farthing family cemetery still exists behind "the 6th and 7th houses north of Club Blvd. on the west side of North Roxboro," according to the Cemetery Census website. Their coordinates are behind the 2nd house north, though, and I haven't field verified. Regardless, it seems likely that the original Farthing homeplace was in this general area. It contains the grave of William Farthing, and other reportedly illegible markers. One online reference refers to a land holding of upwards of 800 acres, but this is unverified. Research on the Farthing family in this area is, as one says when one hasn't done additional work, a fertile research area for future intrepid researchers.
North Durham Land Company was involved in ~two dozen conveyances of land between 1908 and 1912. There was  (is?) evidently a plat that subdivided at least some portion of this land into lots, called "Farthing Place." It is noted as recorded at PB 1, P116, but is not located there. 
JW Hutchins bought a significant amount of land from NDLC in three separate transactions in May of 1908. (According to the land description above, he evidently already owned land in the area prior to the formation of NDLC.) I'm not sure if Hutchins made money in real estate, but he rather suddenly went from running the beef market at city market to the vice-president of the City Ice and Coal Company in the late 1910s. He died in the early 1920s.
His wife retained ownership of the land until her death in 1934. In 1937, Hutchins' land was sold to OB Wagoner. It included the southern portion of the park, as well as later-developed land on the east side of the park.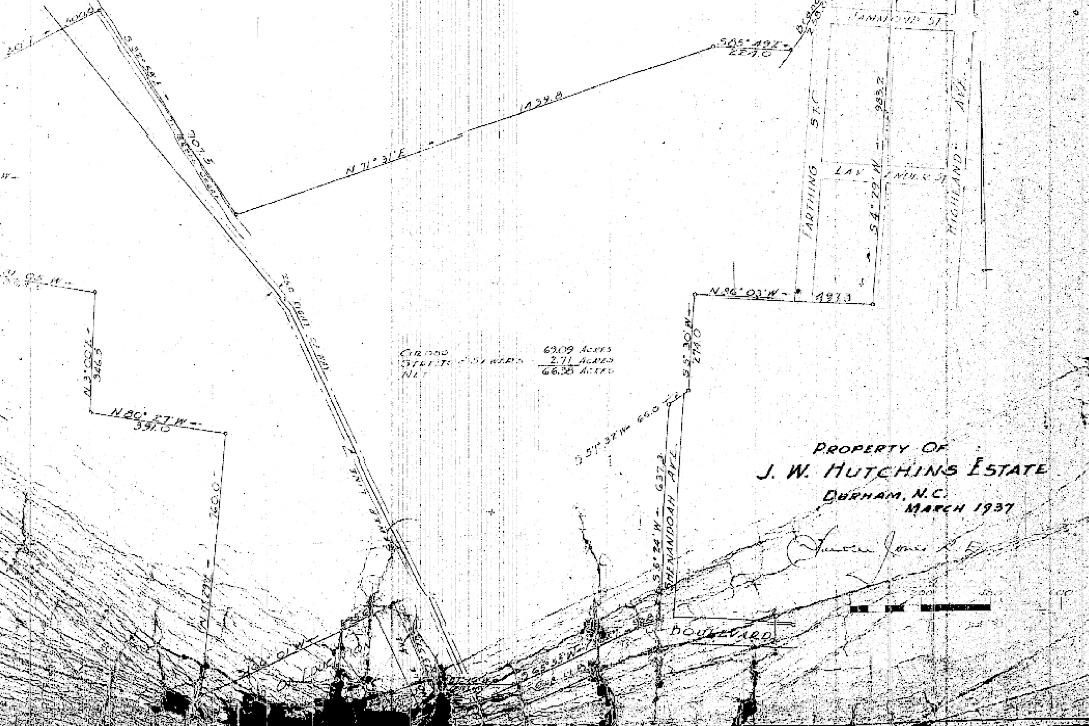 PB12, P2. At the bottom is Club Boulevard, a stub of Glendale, and the Club Boulevard School site ("Board of Education.")
In February of 1938, Wagoner (along with the holders of his mortgage on the larger chunk of land he owned, Paul Gamble and Howard Gamble) conveyed a portion of his holdings to the City of Durham for $1. (I.e., Wagoner conveyed, and the Gambles agreed to release their lien on that portion of the land.) This would become the earliest portion of the park.
Wagoner is a bit of a mystery, compounded by the refusal of early deed records to actually list anyone's first name. He doesn't appear in contemporaneous city directories, so although he is listed "of Durham," I surmise he may have lived out of town.
A second piece of the park was donated to the City of Durham on October 15, 1940. OB Wagoner, in co-ownership with JF Barfield and his wife Ruby Barfield. This deed (DB135, P585) first references the "map of Section 2 of the Northgate Property of [Wagoner, Barfield, and Barfield].  The plat from this conveyance shows lots laid out along Glendale Ave.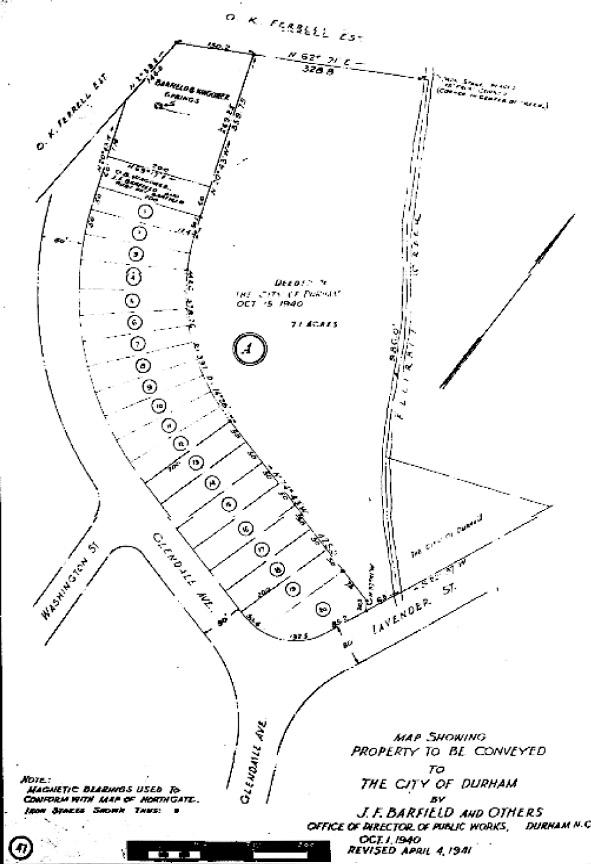 \
This deed and plat reference the "map of Northgate" and "section 2 of the Northgate Property," which I eventually tracked down at PB12, P49. This 1938 map is the first reference I can find to Northgate. Barfield is noted as the selling agent (he ran a real estate auction service.)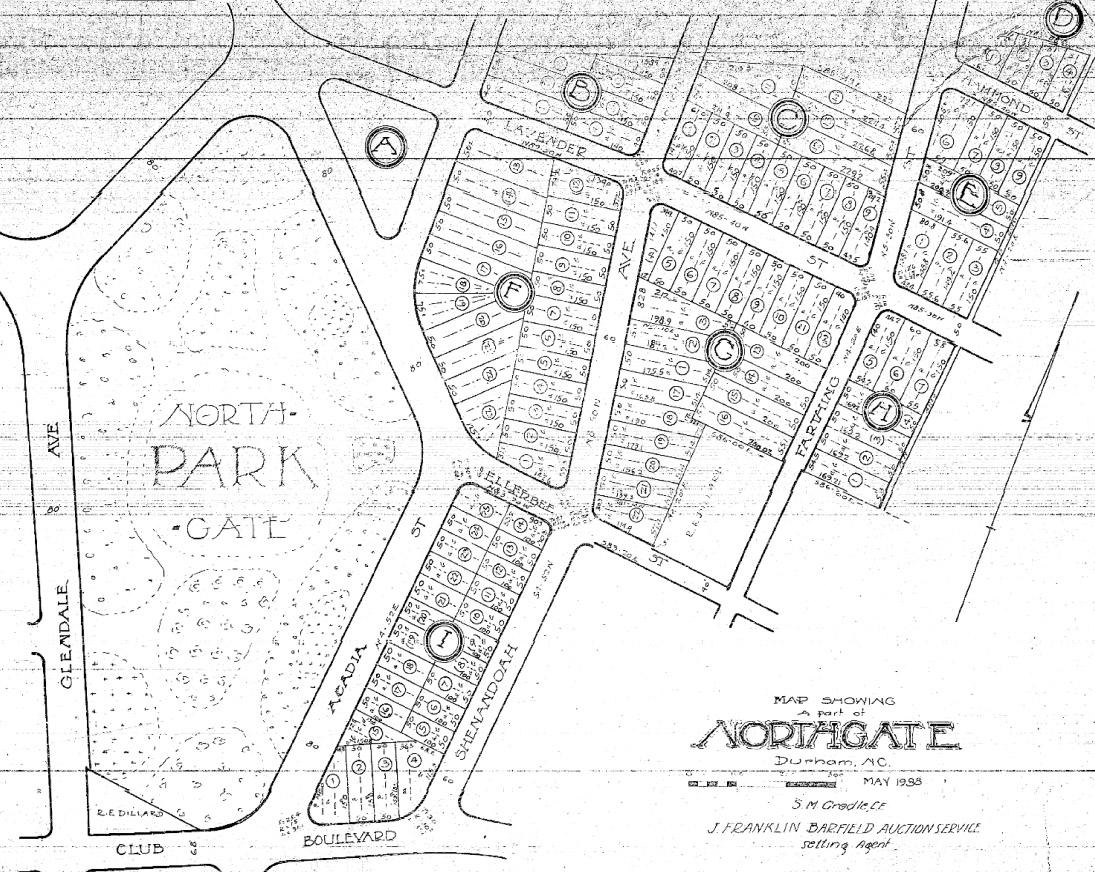 In April 1941, Barfield and Wagoner donated section "A" to the city to add to the park.
What I find particularly interesting about Northgate Park, the development, is that, unlike Forest Hills and Hope Valley, or Fisher Park, Burton Park, or the other 'garden suburbs' in Durham, Charlotte, Greensboro, etc., Northgate Park was not built as a place of large houses for the wealthy. It's unusual to see an early 20th century suburban development planned around a park that is built out with houses for middle-income folks.
The timing is interesting in this - did Hutchins, then Wagoner, intend to build a 'burb in the style of Hope Valley and Forest Hills, but, with the push of their development into the late 1930s, WWII, etc., did they shift strategy to build for the hoi polloi instead? Or was that simply the market, and what was built was what the market allowed?
Wagoner is still a rather anonymous mystery to me; Barfield shows no sign of self-effacement in his self-penned entry in the 1951 "Durham and Her People." In his entry, he notes that the "Barfield Community Center at Northgate Park was named in his honor and was built by the city at a cost of $30,000 on property donated some years ago by Mr. Barfield, Mrs. Ruby Day Barfield (deceased) and O.B. Waggoner [sic]. The center was dedicated on December 20, 1950, his birthday."
The original Museum of Life and Science was housed on Lavender in a small building, known as the Nature Museum, later the Children's Museum. It moved from that location to the old Hester House off West Club Blvd before heading back towards Northgate Park in 1961 and becoming the Museum of Life and Science. The original structure still stands.