WRIGHT FACTORY / FIRST GRADED SCHOOL
Built in
1870s
/ Demolished in
1893
In tours
Last updated
Wed, 08/03/2011 - 9:26pm by gary
Comments
Built in
1870s
/ Demolished in
1893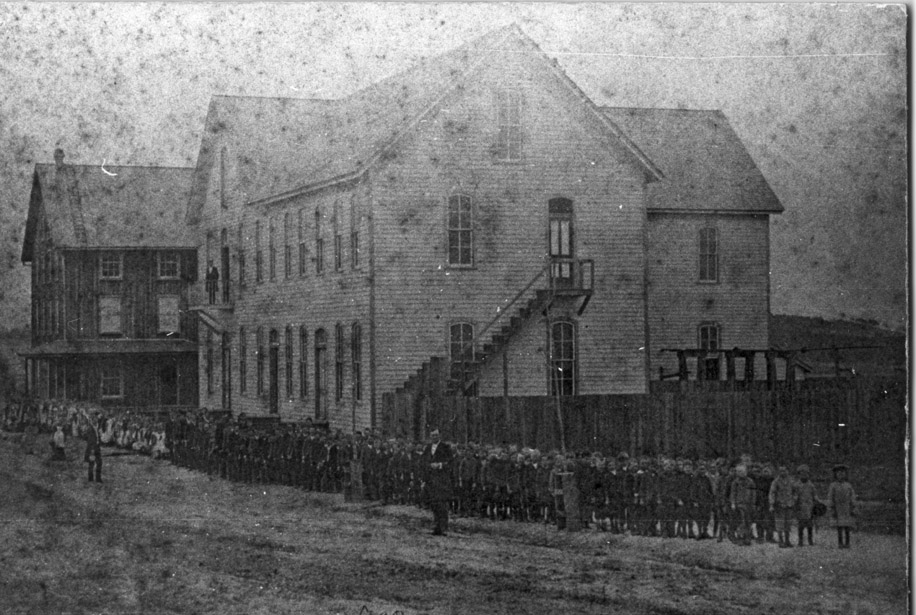 Wright Factory repurposed as Durham's first Graded School, 1880s.
(Courtesy Duke RBMC - Wyatt Dixon Collection)
Richard H. Wright has made multiple previous appearances on Endangered Durham - with reference to his involvement with Duke of Durham, Lakewood Amusement Park via Durham Traction Company, the Wright Corner, the Wright Machinery Company, the Wright Refuge for orphaned children, his tenure in the former EJ Parrish House on Dillard St., and his own country home Bonnie Brae.
Before any of those endeavors, Wright came to Durham to be a tobacco manufacturer. Born in 1851 in Franklin County, Wright ran a small general store and opened his first tobacco factory in Durham in the late 1870s. He began accumulating real estate during this time, which he would later subdivide for development via his Durham Consolidated Land and Improvement Company. When Washington Duke decided to retire in 1880, Wright purchased his share of the Duke and Sons Tobacco Company by mortgaging his real estate holdings to Washington Duke.
Thus engaged with the Duke Tobacco Company, Wright's former manufactory was no longer in use; when the battle in Durham over whether or not to establish a graded school system finally resulted in the affirmative in 1882, Wright's former factory seemed a viable candidate to house the school. During the summer of 1882, the Wright Factory was leased by the newly former Board of Education and remodeled as a school. (The first graded school for African-American children was established in 1885 in the Primitive Baptist Church on Fayetteville St.)
The building served as the graded school for white children until 1892 , when the first school building erected expressly for that purpose was built at the corner of Carr and Jackson Sts.
The Wright factory was demolished soon after the departure of the school - between 1892 and 1893, when Cigarette St. (which ran along the east side of the Old Cigarette Factory - then quite new) was extended northward across Main St. to Morris St. It was soon closed again with the expansion of the railroad sidings between the Globe Warehouse/Norfolk & Western Depot and the soon-to-be-built O'Brien Warehouse
Wright, as noted above and previously, would go on to many other business endeavors (his relationship with the Duke Company ended in 1885 in an acrimonious/litigious split.)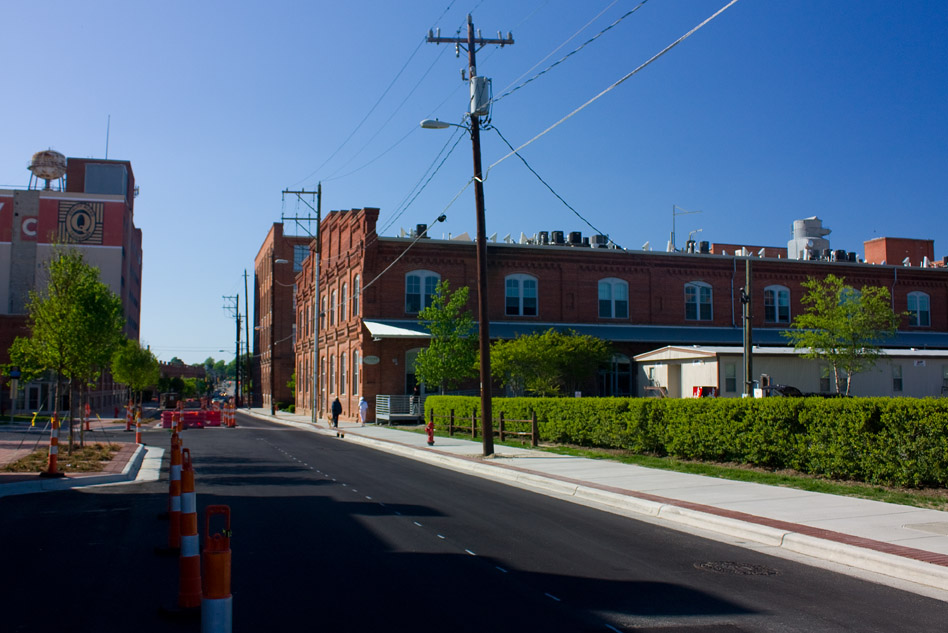 Site of the Wright Factory, similar vantage point to 1880s shot above, 04.11.10, with the O'Brien and Cobb buildings in the background.
Find this spot on a Google Map.
35.998376,-78.906146