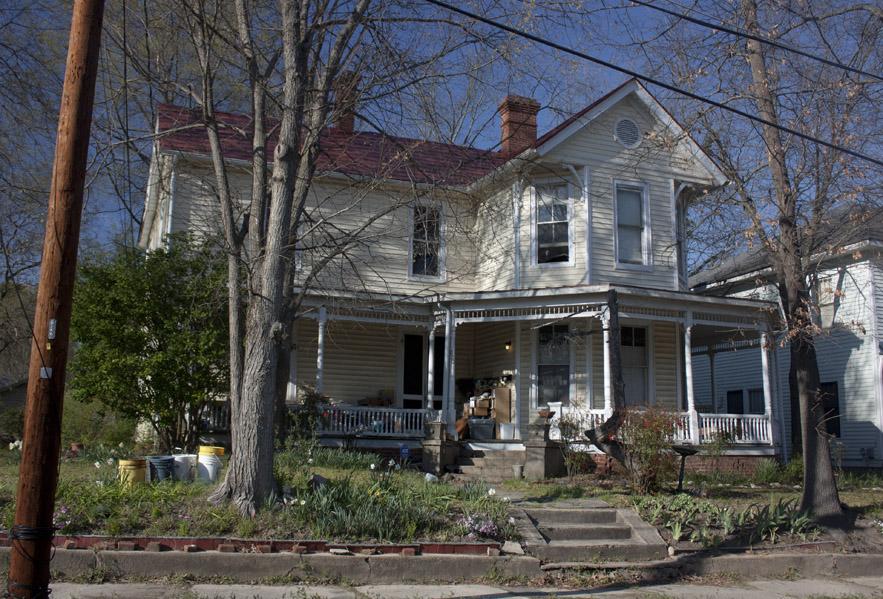 820 Wilkerson, 04.03.11

From the historic inventory:

This two-story frame house is one of the oldest and most distinctive houses in West End. Its form, characterized by wings terminating in three-sided bays, is accentuated by the carefully detailed one-story wraparound porch that follows the contour of the south and east elevations. The porch elements consist of turned porch posts with sawn spandrels, turned balusters in the railing, and a spool frieze with a scalloped edge. The house should be noted for its restored exterior which retains its original patterned tin roof and interior chimneys with tall corbelled stacks. The [owner of the house in 1980] was the recipient in 1976 of one of the first annual awards presented by the Historic Preservation Society of Durham.

The house is one of the most historically significant in the area, having been constructed by William Thomas O'Brien. O'Brien moved to Durham from Virginia in 1881 to operate and perfect the Bonsack cigarette rolling machine for W. Duke Sons and Co.

By 1892, he was living in this house, situated on what originally was a large tract of land that extended all the way to Rome St. and included a servants' house, a smokehouse, and a chicken coop. O'Brien also was instrumental in establishing a Roman Catholic Church in Durham. Services were held in this house until the Immaculate Conception Church was constructed in 1906 on [West] Chapel HIll Street on land which he deeded to the congregation [and with additional monetary support from O'Brien for the construction of the original sanctuary.] After O'Brien's death in 1907, his widow moved to South Duke Street. By 1919, this house was occupied by the family of Edward J. Long, a carpenter and interior decorator, who lived here for many years.