Willie Person Mangum, son of William Person Mangum was born in 1792. He was educated at "academies in Hillsborough, Fayetteville, and Raleigh" before attending the University of North Carolina. He studied law with Duncan Cameron and was admitted to the bar in 1817. He was elected to the state legislature at 26 years old, served as a Superior Court judge in 1819 (the same year his was married to Charity Alston Cain of Hardscrabble) and elected to the U.S. House of Representatives in 1824. He was a North Carolina Superior Court judge from 1826-1830, and he was elected to the U.S. Senate in 1830. He served in the U.S. Senate until 1853, serving as president pro tempore.

Mangum built his Greek Revival residence "Walnut Hall" as an addition to his father's home, which had been about around 1800. Walnut Hall was constructed from 1842-1845. The style was similar to that of Fairntosh, the home of his mentor Duncan Cameron. Several other buildings were constructed on site as well: an office, a kitchen, an icehouse, a smokehouse, a carriage driver's house, and several barns. In 1860, there were three houses for enslaved people on the property. The house was named for two large walnut trees extant on the property; he planted the yard with specimen trees and other plants procured in Washington.

His wife Charity managed his 600 acre plantation; Mangum kept 20 people enslaved in 1850, which decreased to 12 people by 1860, and 4 by 1861. The plantation grew wheat, corn, and tobacco. Mangum evidently inherited significant bad debts from his father and struggled with his financial affairs, but his father-in-law, William Cain, repeatedly saved him from financial ruin.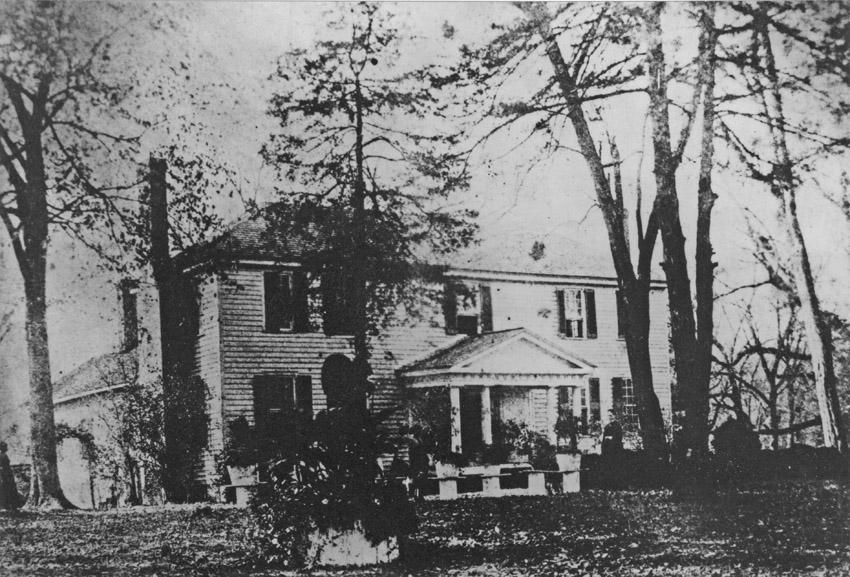 Walnut Hall, 1870s
(Courtesy Durham County Library / North Carolina Collection)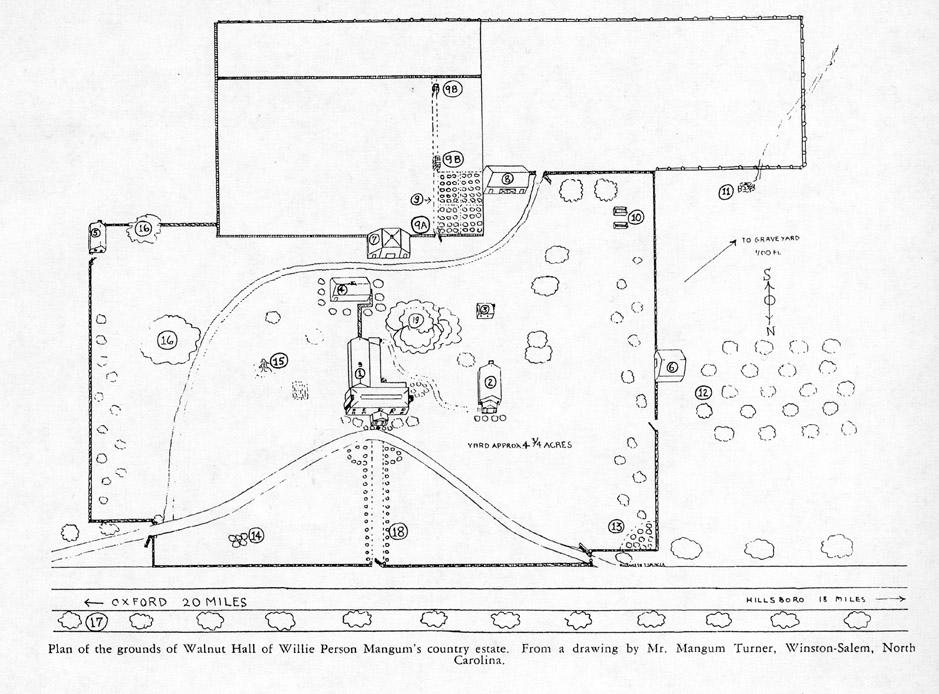 Walnut Hall Site Map, drawn by Mangum Turner.
Key: (1) Residence, front completed in 1844, ell about 1800; (2) New office, 1844; (3) Old office; (4) Kitchen with huge fireplace; (5) Carriage driver's house; (6)Ice house; (7) Smoke house and woodhouses; (8) Feed barn and carriage house, constructed about 1800; (9) Rose garden; (9A) Rose arbor on entered wide garden walk which was bordered with shrubbery; (9B) Two very large scuppernong vines; (10) Corn cribs; (11) Walled spring; (12) Orchard; (13) Rare shrubbery, "some from foreign lands; (14) Summer house of cedars, tops fastened together with chains; (15) Well; (16) Two huge sugar pear trees planted about 1820 - scions from trees brought by Mangum's grandparents from Pennsylvania prior to the Revolution; (17) Both approaches to grounds and in front was avenue of cedars; also grove cedars each end of grounds; (18) English box bordered walk ending in circles in front of residence; all walks covered with crushed white flint rock; (19) Two enormous walnut trees, each in 1899 measured 18 feet in circumference; longest limb was 86 feet.

(Courtesy Michael Hill)

From the U.S. Senate biography:

"Originally a Jacksonian Democrat, Mangum opposed protective tariffs and instead supported states' rights. In 1834, he broke with Andrew Jackson over several issues, especially the removal of federal deposits from the Bank of the United States. Mangum resigned from the Senate in 1836 after refusing to carry out voting instructions from the North Carolina legislature, which the Democrats controlled. His political views were particularly well received in South Carolina, where he won all 11 electoral votes for president of the United States in the 1836 election.

Mangum was elected in 1840 as a Whig to fill the Senate vacancy caused by the resignation of Bedford Brown. He was subsequently reelected and served until 1853. As president pro tempore of the Senate between May 1842 and March 1845, he was (under rules of the time) next in line for the presidency since President John Tyler did not have a vice president. Mangum was an astute political leader, an effective debater, and a powerful campaigner with personal charm and magnetism. A close friend of Daniel Webster's, Mangum helped persuade the Massachusetts senator to make his famous "Seventh of March" speech during the Compromise of 1850 debates. When he failed to win reelection in 1852, Mangum returned to North Carolina, where he practiced law."

By 1860, Mangum had been partly paralyzed by a stroke; when the Flat River Guards organized from nearby families (including his own son, William Preston Mangum) to fight for the Confederacy, they marched to Walnut Hall before leaving for the front. Willie P. Mangum had to be carried out to his front yard to bid them farewell, and lent them this confidence inspiring speech (although other sources dispute that he could speak after his stroke): "Boys, God bless you every one, but you can't succeed. Their resources are too great for you." His son was killed less than a month later at Manassas. Willie P. Mangum died soon after hearing of his son's death, on September 7, 1861. Both were buried in the family cemetery on the grounds of Walnut Hall.

Charity Mangum and her daughters continued to reside at Walnut Hall, and to farm the land after Willie P. Mangum's death. After Charity's death, the daughters began to sell off portions of the acreage to neighbor Zachariah Hampton. One daughter, Sallie, married and left Walnut Hall. Martha and Mary Mangum, two of his daughters, did not marry; Martha started a "female academy" at Walnut Hall in 1863. The two daughters continued to reside at Walnut Hall until their deaths in 1902.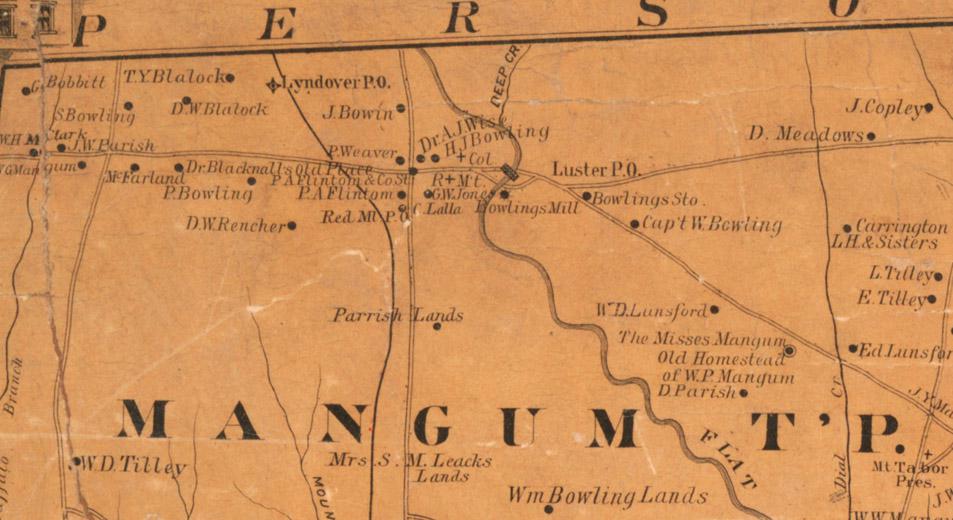 1887 Map, showing Walnut Hall occupied by the "Misses Mangum" (Courtesy Digital Durham)

The estate was placed into public auction after their deaths; it was purchased by neighbor William B. Hampton with a bid of $3850 for 565 acres. One acre including Mangum graveyard was excluded from the sale; it continued to belong to the Mangum descendants. The Hamptons lived at Walnut Hall until 1916, when they moved to Bragtown. The house was rented after that to various tenants.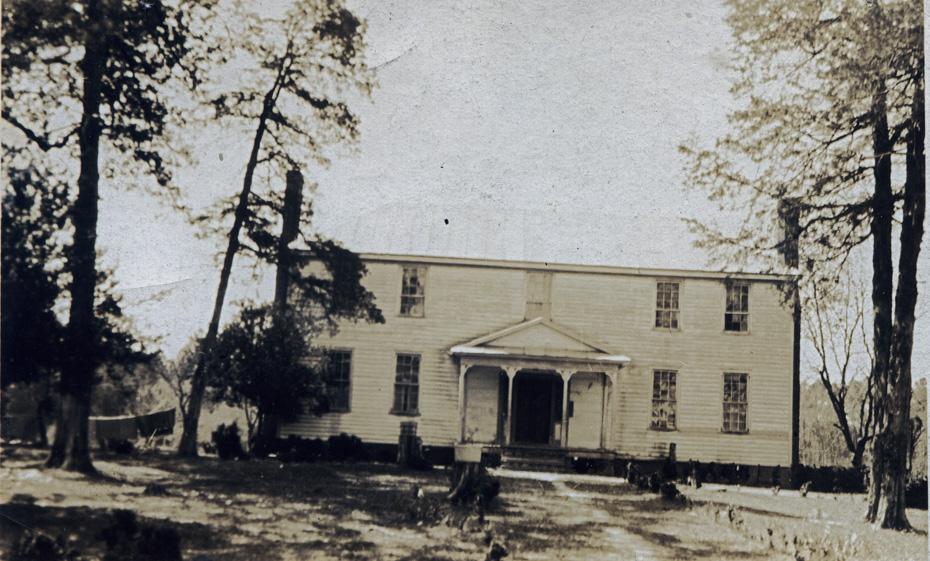 Walnut Hall, likely 1920s.
(Courtesy Duke Rare Book and Manuscript Collection - Wyatt Dixon Collection)



Walnut Hall, likely 1920s.'
(Courtesy Duke Rare Book and Manuscript Collection - Wyatt Dixon Collection)

By 1929, the house was reportedly in poor shape. On Christmas Eve, 1933, the 1845 section of the house burned and was destroyed.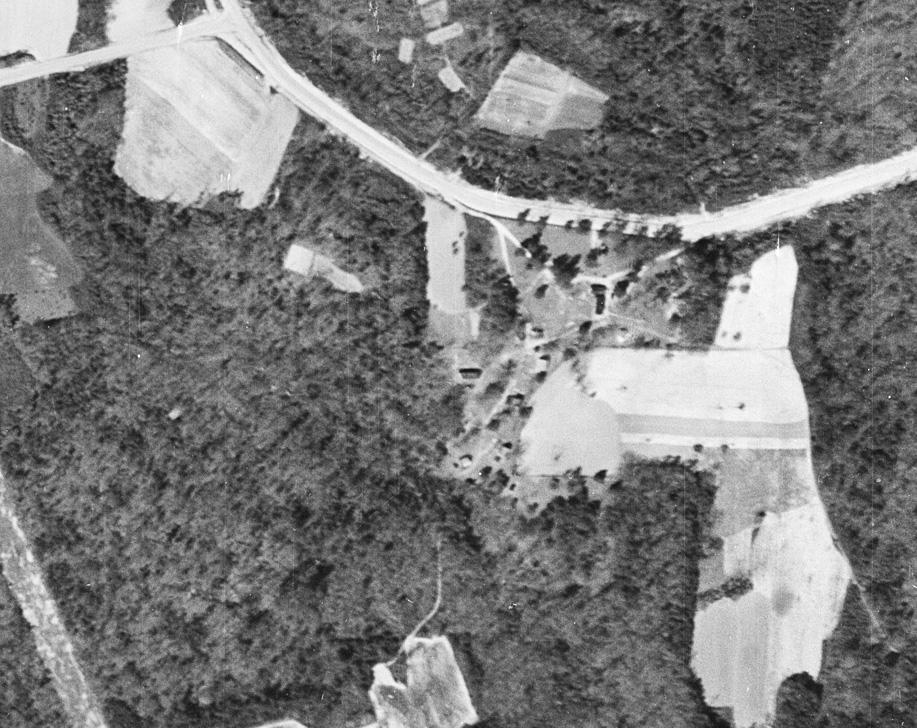 So-so quality aerial of the property, 1955. The drive and some structures are still visible.
(Courtesy Durham County Library)

The older, rear structure, dating from ~1800, evidently survived until ~1980, when it burned and was destroyed as well.

The site remained in the Hampton family until 1977, when it was acquired by the North Carolina State University School of Forestry, presumably to add to the adjacent Hill Forest.

The site was difficult to locate; it is now part of the Hill Forest (once part of the Quail Roost land holdings, donated to North Carolina State University as a demonstration/training forest.) The main clue from the roadway are two rather immense poplar trees.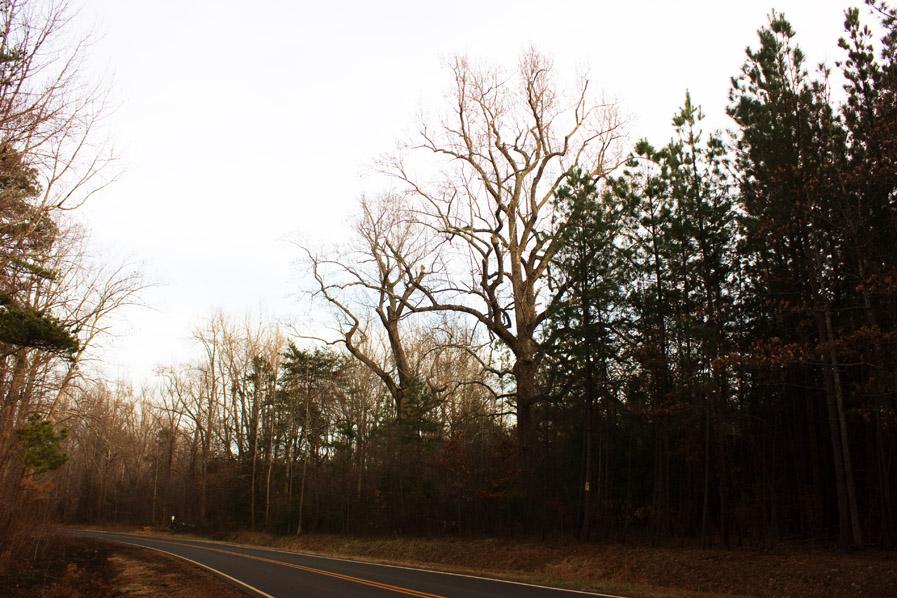 03.10.2009
(Photo by Gary Kueber)
Back in a ways, it appears that there is the site of the house, surrounded by varied mature hardwoods, including some very impressive cedars.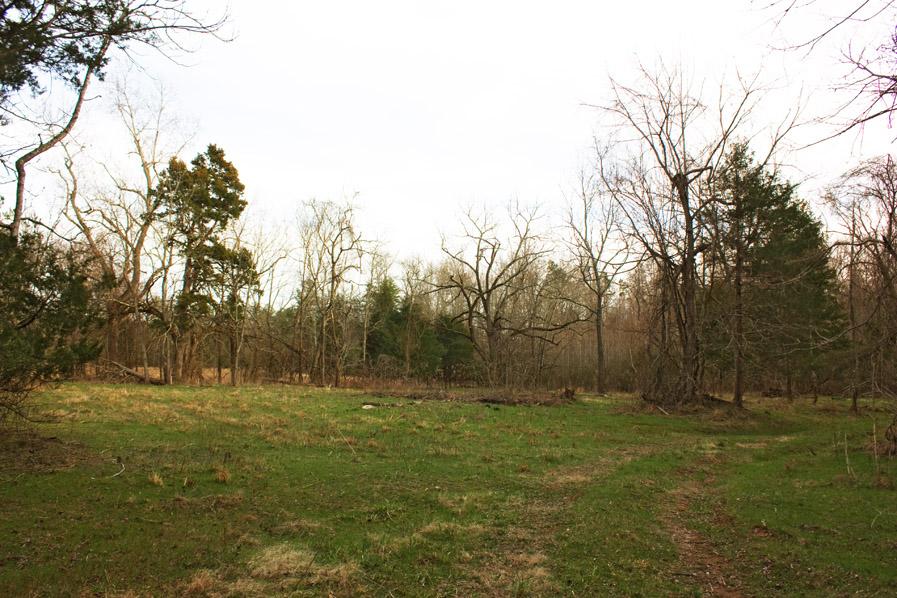 (Presumed) site of Walnut Hall, 03.10.09
(Photo by Gary Kueber)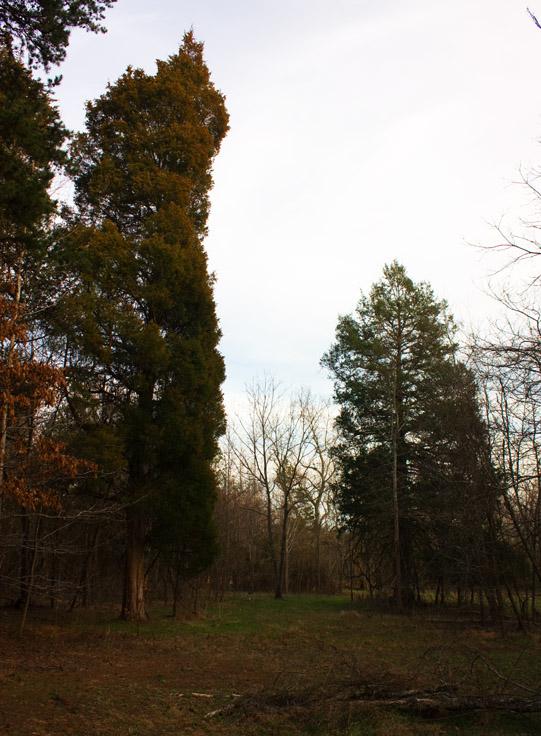 Cedar trees, 03.10.09.
(Photo by Gary Kueber)

Further back on the site, on the edge of the woods, are a few abandoned tobacco barns.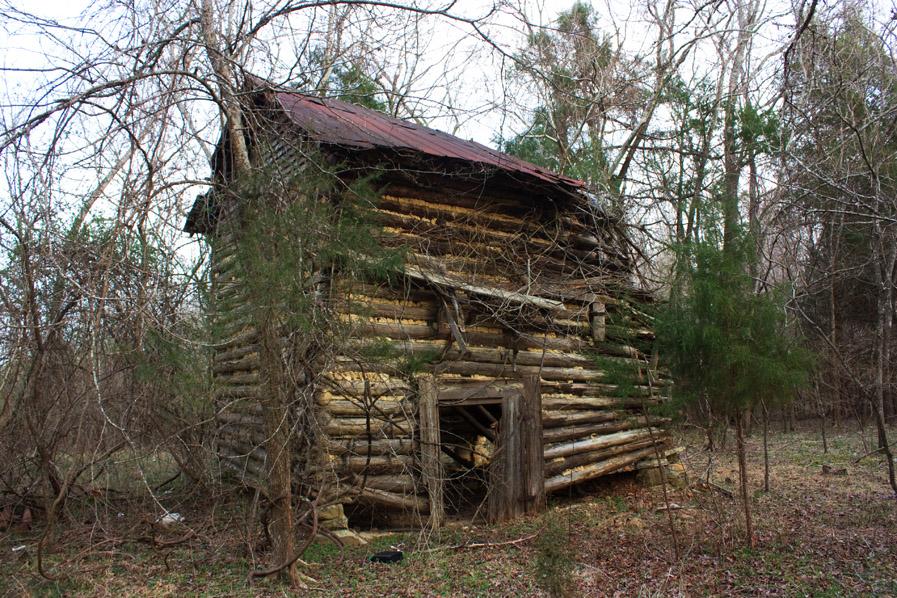 Abandoned tobacco barn 1, 03.10.09
(Photo by Gary Kueber)



Abandoned tobacco barn 2, 03.10.09
(Photo by Gary Kueber)

A ways further through the woods, and up the hill sits the Mangum family graveyard. Fenced, but semi-abandoned in the woods - an unfortunate final end for one of North Carolina's most pre-eminent political figures. Even more unfortunately, his son, William Preston Mangum, was disinterred by grave robbers who stole pieces of his uniform; he was re-interred in 1984. While the graveyard was still presumably owned by the Mangum heirs (then two descendants living out-of-state) in 1984, it is not noted as a separate parcel now on the county tax map; I presume that this means that it was deeded to the state at some point.

It seems utterly bizarre to me that this state-owned property is not a State Historic Site.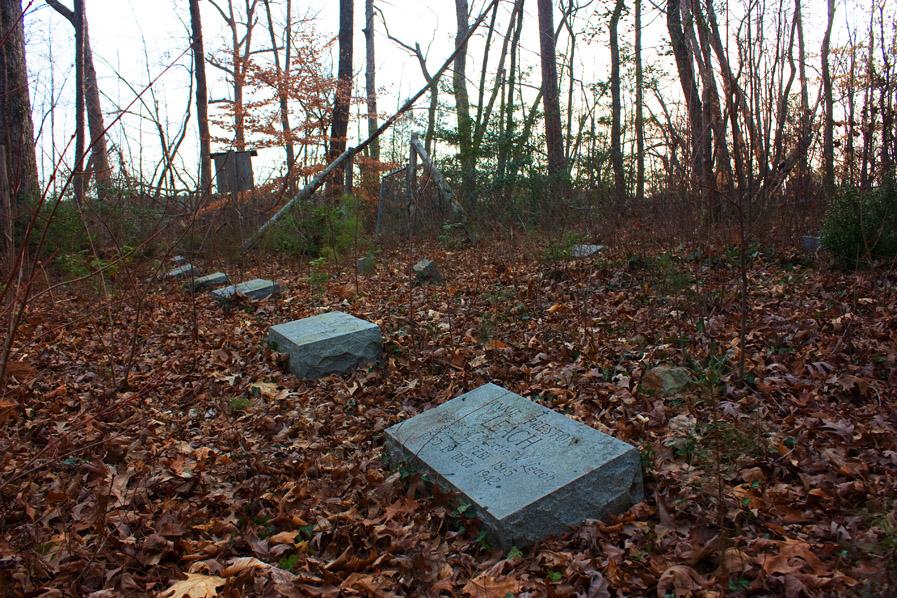 Walnut Hall cemetery, 03.10.09
(Photo by Gary Kueber)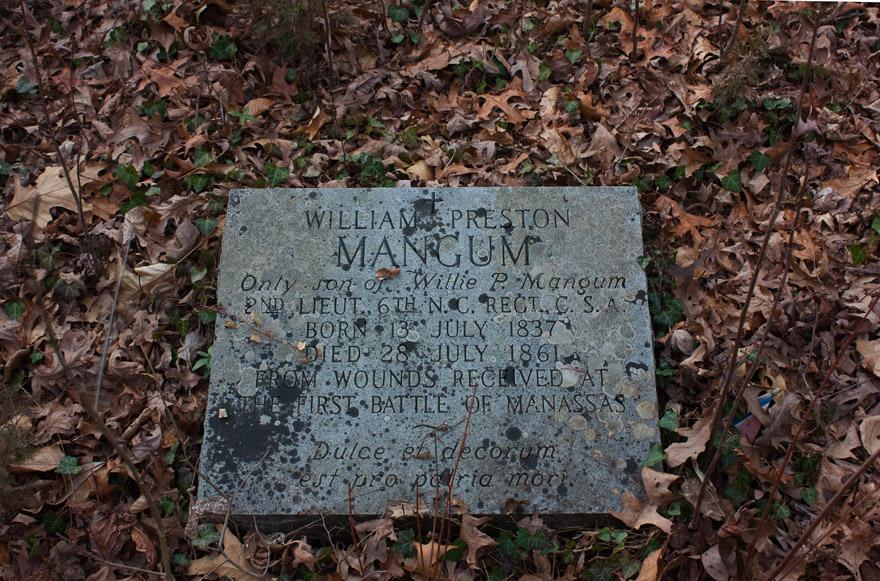 William Preston Mangum grave, 03.10.09
(Photo by Gary Kueber)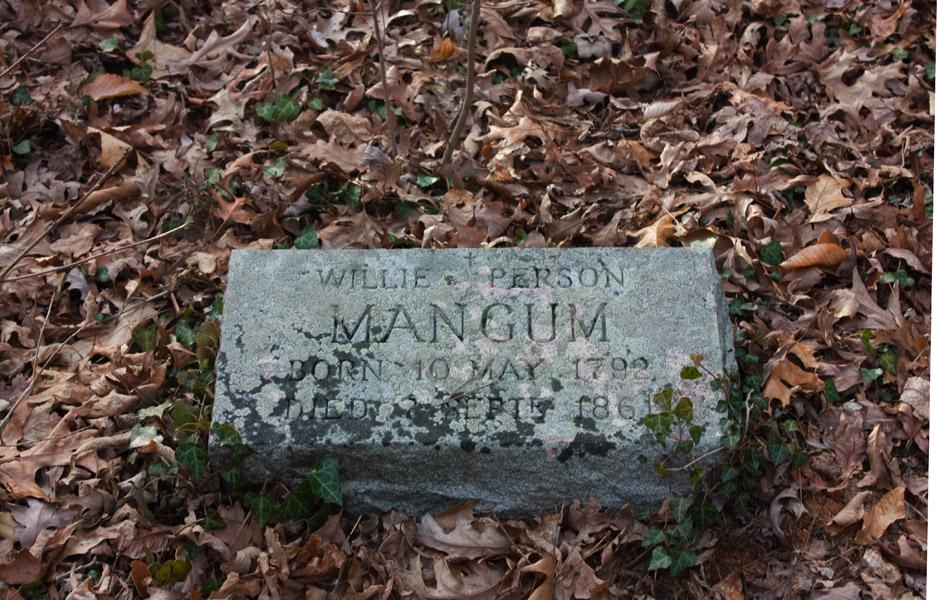 Willie P. Mangum grave, 03.10.09
(Photo by Gary Kueber)
Many thanks to Chris Graham and David Southern for guidance in locating the property; thanks to Michael Hill for his generous provision of a report he generated for the State of North Carolina after the disinterment of William Preston Mangum in 1984.