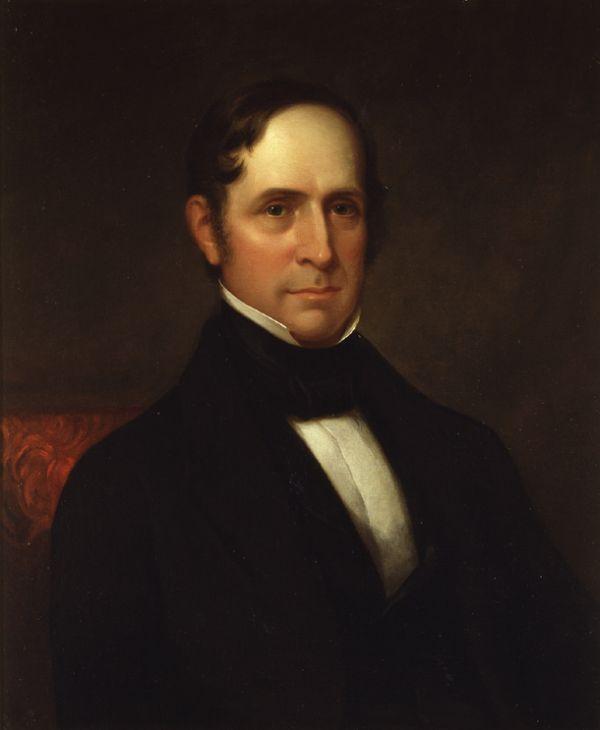 Willie Person Mangum, son of William Person Mangum was born in 1792. He was educated at "academies in Hillsborough, Fayetteville, and Raleigh" before attending the University of North Carolina. He studied law with Duncan Cameron and was admitted to the bar in 1817. He was elected to the state legislature at 26 years old, served as a Superior Court judge in 1819 (the same year his was married to Charity Alston Cain of Hardscrabble) and elected to the U.S. House of Representatives in 1824. He was a North Carolina Superior Court judge from 1826-1830, and he was elected to the U.S. Senate in 1830. He served in the U.S. Senate until 1853, serving as president pro tempore.

Mangum built his Greek Revival residence "Walnut Hall" as an addition to his father's home, which had been about around 1800. Walnut Hall was constructed from 1842-1845. The style was similar to that of Fairntosh, the home of his mentor Duncan Cameron. Several other buildings were constructed on site as well: an office, a kitchen, an icehouse, a smokehouse, a carriage driver's house, and several barns. In 1860, there were three houses for enslaved people on the property. The house was named for two large walnut trees extant on the property; he planted the yard with specimen trees and other plants procured in Washington.
 
His wife Charity managed his 600 acre plantation; Mangum kept 20 people enslaved in 1850, which decreased to 12 people by 1860, and 4 by 1861. The plantation grew wheat, corn, and tobacco. Mangum evidently inherited significant bad debts from his father and struggled with his financial affairs, but his father-in-law, William Cain, repeatedly saved him from financial ruin.
Per his US Senate Biography:
"Originally a Jacksonian Democrat, Mangum opposed protective tariffs and instead supported states' rights. In 1834, he broke with Andrew Jackson over several issues, especially the removal of federal deposits from the Bank of the United States. Mangum resigned from the Senate in 1836 after refusing to carry out voting instructions from the North Carolina legislature, which the Democrats controlled. His political views were particularly well received in South Carolina, where he won all 11 electoral votes for president of the United States in the 1836 election.
Mangum was elected in 1840 as a Whig to fill the Senate vacancy caused by the resignation of Bedford Brown. He was subsequently reelected and served until 1853. As president pro tempore of the Senate between May 1842 and March 1845, he was (under rules of the time) next in line for the presidency since President John Tyler did not have a vice president. Mangum was an astute political leader, an effective debater, and a powerful campaigner with personal charm and magnetism. A close friend of Daniel Webster's, Mangum helped persuade the Massachusetts senator to make his famous "Seventh of March" speech during the Compromise of 1850 debates. When he failed to win reelection in 1852, Mangum returned to North Carolina, where he practiced law."

By 1860, Mangum had been partly paralyzed by a stroke; when the Flat River Guards organized from nearby families (including his own son, William Preston Mangum) to fight for the Confederacy, they marched to Walnut Hall before leaving for the front. Willie P. Mangum had to be carried out to his front yard to bid them farewell, and lent them this confidence inspiring speech (although other sources dispute that he could speak after his stroke): "Boys, God bless you every one, but you can't succeed. Their resources are too great for you." His son was killed less than a month later at Manassas. Willie P. Mangum died soon after hearing of his son's death, on September 7, 1861. Both were buried in the family cemetery on the grounds of Walnut Hall.