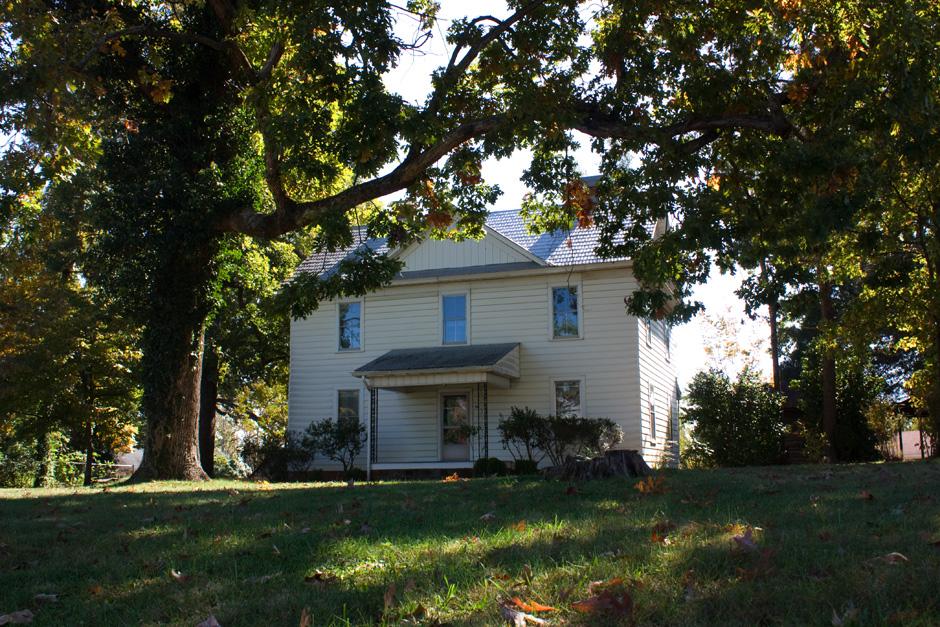 1502 Bahama Road, 10.26.08
From the 2003 HPSD tour of Bahama:
This eight-room house was built about 1914 for the John Umstead family. John's son William Bradley Umstead was a U.S. Congressman and Governor of North Carolina in the early 1950s. [Note - my research has pointed to the John Umstead House - at least the John Umstead that was the father of Governor Umstead as standing on Hampton Road. There were several John Umsteads, and it's possible that some conflation occurred here. - GK]
The house sits well back from the road on an unusual nine-sided lot shaded by huge oak trees. The house has four rooms flanking a central hall on each floor. The 2003 owner, a relative of the Umsteads, purchased the house in 1960 from Mrs. Umstead's heirs.
The house originally had a wrap-around porch, but by the early 1950S it was in too poor condition to be renovated. The small front porch is all that remains. Inside, the horizontal six panel doors, the two-over-two light windows, and other woodwork are all original. A solidly built staircase leads from the back of the central hall straight up to the second floor (not open during tour). The back door with its two vertical beveled glass panes leads to the original wood-paneled back entry.
The uses of the downstairs rooms have changed over the years, but they retain many original features, including 11-foot ceilings and pine floors. The original dining room is now the front parlor. The door hardware and the unusual three-chained domed light fixture are original. The original front parlor is now a bedroom. The decorative original mantle features an oval beveled mirror over-mantle. The owner's brother built the tall pine wardrobe in the 1950S. The original milk glass-shaded brass light fixture has particularly beautiful detail.
At the back of the house is the dining area, connected to a new kitchen added in the 1950s. The kitchen features a '50s-era wood stove that was used for home heating. Note also the original wood panel walls in the kitchen dining area. The fourth downstairs room is another bedroom, which is not open for the tour.
Behind the house are a smokehouse where salted pork was cured and a washhouse with its original stove for heating water and boiling clothes. Next door is the small building where the owner ran her medical practice from 1951 until 1966, treating patients from Bahama and surrounding communities. [by Kimberley Miller]