TATE HOUSE - 1001 EDITH STREET (FORMER 1704 MARKHAM)
Built in
1910
/ Modified in
2008
Comments
Built in
1910
/ Modified in
2008
Many thanks to John Martin, owner of the house, who collected and wrote much of the history I've incorporated into the text below
1001 Edith Street spent the first ~90 years of its life as 1704 A Street / College Road / West Markham Avenue. The house was built ~1910-1911 by R.M Hobgood, who is listed in city directories as a postal clerk. He bought several adjacent lots in West Durham in the early 1900's for between $165 and $200 apiece. Because R.M. Hobgood is listed in city directories as living on Elizabeth St., he probably built this house as an investment.
The house changed hands several times after 1911 before being bought by W.G. Tate in May 1920. One of the city directories lists Tate as being an agent for Imperial Life Insurance Co. City directories list it as the home address of W.G. Tate, but a 1925 city directory also lists 1704 ½ as a grocery.
In 1933 W.G. Tate sold the house to Erwin Mills and moved to 1111 Broad St; the house appears to have been a rental house for the remainder of its life on West Markham. The house passed to Burlington Industries Foundation in 1965, after Burlingotn Industries took over Erwin Mill; the company gave the house to Duke University the same year. Duke owned the house from 1965 to 1979.
The house was originally L-shaped with two front rooms separated by a central hall. Behind the parlor on the left (as you came in the front door) were two more rooms, which could also be reached from the rear of the central hall via a porch that stretched the length of the house, alongside the back two rooms. There were fireplaces in the front parlor and in the room directly behind it. This is a fairly typical pattern for the single story, 'triple-A roofline' houses built throughout Durham in the early 20th century. They typically varied in the existence and size of the wing extending back from the front hall-and-parlor.
Frequently, these houses were expanded by enclosing the rear porch along the wing with various types of shed roof additions, additional wings, etc. At some point, the 1704 Markham was expanded in this way, adding another room, a bath, and an extension of the back room. This back room may always have been used as a kitchen, but it is also possible that it was used as the "grocery" in the mid-twenties. Or, possibly, one of the newly enclosed porch rooms was the "grocery" at 1704 ½ College Road.
In 1979, Duke sold the house to Joe Sica, who owned a large amount of rental property near Duke campus. Joe Sica sold the house in 1992 to Jeff Monsein who rented it until 2006.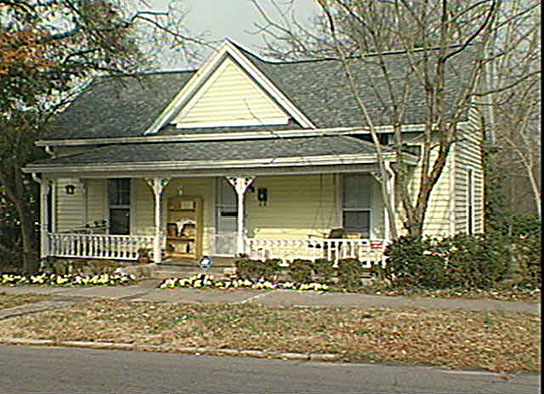 1704 Markham, mid 1990s.
By 2007, the house had been empty and boarded for some time. I profiled it here when it became clear that Mr. Monsein intended to tear the structure down to replace it with something larger.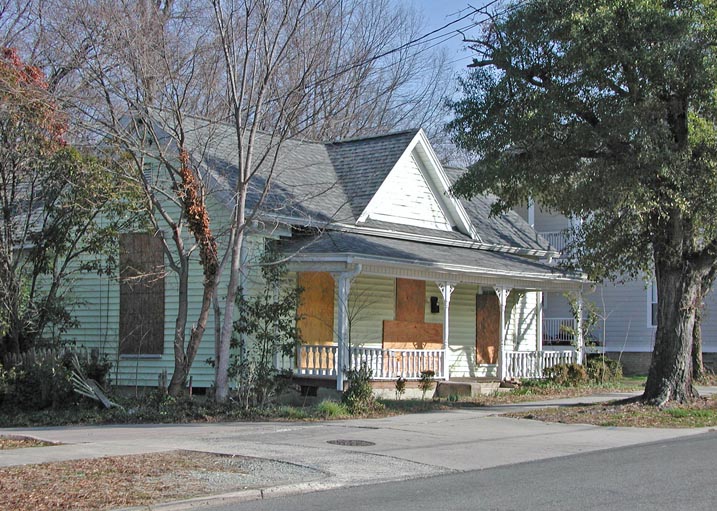 1704 Markham, January 2007.
At that time, I focused primarily on the weakness of our local historic district ordinance - its inability to prevent demolition of any structure rather than simply delay demolition for a year. In February 2007, the historic preservation commission approved a one year delay prior to the demolition of this house.
However, as I've said before - and others have said when I've expressed my consternation over our hamstrung preservation ordinance - it's better than nothing.
In this case, the delay turned out to be considerably better than nothing. The time afforded by the historic preservation commission delay allowed John Schelp and Carrie Mowry to persuade Jeff Monsein to give the house to a person who would move it and restore it. John Martin read about the house here and began to explore the possibility.
John Martin writes:
"I originally got interested because I had two lots behind my (now former) house on Club, and it seemed like a no-brainer. I called David Parker, the contractor, to go look at the house on Markham with that in mind. He told me, 'if you decide you're not interested, I might be.' His lot at 2100 W Knox St was about a half acre, very deep, but not wide. He had been thinking for a long time about subdividing it and building a house on the back part facing out on Edith St."
"We looked at the house with Carrie Mowry. I asked David what he was interested in doing if I passed on it, and he mentioned his lot. So, Carrie, David, and I went over and looked at it. To make a long story short: Edith St. seemed like a better location on any number of grounds. It was closer to Markham; the house fit the neighborhood; ultimately the house fixed up would be worth more on Edith St. than on Linfield Dr. (behind Club)."
It took awhile to put together all of the necessary arrangements. To Mr. Monsein's credit, he did not demolish the house in February 2008, when he was legally able to do so. He delayed his plans until April 2008, when John Martin had engaged Kountry Boy house movers (who have done every house move I've been involved with around here,) secured all of the endless permits and permissions from the city, purchased the lot, etc.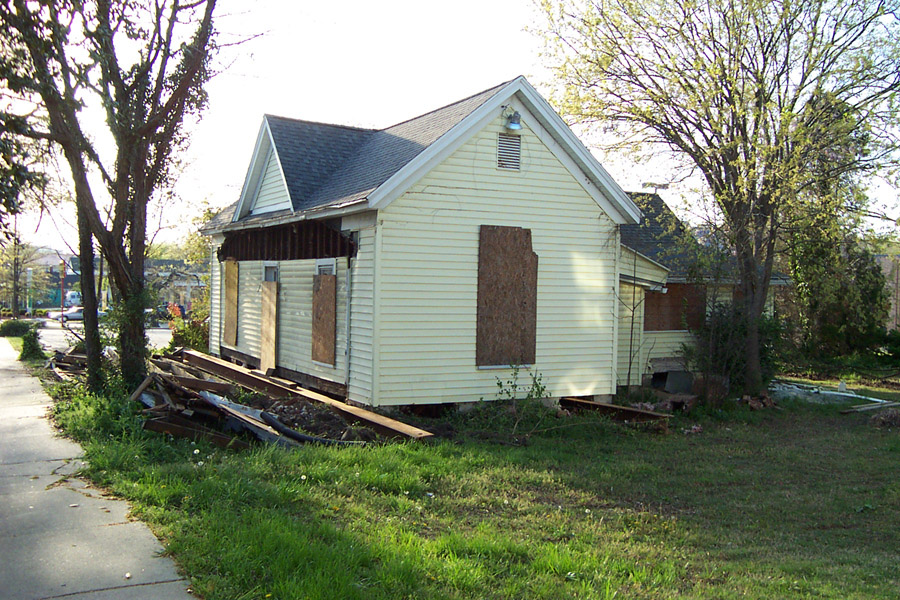 1704 Markham, ready to move, 04.10.08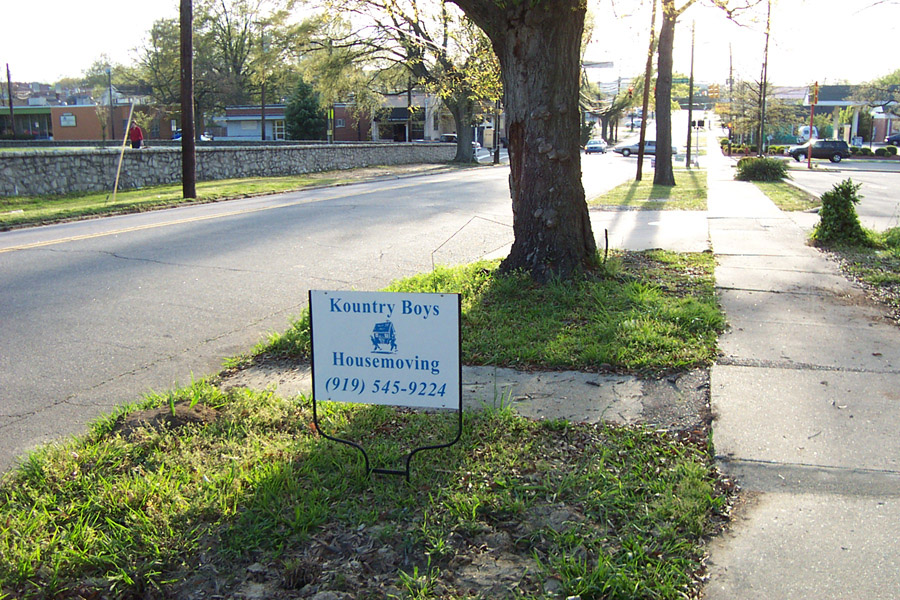 1704 Markham, ready to move, 04.10.08
The house was moved on May 18, 2008 from Markham Ave. to Edith St. Media attention led to a reasonable crowd of people on hand to watch the big move. (The back wing of the house had been moved prior to the photos I took below.) The later porch-enclosure portions of the house were not moved.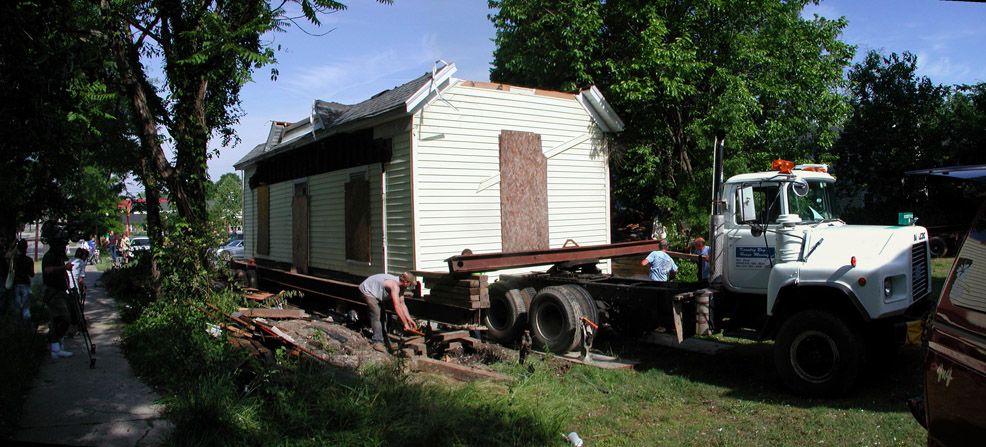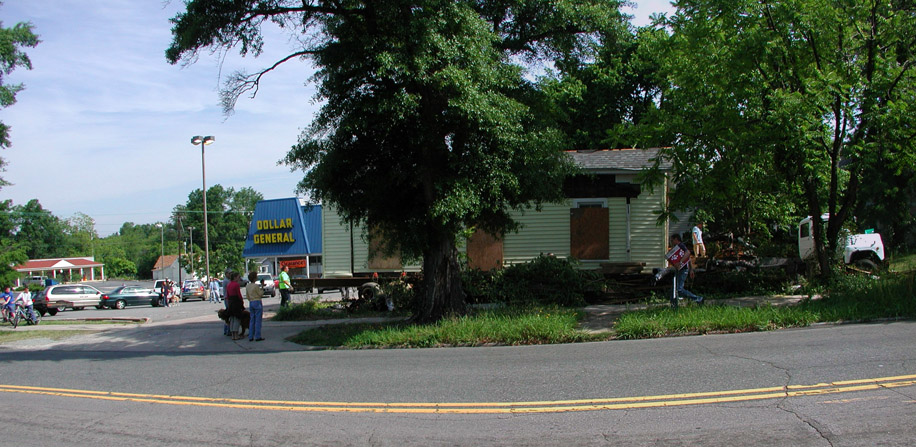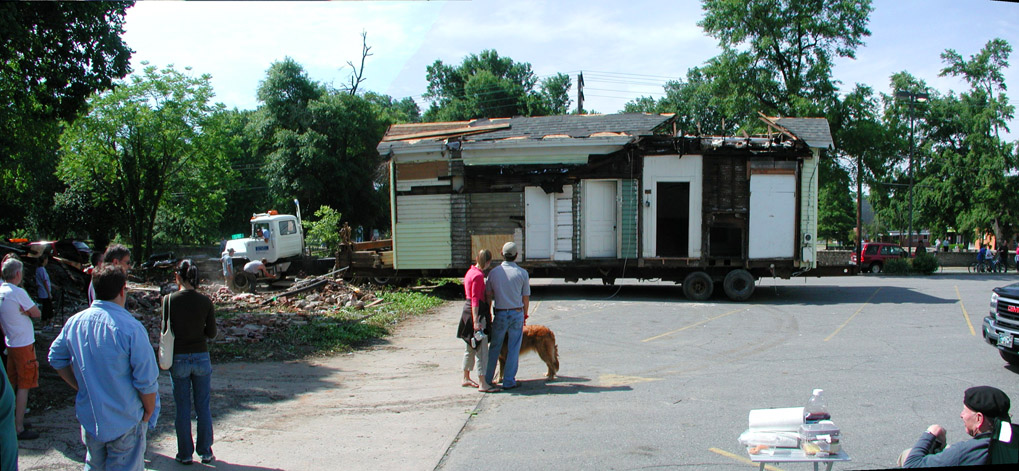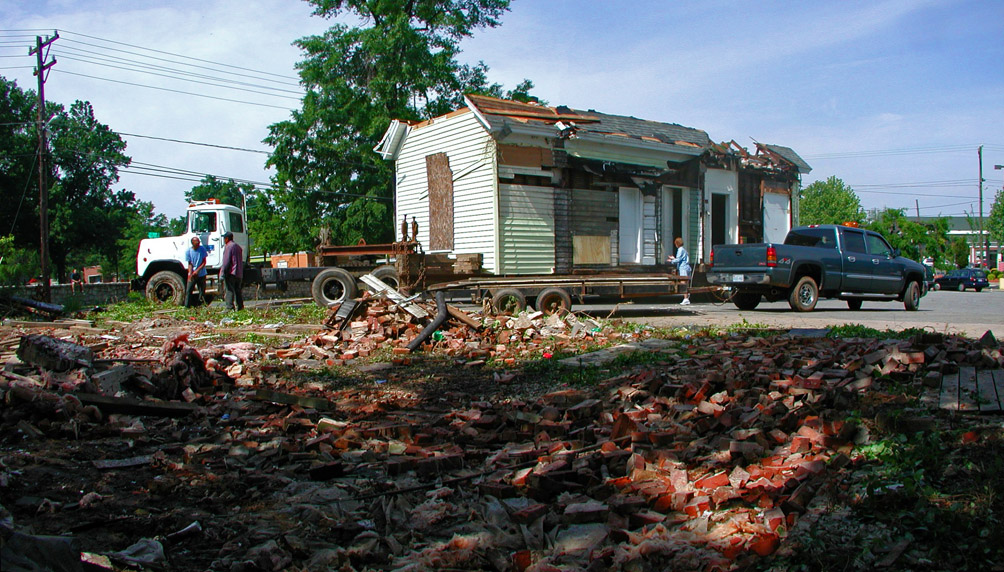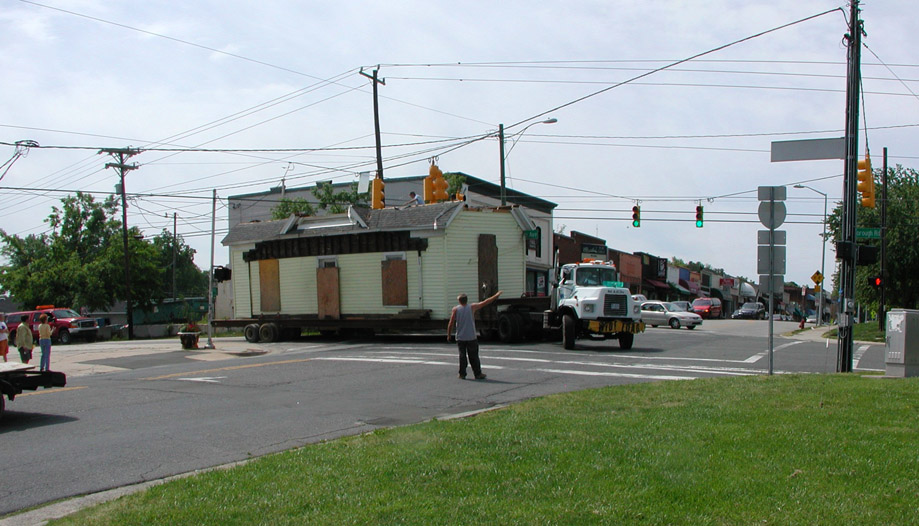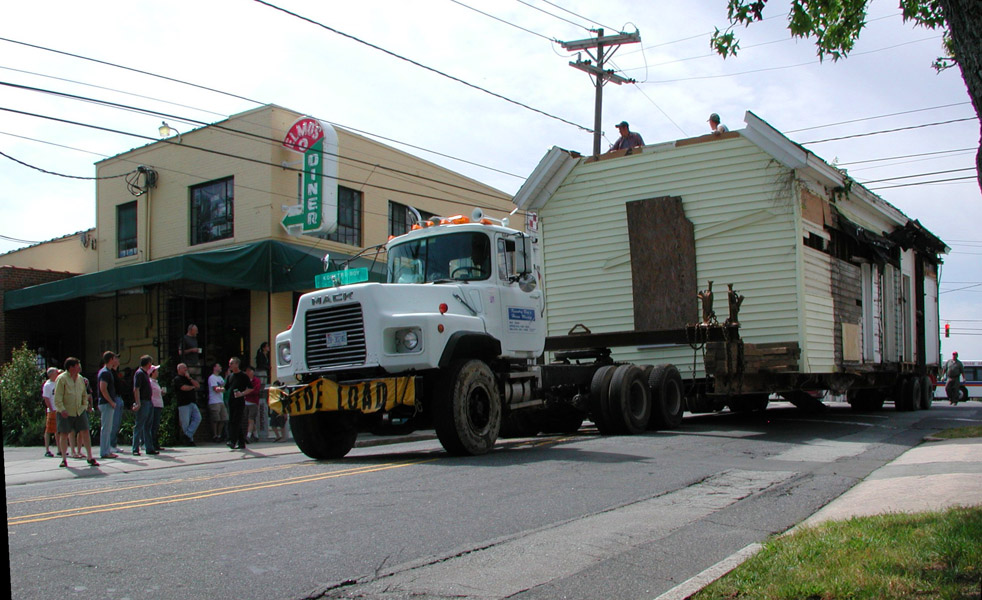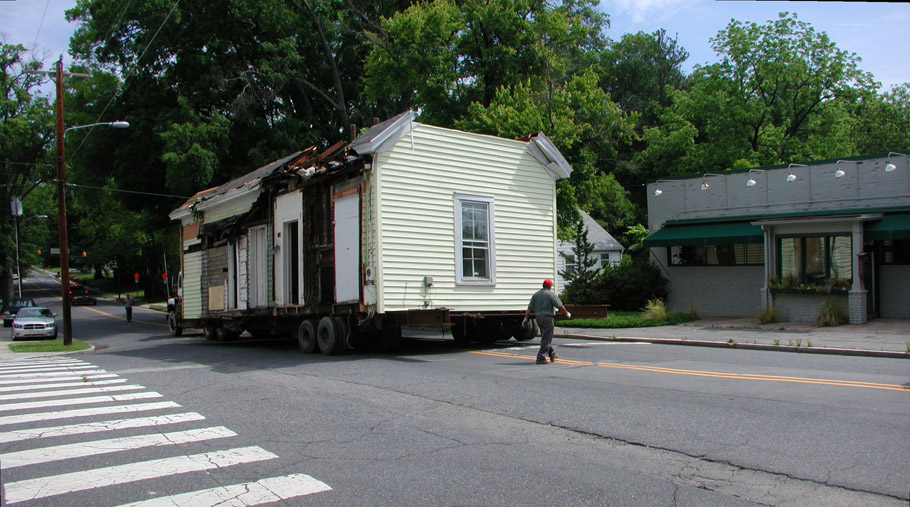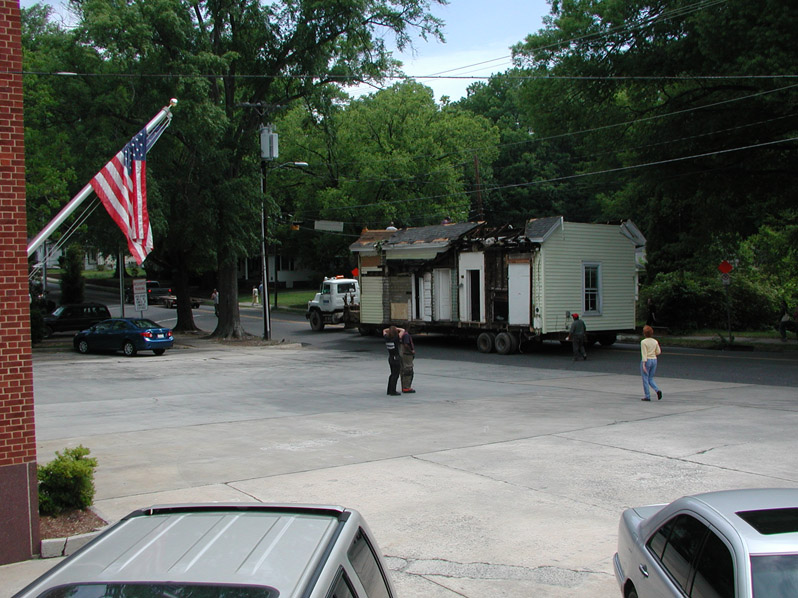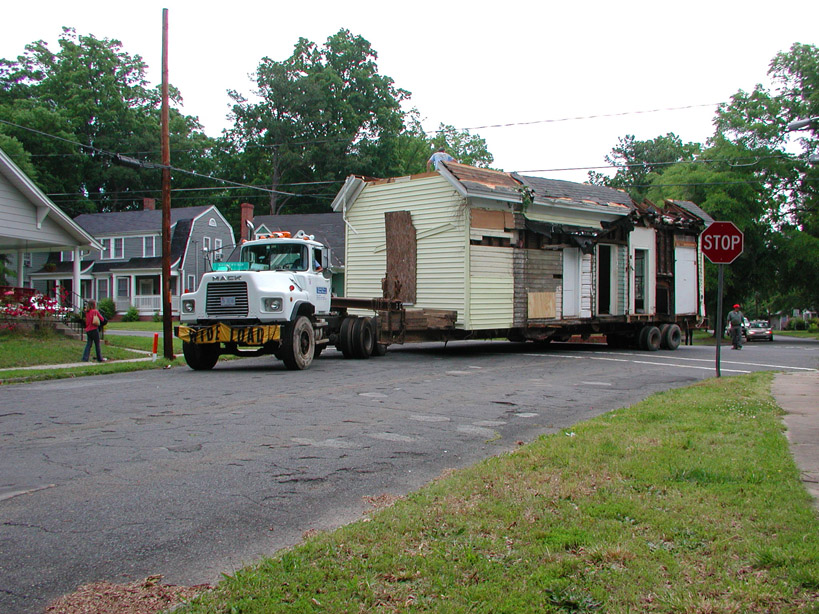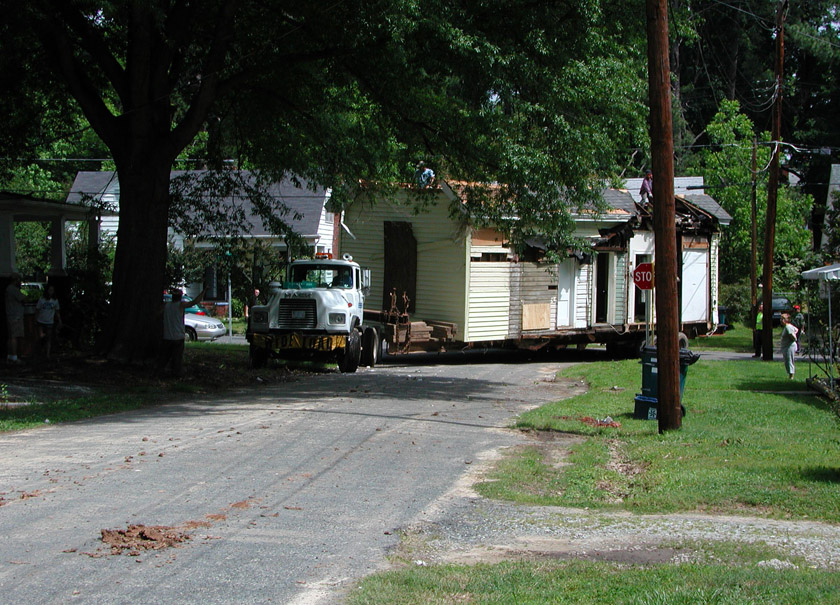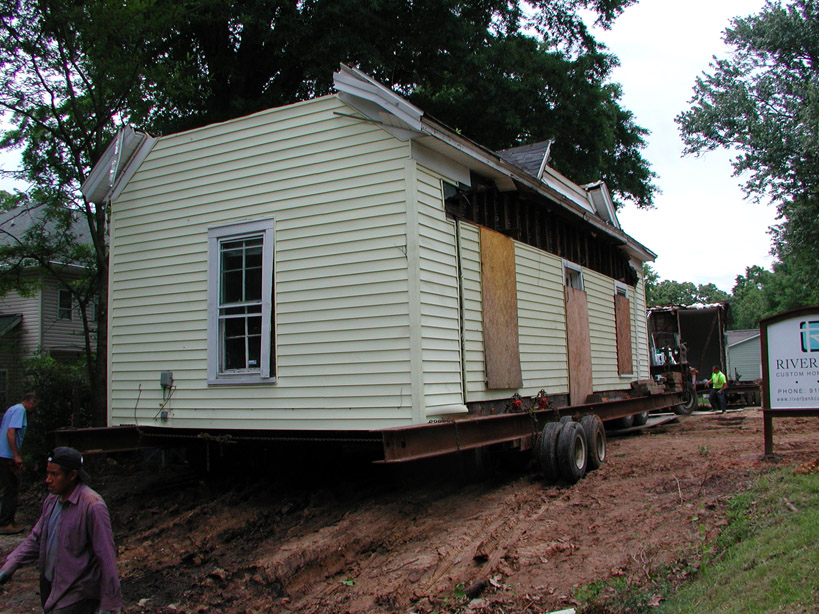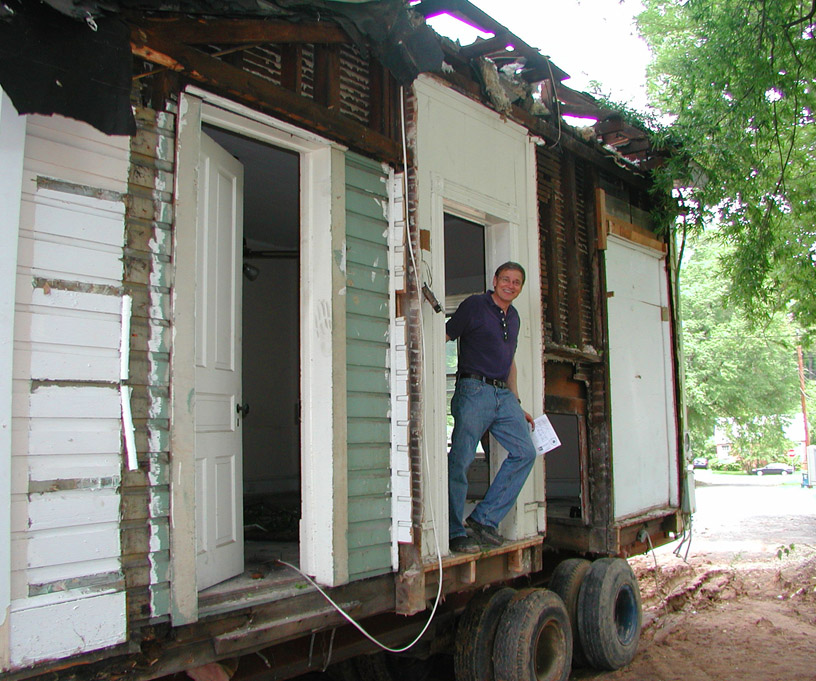 (You'll note that a good chunk of the roof was sliced off for the move. As an aside, one of the unfortunate realities that a potential house move faces is the byzantine congestion of the airspace above our roads and houses with a mess of electrical, phone, and cable lines. This is by no means the only reason why houses were commonly moved around in the late 19th/early 20th century but rarely now, but it is a significant contributor to the decline. When I used to put tons of volunteer time in for Preservation Durham trying to prevent houses from being demolished, we moved the Stanford Warren house and the Blackman House to save them from demolition. The extraordinary cost charged by the utility companies to temporarily take down lines nearly sunk these moves. If you're moving a single story house, you may be lucky, and the lines can simply be lifted by someone on top of the house as the house goes by. If you are moving a two story house, you typically need to cut it into chunks and then reassemble it, like the Sweaney House. Despite the assurances of the 1927 comprehensive plan of Durham that the power and telephone lines would likely be buried in 10 years time, we aren't much closer to that than we were in 1927. The cost to do so remains exorbitant, and it is hard for me to believe that the cost needs to be as high as the utility companies require through their specifications. I recently priced burying the power infrastructure over a 1 1/2 block span with Duke Power. The rough estimate was $750,000 (although they noted that I could do this a lot cheaper - $500,000 without using their contractors, and the state mandated 34% markup.))
Back to the Tate House, now 1001 Edith Street - getting the house on a foundation and commencing restoration began immediately.
John and his contractor rebuilt the central hallway by restoring the wall that separated it from the front parlor, matching the original wainscoting. He repaired or matched the original door and window moldings, restored the bead board ceilings, repaired the original windows and doors, refinished the original quarter-sawn, heart-pine floors, and found restored 1920's light fixtures for the hallway. The chimney could not be moved and was removed by the house movers. He created a new fireplace with gas logs, and restored the original mantel.
On the exterior, he removed the vinyl siding and replaced the roof (which was badly damaged by the move.) He stripped paint from the original siding, repaired it where necessary, and installed matching wood siding on the addition. He rebuilt the porch and restored the original railings and millwork. He chose paint colors from the period in which the house was built, though in all probability, a modest house like this was probably originally painted white or gray.
He added two bedrooms, a bath, and closets to the back of the house. Those two bedrooms were essentially mirror images of the front two rooms. Thus the original ell shape was turned into a U-shape. The back part is connected to the front of the house by a hallway where the side porch once was. Off that hallway he built a new bathroom, laundry room, and breakfast area opposite the dining room and kitchen.
John moved in on November 22, 2008, and loves how the house turned out.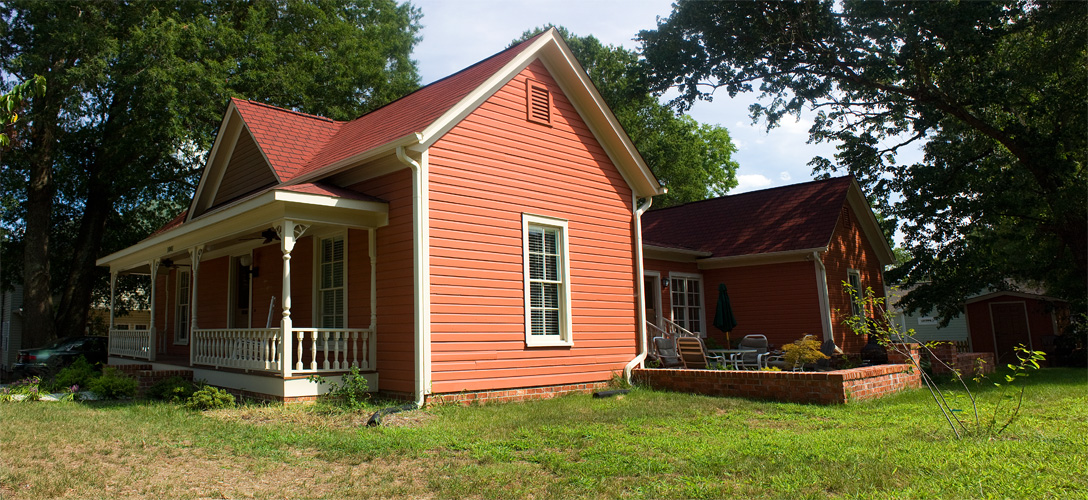 1001 Edith Street 09.05.09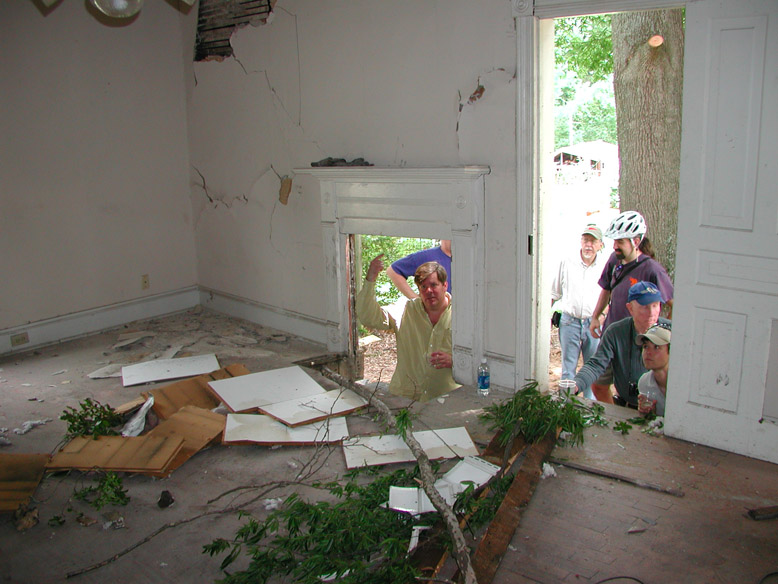 Living room the day of the move (OWD's John Schelp inspects the room from inside the fireplace)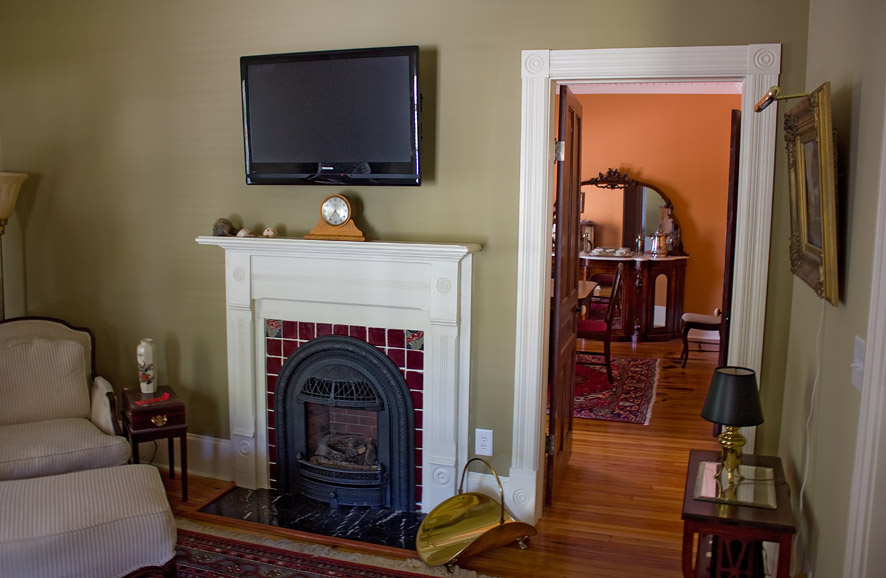 Living room, 09.05.09
John is generous enough to share the economics of this deal - as I think doing this just seems to most people, unfortunately, like an impossibility, or some extraordinary thing that must make no economic sense.
Lot: $30,000
House Move: $30,000
Renovation and additions to the house: ~$150,000
The sunk costs in the 1931 square foot house are now $210,000. A 1350 square foot house nearby on Virgie St. recently went under contract quickly for $269,500.
In short, even if we must look at this house and the move on purely economic terms, it makes sense. A half-century of promotion by the home-building industry et al has taught us the proper thing to do with a vacant lot where you want to live is to build a new house. To be more fair than that, some folks want to build something specific to what they desire.
But I don't think moving a house even comes up as a consideration for 99% of the people looking for a house. And, to be clear, my strong preference is certainly for houses to be renovated in their existing historic districts/neighborhoods.
But given the quantity and pace of teardowns in Durham, I wish that even 10% of those houses had been moved to somewhere that people would give them some love. Let's face it - beautiful historic houses sitting worn and vacant in East Durham - maybe sitting on the market for $50,000 - would be renovated and worth 4-9 times that in 'northwest-central-Durham'. The problem with the housing in northeasterly and some of south-southwesterly Durham is an socioeconomic problem, not an architectural problem, which is why code enforcement so often leads to demolition. Code enforcement doesn't get people a job, or change the rental market for a landlord. So while I would personally encourage people to take personal responsibility for getting the drug dealers off of a particular street by moving there yourself and helping your new neighbors to fight the fight, I recognize that isn't for everyone.
While I cringe at how it could be abused, it would be good to see some sort of matchmaking marketplace for house moving, where vacant lots and houses that could be had for free because someone is going to tear them down could meet. The good thing about the internet is that such a thing can be created cheaply, so that a middleman making money off said deals and worsening the economics isn't really necessary. I'd hardly be a big fan if we emptied East Durham of houses, sprinkling them around the west side of town, or the suburbs, but it would be better than teardowns.
I hope, at least, John Martin's success story with 1001 Edith Street encourages other people to consider house moving. For instance, if the houses at 804 and 806 Jackson St.are unable to be saved (they face an owner problem, not a socioeconomic problem) I would hope that they could find a new home in their neighborhood, where Self-Help, Habitat, et al have been erecting copious new construction, rather than be torn down.
This marks my fifth post about the Tate House, and hopefully my last - I really enjoy writing about happy endings in the world of preservation.
Original Location:
Find this spot on a Google Map.
Current Location:
Find this spot on a Google Map.
36.010066,-78.918855
36.015023,-78.923176