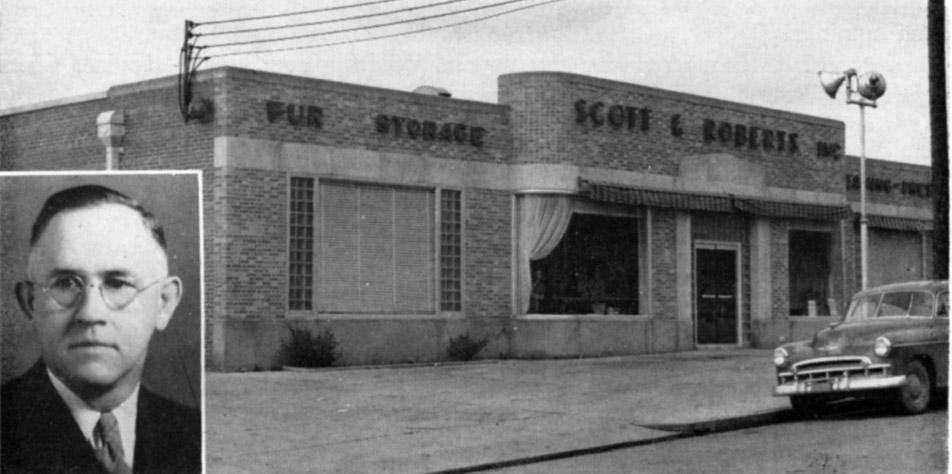 Looking northwest, 1951. Don't know if the fella in the picture is Scott or Roberts.

Scott and Roberts Cleaners reportedly began business at 508 East Main St. around 1910 (although this address seems a bit improbable, as it still should have been the location of Somerset Villa. It moved to 710 East Main St. in 1927, and finally moved the HQ to a new building at 733 Foster Street in 1948. Although this was their primary business location, they had additional dry cleaning stores at 710 E. Main (the previous primary location,) 810 W. Main, 302 N. Mangum, and 702 Fayetteville St. by 1951. At that same point, this was noted to be the "largest dry cleaning plant in the state." with "a modern cold storage plant and other equipment for cleaning and storage of furs and other out of season garments."

It's kind of refreshing to see a business that looks so unchanged from its 1951 picture (minus, unfortunately, some 1940s era glass block.)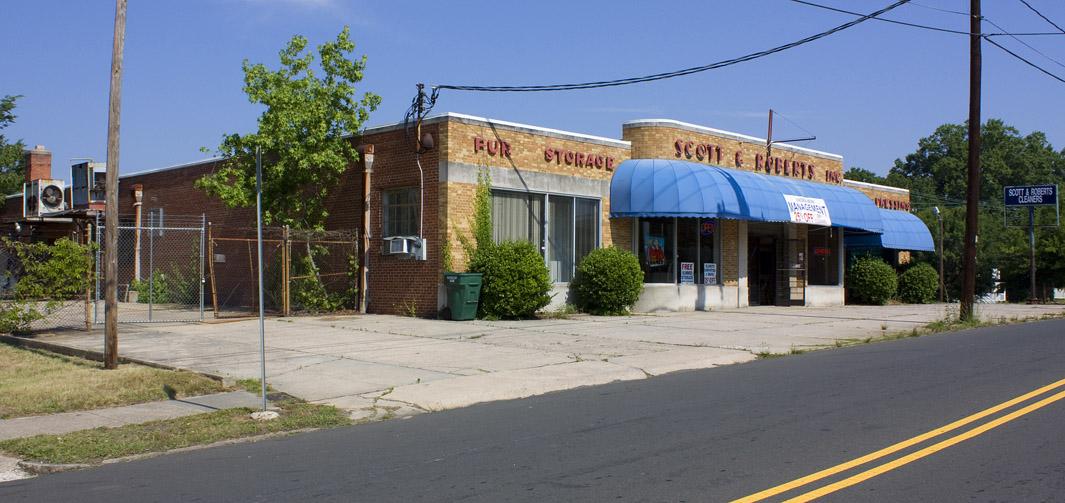 06.07.08
(Photo by Gary Kueber)
In September 2011, the building was sold to Todd Atlas, owner of Pure Sound Studios, which abuts the property to the west (rear property line,) who has undertaken a full renovation of the building. Unfortunately, reportedly due to a contractor error, the iconic and awesome lettering was destroyed.

10.1.13 - Photo by Andrius Benokraitis
The concrete loading dock was removed from the side of the building as well as modern ammenities added inside (electrical, plumbing, HVAC, etc.). Looks like this could be some kind of office space.
From the National Register listing:
The Scott and Roberts Dry Cleaning Plant, Office, and Store, one of the city's few intact examples of the Streamline Moderne style, stands at the top of a hill. The 1948 dry cleaning building with a blond brick facade is a single-story brick structure standing on a partial concrete basement due to the slope of the lot. The building housed a plant at the back with business offices and a retail store up front, accounting for the Streamline Moderne façade that overlooks Foster Street to the east. Retail space, offices, storage, and restrooms occupy roughly a third of the floor plan. The single-leaf glass door and sidelight within the peaked concrete surround of the front entrance replaced a double-leaf door in the late twentieth century, but the original glass- block entrance surround remains. The east-facing façade has a stepped parapet. The concrete basement wall extends to the south to form a retaining wall. Above the wall is a concrete-paved loading dock along the building's south elevation. This building was where all of the dry cleaning was done and the cleaned items were then redistributed to the company's other retails stores for customer pick-up. The building has a chamfered wall at its northwest corner, following the boundary of the irregularly shaped parcel.    The poured concrete wall of the partial basement is exposed on the rear elevation. Metal industrial awning windows pierce the sides and rear.
The dry cleaning plant is one of Durham's best surviving examples of the Streamline Art Moderne architectural style, expressed in the rounded corners of its slightly projecting center bay, highlighted with curved plate-glass windows, header-bond brick, and cast-stone banding above and below the fenestration. Glass block and expansive windows flanking the central bay also transmit the machine-age energy of the building.