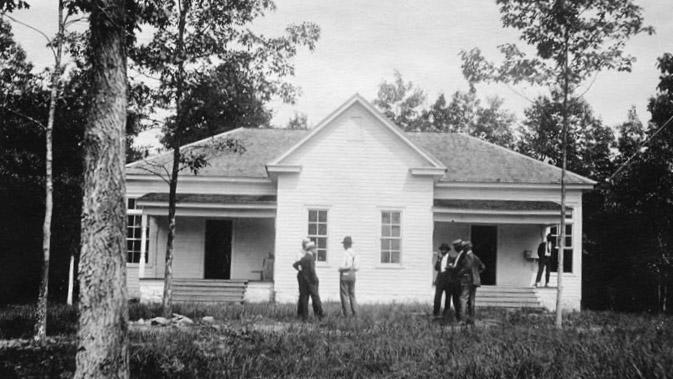 (Courtesy Fisk University / Durham County Library)
Per the Durham County Library Rosenwald Schools project:
This two-teacher school was the first Rosenwald school in Durham County. Rev. William D. Smith, a pillar of the black community, spearheaded its construction. It was built while the Tuskegee Institute was administering the Rosenwald Fund, between 1915 and 1919. Built on two acres of land, the school cost $2,838. Of this total, $1,088 came from the black community, $750 from the white community, $550 from public funds (provided by the Durham County school board), and $450 came from the Rosenwald Fund. The Rougemont School was located in the urban part of Durham County (Mangum Township). Just like other Rosenwald schools that followed, the Rougemont school replaced a previous "recycled" school that had been decommissioned as a school for whites.
The construction of this school began under Jeanes supervisor Frank Husband, who spent much of his tenure in the position keeping the project on track, as the county school board was slow to act. His advocacy may have rubbed the powers-that-be the wrong way, leading to his dismissal. The school was completed after Mattie Day replaced Husband as Durham County Jeanes supervisor. The difficult process of getting it built seems to have cleared the way for the many local Rosenwald schools that followed, as no communities experienced similar impediments. The lack of later impediments may be due in part to a change in the leadership of the county school board, as long-term superintendent C. W. Massey retired in 1919 and was replaced by Holland Holton, who showed more interest in the education of blacks.
For the 1925-26 school year, an addition was built, expanding the Rougemont school to accommodate three teachers. This construction cost $1,400, with $100 coming from the black community, $1,100 from the school board, and $200 from the Rosenwald Fund. Further additions were made in 1927 under supervisor Gertrude Tandy Taylor including two more classrooms and an auditorium.