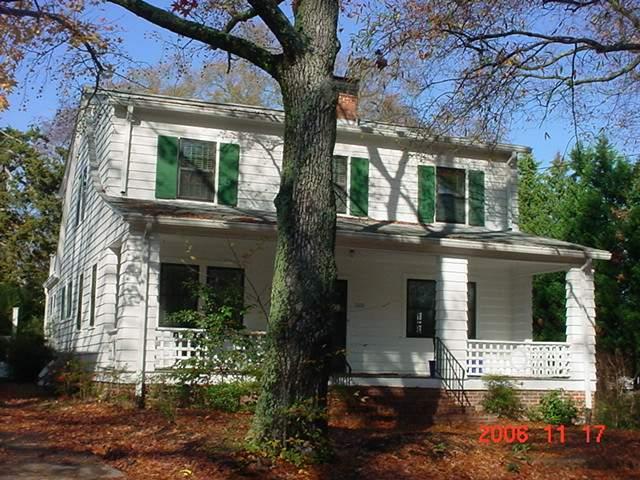 An historical overview
Prepared by Lee Ann Tilley 4/14/06
In 1903 the farm of J. M. Markham was plotted into 75-85 foot residential lots north of Urban Avenue, between Ellerbee Creek and Buchanan Boulevard.  These lots would eventually be sold – some 20 years later – and developed into 50 foot lots making up what is now the 800, 900 and 1000 blocks of Markham Avenue, and contiguous lots facing Urban and Green Streets.  Originally Markham Avenue dead-ended at Watts Street.  It was not until the 1940's that the street was cut through, with lanes divided to go around a large tree between Watts and Buchanan (then called 1st Street).  
In 1923 John M. Markham sold two 50 foot lots, 1008 and 1010 Markham Avenue, to Grover Vance Massey and his wife Addie Upchurch Massey.  The US Census of 1920 records the Masseys as being 31 years old, owning their own home on Broadway Street in Durham, and having no children.
According to Durham City Directories, G Vance Massey worked at Upchurch Bros. & Massey in 1920.  He lived at 107 Broadway and worked at the wholesale grocery firm at 117-19 E Parrish Street.  His partners were Pender E. and Leon W. Upchurch (his wife's relations?).  In the years 1921-26 he is listed as a salesman for Southern Feed & Grocery Co.  In 1923 he lived at 401 N Gregson.  In 1924 his home is first listed as Markham Avenue (no number).  In 1927 his employer is listed as Massey-Shepherd Co. and in 1928 it is Massey Feed Co.
The first year the Masseys lived on Markham (1924), they had only two neighbors on the block.  Mrs. Bessie S. Pickard (later Boone) lived immediately to the west - at 1012 – and J. L. Sally is listed across the street at 1019.  Both houses had been first listed the previous year, 1923.  Mrs. Pickard taught school at Watts Street and North Durham Schools.  Sally was a local builder (who probably did not live in the house) and sold 1012 to Walter E. Page of Page Motor Company the following year.  (Sally also owned 1006 Markham before it was sold to its first occupant in 1927.)  
A second person is listed as living at 1010 Markham with the Masseys: Susan Link.  The asterisk next to her name indicates that she was black, evidently a live-in maid.  At 1019 Markham J. H. Wilson, "shoe shiner" also African-American, shared a listing with Mr. Page. 
In 1927 new neighbors came to the block: to 1004 Markham - Horace W O'Shea; to 1006 - W. N. Holloway (who sold to Marcus Carpenter the following year) and to 1014 Markham - J. Otho Lunsford.  In 1929 the Charles Zuckermans moved into 1007 directly across the street.
In 1928 the Masseys left 1010 Markham for 1107 N. Duke Street (and for 1202 N Gregson in 1930) but continued to own the property until 1937.  (Mrs. Massey died in 1934.)  During this time he sold the vacant 1008 lot but it was never developed.  He evidently rented the home to Margaret and H Faison Peirce (President of Industrial Supply Corp.) for four years and then to Estelle and J. Clarence Crutchfield (salesman for Durham Public Service Co. – city bus transportation) for six years.  Mr. Massey died in 1959.
The second owner of the house at 1010 Markham was Reverend Stanley C. Harrell and his wife Alberta Boone Harrell who purchased the property in 1937.  That year Harrell was a pastor at Main Street Christian Church located at 813 W Main Street.  In 1939 he purchased the vacant 1008 lot.  His grave marker notes: he served the Congregational Christian Church for 35 years; was a Chaplain in World War I and editor of the Christian Statesman. The 1956 city directory (the year of his death) lists him as being the editor of the Christian Sun and living at 1507 Oakland Avenue.
The Harrells lived here with a single daughter, Mary Ann.  Mrs. Harrell lived on Buchanan Boulevard when she died in 1986. 
The Harrels made major improvements to the house in the late 1940's.  They added a second full bath upstairs.  (The lavatory is stamped as being manufactured in 1949.)  I believe (based on style of cabinetry, foundation brick) they added the back utility room and significantly remodeled the kitchen at that time as well.  The Sanborn maps now at the Public Library were last updated in 1950 and don't show the addition, supporting the 1949 date.  Long-time neighbor Mary Ellen Luikart remembers the upstairs improvements being made for the daughter.  She remembers taking a tour and walking out from Mary Ann's bedroom onto the roof of the utility room.
I believe (based on notches in the door frame) that the existing kitchen to utility room door was the original back door, re-hinged to swing out.  For the record, during the 1986 renovation a chimney with a plate-covered opening to the flue was discovered in the north wall of the kitchen at the west corner.  Also, there was a water pipe that originally went up to what must have been a wall-hung lavatory on the west wall of the back bedroom.  (Perhaps for use by Susan Link?)
(Years ago I saw an insurance map which outlined the existing utility room with a box labeled "ice box."  I'm puzzled now as to where I saw the later drawing.)
In 1955 the Harrells sold the eastern half (25 ft) of the 1008 lot to the Carpenters next door.  That same day they transferred the title of their home, with 75 foot frontage, to Fred H. and Gracetta Hills.  The Hills family lived at 1010 Markham for 29 years and they also had one daughter, Susan.  Mr. Hills worked for Durham Telephone Co., first as assistant secretary and eventually as controller.  He retired with the company that would become GTE.
Mr. Hills died in 1984 and his widow sold the house that same year to the current owners.  Mrs. Hills moved to a retirement community in Tarrboro, and died in 2002. 
Larry and Lee Ann Tilley, with the help of their family's business, Acme Plumbing & Heating Co., are responsible for further remodeling the kitchen and upgrading bathroom fixtures and the mechanical systems.  The original wall between the galley kitchen and a small butlers' pantry was removed and a back doorway was added from the kitchen to a new back deck.  Central air-conditioning was added.  In 2000 a two-car garage with upstairs playroom was built in the generous side yard.
Mr. Tilley's father, "Dub" Tilley, has fond memories of playing with "Buck" Carpenter who lived next door.  They used to roller skate around the large apple tree that was in the circle at the top of the hill, before Markham turned into the major thoroughfare that it is today.  
Sources:
Register of Deeds Office
Plat Map Book 7, page 28, dated December 5, 1903
Property deeds for 1006, 1010, and 1012 Markham
Tilley Book 1166, Page 305
Hills – Book 226, Page 15
Harrell – Book 126, Page 8
  Book 131, Page 28
Massey – Book 68, Page 411
                Book 69, Page 266
Downtown Public Library
City Directories, 1919-1931
Sanborn Map 1937, Sheet 56
Sanborn Map 1937-1950, Sheet 56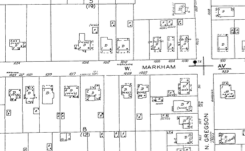 US Census Record 1920 
Nomination of Trinity Historic District to National Register of Historic Places, prepared by Claudia Roberts Brown in 1984
Maplewood Cemetery 
grave markers
Massey – Section 1, Lot 204
Harrell – Section 1, Lot 8
Hills – Section 16, Lot 375