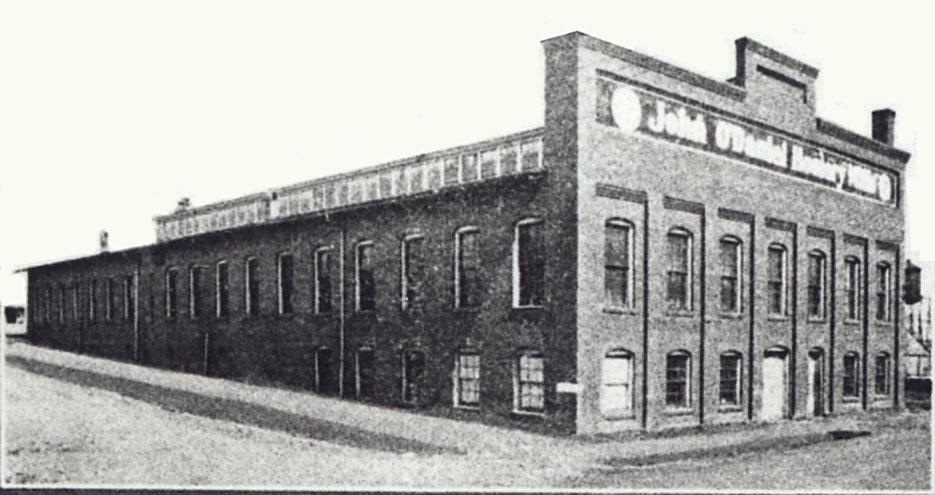 Scanned from 1924 Durham City of Industry book.

Another of my favorite buildings in Durham, the John O'Daniel Hosiery Mill building, was built at 801 Gilbert St. in the late 1910s as the Paragon Hosiery Mill. It changed names rather quickly thereafter to become the Bowling-Emory Knitting Mill before being acquired in 1919 by Julian S. Carr as a branch of his expanding Durham Hosiery Mills.

Carr named the mill after the recently (1917) deceased John O'Daniel - who the Historic Inventory euphemistically refers to as a former "servant" (rather than an enslaved person) in the Carr household. By all accounts, the relationship between Julian Carr and and John O'Daniel was an interesting one. O'Daniel is referred to in several accounts as Carr's "right-hand man." Carr was one of the first to take the then-unconventional step of hiring African-American labor in his mills. The offensive belief of the time, according to Jean Anderson, was that that "[B]lacks were incapable of running machinery." One of Carr's mills, Durham Hosiery Mill No. 2, located in Hayti on East Pettigrew St. was staffed and managed entirely by African-Americans.

Regardless, John O'Daniel was likely Carr's 'liaison' in the African-American community, helping to hire and recruit. He was one of the earliest African-American landowners in Hayti - purchasing a tract on Fayetteville St. in 1877, and he later contributed financially to the building of St. Joseph's AME.

O'Daniel's relationship with Carr led some to spread the rumor that O'Daniel was actually Carr's half-brother, which was never confirmed. Carr stated once that "John considered himself part of the Carr family." Take that as you will. John O'Daniel is buried in Geer Cemetery (which he may have been part owner of.)
The mill was also known as Durham Hosiery Mill No. 12

The John O'Daniel Hosiery Mill didn't last very long. Julian Carr died in 1924, and I believe that John Sprunt Hill took over the mills (which began waning soon after World War I). In 1930, John Sprunt Hill offered the JOD Hosiery Mills building for a Farmer's Exchange - a farmers' cooperative which would grow to 900 members by 1935. The decline in the tobacco crop in the late 1920s due to blight spurred an interest in developing a market for other farm products.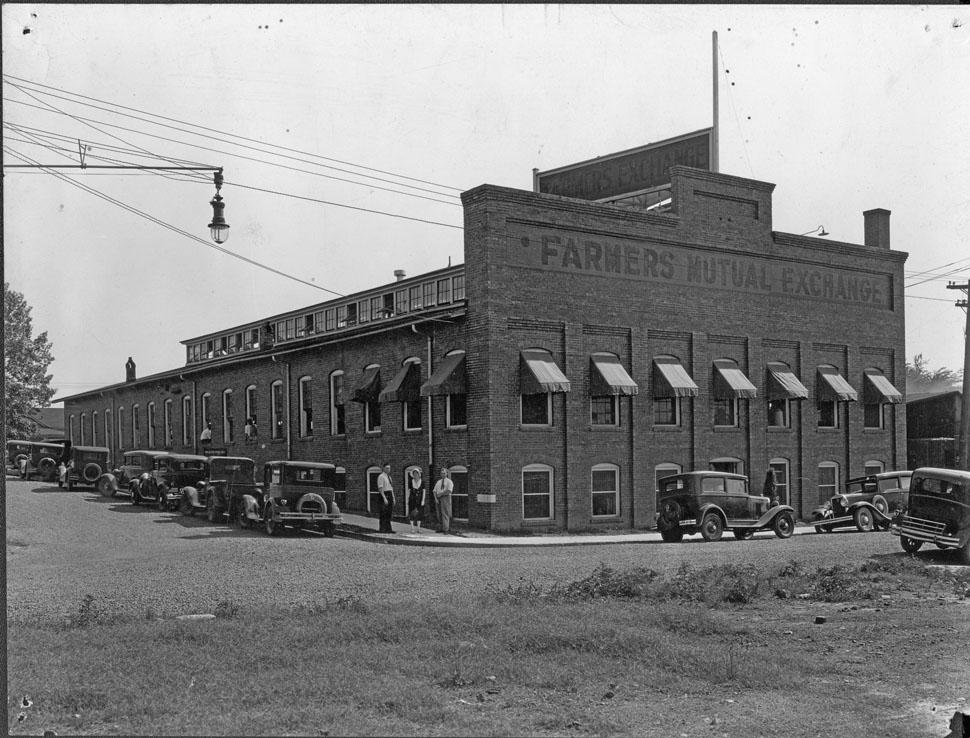 Farmers Exchange building - 1930s.
(Courtesy Durham County Library)

This building holds the distinction of being Durham's first 'Farmers' Market' - what was referred to as a "curb market" at the time - where the farmers would sell some of their produce directly. These early curb markets were evidently operated exclusively by women - offering "an extra source of income through the sale of poultry, eggs, baked and pickled goods, and fresh flowers and vegetables in season." (Anderson, p. 352.) This curb market would later move to Foster St. - the current Cooperative Extension building.

By 1935, the Farmers' Exchange had a chicken processing plant here, and soon thereafter (1937) had built a feed mill for processing and marketing grain just behind the site.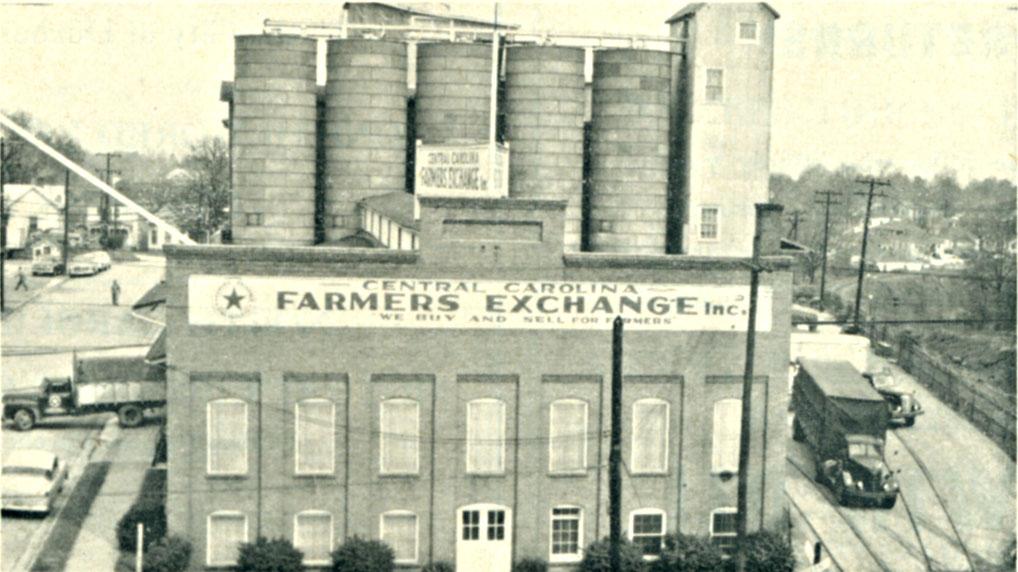 Farmers Exchange building, 1950s.
(Courtesy Durham County Library)
As part of an expansion to become a much larger cooperative endeavor, the Durham Farmers Exchange became a part of the Central Carolina Farmers Exchange Inc. in the early 1950s.
The main plant / headquarters remained in Durham, and the Dye House building was an integral part of an expanding headquarters operation, as the organization built a cold storage facility, a Poultry Processing Plant, a maintenance garage, and a hatchery built in the blocks surrounding the Dye House in the mid-1950s. In 1959, CCFE did $21 million in business ($10 million marketing, $11 million purchasing.) and sold $2.2 million worth of livestock for its members.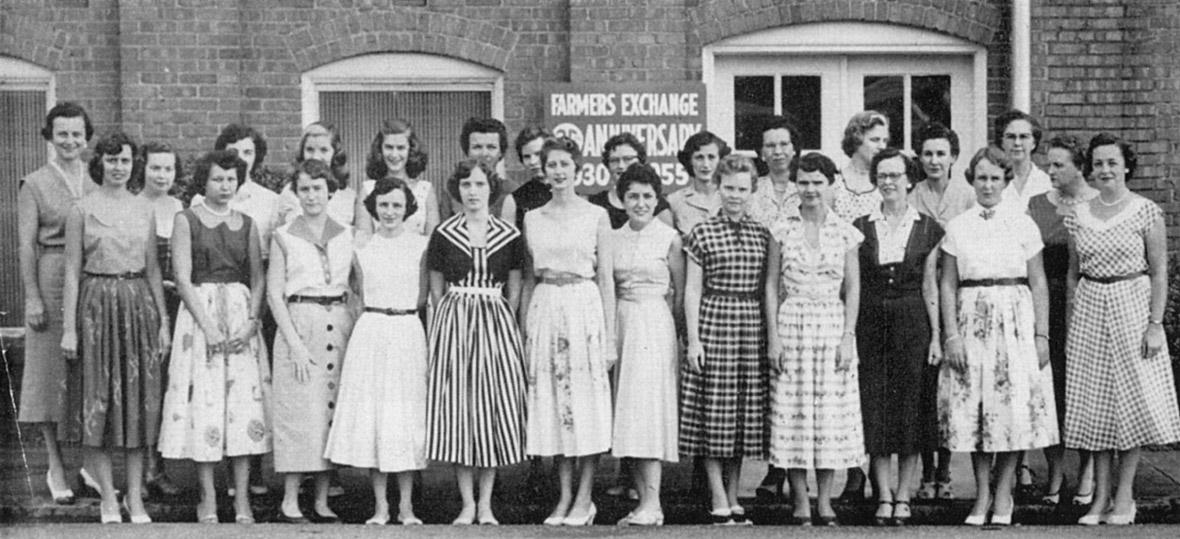 1956 - from "This is Central Carolina Farmers Exchange"
These personable and capable young women are the secretaries, bookkeepers, and cashiers for the main office and the eight departmental offices of Farmers Exchange in Durham. The services they perform are very vital to the efficiency and success of this company.
In 1980, Central Carolina Farmers Exchange merged with FCX, Inc. which had headquarters in Raleigh. Office headquarters were relocated to Raleigh, and the merged company was branded FCX; the facilities in Durham continued to operate under the FCX name.
FCX filed for Chapter 11 bankruptcy in February 1986; Southern States, a farm cooperative organized in 1923 in Virginia, purchased the FCX Durham assets out of receivership in 1986.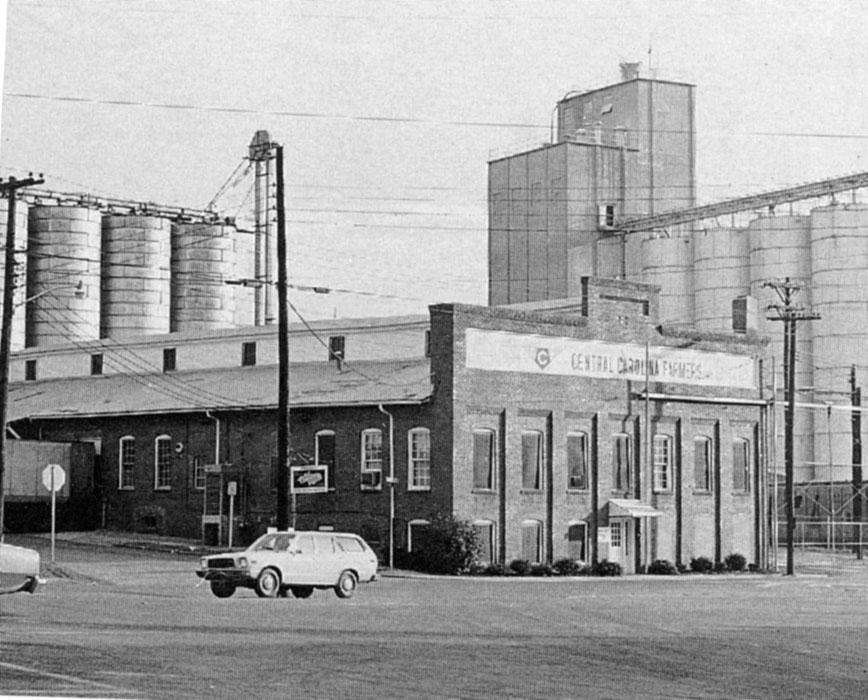 Farmers Exchange, 1970s. (Durham Historic Inventory)
This building was likely sold off in the 1990s.  During the 1990s, a nightclub by the name of 'Cobra' was operating in this building.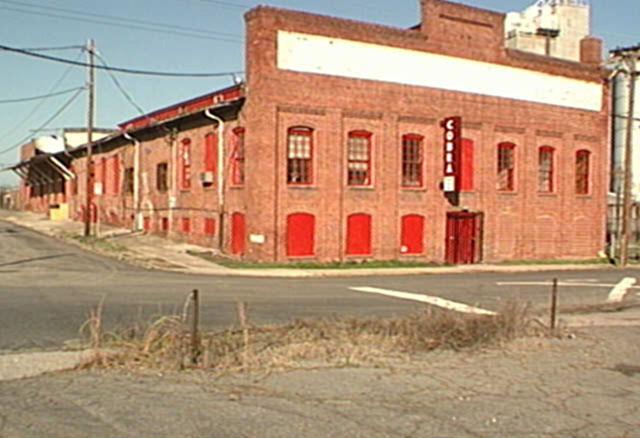 1999 - Durham County Tax Office
A fire destroyed the roof and much of the interior - unfortunately, the 'restoration' did not restore the original detail or the original clerestory on the roof. The building, however, remains a beauty.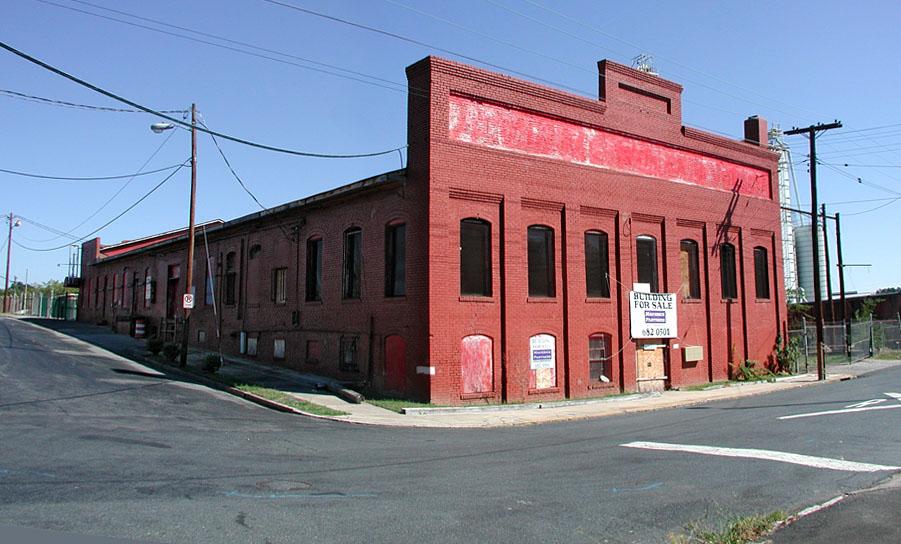 Looking northeast from Gilbert and Pearl, 2007. (Photo by Gary Kueber)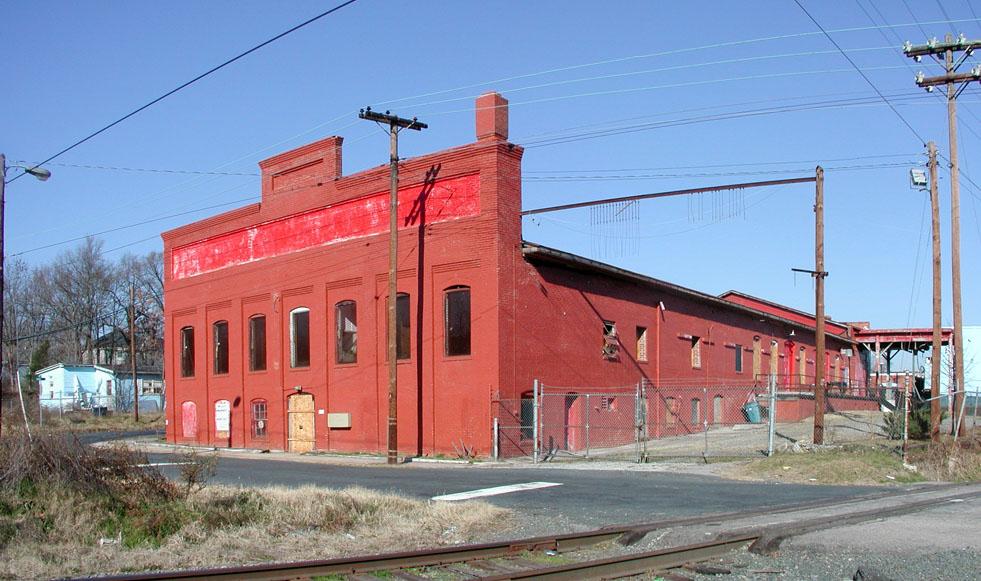 From Gilbert St. looking northwest, 2006. (Photo by Gary Kueber)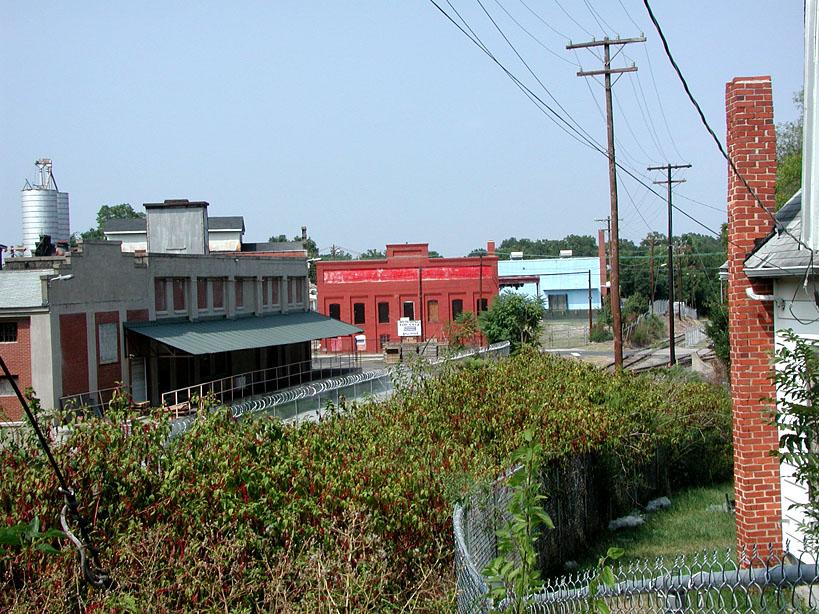 As seen from Holloway St. bridge, looking north, 2007. (Photo by Gary Kueber)

One cool thing about this building is that it can be yours - for $379,000. At least the tax value is only $18,681.
Update:
The building was purchased by Wendy Clark, entrepreneur and owner/founder of Carpe Diem Cleaning. She redeveloped the building as a shared-resource office space, targeted primarily to small and non-profit companies.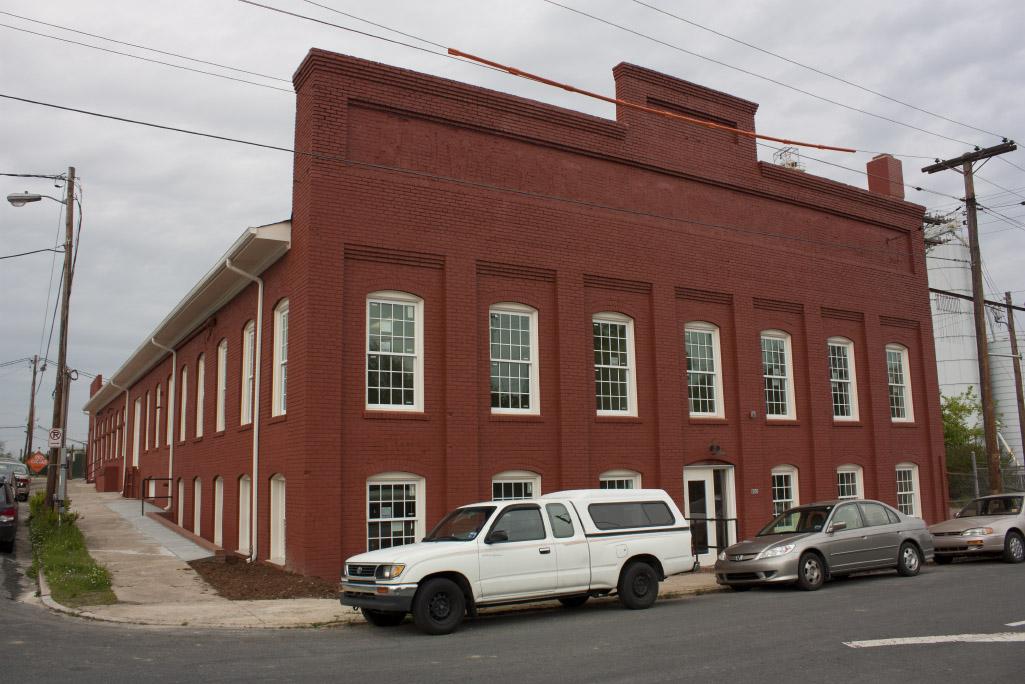 04.19.09 (Photo by Gary Kueber)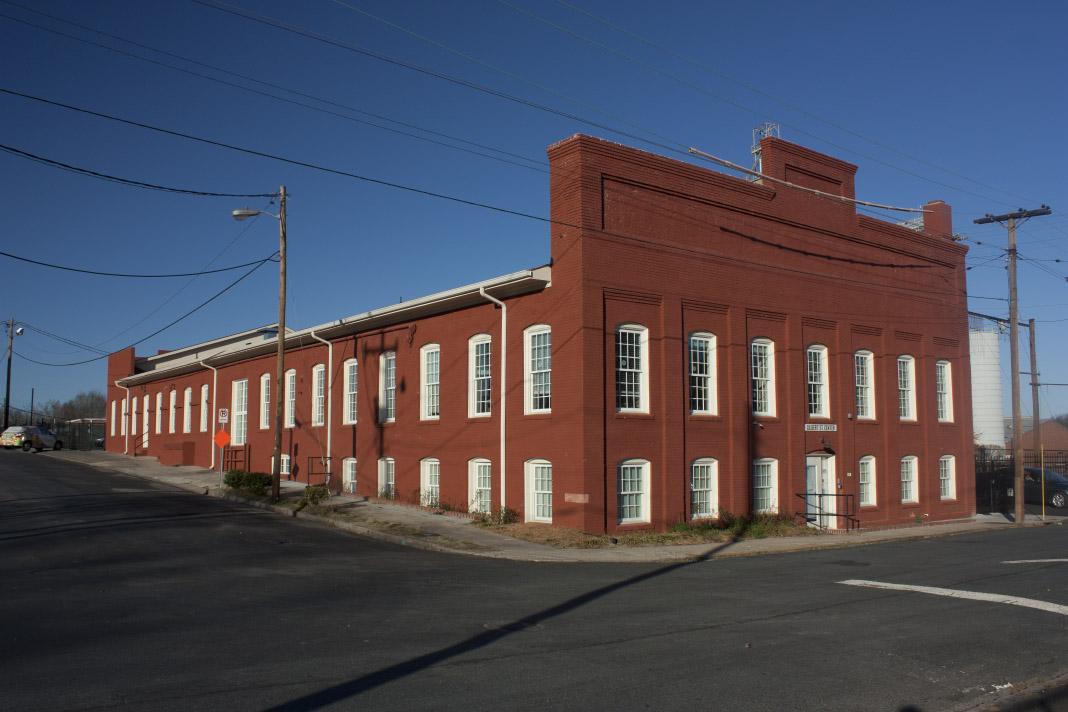 02.19.11 (Photo by Gary Kueber)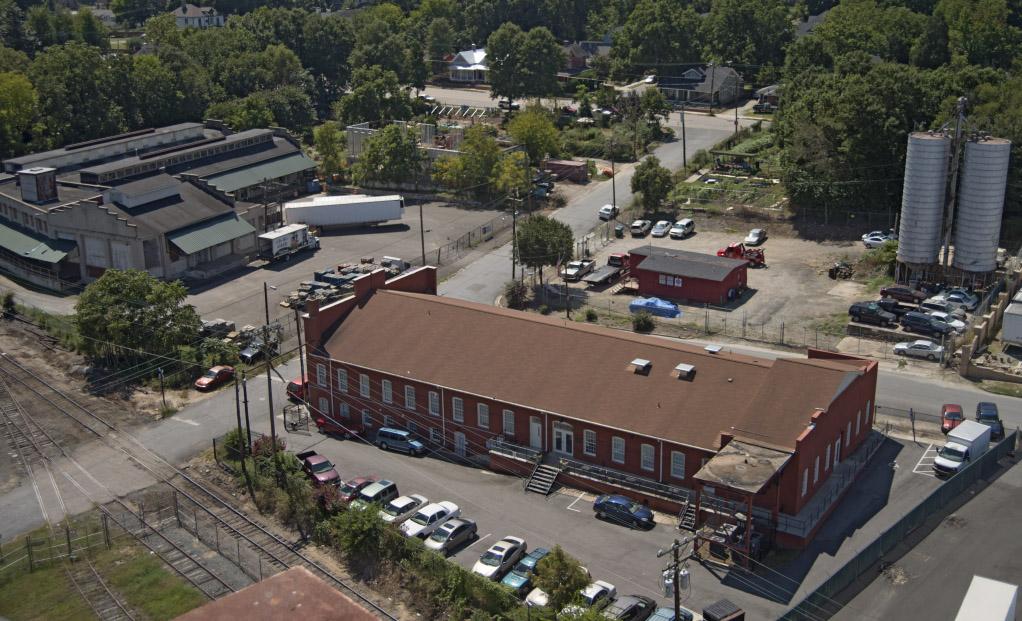 From the Feed Mill - 08.30.13 (G. Kueber)