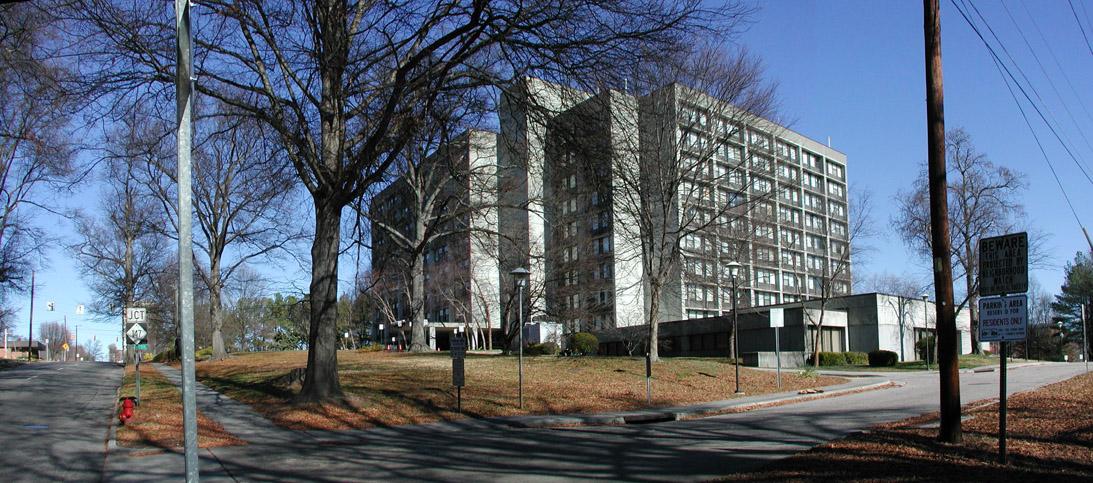 Looking northeast from Proctor and S. Duke - site of the old George Watts home / Durham Academy, 01.01.08
Eugene Morehead and George Watts were pioneers in the area that would become Morehead Hill when they built their houses on the western side of Lee (later Duke) St. in 1880. As the activity in the neighborhood increased, WT Blackwell sought to purchase the land on the eastern side of Duke St., directly across from their houses, to build worker housing for employees of Blackwell's Durham Tobacco Co. Evidently this was too close to the common folk for Watts, who purchased the land to avert this sale.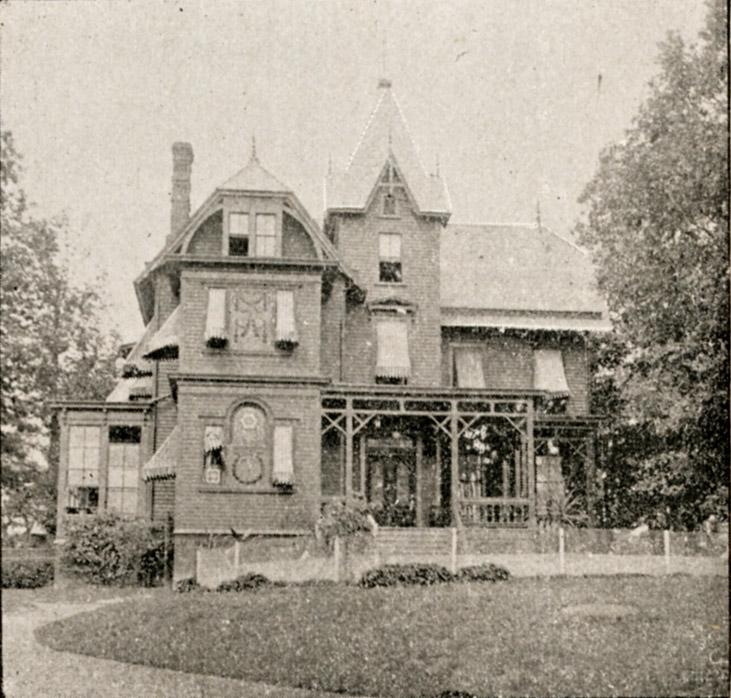 (Courtesy Duke Archives)

The George Watts house was originally built by George W. Watts in 1890, at the northwest corner of Lee St. (now South Duke) and Proctor St.

In the late 1890s, George Watts moved his original house across the street, to the northeast corner of West Proctor and S. Duke, in order to make way for his larger mansion, Harwood Hall. The house was renovated and used by John Sprunt Hill and his wife Annie when they returned to Durham from New York in 1903, before they built their own house in 1911.

The use of the old George Watts house from 1911 to 1937 is unknown, but it evidently stayed in the family.

By the 1930s George Watts Hill, Sr., and his wife Ann and were disappointed by the quality of the education George Watts Hill, Jr. was receiving at Morehead Hill Elementary - per Watts Hill, Sr., the only thing his son had learned to do at Morehead Elementary "[was] to 'cuss'."

Ann Hill's family was replete with teachers, and she tapped their information for another solution. This pointed her towards the Calvert School of Baltimore, which had been founded by an educator named Virgil Mores Hillyer. Hillyer had designed a homeschooling program for children of parents living outside of the county, and thus without access to US schools. He had produced an entire curriculum, including books and supplies.

In the summer of 1933, Ann Hill and the mothers of six other children arranged for the use of the Forest Hills clubhouse, which had bought by her father-in-law along with the old golf course 3 years prior, for the school, which they called the Calvert Method School. They began with a single teacher and slowly grew. By 1937, they had outgrown the Forest Hills Clubhouse with 19 students; George and Ann Watts arranged for the school to take over the old George Watts house at 815 S. Duke; Watts Hill set up a $15,000 mortgage for the school through Durham Bank and Trust and paid for a $9000 renovation of the house.

The school had grown to 210 students by 1950 and 16 teachers.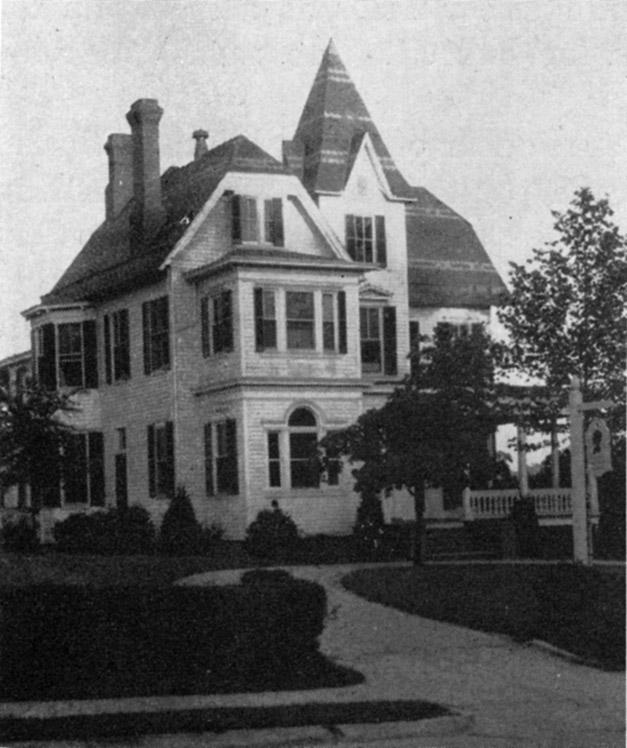 Looking southeast, 1950.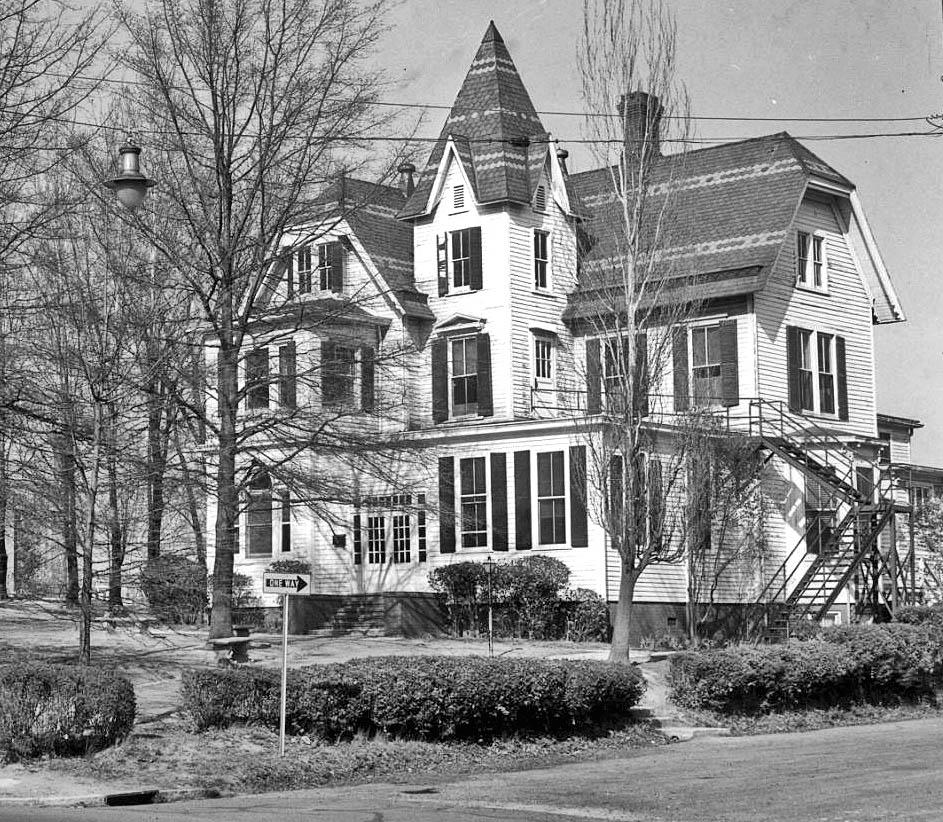 The Calvert School in 1960, looking northeast from Proctor and S. Duke.

The school purchased the Lyon house (also known as the Williams house) in 1957, and constructed a modern kindergarten building between the two structures.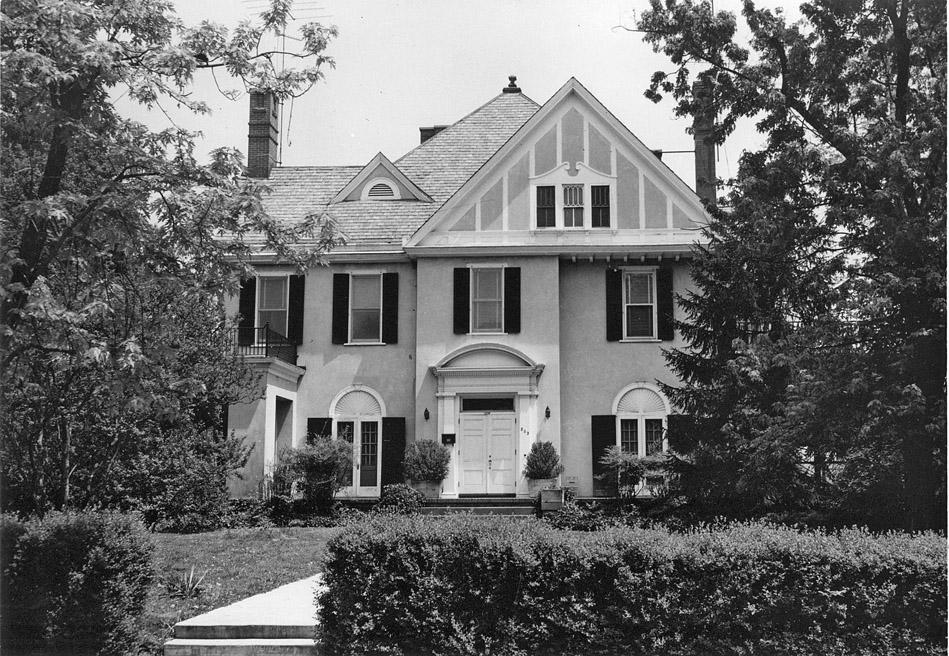 Williams House, 1960.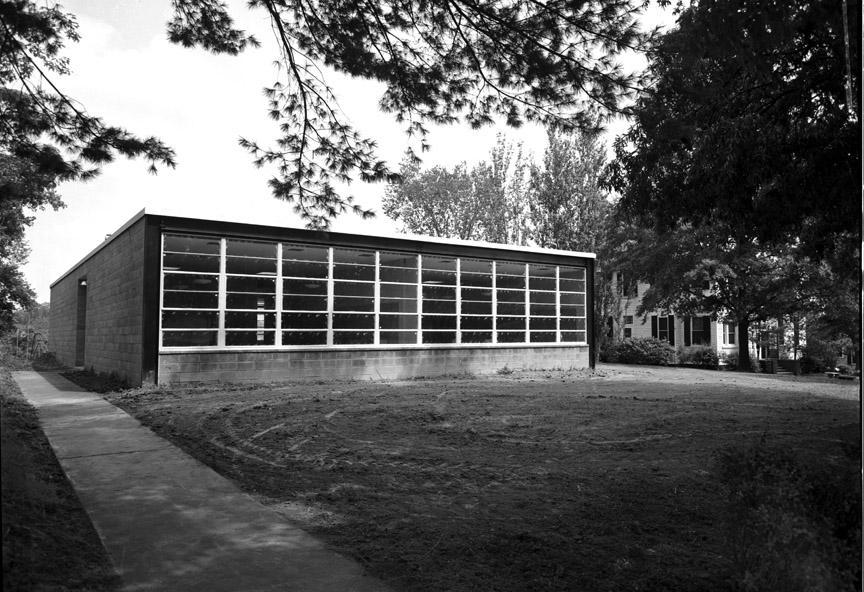 Modern kindergarten building, 1960.

Kids playing in the playground behind the buildings, overlooking Willard St. and American Tobacco, ~early 1960s.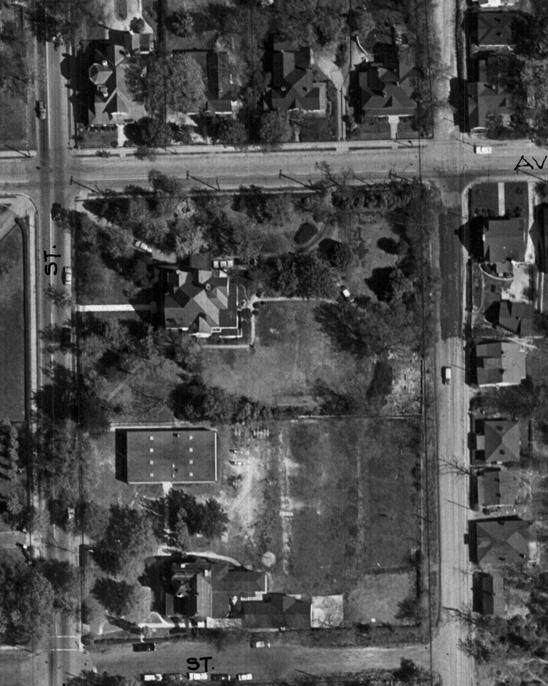 Aerial photo of the whole complex, 1959.

In 1967, the school moved out to 751 (the eponymous Academy Rd.) and expanded to a high school, changing its name to Durham Academy. These houses / buildings were abandoned.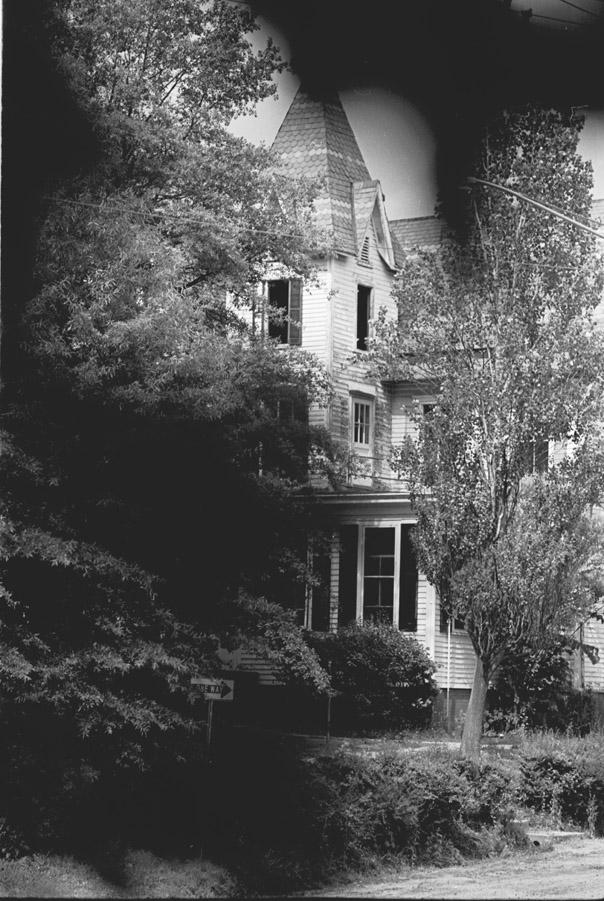 The old Watts house, abandoned, early 1970s.
(Courtesy Herald-Sun)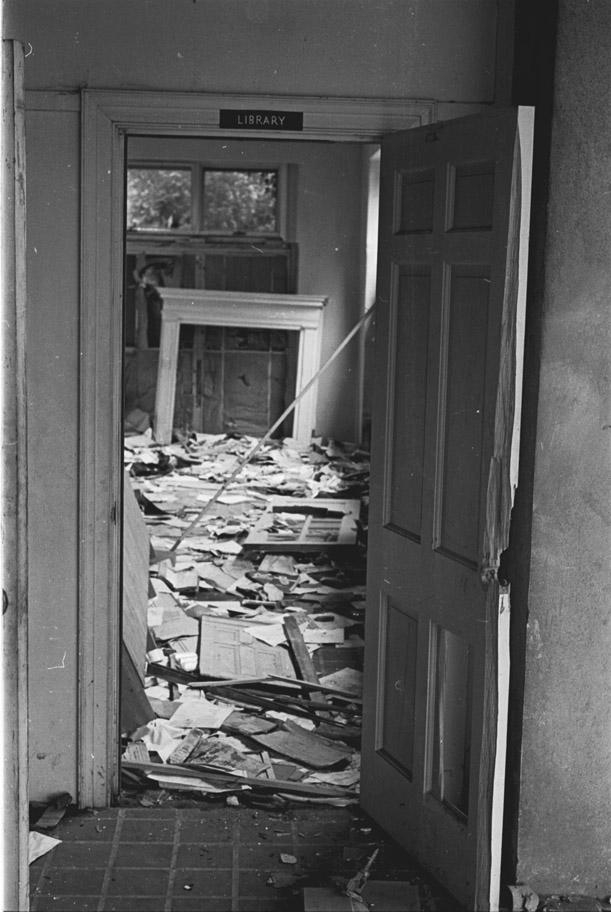 Interior shot, early 1970s.
(Courtesy Herald-Sun)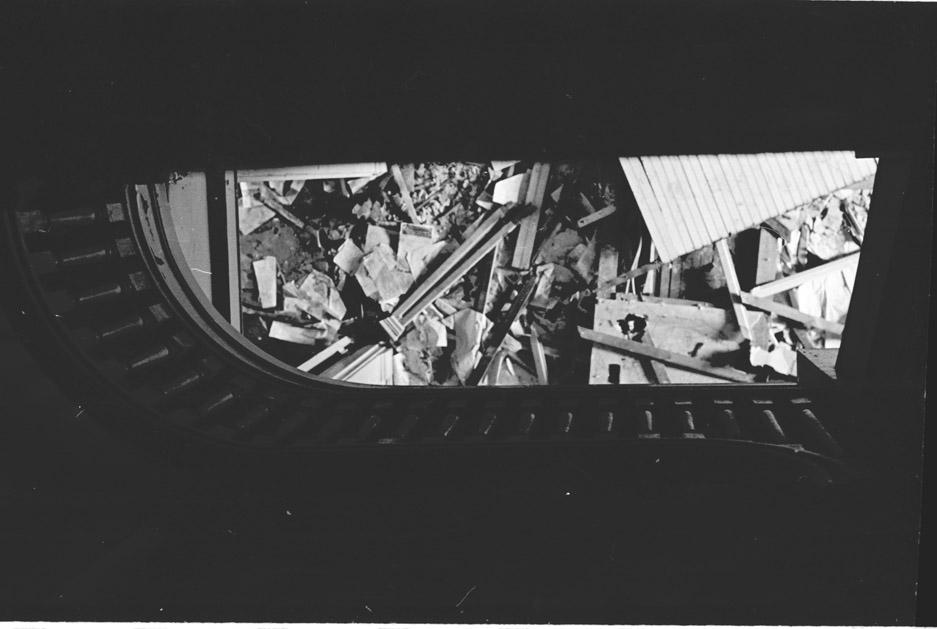 Interior shot, early 1970s.
(Courtesy Herald-Sun)

Below, the old Lyon house at 803 S. Duke St., also abandoned.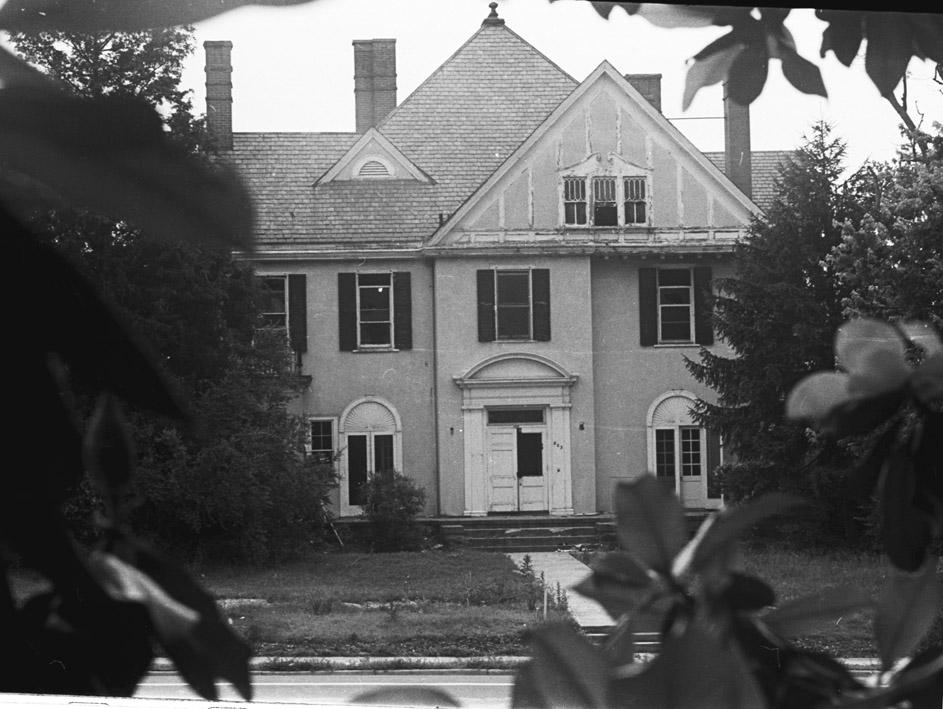 Looking east from S. Duke St.
(Courtesy Herald-Sun)

These houses were demolished by Durham in the mid-1970s to construct public housing - the JJ Henderson towers.

Under construction, July 1976.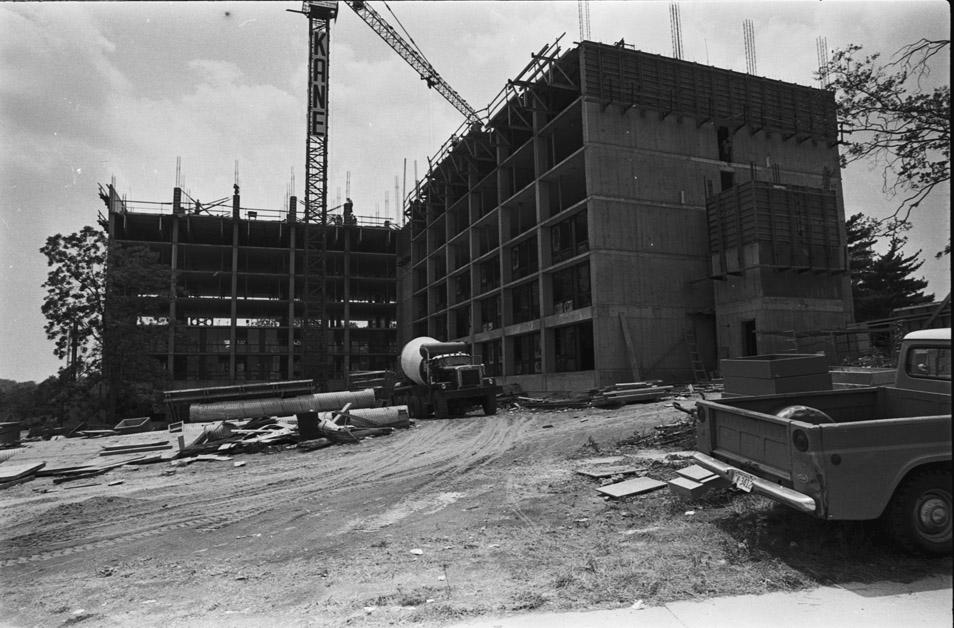 Under construction, July 1976.

JJ Henderson Housing Center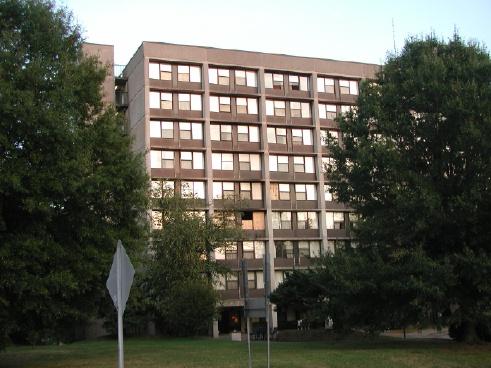 The danger of housing the elderly and disabled in high-rise apartment buildings was emphasized back in 2006 when a fire broke out in the JJ Henderson Tower, forcing the evacuation of over a hundred residents. The potential for serious injury as one tries to get elderly and disabled residents down stairs in an emergency situation is immense. As the News and Observer noted, Oldham Towers does not have sprinkler systems, and JJ Henderson only has sprinkler systems in the common areas.

The failure of high-rise public housing is well-documented, and many cities have gone about the business of demolishing these buildings (most notably Chicago, which is about to complete the demolition of the Robert Taylor homes as part of a $1.6 billion demolition/construction program.) However, housing elderly and disabled in this housing is particularly unhealthy. From an architectural standpoint, high-rises are very ill-suited to the accessibility needs of seniors.

In addition, because these towers were constructed in areas 'improved' by urban renewal, the surrounding area/infrastructure is further isolating for residents who do not drive. There is a park and the American Tobacco Trail nearby, but if a senior wanted to walk north on Duke St. from JJ Henderson - say, to go to the Methodist Church three blocks away, this is what he/she would face.
| | |
| --- | --- |
| | |
I'm not sure what anyone, of any age, is supposed to do when you get to the end of that point in the picture on the right. The cars come off the freeway at ~50-60 mph, and accelerate as they come up the ramp. I've never see a police officer giving speeding tickets on Duke Street, despite headquarters being a block away.

As the city/DHA will contemplate building/expanding sprinkler systems, perhaps they can contemplate an alternative to these towers - such as 1-story, ADA accessbile housing in a complimentary community. Another DHA property, Forest Hill Heights, is just a few blocks away. It wastes an enormous amount of land by clustering 55 apartments in the center of a 15 acre block (3.7 units/acre). Infill development on this land would be an excellent plan for decommissioning the towers and making better use of the space at Forest Hill Heights.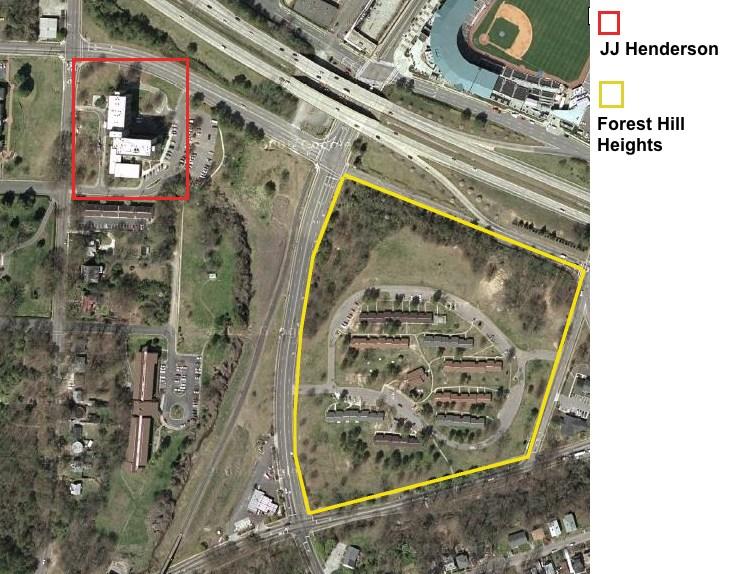 I wish I would see folks who live in this building be able to make it one long block down the hill to American Tobacco, which seems a much more convivial environment than this stark grey slab.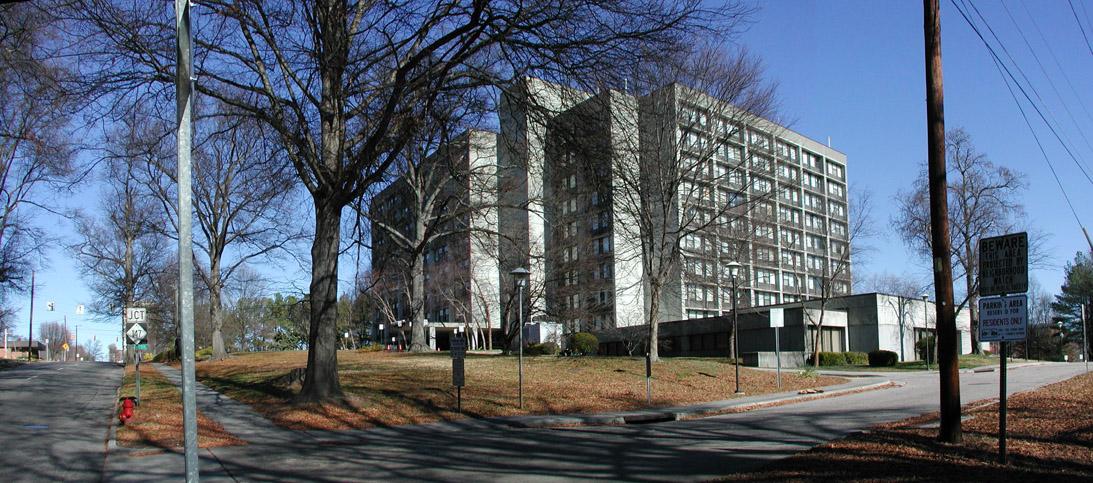 Looking northeast from Proctor and S. Duke - site of the old George Watts home / Durham Academy, 01.01.08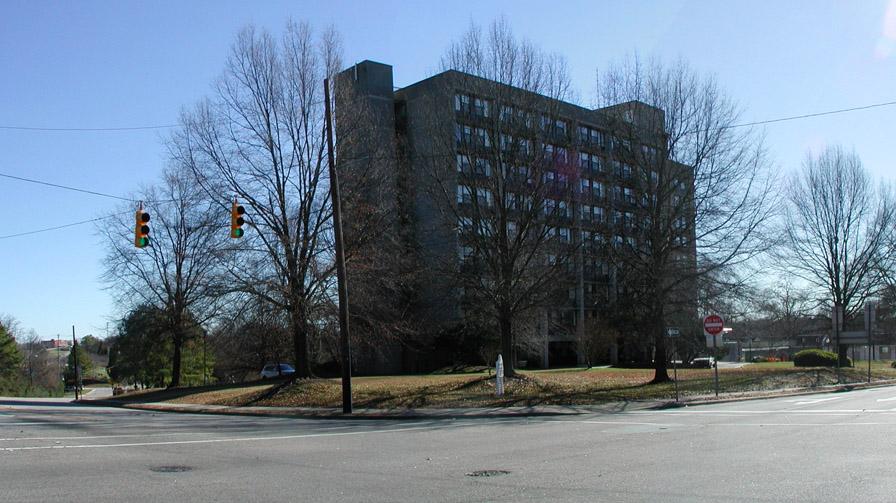 Looking southeast from S. Duke and Morehead Ave., site of the old George Lyon house, 01.01.08.