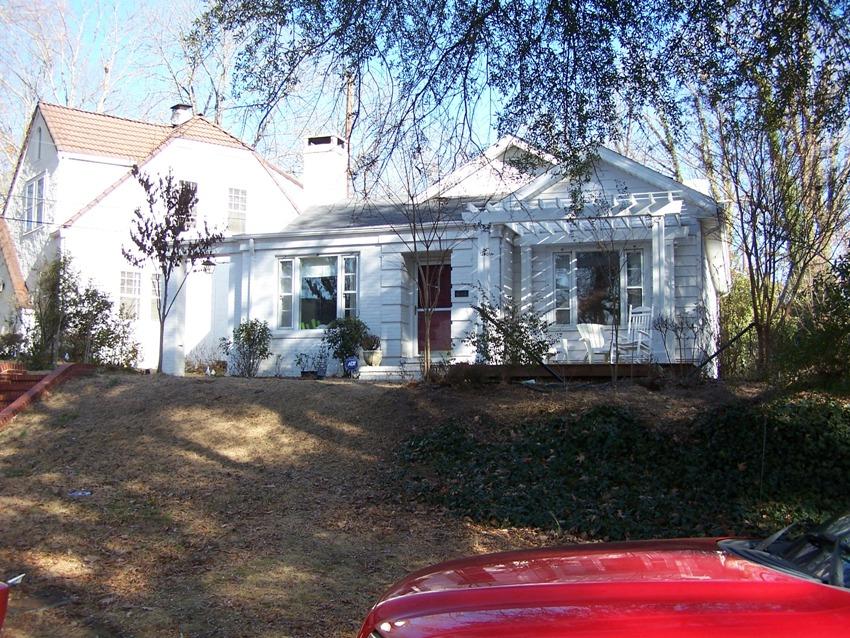 From the National Register nomination form of 2005, completed by M. Ruth Little
1-story front gable Period Cottage with 9-over-1 and 8-over-8 sash windows, 2 front picture windows, vinyl siding, and an exterior chimney. A 2-bay entrance projection has brick walls, with quoins around the recessed entrance. At left is an attached brick gate with a decorative iron gate. Bennie L. Daniel, agent at Home Insurance Agency, was the occupant in 1930. [1930 CD]
The following information comes from the City Directories and general web searching:
Year
Occupant(s)
Occupation(s)
Other information
1930
Jean Shute Daniel *
Bennie L. Daniel *
 
agent
Bennie worked as an agent for the Home Insurance Agency.
1932
Leila Cavers
David F. Cavers
 
professor
David worked at Duke University, and was a law professor both there and later at Harvard.
1936
Pauline C. Sanders
Paul H. Sanders
 
assistant professor
Paul worked as a law professor at Duke University, but spent the bulk of his career at Vanderbilt.
1938
Leila Cavers
David F. Cavers
 
professor
 
1940
Mary K. Hutchins +
Christopher T. Hutchins +
 
engineer
Christopher worked as an architectural engineer for William Muirhead Construction.
1942
Mary O. Rancer
Sid S. Rancer
 
president
Sid owned the Rancer Iron & Metal Company, Inc., which was an industrial wrecking and scrap metal recycling business located at 409 S Elm St.  He moved to Chapel Hill and was elected alderman in 1973.  He was apparently also known as a metal sculptor and actor.
1952
(vacant)
 
 
 
 
1953
(vacant)
 
 
 
 
1954
Martha M. Marshall
Richard C. Marshall
 
VP/general manager
Richard worked at Cary Lumber.
1957
(vacant)
 
 
 
 
1958
Ida H. Ainsworth
Charles C. Ainsworth
office secretary
associate professor
Ida worked at Duke University Hospital and Charles also worked at Duke University.
1961
Susan L. Harrington
Craig W. Harrington
 
manager
Craig worked for The National Cash Register Co.
1971
(vacant)
 
 
 
 
1972
(vacant)
 
 
 
 
1973
Ida H. Ainsworth
Charles C. Ainsworth
 
assistant VP
Charles worked at the Home Security Life Insurance Company.
1980
Emily R. Bourgeois
John E. Bourgeois
 
physician
John worked at Duke University Hospital as an ophthalmologist.
1985
Toby L. Thompson
 
 
machinist
Toby worked for the Sperry Rand Corp.
1988
Jonathan Sasser
 
 
 
 
1995
Caperton M. Andersson
Christer U. Andersson
 
 
Caperton appears to be a photographer.
2000
Paula J. Januzzi
Richard L. Scher
 
 
 
2006
Sarah Sidiqi
Brian K. Murray
nurse
 
 
2011
Julie Hasse
 
 
 
 
2014
Rebecca Fleishman
Alex Faranoff
attorney
cardiology fellow
Rebecca worked for Tharrington Smith, while Alex worked at the Duke University Medical Center.
* The 1930 US Census shows that, in addition to B.L. and Jean (both aged 26) Daniel, the house was also occupied by son Myrton (age "3 9/12"), and a roomer named Ira L. Adam (age 19), a salesman born in South Carolina.
+ The 1940 US Census shows that Christoper (age 42) and Mary (age 39) Hutchins had two sons, Thomas (age 11) and Richard (age 7).  Respectively, the family members had been born in Virginia, South Carolina, New York, and New Jersey.  During 1935 they had lived in Dunellen, NJ.