HOME SECURITY LIFE BUILDING / POLICE DEPARTMENT
Modernist office building built by the Hill family in 1957 for their Home Security Life insurance company. In the 1990s, it became the headquarters for the Durham Police Department.
In tours
This building does not appear in any tours yet.
Last updated
Tue, 10/30/2012 - 4:52pm by gary
Location
35° 59' 48.1056" N, 78° 54' 33.5952" W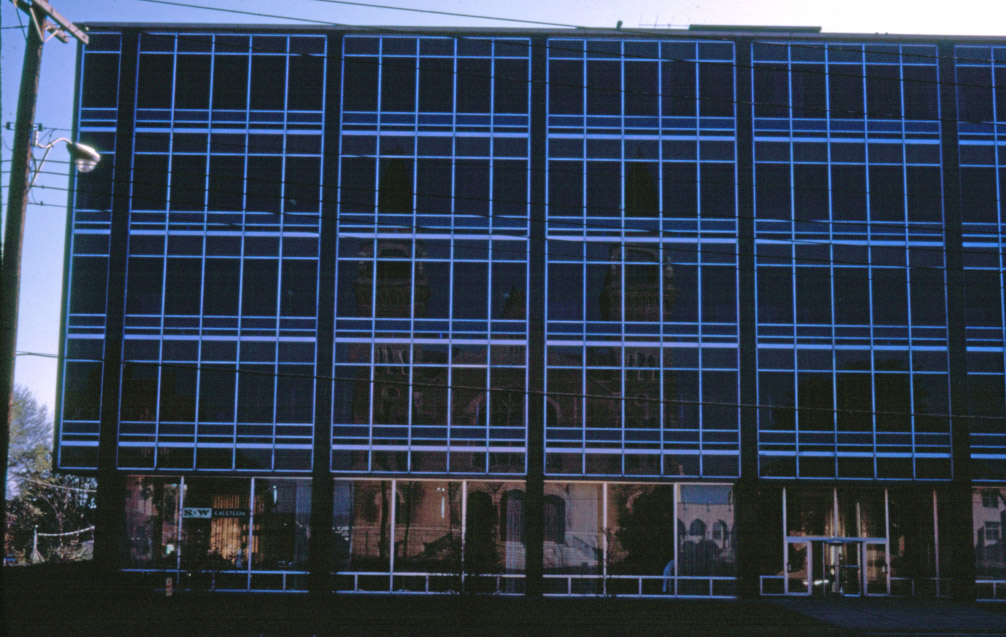 1964 - note the S&W Cafeteria sign to the left on the ground level.
The Home Security Life Building was built on the site of a gas station, which had supplanted two large residences along the   once-wealthy, once residential, 300-600 blocks of West Chapel Hill Street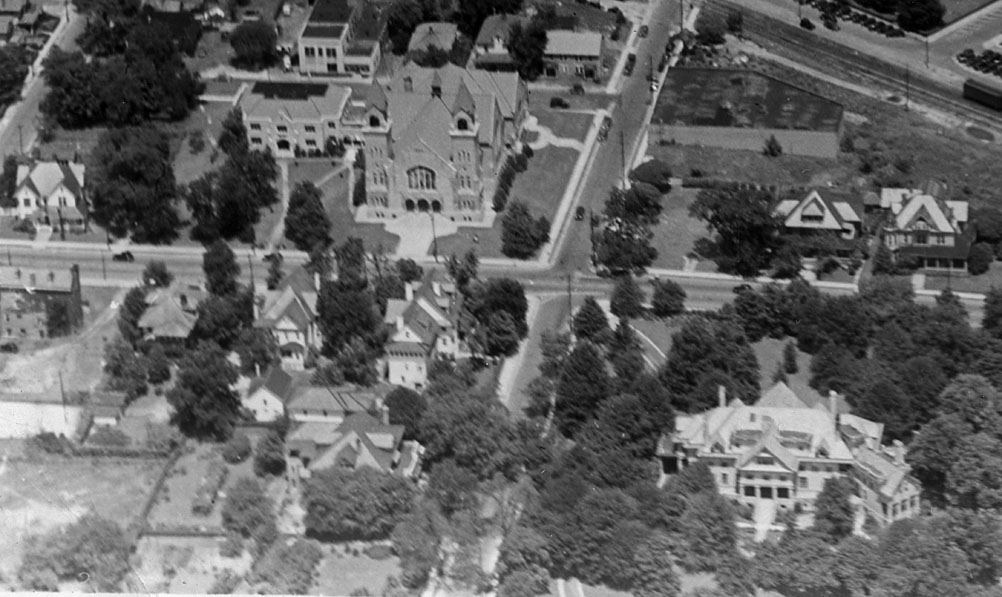 Looking north, with the intersection of West Chapel Hill St. and North Duke St. to the right - 1930s.
(Courtesy Duke Archives)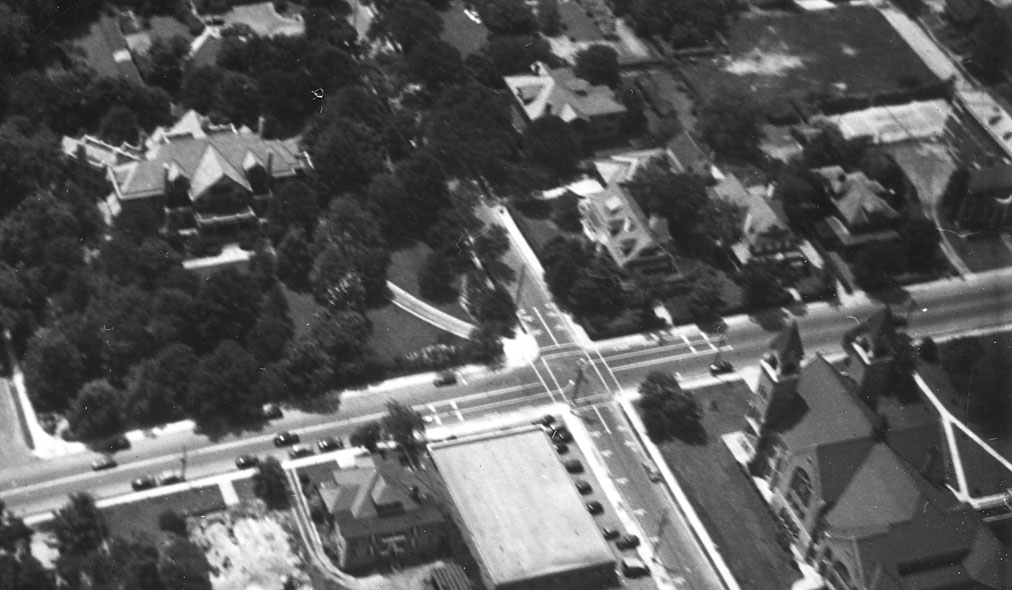 Looking south-southwest at the structures on the south side of West Chapel Hill St. Likely late 1940s.
(Courtesy Duke Archives)
In the early 1950s, the two large houses closest to South Duke were torn down for a gas station.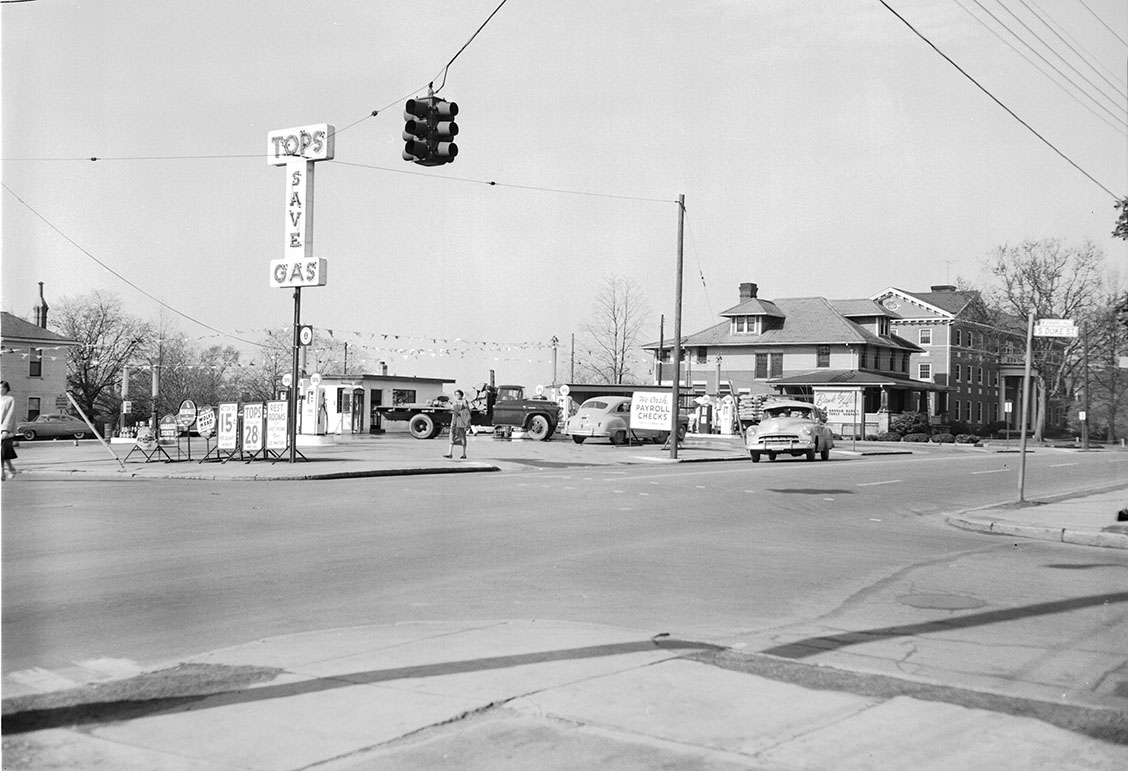 Looking southwest from South Duke and West Chapel Hill, April 1956 - the Y can be seen down the block.
(Courtesy Herald-Sun)
They evidently were well known for their prominent advertising.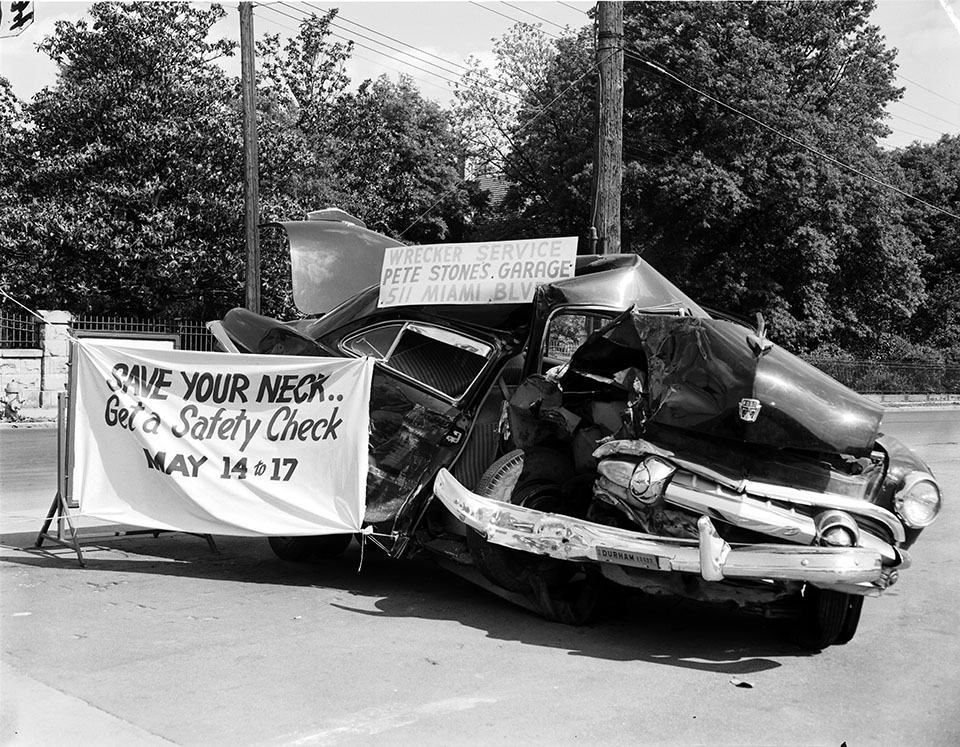 Looking southeast - the fence of the BN Duke mansion Four Acres is in the background.
(Courtesy Herald-Sun)
This service station was replaced with the Home Security Life Insurance Company building (current police department) in 1957. They had previously been located in the Hill Building downtown.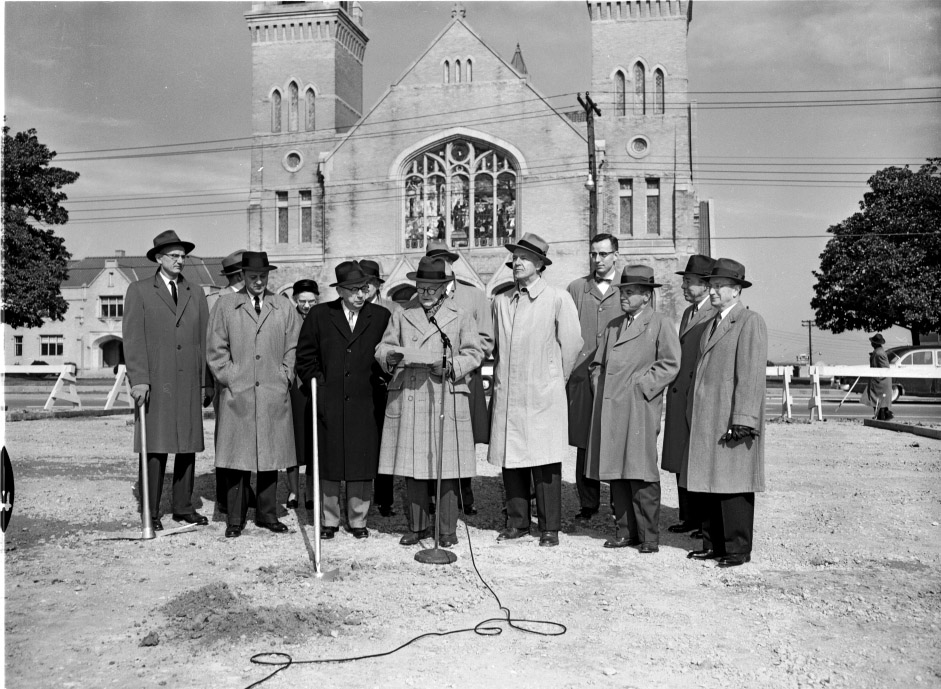 02.21.57 - John Sprunt Hill making groundbreakerish pronouncements.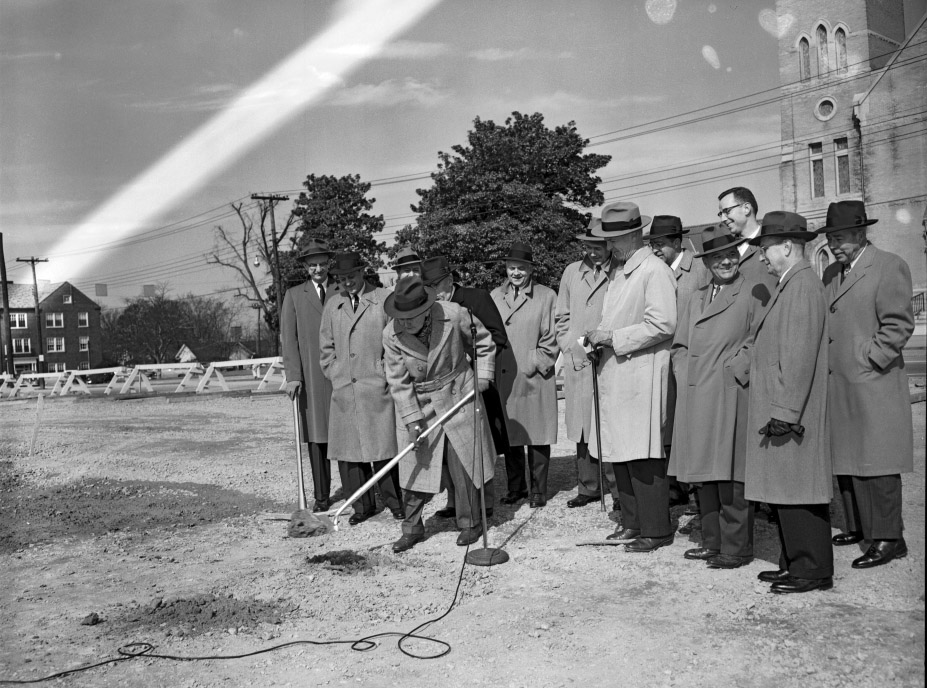 02.21.57 - 87-going-on-88 year old John Sprunt Hill with the shovel.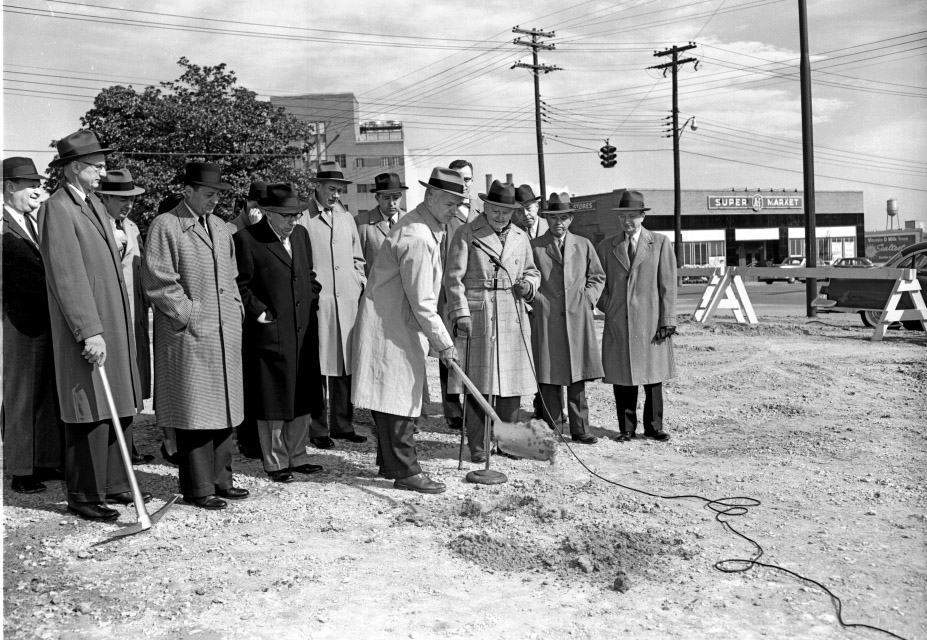 02.21.57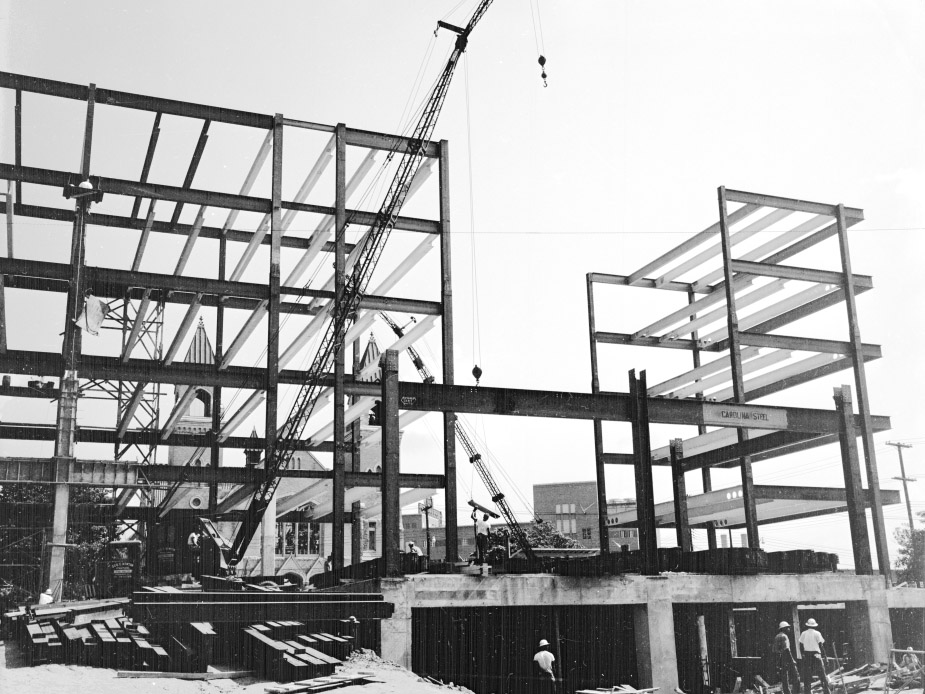 06.21.57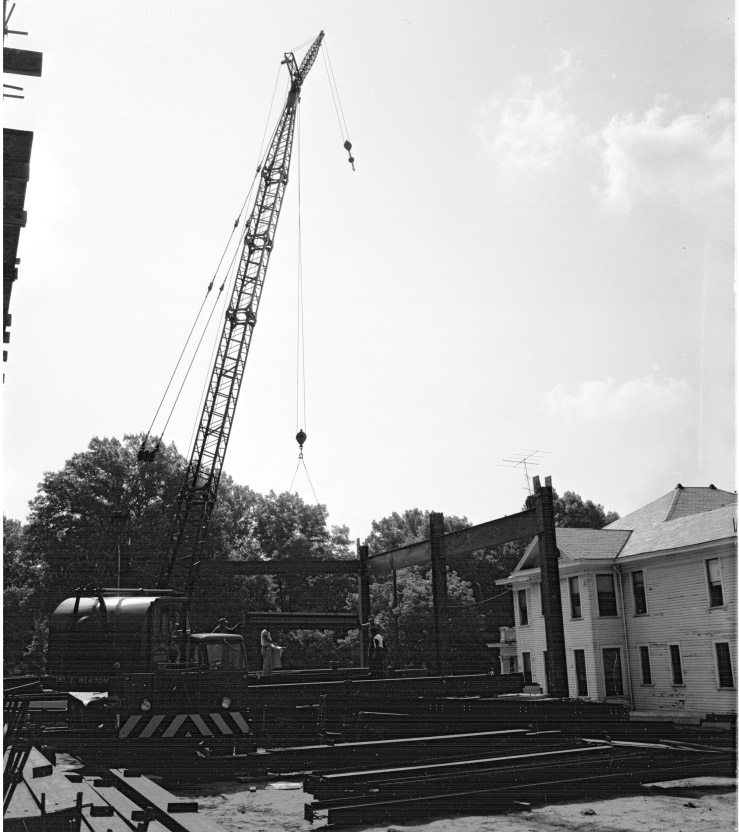 06.21.57
Per Brighter Leaves:
Height and lightness were hallmarks of the Home Security Life Building on [West] Chapel HIll Street, a T-shaped structure hailed as "a new symbol of progress" in a special 20 page newspaper supplement published for its opening in January 1959. Enclosing 80,000 square feet of floor space with aluminum siding and 24,000 square feet of glass, the building used a steel and reinforced-concrete frame to support five floors of large open work space organized by movable partitions and with a temperature kept between 70 and 78 degrees by a state of the art heating and air conditioning system. The design, by the Raleigh firm of Milton Small - a disciple of Mies [Van de Rohe] - with consultation by the New York architect Aldo Rossi, was a victory for Home Security's younger generation. The company's founder, John Sprunt Hill, favored a traditional Southern look, but his son and grandson, George Watts Hill, Sr. and Jr., the firm's chairman and president, liked modern architecture and managed to prevail in the family's clash of tastes. The building was also a victory for the new generation of architects produced by institutions such as NCSU, whose Modernist, Internationalist, and Contemporary thinking often "hit a brick wall" in the real world of paying clients.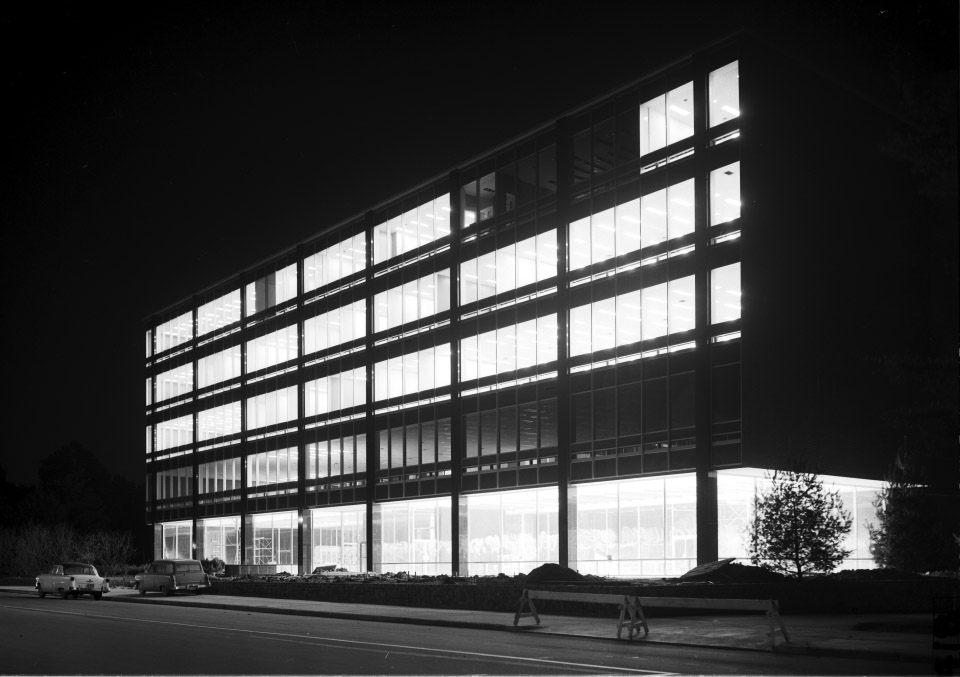 "Home Security Building at Night" - 11.01.58
(Courtesy Herald-Sun)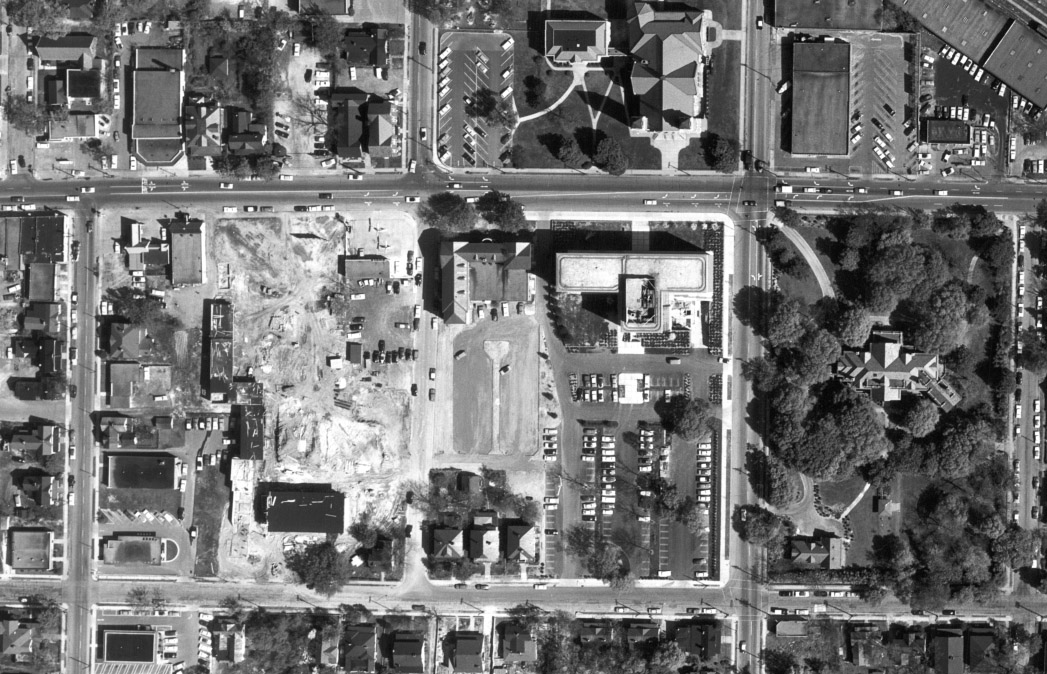 1959 aerial demonstrates the pre-urban renewal 1950s transformation of this once mostly-residential neighborhood with commercial and institutional structures. Note Home Security and the A&P juxtaposed with Four Acres and the YMCA. The new Holiday Inn is under construction.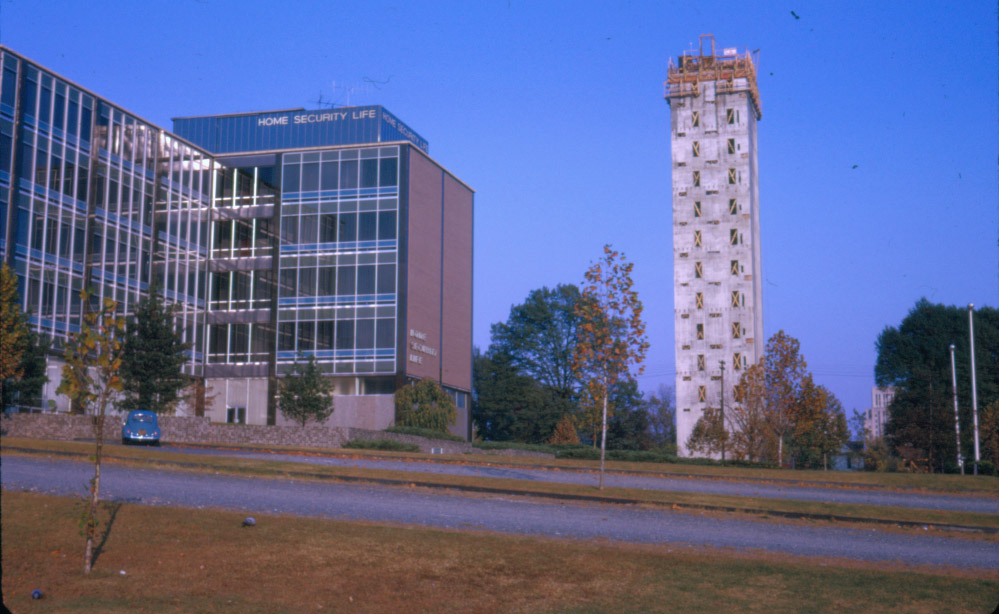 Home Security Life, February 1964. The central core of the NC Mutual building has been erected in the background. (Louise Hall Collection.)
Home Security and the YWCA were neighbors for a decade or so.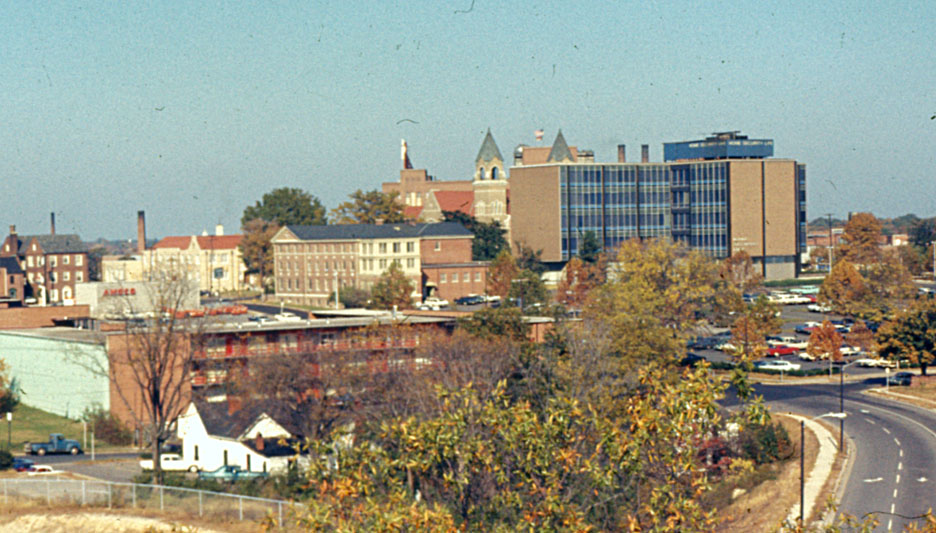 From Gregson and the Freeway, looking northeast, 1967
(Courtesy Herald Sun)
But the Y was eventually torn down for parking.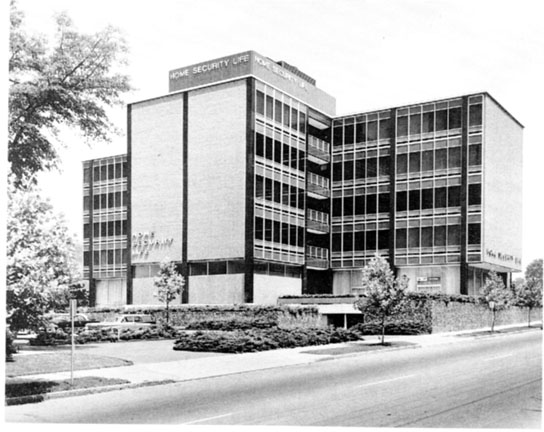 From "Durham: A Pictorial History" by J. Kostyu, 1970s.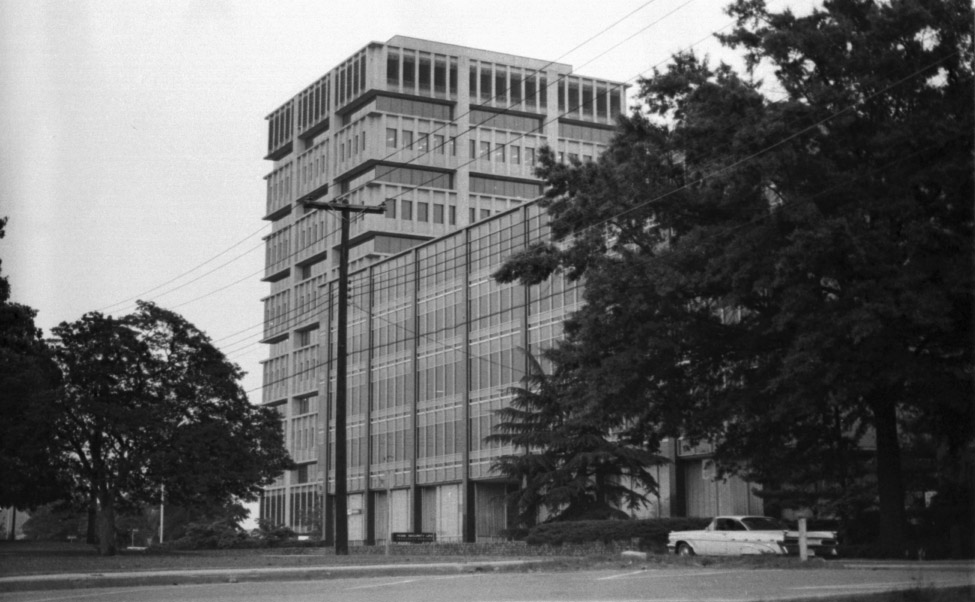 Home Security Life with NC Mutual in the background, 1971
(Courtesy Karl Stauber)
I know little about how long the insurance company operated in this building and whether or not it had interim uses before the police department took over the building as its main headquarters. I know that it has been the headquarters at least since the mid-90s, and probably quite a bit longer.


The department and its huge parking lot, 2006.
But news is lately that the department wants to get out of this building. In fact, they want to demolish the building, which they state needs $4million in repairs. Per the Herald, "officials felt it would be more economically savvy to sell the property on which the building stands to private developers". They'll then spend $35 to $40 million on a new headquarters and 2 precinct stations.
I tend to think that the building is kind of cool - it's the kind of thing I'm wary about tearing down; as modernism goes, this isn't bad. I especially find the retaining wall interesting, which is made out of granite blocks.
What I'd be really happy to get rid of, and see private infill development on, is the parking lot. The building and immediate surround takes up ~ 0.75 acres, but the whole block is 4.1 acres. 3.35 acres of surface parking seems just a bit excessive to me for downtown.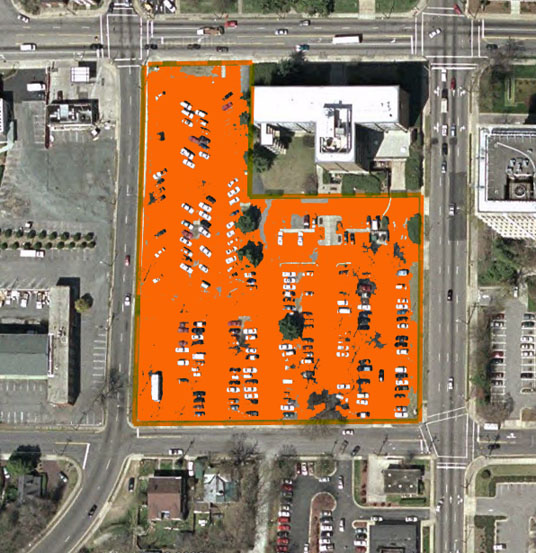 Mmmm. Parking.
This neighborhood could use some infill development on this lot - you could put a lot of mixed-use residential/office/retail development on 3 or 4 acres. The current void in this block exacerbates the division between the west side neighborhoods and downtown caused by the Durham Freeway.