HOLIDAY INN / TQ / URBAN MERCHANT CENTER
Built in
1959
/ Demolished in
2013
In tours
This building does not appear in any tours yet.
Last updated
Sun, 01/11/2015 - 11:10am by gary
Comments
Built in
1959
/ Demolished in
2013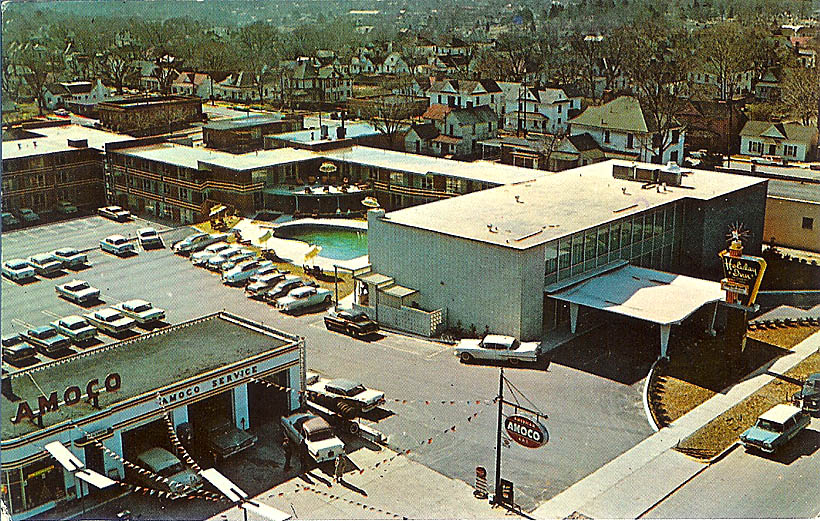 ----------------------
The south side of the 600 block of West Chapel Hill St. consisted of residential structures into the 1950s - bookended by a commercial area to the west at Vickers Ave. and the YWCA to the east, across South Gregson.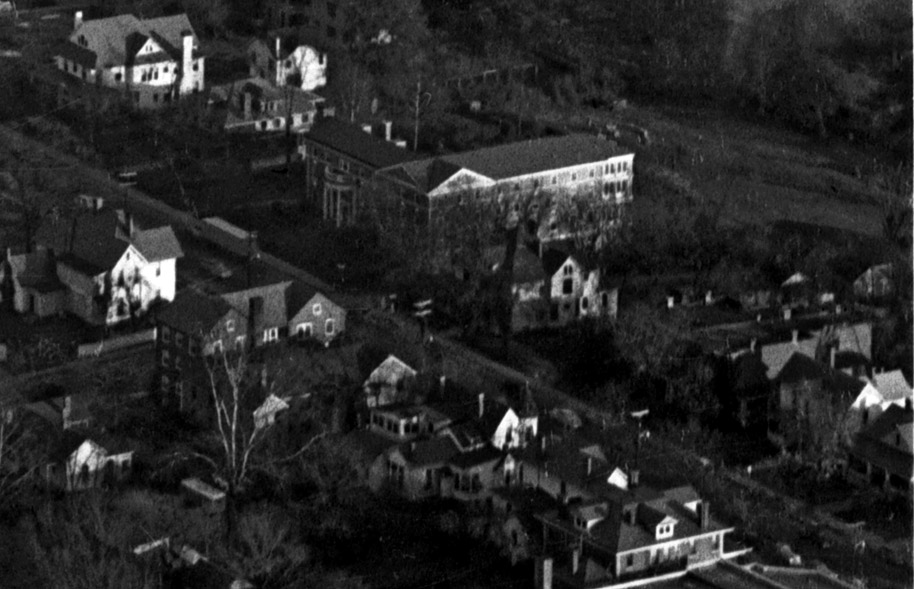 Looking southeast at the intersection of South Gregson and West Chapel Hill St.
(Courtesy Herald-Sun)
In 1959, most of the houses in the block bounded by Jackson, Gregson, West Chapel Hill St., and Vickers Ave. were torn down in order to build a Holiday Inn.
Aerial shot of construction in 1959.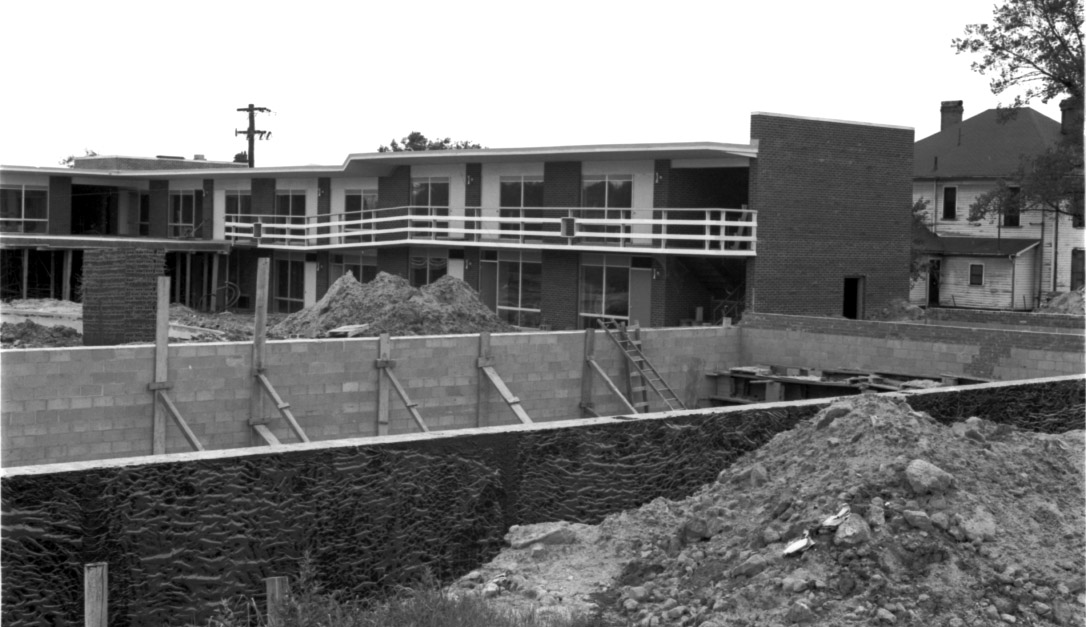 Under Construction, 1959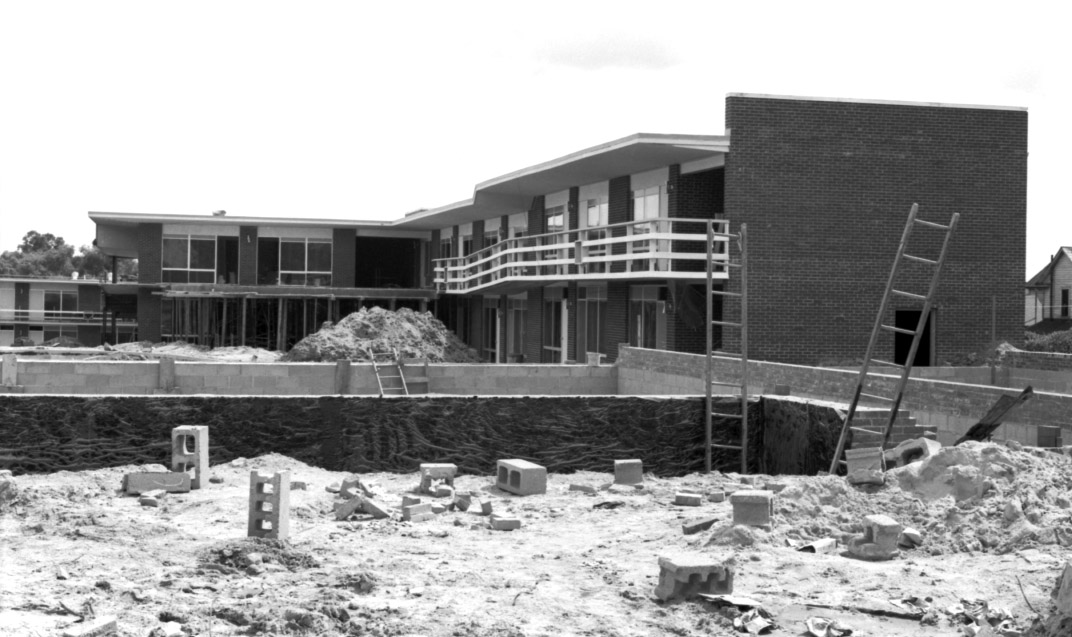 Construction, 1959

Construction, 1959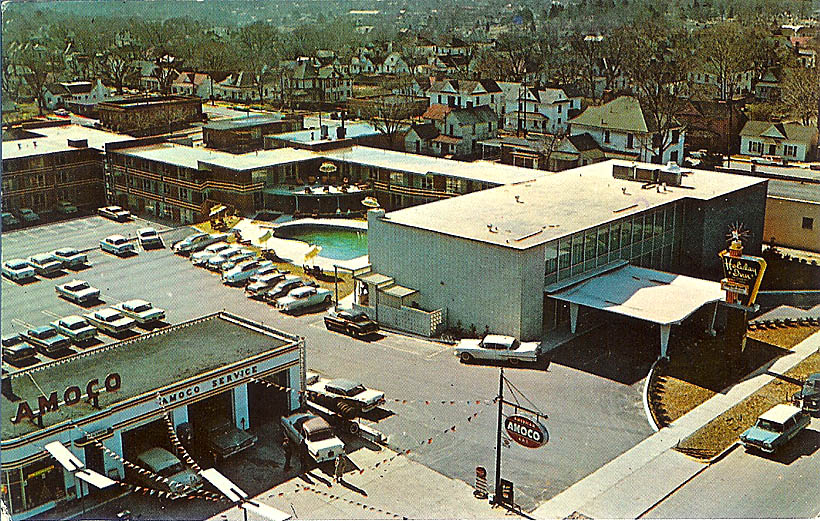 The Holiday Inn in the early 1960s. This shot is taken looking southwest, with West Chapel Hill St. in the foreground. Note that this is prior to the construction of the Durham Freeway, and most of the houses in the immediate background are no longer extant.
(Courtesy of Whig Hill)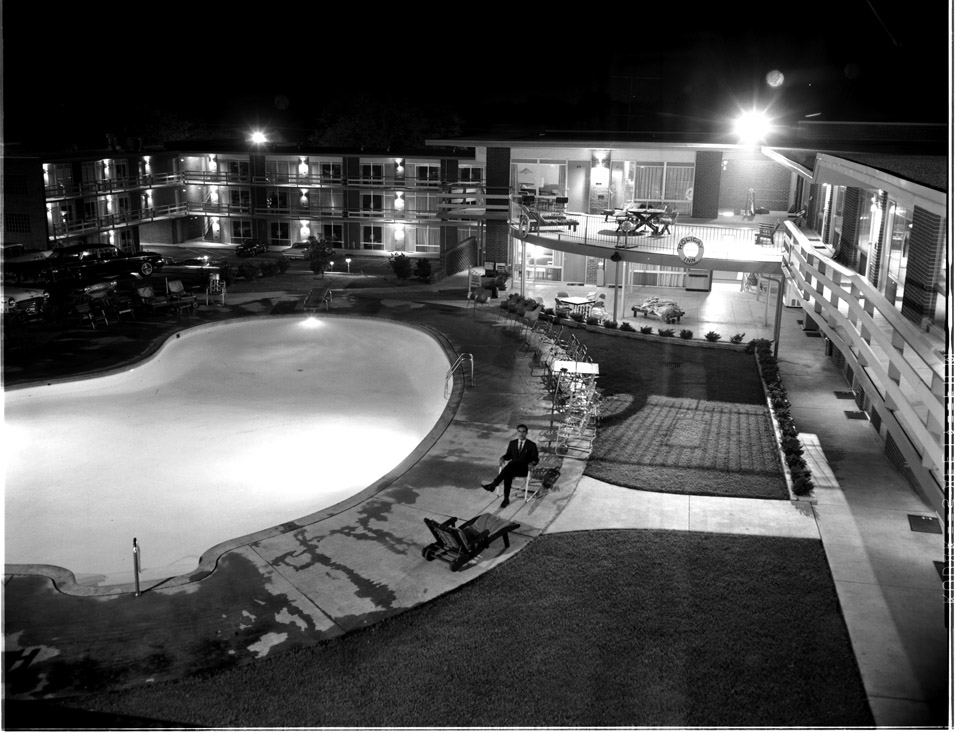 Looking southeast at a cool cat waiting for the cocktail crowd by the pool, 09.11.61.
(Courtesy Herald-Sun)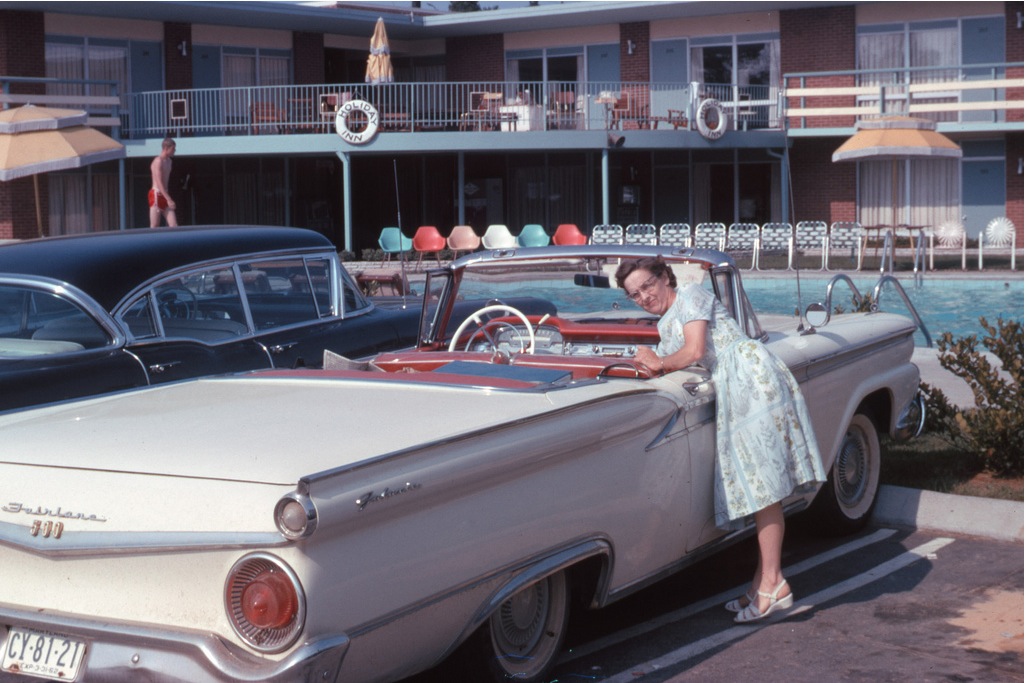 (Courtesy goldengreyblue)
The Holiday Inn operated for many years, and I am unsure of when it closed. In the 1960s-1970s, the restaurant / bar was called the "Festa Room." It evidently became quite the hangout for Ricers and their hanger-ons.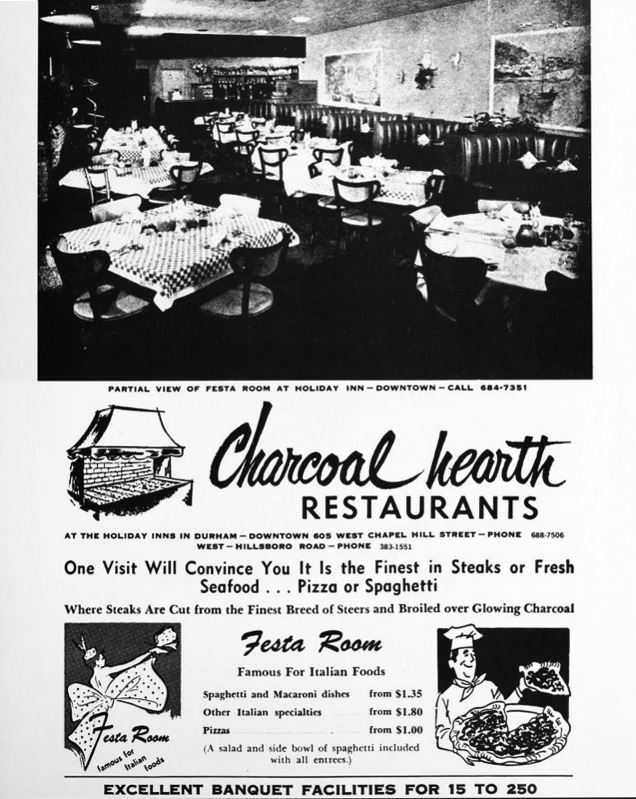 1968 ad for the Festa Room at the downtown Durham Holiday Inn.
It appears that in 1993 someone defaulted on their loans, and Ronnie and Diane Sturdivant bought the property. It has been a fun road ever since.
The Sturdivants operated the hotel as a week-by-week room rental facility, which they called 'Temporary Quarters.' By the late 90s, TQ had turned into a major nuisance. Problems peaked in 1997-98, when repeated health code violations (and eventual refusal to allow health code inspectors on the property) caused county officials to revoke the Sturdivant's permit to operate the establishment. They continued to rent rooms at the facility, which was the source of 525 911 calls between Jan 1997 and July 1998. In July 1998, a schizophrenic man stood on the rooftop and fired shotgun blasts at police headquarters, across the street.
Turned out the county Mental Health Department was continuing to use TQ as a housing option for people coming through their department, despite the lack of an operating permit.
In September 1998, TQ was ordered shut down for good. The Sturdivants eventually started using the front of the building as a thrift store, which they call the 'Urban Merchant Center'. The majority of the facility remains empty and derelict.
While the Sturdivants continually let this property (as well as The Washington Duke Motel, of 'We Want Oprah' fame) fall behind on taxes (I can't keep track of how many times it has gone to foreclosure) they always pay it off on the day of foreclosure. Of course, all of this work by county employees costs all of us money.
But the property itself is miserable - amenities include old refrigerators and furniture stacked around in the cracked, heaved parking lot. It seems to be used as a school bus parking facility now as well. The place is surrounded by high chain-link fence topped with razor wire.
This is the third, and perhaps most egregious, part of the Dead Zone between Trinity Park/Brightleaf and Morehead Hill/Forest Hills - the stretch of Gregson dominated by this eyesore, the massive police department parking lot, and Bill Fields' dilapidated property. There's no logical reason why, given its great geographic situation, this shouldn't be a vibrant part of the city. But Bill Fields and the Sturdivants see to it that it is kept in a state of perpetual desolation.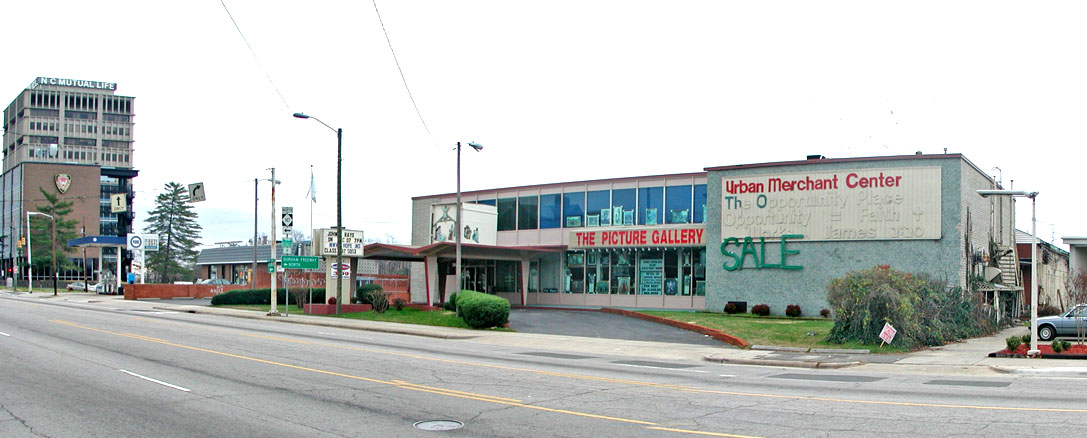 Looking southeast from West Chapel Hill St., 2006. (G. Kueber)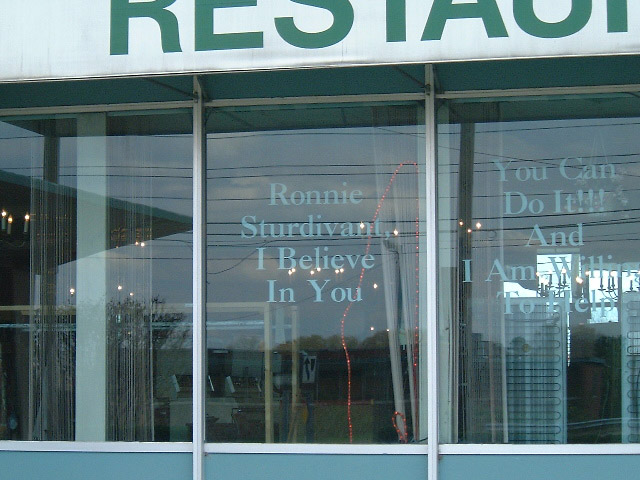 Ronnie, I don't believe you can do it. But I'd be willing to help you sell it - ?



Looking west/southwest from the police department parking lot, 2006 (G. Kueber)
In 2012, this site was purchased by EDR, a Memphis residential developer which specialized in student housing. In February 2013, demolition of the Holiday Inn began.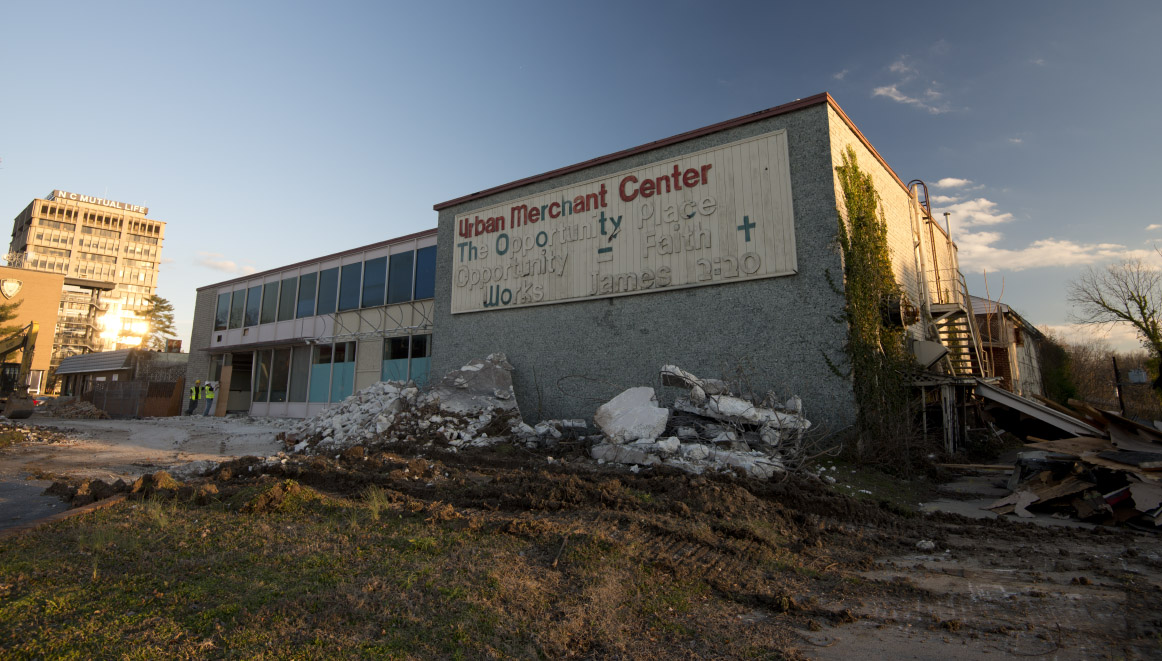 02.27.13 (G. Kueber)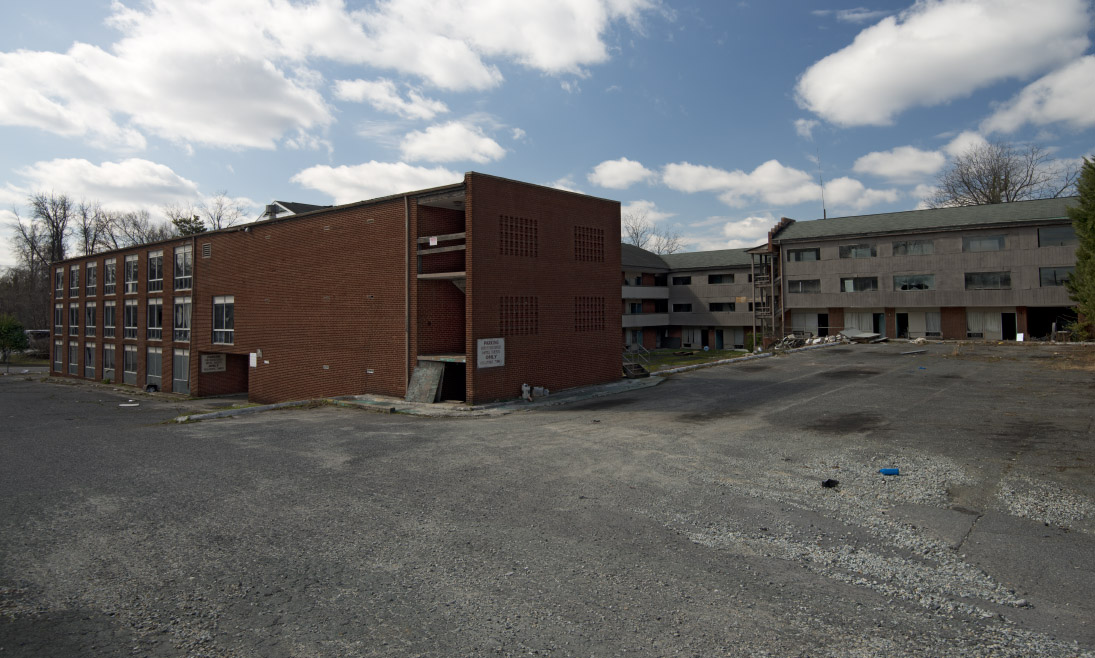 03.02.13 (G. Kueber)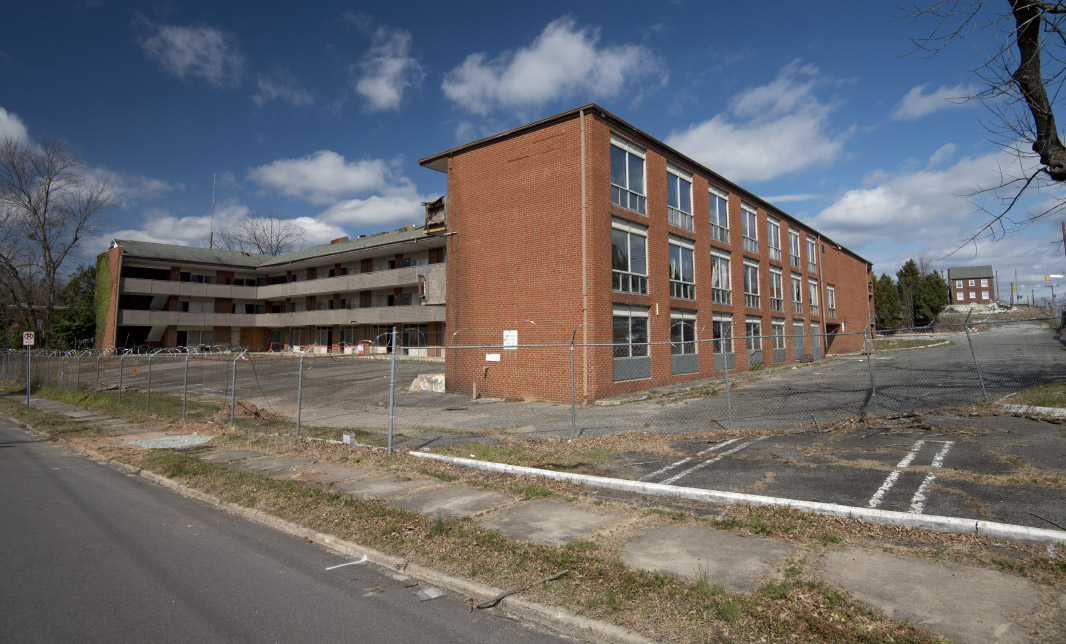 03.02.13 (G. Kueber)
03.09.13 (G. Kueber)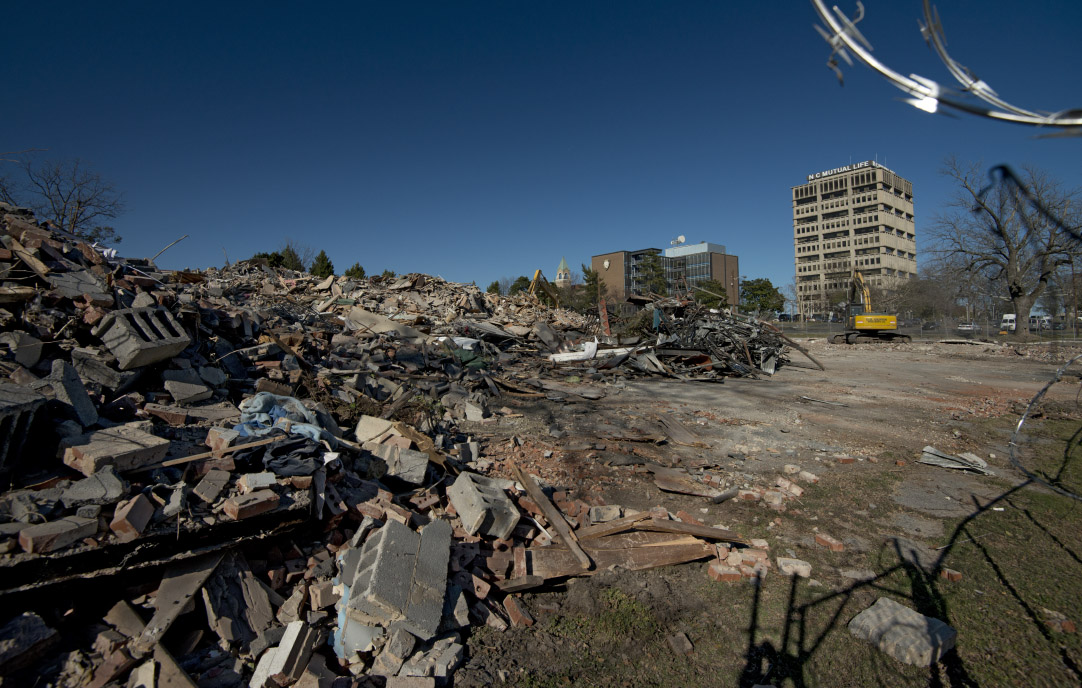 03.09.13 (G. Kueber)
Per the Herald-Sun on 3.27.13
Education Realty Trust, or EdR, is a Memphis, Tenn.-based publicly traded company. EdR is partnering to build a [$46.1 million] apartment community in Durham through a joint venture with the Washington D.C. real estate investment and development firm Javelin 19 Investments.
The plan is to build a 386-bed project on property across from the Durham police headquarters. The project is proposed to include studio apartments as well as one-bedroom and two-bedroom units. In addition, there will be an attached parking garage with 400 parking spaces.
The apartments are designed to appeal to Duke University graduate students and upperclassmen, according to a news release.
EdR is planned to own and manage 90 percent of the joint venture, and will provide development, construction oversight and management services for the project.
The project is expected to be completed in the summer of 2014.
"While a graduate student at Duke, I led several consulting projects focused on the nearby West End community," said Jill Homan, principal at Javelin 19 Investments, in a statement in the release. "This highly traveled, yet under resourced corridor between Duke and downtown Durham is an incredibly exciting redevelopment opportunity."
Rendering from South Gregson and West Chapel Hill, looking southwest.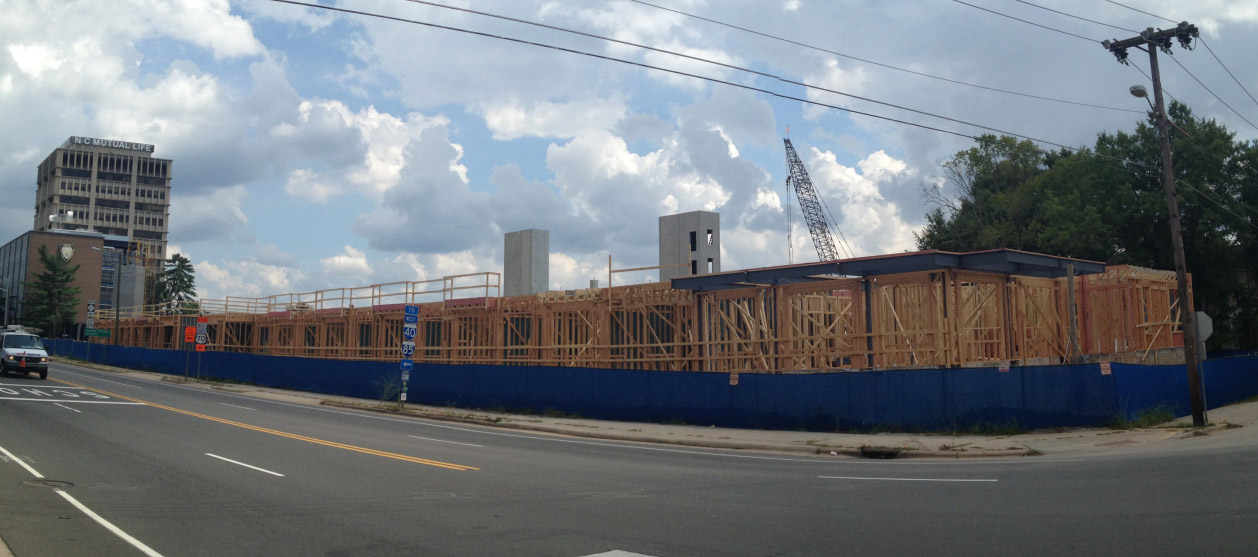 08.10.13 (G. Kueber)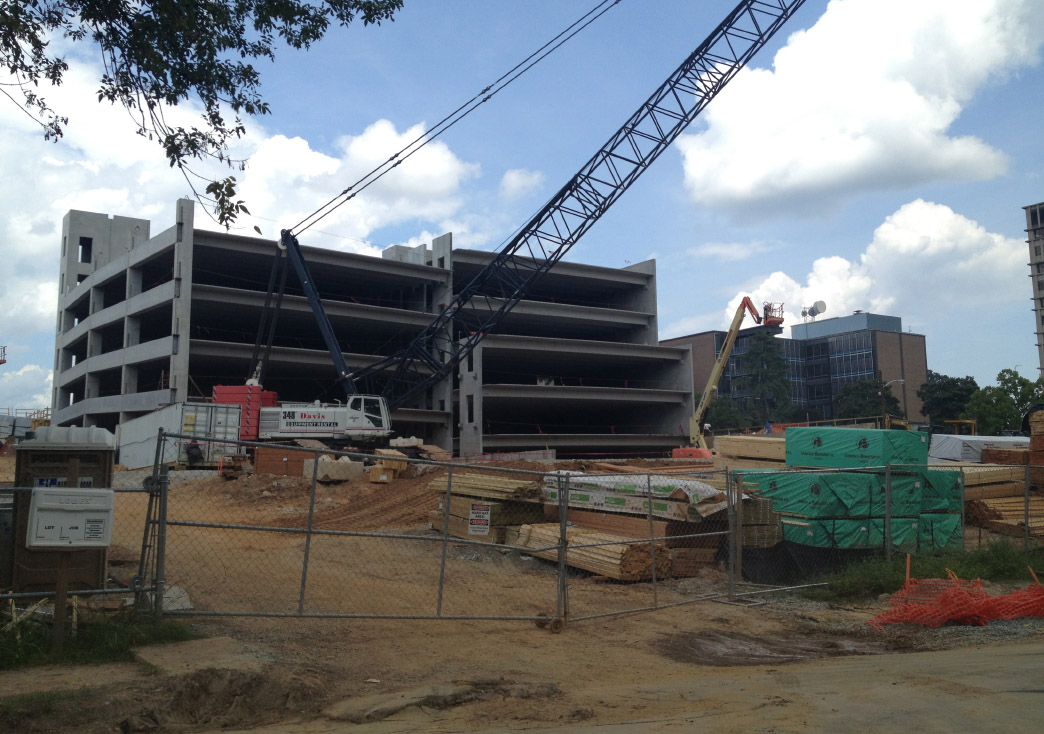 08.10.13 (G. Kueber)
I have to say, as of December 2013, I am impressed. It is an honest-to-goodness urban infill structure, here in downtown Durham. Amazing what a massive difference it makes to the feel of this area and intersection to have some height and mass, built up to the street. This is how it is done, public sector. I reserve judgment on the exterior finishes, but couldn't be more pleased with the bulk.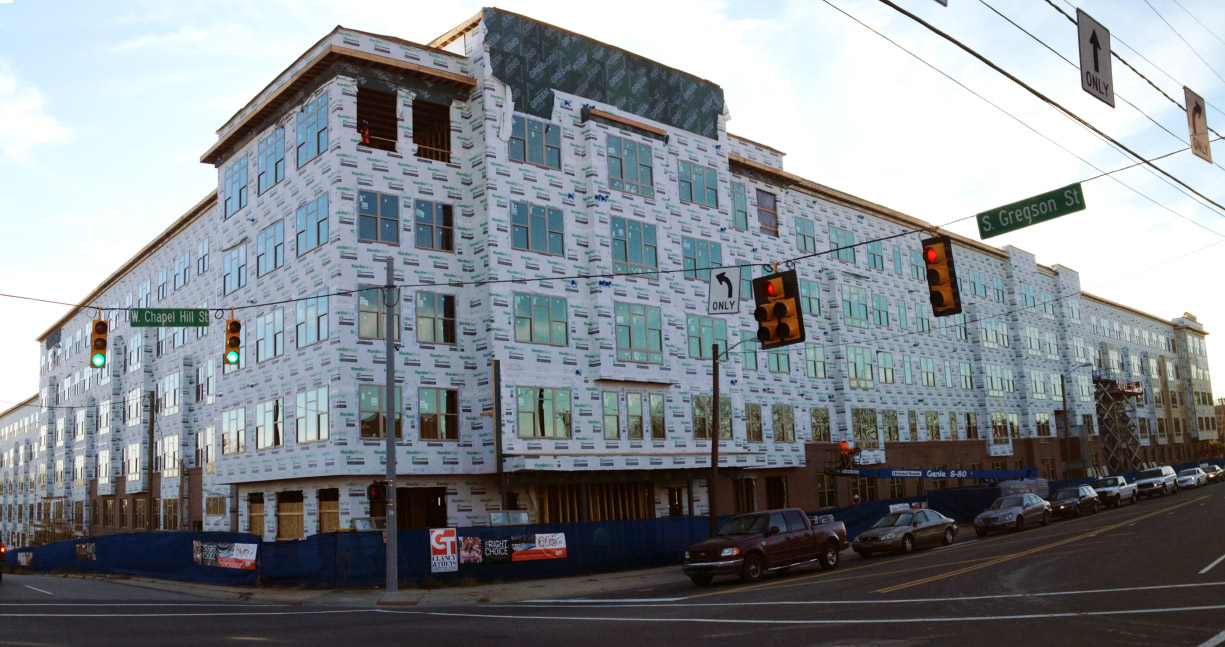 12.13.13 (G. Kueber)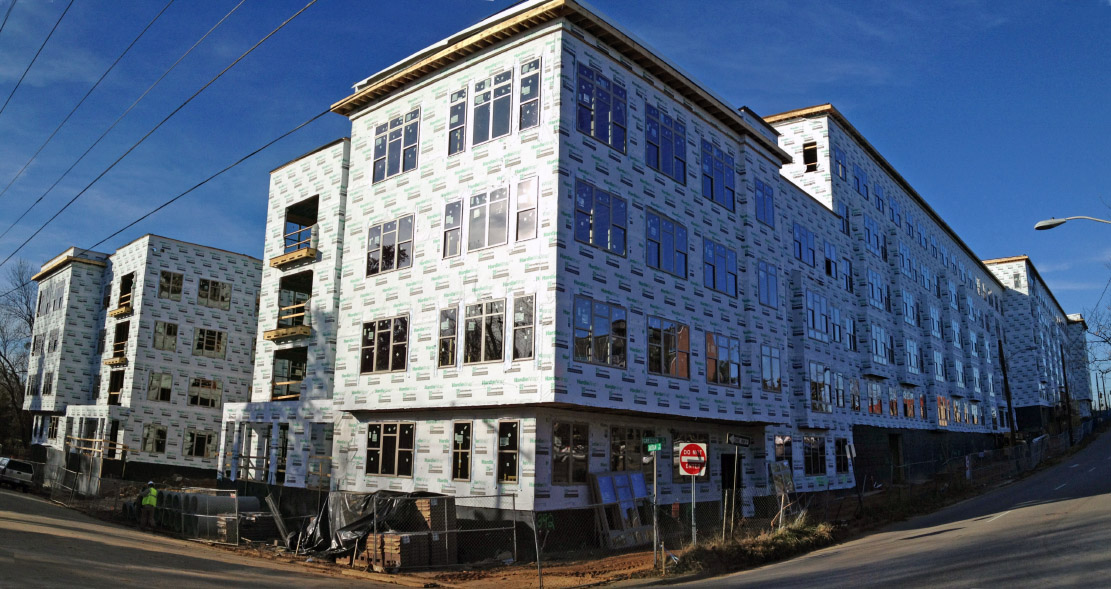 12.13.13 (G. Kueber)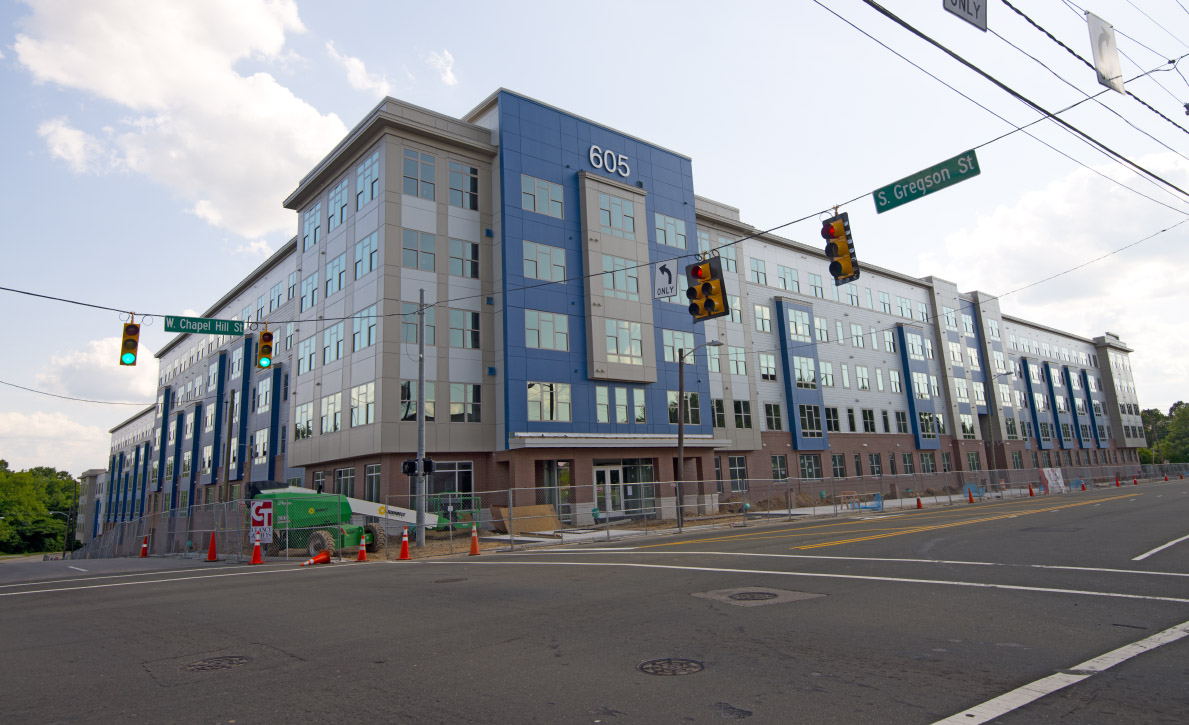 05.31.14 (G. Kueber)
The apartment complex opened for business at the beginning of August 2014.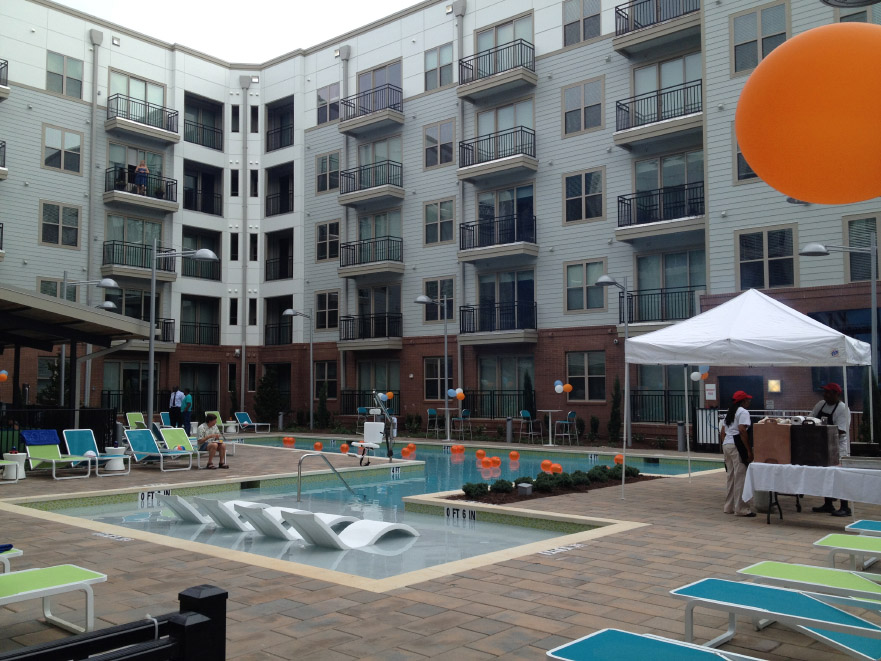 The interior courtyard / pool. The more things change... 08.07.14 (G. Kueber)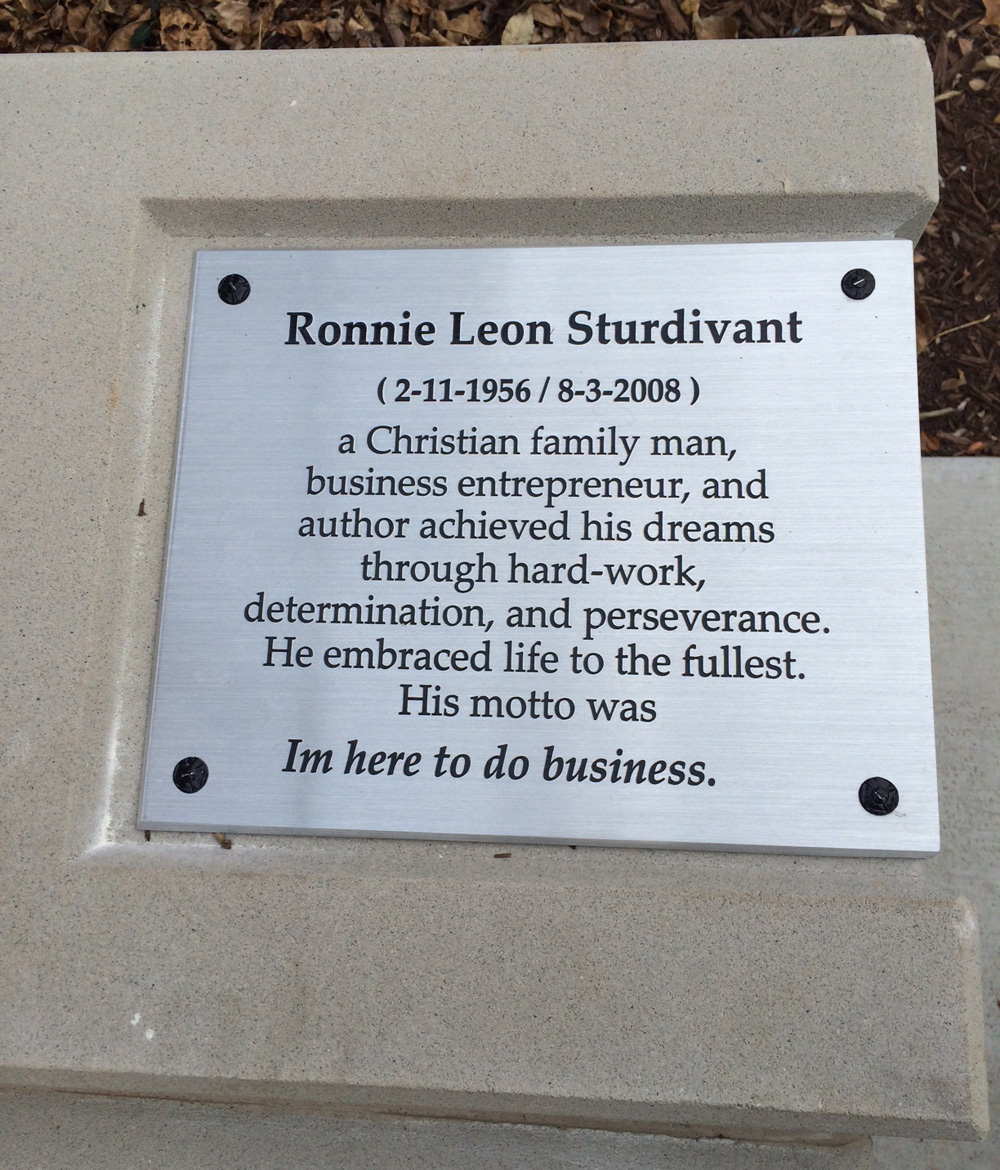 Ronnie Leon Sturdivant memorial plaque on Jackson St. behind 605 West. (November 2014)
What kind of business? - well, we'll leave that to your imagination.