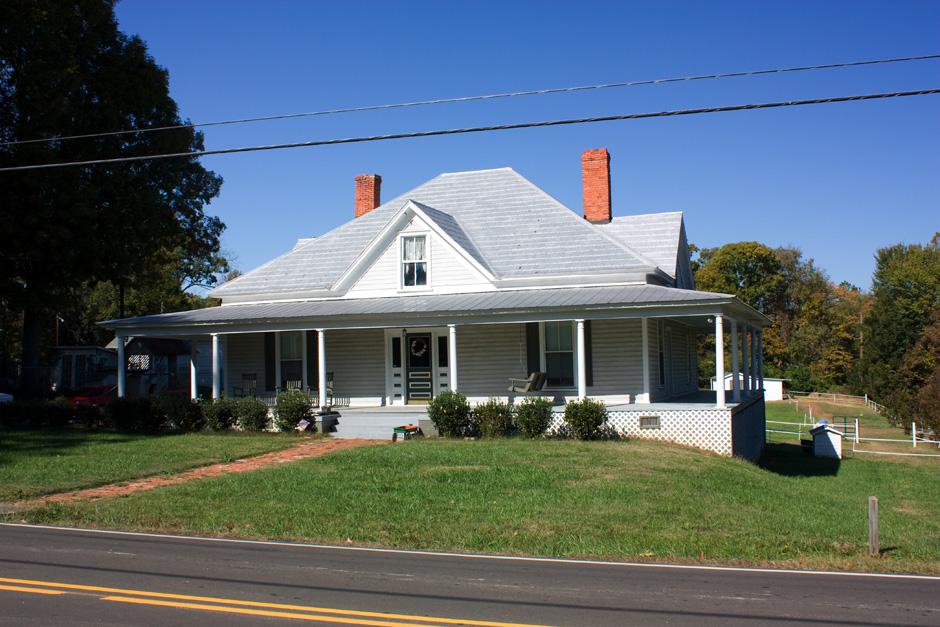 1505 Bahama Road, 10.26.08
This house was built at the crossroads center about 1912 by Hamp Umstead and his wife Bettie Travis. They grew tobacco in the field behind the house. The square house has a pyramidal roof with a large gabled dormer on each side and two tall chimneys. The huge wrap around porch was designed to catch any available air in hot weather.
This house is known by neighbors as the Clark-Bowling House, after its [2003] residents. One owner, James Bowling, did all the restoration work on the house. They have lovingly renovated the house, undertaking major repairs such as replacing the foundation. They creatively recycled the original foundation bricks to pave the walkway leading up to the porch. Inside the beveled glass front door, the spacious central hall contains a grand piano. A "Kennedy" rocker is nearby.
The left door with six horizontal panels leads to the front parlor. The [2003] owner stripped ten coats of white paint from the mantle before refinishing it. The floors are heart pine and the windows retain their wavy glass panes. Many of the light fixtures are original, and period replacements came from Durham's Pettigrew Street.
To the left of the fireplace is the original kitchen. The walls here retain their original bead board and there is another carefully refinished fireplace mantle. An original light fixture hangs above the table and the North Carolina chairs that surround it. A glass door leads to an old pantry.
The [2003] owners believe[d] that the back hall with its rough-cut lumber walls was originally a dog run later enclosed to provide more inside space and a bath. They use the hall as their home office. The bathroom contains a period light fixture, claw foot tub, and pedestal sink.
The two bedrooms both have original fireplace mantles. The back room is dominated by a white iron bedstead and the front room is furnished with many antiques. The sleeping loft in the gables above is accessed from a ladder in the front bedroom closet! The [2003] owners of this house have worked hard to bring it back to life, turning a "diamond in the rough" into a true gem. This property is truly an inspiration for everyone who dreams of renovating an older house. [by Kimberley Miller]