The brick storefront at 303 South Duke St. was built in 1930 by Southern Land and Lumber for the Graybar Electric Company, a national electric supply company. The structure was designed by local architects Rose and Rose

From a January 1930 news clipping generously sent to me by a gentleman from the Graybar company:

"A brick store building is being constructed on South Duke Stret near the Southern Railway by Mr. M.B. Moore of this city for occupancy in February by the Graybar Electric company of New York, it was announced yesterday. The Graybar company, which is one of the largest electric supply companies in the country, will open a branch distributing plant here for central and eastern North Carolina."

"The new structure here will cost in the neighborhood of $20,000.... has a frontage of 93 feet on Duke Street and a depth of 139 feet. It will be modern in every detail and will provide ample room for the company's distribution."

Graybar purchased the building from Southern Land and Lumber during the depression.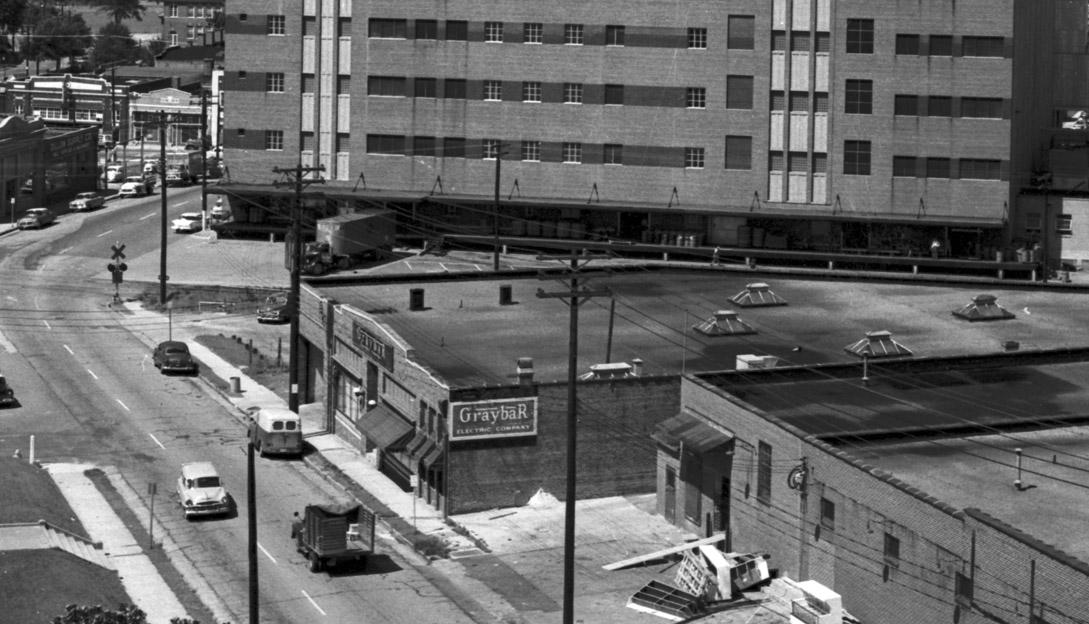 Looking north from the newly-built Home Security Life building, 07.31.58
(Courtesy The Herald-Sun Newspaper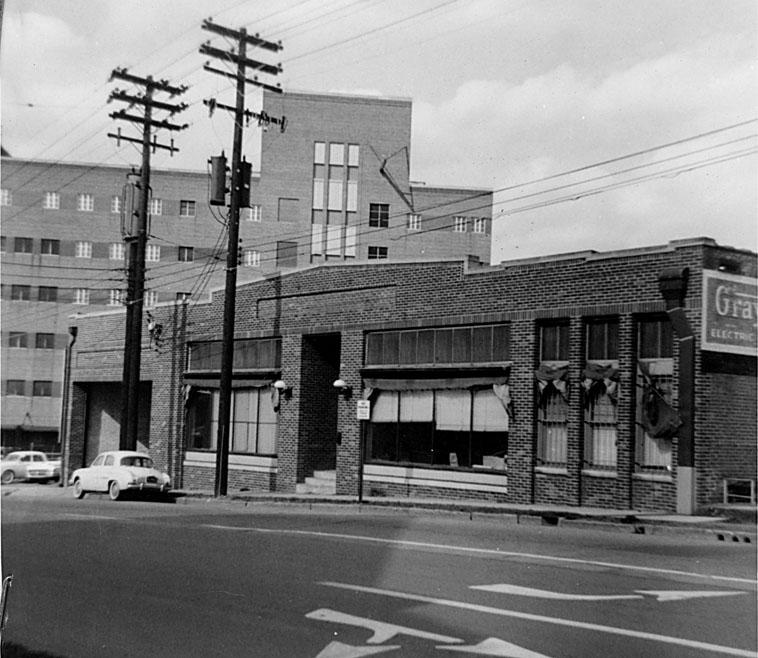 Looking northeast, early 1960s
(Courtesy Durham County Library / North Carolina Collection)

Graybar appears to have moved out of the building by 1961, selling the structure to a "dry goods company."

While the mural on the side of the building implies that it enjoyed a later stint as a furniture store, it's been empty since my second stint in Durham (the current one) started in 1997.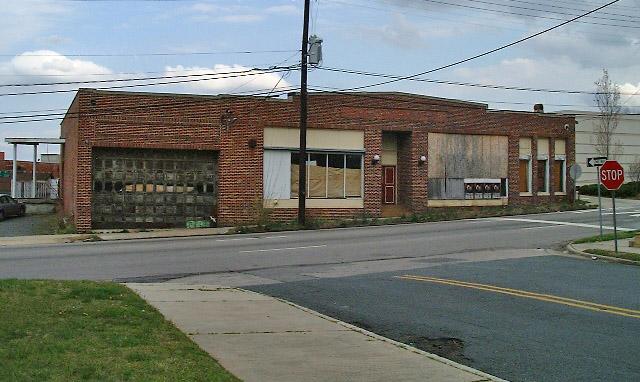 2001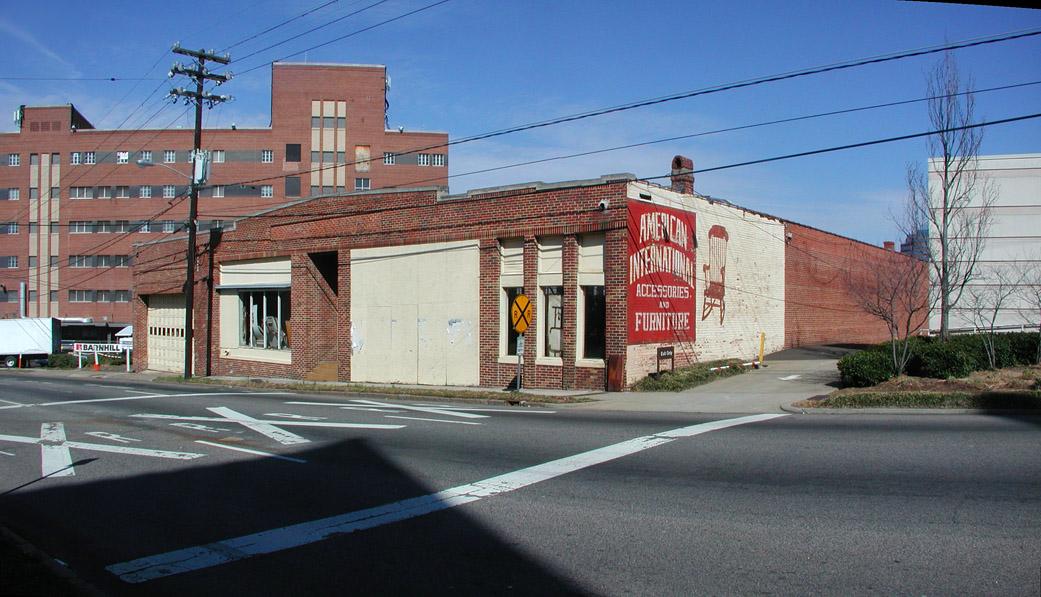 Looking northeast, 03.07.07

I've always loved this building, and thought it would make a great restaurant/bar. It was owned by the city for quite awhile, until TTA bought it as part of plans for the Vapor Train, i.e. The Little Engine that Couldn't.

And I was happy about that, because I was a big proponent of the train, and still am. It's one of the few things that I can say makes me envious of Charlotte. Are they really that much more progressive than the Triangle? 12,000 riders a day (versus 9000 projected) say yes. As the N&O reported back in January, the line has also promoted significant economic development along the corridor, which rail opponents always conveniently forget.

But back to our little building - TTA owns the triangle of land between South Duke, West Chapel Hill and the railroad tracks. What's the future for this land? Are they going to just be landlords and wait around for us to realize we need to build our own rail system? I'm afraid I'll be too decrepit to walk to the station by the time than happens.

I'm glad they're renting out the old A&P to the Greyhound/Trailways station, but this spot should be redeveloped if the market is there. There was talk of Cherokee Investements being involved somehow in developing land around the hypothetical stations, but who knows what the status of that arrangement is.

Bottom line, I'd hate to see a crucial link in the development of the west side of downtown sit fallow while we figure out if we're going to get serious about public transit. I need to sit on the north deck of a restaurant in 303 S. Duke, watching the freight trains and Amtrak go by, and thinking about what could be.

Update: 6/13/10



Graybar demolition, 01.02.10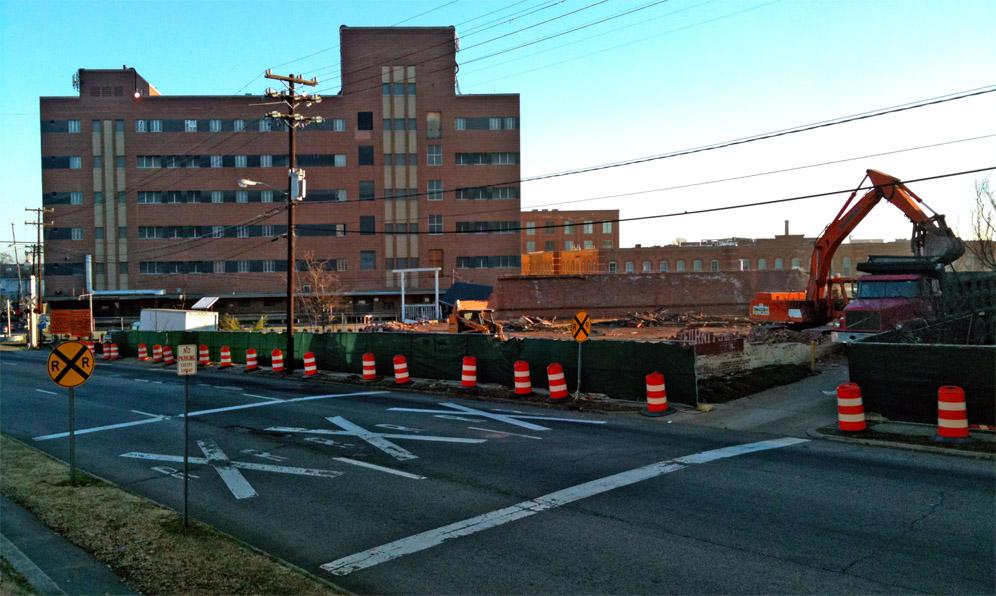 Graybar demolition, 02.24.10
From the New Cigarette Factory (Courtesy Dave Piatt)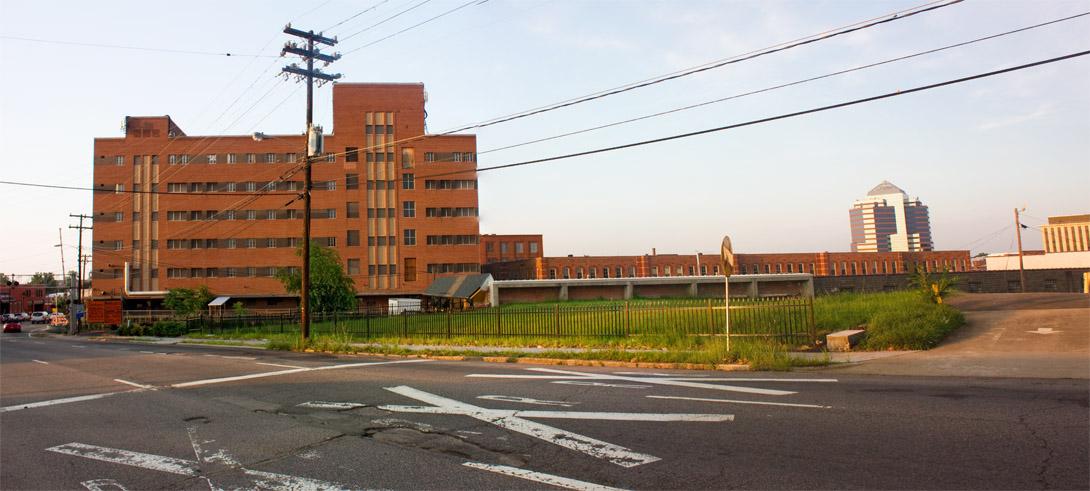 Former site of the Graybar Electric building, 06.13.10