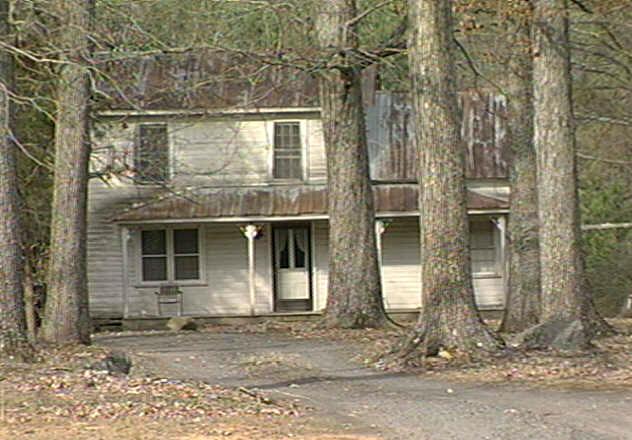 According to E. L. Terry, the main block of the Giles Latta House, a frame, two-story, gable-roofed structure with a large fieldstone and brick end chimney, and a side passage plan was constructed in 1875 and added to an antebellum one-room structure with simple Greek Revival details that is now a part of the rear ell. At first glance, the main block is deceiving for at the time of its construction, architectural components such as nine-over-six windows on the second floor, wide, hand-planed sheathing, and a large paneled mantel in the front parlor were removed from the 1830 Anderson Latta House (later demolished) and incorporated. Concurrently, a log kitchen house from the Anderson Latta farm was moved and reconstructed east of the dwelling. When a one-room addition was made to the ell in 1940, this structure was joined to the house by a narrow breezeway. Also in 1940, the main block was enlarged by a one-story gable-roofed wing on the south facade, a window opening on the first floor of the front facade was reconfigured to include a pair of six-over-six sash to match an identical pair on the wing, German siding was installed to cover most of the main block, and a hip-roofed front porch was expanded along the wing.
Around the Giles Latta House, an extensive collection of late nineteenth and early twentieth century farm buildings has survived. Most remarkable is a large double crib barn made of V- notched logs. Other outbuildings include a v-notched log corncrib, a frame corncrib, a smokehouse, a granary, a wood shed, a garage, a workshop, a potato house, a tobacco barn, and a shingle and frame well enclosure constructed in 1911. In front of the dwelling, two large oak trees have grown around a cedar hitching post installed between them in the late nineteenth century .
Significant suburban sprawl has encroached around this house in the 2000s.