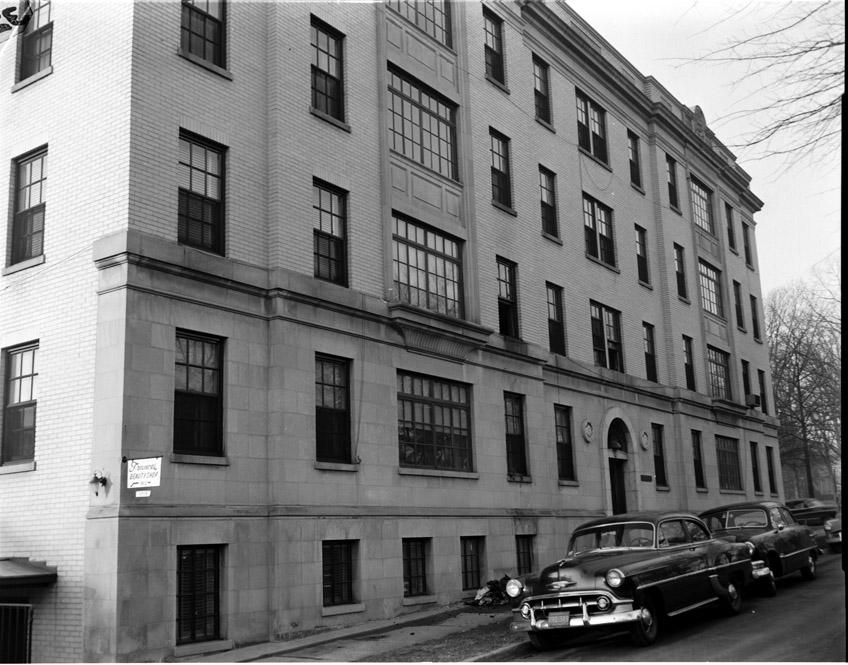 Erwin Apartments from W. Trinity Ave. - 01.03.56
Courtesy The Herald-Sun Newspaper)

Although Trinity Park has some wonderful early-mid 20th century detached houses, I remain most intrigued by its relative abundance of early 20th century apartment buildings. Of those still standing, the Erwin Apartments are my favorite. The relative elegance of early 20th century apartment buildings when compared to the junky sameness that characterizes most apartment 'complexes' built from the 1950s to present is a relief. (I always think of the development process for most contemporary apartment complexes as such: developer buys raw land; developer hires engineer to lay out parking lots; developer hires architect to lay out the most number of units that can fit in the interstitial spaces around the parking lots.) It's refreshing when people figure out how to build at this scale again - like Scott Harmon's Mangum 506 (condos, not apartments, but that's irrelevant to the point.)

Designed by Durham architect RR Markley, and built in 1930 on the vacant southeast corner of West Trinity and N. Guess (Buchanan Blvd.) the four-story building is described by the historic inventory as "Modernistic":

"The sharply incised windows and the flat walls, occasionally broken by a projecting or receding plane, contribute to the austerity of the design. Decoration is reserved for the cornices, water table, and entrances, which feature a bronze fanlight grille and a cartouche at each side of the door. Large casement windows, a stone flower box, and a cartouche in the cornice mark the slightly projecting entrance bay."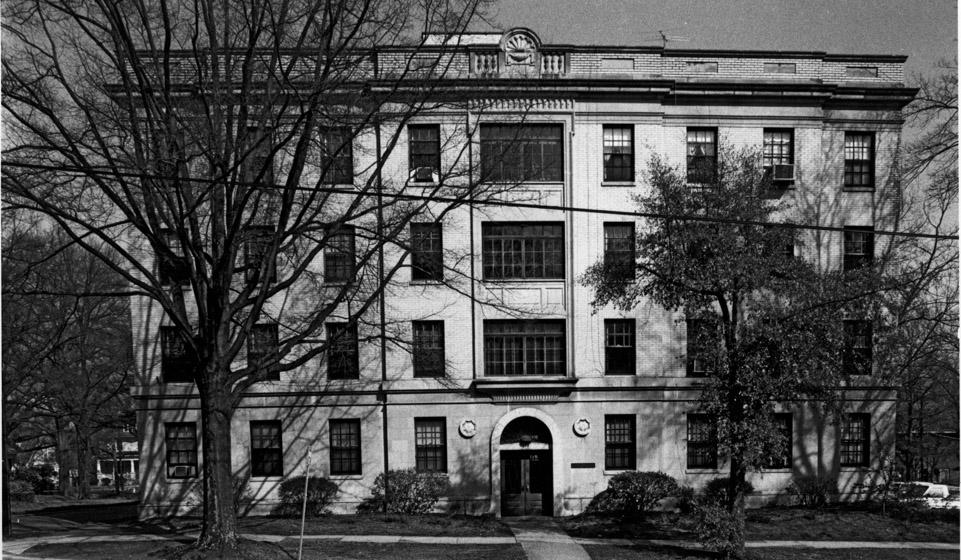 Erwin Apartments, ~1980
(Courtesy Steve Gaddis)

I find austere a bit too harsh of a word to use to describe the design - perhaps only with respect to the contrast between the modernistic style and the Art Nouveau style that preceded it (although never in great abundance in the US.)

Perhaps it betrays my urban leanings, but the Erwin Apartments seem like they would fit in well in some northeastern metropolis, where similar apartment buildings would line the street (if not replaced or atomized for a parking lot.)

I haven't been in the building since 1993, when I remember being enamored of its ancient elevator (even in helping friend bring a washing machine to the fourth floor.) I make no commentary on whether the property management is great, terrible, or somewhere in-between. (My pre-emptive disclaimer for the long comment from someone with a beef about their security deposit or similar.) But I love its appearance from the exterior, and the still-active (I believe) commercial space at the northeast corner of the building completes my affection for this structure.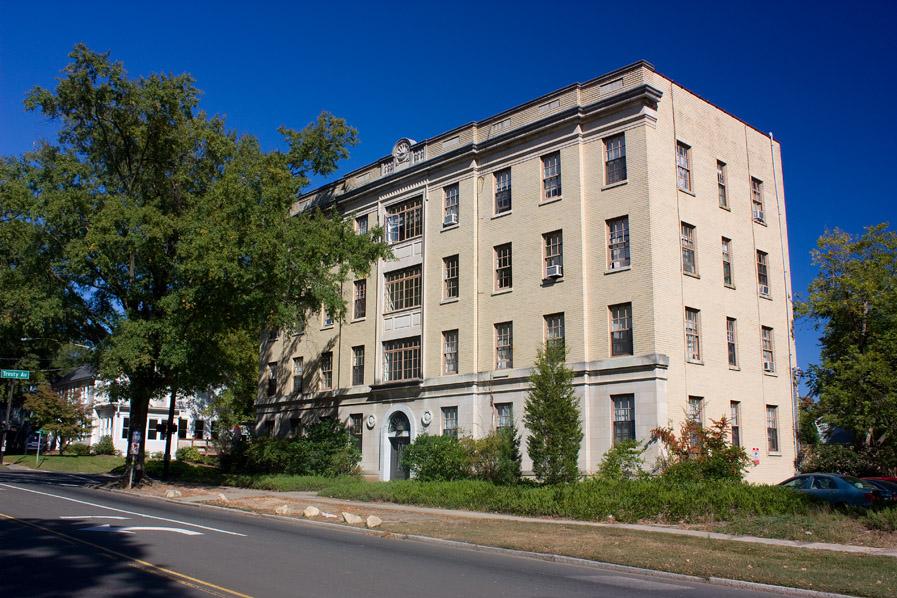 Erwin Apartments, 10.21.09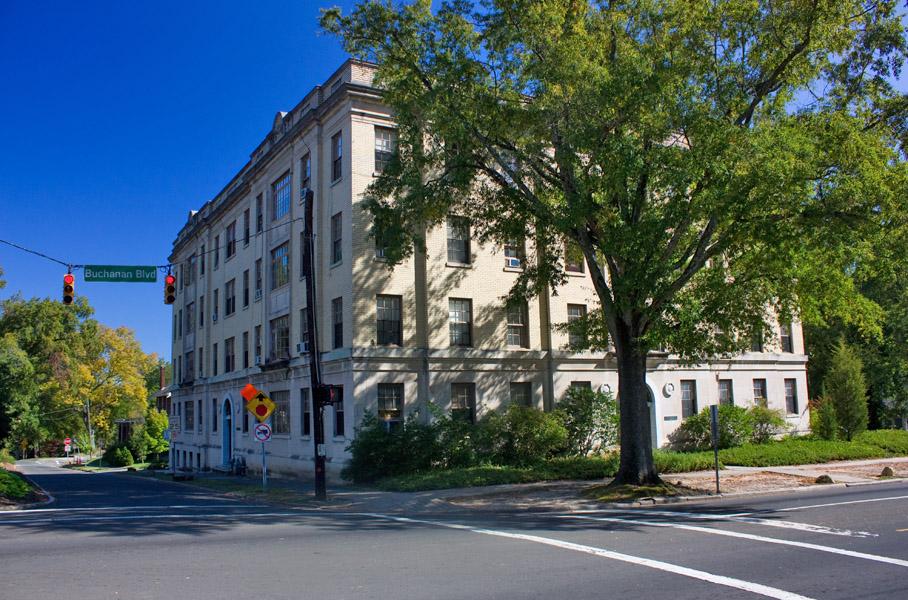 Erwin Apartments, 10.21.09
Update 2017 by "luketheplumber":
 Unfortunately the building has suffered from a complete gut. they ripped out everything except the windows and the hardwood floors (they will most likely cover them up. The building is hollow right now there are no walls except for the stairwells.  They are putting all modern trends in which in the next 20 years will no longer look good (trust me look at a 1990s bathroom and kitchen in a 1920s house) they are completely changing the layout of the building and turning it into condos they ripped out almost everything interesting in the building there seems to be almost nothing left of the inside. But I saw them throw the what they called the waste in those dumpsters I wasn't letting those doors go to the landfill I dove in those dumpster after them and I salvaged them I took them to the ReUse warehouse for A new life some of those doors got salvaged for reuse. But then they started to cut the old doors up so they could fit down the trash chute I came with a screwdriver and salvaged the old mortise locks and saved them if you know of an old building that is going to have its windows replaced or going to be gutted or torn down try to salvage from the dumpsters you could end up saving historic building parts