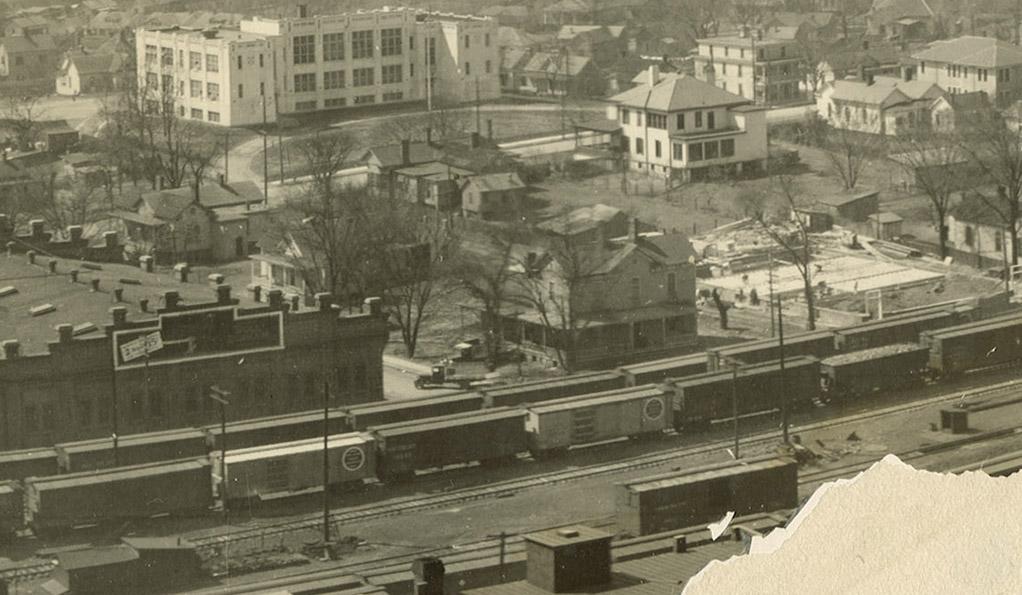 (Fragment of panoramic photo taken for a 1926 Chamber of Commerce booklet, scanned by Digital Durham.)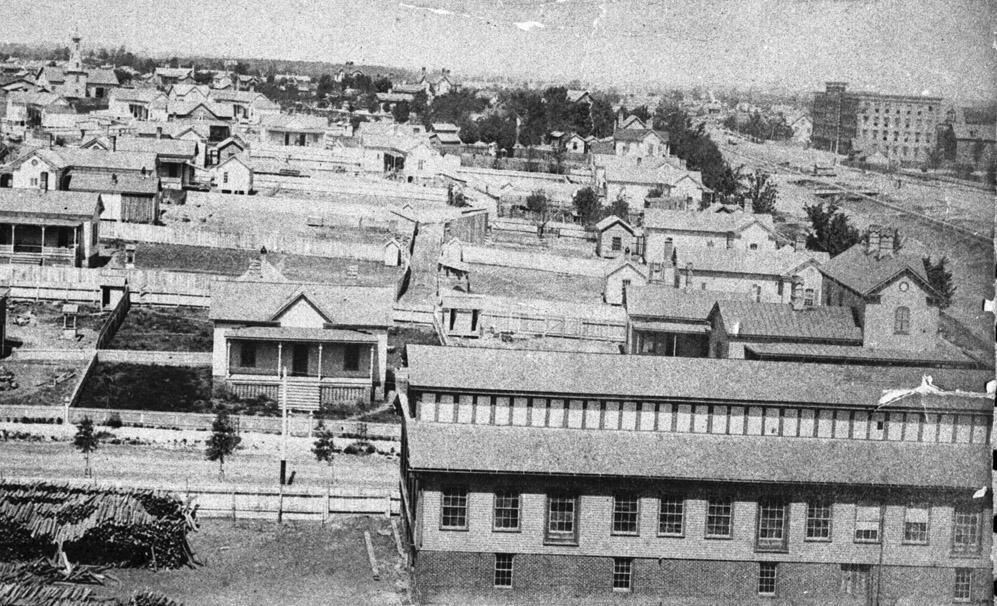 The house in the center of the top photo and at the right edge of the above picture, two stories and with two chimneys, presents an interesting conundrum - and that is, whether or not it was Julian Carr's first house when he first moved to Durham in 1870. The evidence for this is conflicting and intriguing. An initial observation is that the house, 301 W. Pettigrew St. or 402 Carr St., closely resembled WT Blackwell's house, built on the northwest corner of S. Duke St. and W. Chapel Hill St. around the same time. It is certainly larger than any of the houses around it in the above picture. Hiram Paul, Durham's first historian (who published his history in 1884) notes that Carr gave land for the first graded school (eventually the Morehead School one block south of this house) "near his house on Railroad Street" (which was the first name for Pettigrew Street.) There is, of course, the eponymous street as some small measure of circumstantial evidence.

 (Sanborn Map Company, April 1888, Fragment of Sheet 4, available online at Library of Congress)
From the top right corner of this 1888 Sanborn Fire Insurance Map sheet, it would seem that - whoever its original resident - the 2-story structure at the Pettigrew corner had been converted to a boarding house by this time and appears to have remained that way through subsequent decades.
Though of course not accurate in every detail, the oft-reproduced 1891 Bird's Eye map of Durham includes a building on this site that looks a lot like the one in photographs.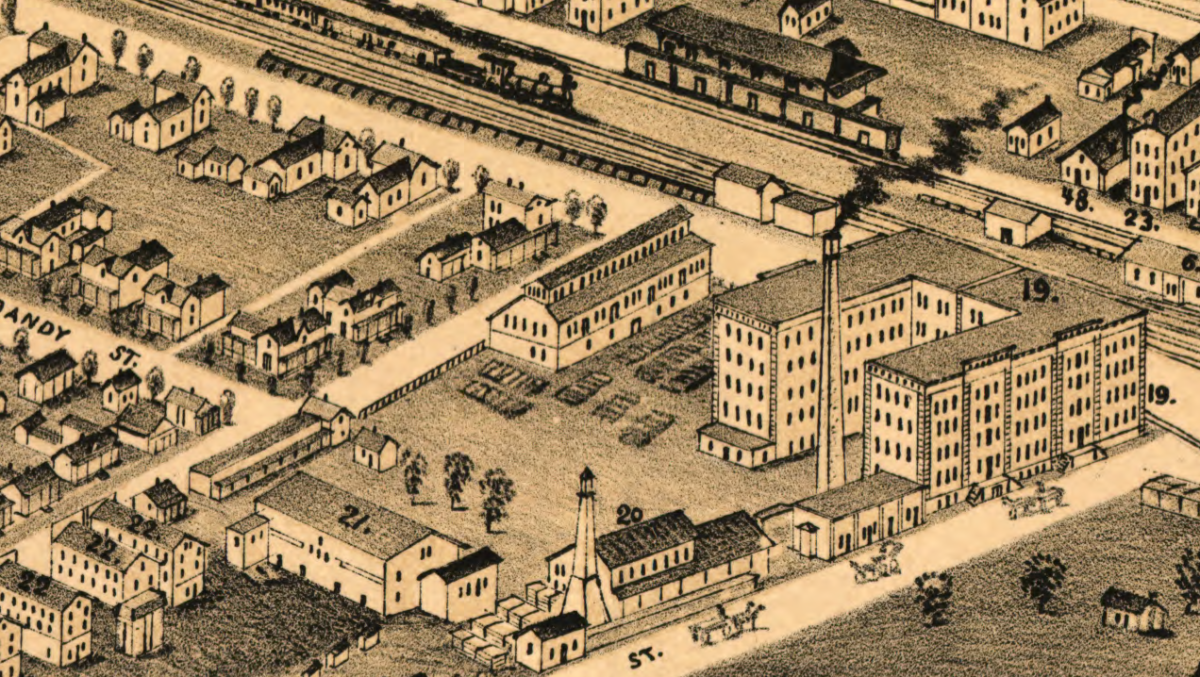 (Fragment of 1891 Bird's Eye map, available online at Library of Congress - the house featured here faces the tracks directly below the steaming engine.)
Listed as 301 W. Pettigrew in the 1909-1910 city directory, this boarding house was run by Mrs. Nannie E. Hayes and family.  Their tenants that year were said to include tobacco workers John Mooney, Lester Mooney, and J. C. Peace.  A carpenter named Norman Proctor and a widow Sallie Rogers are also listed at the address, though their status as boarders is unspecified.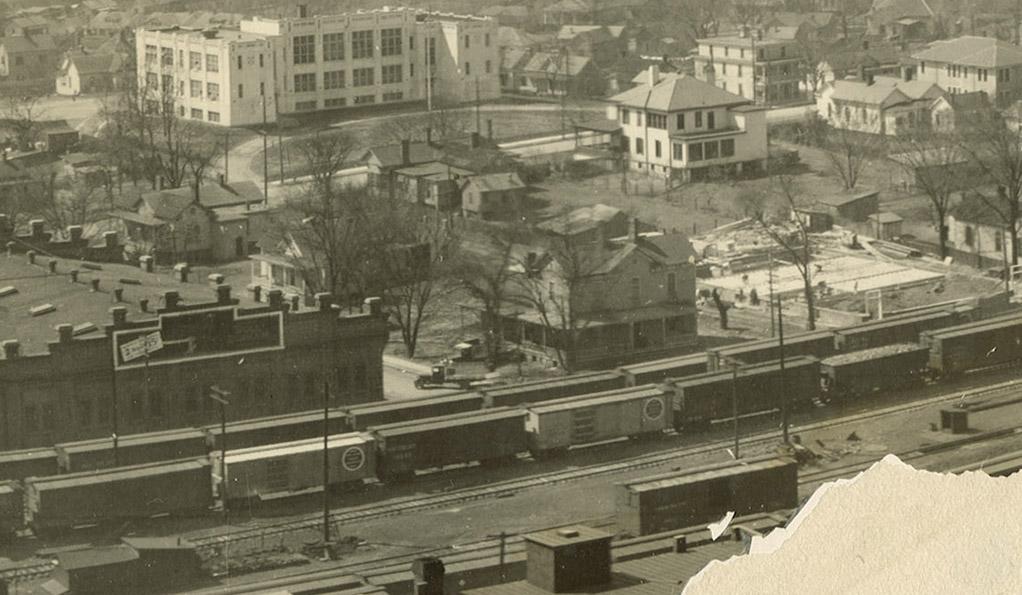 A view of the house from the north side of the tracks, looking southwest, 1920s.  The Hill Warehouse at the left of this photo replaced the Reams Warehouse in the earlier shot. (Fragment of panoramic photo taken for a 1926 Chamber of Commerce booklet, scanned by Digital Durham.)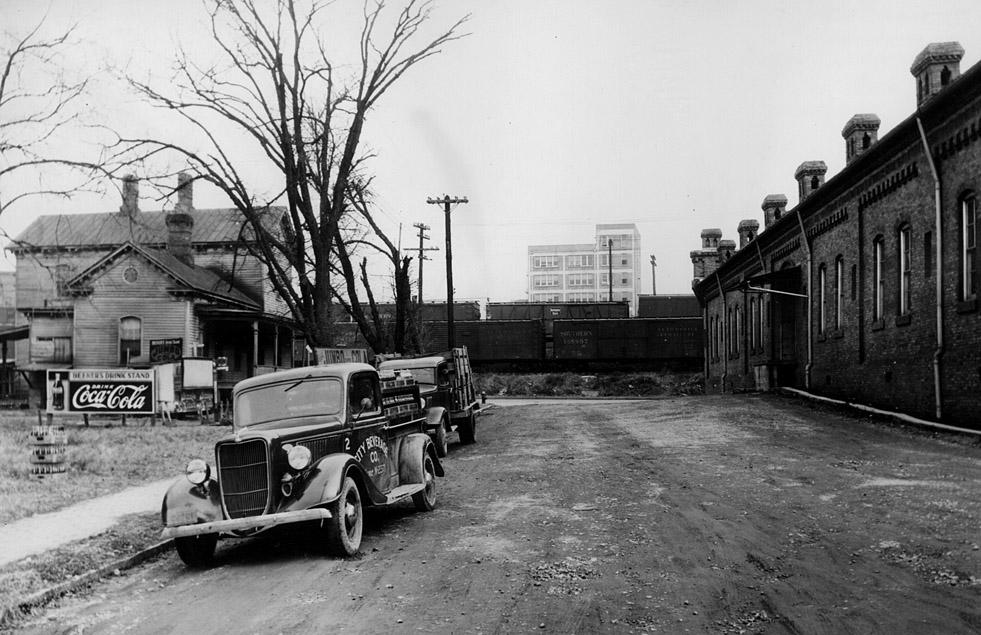 Another view of the back of the house from Carr St., looking north, 1938 (the back of the Snow Building is visible across the tracks.)
(Courtesy Robby Delius)
By the 1930s and 1940s, the building seems to have been subdivided into multiple units and listed as 402 Carr Street rather than W. Pettigrew.  Its tenants included both residents and eateries, including the Lucky Clover Inn run by live-in operators Reuben and Helen Kelley in 1940.

A Durham Sun news article from July 21, 1949, entitled "Carr St. Landmark Torn Down" would seem to provide the most direct evidence that Carr lived on the street - but in the small house immediately behind it, at 408 Carr.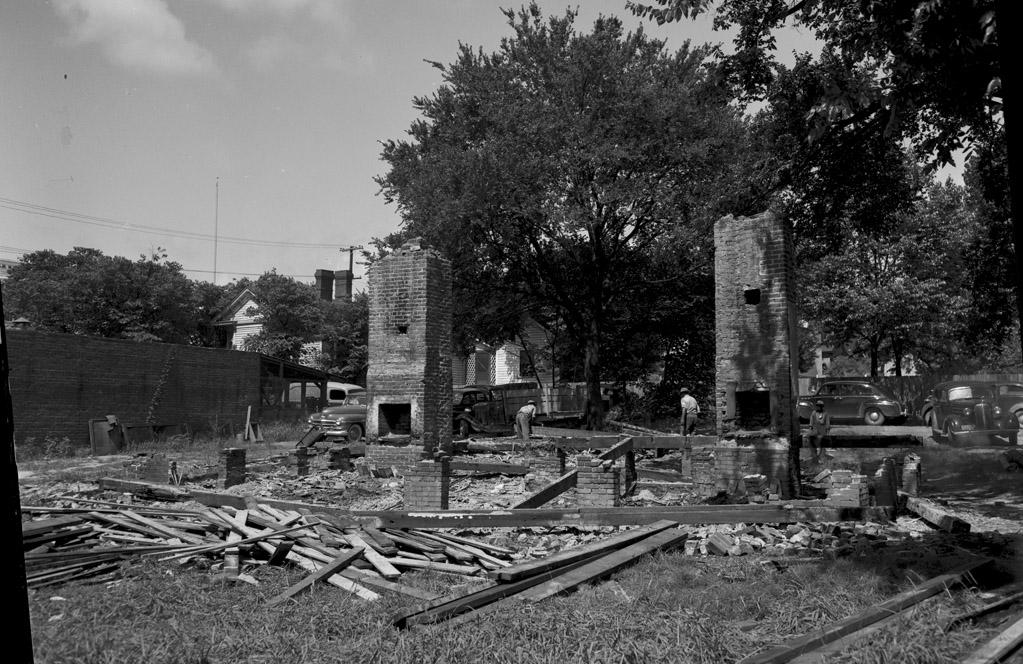 408 Carr being torn down, looking southwest. (Courtesy Herald-Sun)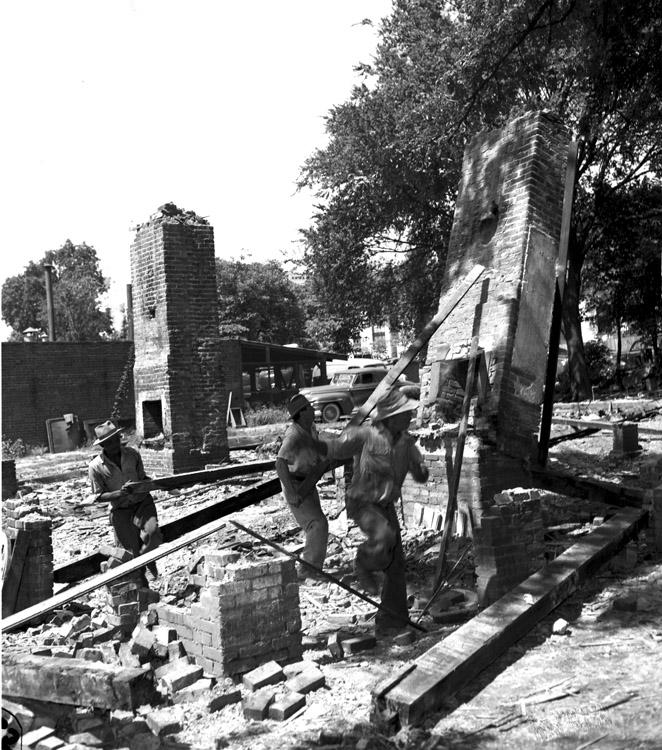 408 Carr being torn down, looking southwest. (Courtesy Herald-Sun)

The houses were both razed for a parking lot, as shown in this 1950 Sanborn map excerpt.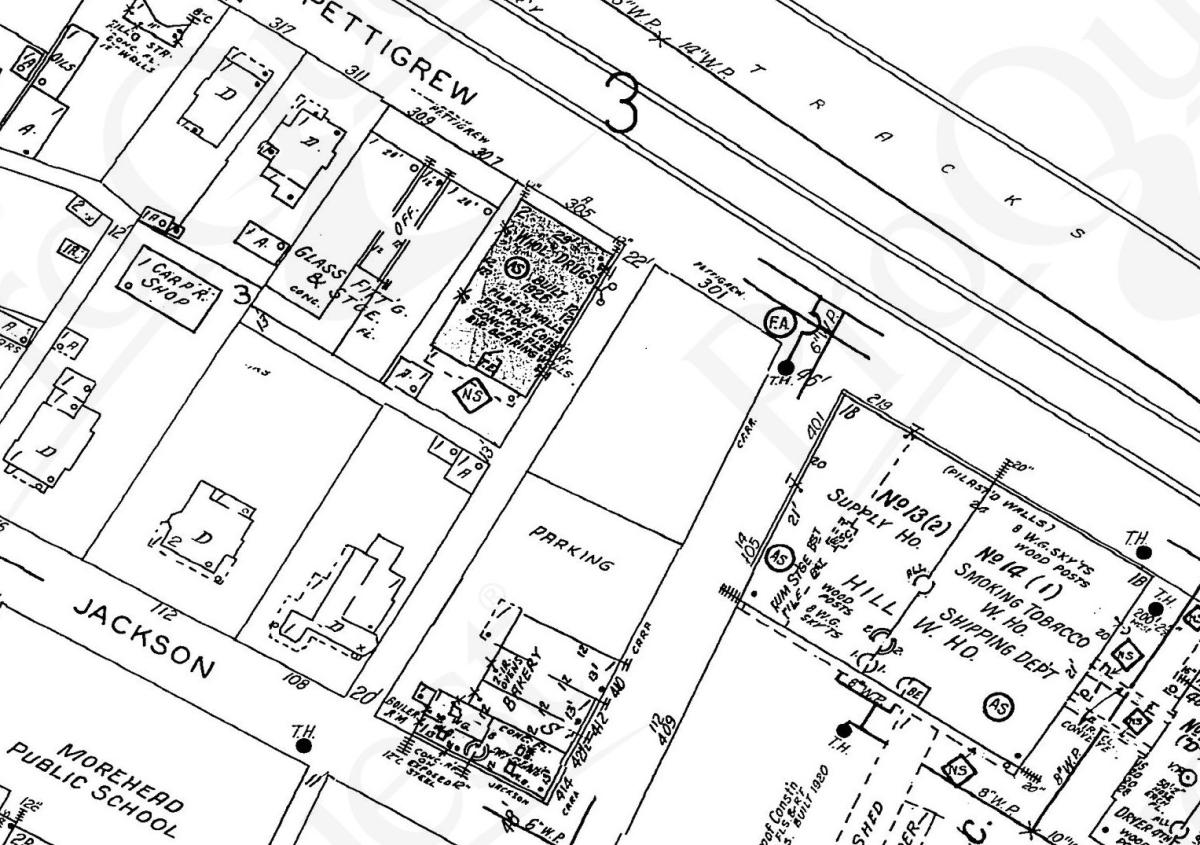 (ProQuest Sanborn Maps accessible to Durham County Library patrons via NCLive.org)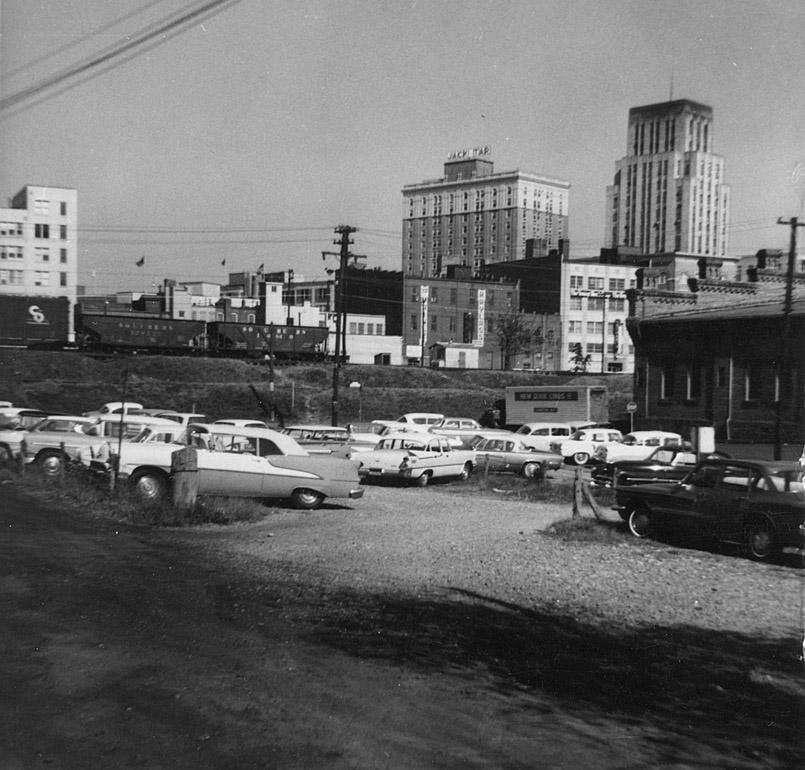 Looking northeast, 1965. (Courtesy Durham County Library)

This gravel lot was eventually paved.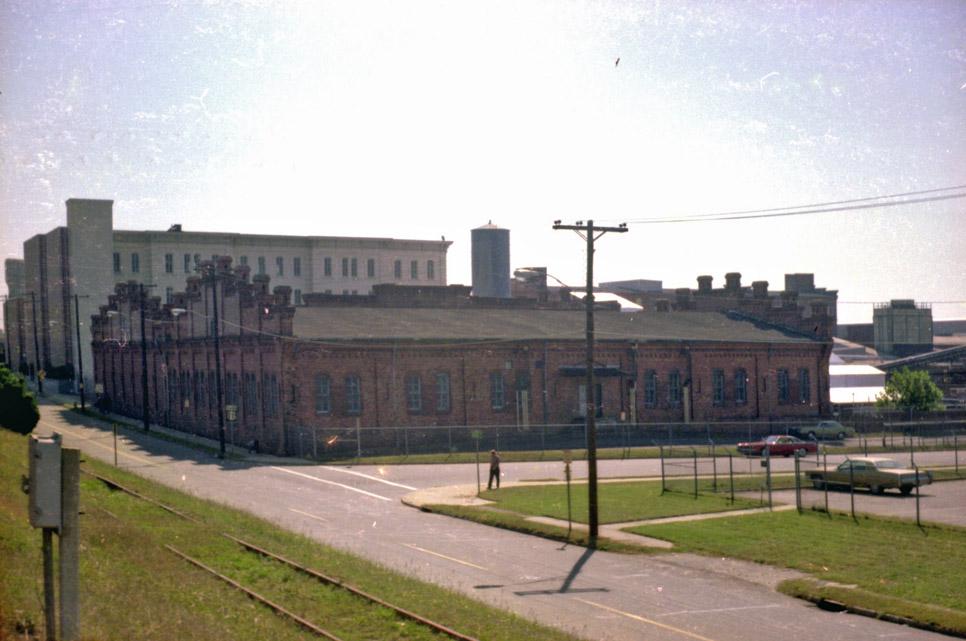 Looking southeast, 1981.

The city took this lot and Carr St. to build a parking deck for American Tobacco, eliminating this corner. I find the closure of Carr St. fairly bizarre and unnecessary, actually. I've heard people claim that it's still sort of a 'street' through the garage - and I drive that route periodically, but c'mon - it's not a street.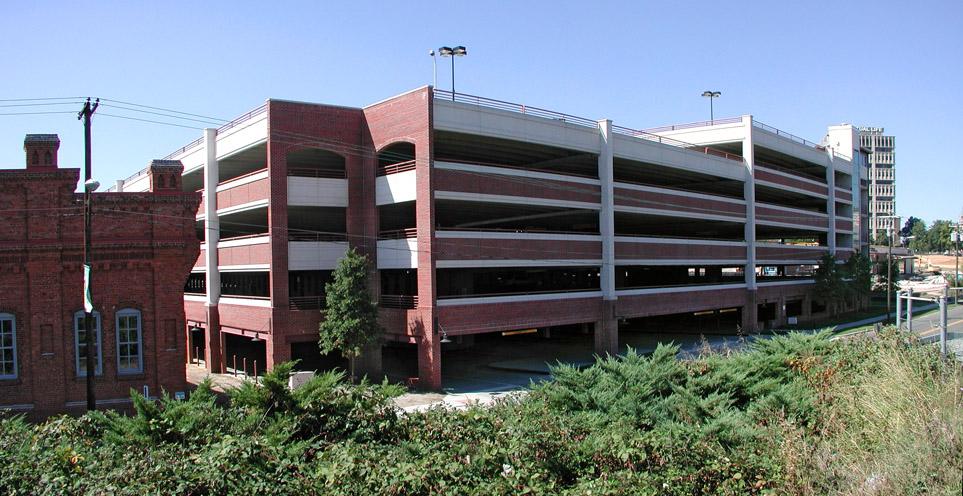 Looking southwest, November 2007.

So did Carr live here, where we have a parking deck? (Which provides some continuity with the location of his later mansions, Waverly's Honor and Somerset Villa, now a 400+ space surface parking lot for Durham County.) I don't know - some sources say Waverly's Honor was built in 1870, the same year Carr joined the WT Blackwell firm. But it's a good, as yet unsolved, mystery.
The 1938 photo of this building was the subject of a What's It Wednesday?! post on Open Durham's social media accounts (Facebook and Instagram), the week of May 1, 2019.  Follow us and stay tuned for more finds!