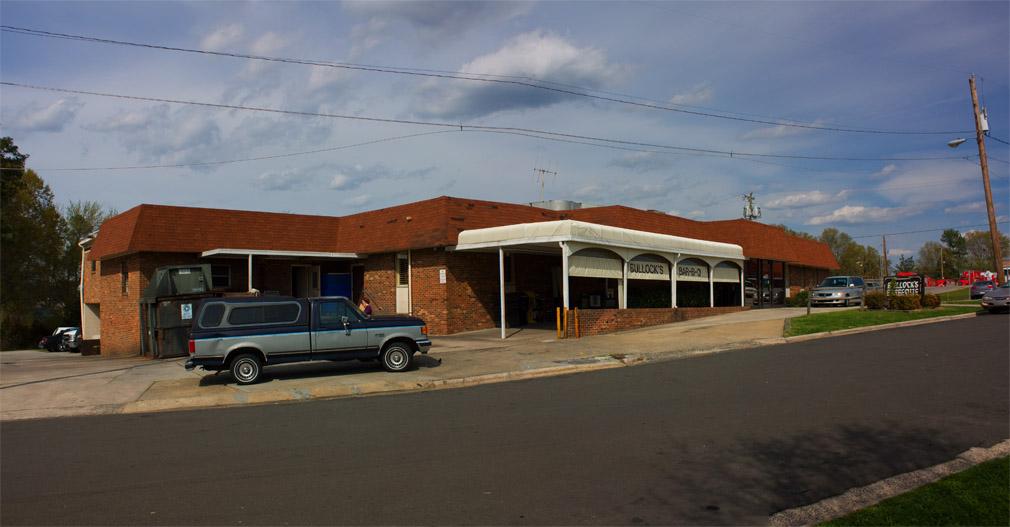 Bullock's, 04.08.09.

No, Bullock's isn't in a particularly old building, or an otherwise striking piece of Durham architecture, but, as far as I can tell, it is the oldest continually-operated restaurant in Durham, and a core element of what makes Durham Durham.

Bullock's started around 1943 when (William) Glen Bullock, who cut grass for the City of Durham, started cooking pigs on the weekend in a cooker behind his home at 611 South Alston Avenue. Glen would take the barbeque around to neighbors, giving them a free sample, and inviting them to order more from him for 35 cents a pound.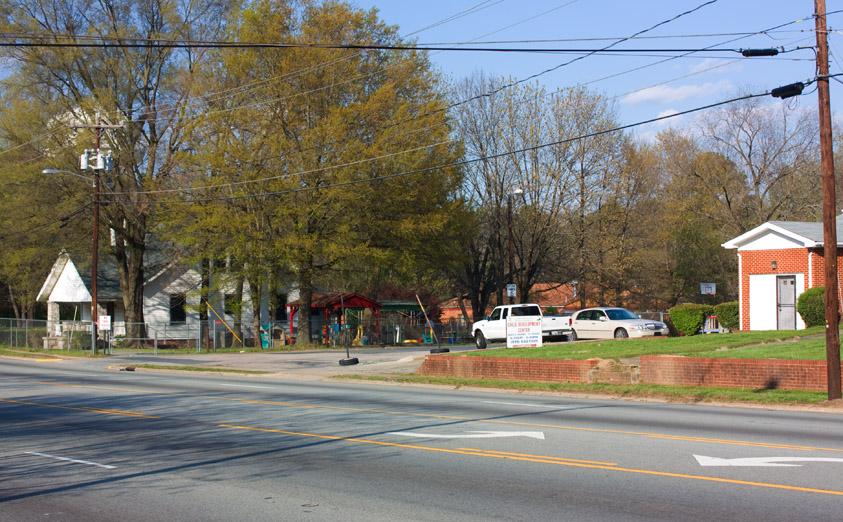 The former site of 611 South Alston Avenue, birthplace of Bullock's - now a parking lot., 04.08.09.

And order they did. Glen started by cooking one pig a week, and was soon up to two. The Bullocks had no refrigeration that could handle the increasing number of pigs, so Glen would take the 'dressed' pigs he would purchase from the butcher to City Cold Storage on Blackwell St., and remove them as he needed them to cook on the weekends. Glen's wife and son Tommy were soon helping, going door to door, taking orders and delivering barbeque; people would also come to their house to get barbeque. Per Tommy, his father was cooking and delivering to local restaruants as well, including Foy's Grill, the Green Lantern, and the Blue Light.

By the late 1940s, the Bullocks had gotten permission to build a stand beside their house on South Alston Avenue; Tommy Bullock remembers building the stand with his father.

In 1952, they rented a building out on Highway 70 (Hillsborough Road) near Cole Mill Road, which became the first Bullock's Restaurant. Per a 08.01.12 Herald-Sun article, this had been the location of "the Traveler's Inn." Mrs. Bullock ran the restaurant, getting up at 4am to arrive at the restaurant at 5am. The Bullocks moved from South Alston to East Main St., then Rogers St. near Driver. By 1954, Glen Alston had joined his wife at the restaurant, and they cooked pigs at that location. By the 1960s, the Bullocks had moved their home out to Lasalle St. near Hillsborough.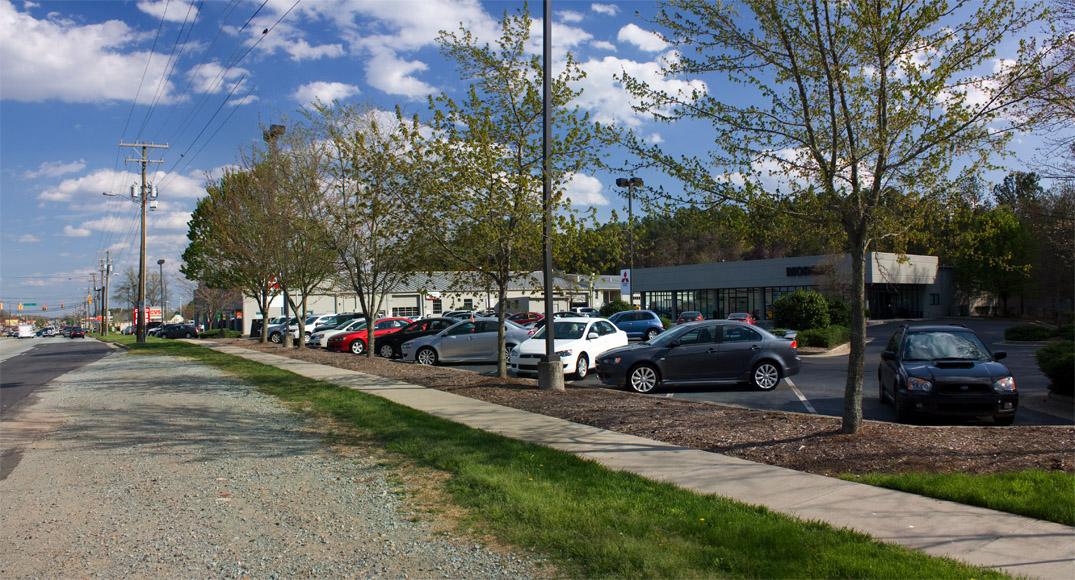 Site of the 1950s-1960s era Bullock's, now Morgan Mitsubishi, 04.08.09.

Tommy began running the restaurant around 1965. He says that the location near Cole Mill Road was in need of repairs, which the landlord would perform. "The electric system couldn't handle the load," he says. "The lights would go out in the middle of dinner."

The Bullocks purchased land near their house at auction in 1968, and built a new Bullock's Restaurant there in 1970.

Bullock's remains a pillar of Durham today - per Tommy, the food hasn't changed much since the 1950s, and he prides himself on using fresh ingredients and making things the old-fashioned way - where a Brunswick Stew takes hours to cook. Food is served family-style, and the entryway is lined with photographs of the many interesting people that have passed through.
Per a 08.01.12 Herald Sun article by Keith Upchurch:
Bullock's has fed people from every walk of life – including President Ronald Reagan.

Reagan didn't dine at the restaurant, but he did eat Bullock's barbecue for two years, thanks to a special delivery from a U.S. Secret Service agent who made periodic visits to Duke University Hospital for his son's medical treatment.

The agent would knock on the back door of Bullock's before it opened, and take delivery of several pounds of barbecue.

"One day, he was in the White House elevator and President Reagan stepped in," Tommy said.

The agent recommended that Reagan try the barbecue, and he agreed. Reagan loved it, and had the agent bring more to the White House for another two years.

To thank him, Reagan mailed Tommy a personally signed photo of himself. It remains one of Tommy's prized possessions.

The restaurant's walls are lined with Hollywood royalty, politicians and sports figures who have either eaten at Bullock's or had their food catered to them. They include actor Robert Duvall, who has dined at Bullock's six times in recent years, and Vice President Joe Biden.

Bullock's food has been shipped all over the country, including Alaska. Some who have had his barbecue catered or shipped to them were the late actress Grace Kelly (Princess Grace) and her husband, Prince Ranier of Monaco; Lucille Ball; Dolly Parton; Marie Osmond; Waylon Jennings; Kenny Rogers; and Kris Kristofferson.

But it's the loyal Durham customers who are the backbone of the business, and have kept the restaurant thriving while others have come and gone.

One such customer is 75-year-old Gerald Bowen, who has dined at Bullock's for 50 years.

"The quality of food and the service are great, and you don't ever leave hungry," Bowen said. "I can't say that for all places that I eat – even today."

"They're just down-home, nice people," he said. "They're friendly, and many of Tommy's customers are people he's known all his life and that his daddy knew all his life."

Another devoted customer, 67-year-old Mike Ray of Durham, said he's eaten at Bullock's most of his life.

"They have always had the best food anywhere around here, and Tommy Bullock and his family have been some of our best friends," he said.

Ray's favorite dishes are barbecue, country style steak, vegetables and peach cobbler.

But the food doesn't magically prepare itself, and Tommy is quick to point out that he has a dedicated, hard-working team that includes his three children – Angela, Ty and Laura – his wife, Judy, and other loyal employees who have been with him for many years, including son-in-law Mark Bennett and Ty's wife, Linda.

Judy Bullock loves to tell the story of how she met her future husband. She used to eat at the old restaurant after church when she was a young child. One day, when she was 13, 16-year-old Tommy Bullock waited on their table.

Judy turned to her mother and said: "I'm going to marry him someday."

Years later, she did.

"I was dating somebody else, but I broke up with him just to go out on a first date with Tommy."

They married in 1960.

Judy, who works as a cashier at the restaurant, said she's "proud of the fact that we've been able to keep the doors open for 60 years. We've had ups and downs, and trials and tribulations. But it's worth it, and it's afforded us a good life."

One bump in the road happened several years ago, when some customers complained of becoming sick after eating the restaurant's food. But a Durham Health Department inspection never found the restaurant at fault, and many people in the community rallied behind Bullock's, including chefs from all over the city who ate there as a show of support.

Tommy continues to put in at least 12 hours a day at the restaurant, doing a little of everything – baking, filling plates, washing dishes, catering and even doing repairs.

But what keeps him going is one thing – love.

He loves his family, friends and customers, and he loves the restaurant his parents started, and whose framed portraits hang prominently on a wall as a constant reminder of who made it possible.

"I care about every customer who walks through that door, and I try to let them know that," Tommy said with tears in his eyes.

"There's an old saying: You put your heart into what you love, and give it your best.

"This is not just a job," he said. "It's my life."

There are few places in Durham that can be enjoyed and experienced by multiple generations; places that provide some continuity between the Durham of the mid-20th century and the Durham of today, despite the myriad changes - good and bad - that have occurred in-between. Bullock's is one of those very few places.