At the far south corner of this property, the road sign reads "Entering Bahama". When Tommy Mangum purchased the property in 1950, this sign was located on the north side. Tommy so loved living in Bahama, he had the sign moved to include his property within the crossroads boundary! It has remained there ever since.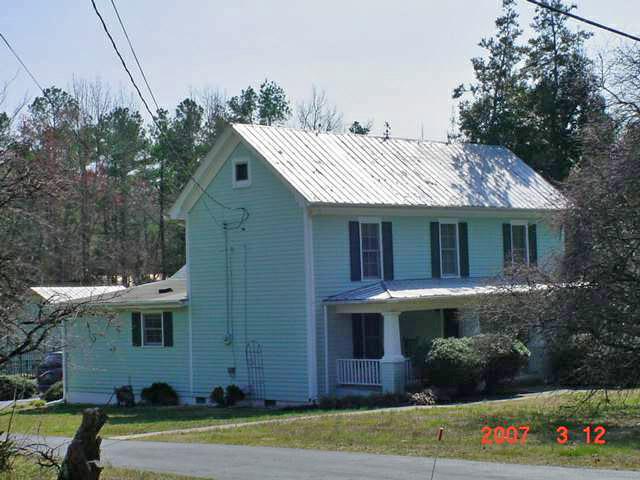 Joe Tilley built this classic four room "I" house for his niece Miss Bettie Ann Tilley. Mr. Tilley was considered the wealthiest man in the area at the time and he spared no expense, installing hand hewn cedar roof rafters and heart pine floors. There were no bathrooms installed then, but there was a three-seated outhouse in the back.
Today, a wide front porch graciously welcomes visitors to the house. In the front hall, the original stairs wind upward in a compact stairwell. The bead board closet door with its porcelain doorknob is the only trace of the original interior of the hall. When the house was built a central brick chimney, unusual in a Southern house, provided heat. The mortar and brick were too deteriorated to salvage during an earlier renovation. In place of the huge chimney, bathrooms were installed. Note in place ofthe living room hearth the wonderful inlay of pine flooring salvaged after a Christmas Eve 1991 fir at the home of Bertie Umstead. Other salvaged materials include doorway thresholds and windowsills. One wall is devoted to the homeowners' collection of books and collectibles, and the room is furnished with family pieces including a huge physician's cabinet.
To the left of the front door is the dining room. The six panel horizontal doors are original to the house, although the hardware has been replaced. To keep an open flow to the new kitchen, a wide entry replaces what was once access to the back porch. 
The original kitchen is now a comfortable den. The fireplace in the old central chimney was in the middle of the interior wall. Sliding glass doors lead out to the covered back porch.
Behind the house is a huge barn with many different doors to haul the hay and feed up into the storage lofts above. The original clapboard siding from the house was reinstalled on the barn. Other outbuildings include a smoke house where pork was smoked by burning hickory chips in a tin bucket. A creek runs through the back of the property near the corncrib creating an idyllic setting for country living.