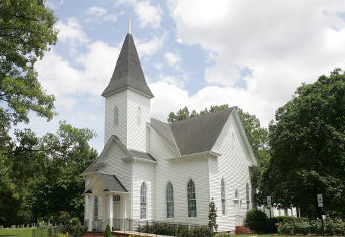 Taken from their website:
"Berea Baptist church was established in 1855 to help meet the physical and spiritual needs of a community that desired a special place to worship and     serve God and community.  Our story is a story of God's grace and love.  Berea has seen changes that no one in 1855 could have envisioned.  We went from horse and buggy to automobiles; from oil lanterns to electricity; and from wood stoves to modern safe gas heat.
Berea is rich with history and has made a unique transformation to a modern day church while still preserving its past.  The two original metal lamp holders that helped provide light to a one room church in 1856 are hanging in our modern day sanctuary today."
This particular building only dates back to 1900, but there was a one room church in it's place prior to that. I'm going to dig a little deeper. It seems that someone at the church did a 150th Anniversary history book. I'm looking into it further  when I get a minute. It's so easy to hit a certain southerly parallel in Durham and scoff at all of the shiny mass produced strip mall newness like it's a separate city all together. It's quite easy to forget that this area has a strong history as well even if it's not as visible. 
There is also a cemetery next to the church with graves ranging in date from the early 1900s to the 2000s. For a full list of the graves click here.  There are plenty of Barbees and Stallings, Parrishes and Pickets buried in the graveyard. Three graves that I thought were particularily interesting were
1. Three infants buried in the graveyard with no parents or even other relatives with the same name buried there-how lonely.    
2. The Dickerson, who all had the phrase "They Gave All They Had" etched on their gravestones.  (Note to self: Come up with equally cool and inspirational quote to put on your future headstone)
3. The grave of a Josian Atkins, Jr. (b.4 Apr 1832-d. 11 Jan 1909). He is the son of the Josiah Atkins who was from the wealthy landowning Atkins family in Wake and Johnston Counties.  Read about the family's interesting history dating back to land given to the family by the British Crown in the mid 1700s here. Josian Jr. owned 550 acres of land along current day Hope Valley Road, although this list of Durham County land owners from 1886 shows the land split between the generations.