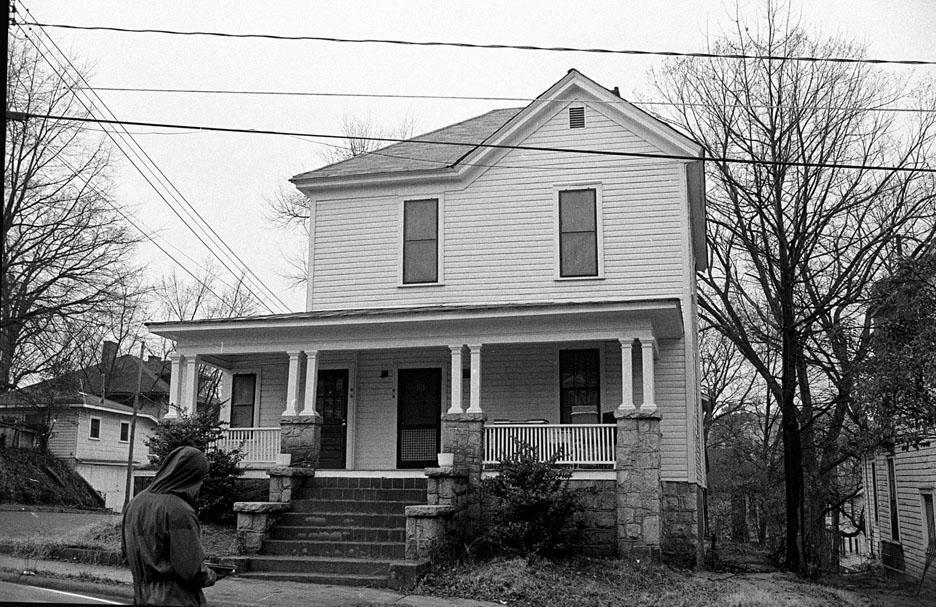 Two blocks off of Holloway is 501 Oakwood, emblematic of the kind of problem the Cleveland-Holloway neighborhood is trying to deal with - and in my mind, a better target for the city's largess than funding businesses to do new construction.

501 Oakwood was among the earliest built in the part of the Cleveland-Holloway neighborhood north of Holloway St - built between 1907 and 1913. This area with its rolling topography, was not as attractive for development until the relatively flat areas along Main, Liberty, Holloway, Dillard, Cleveland, and, a bit later, Roxboro, had been developed.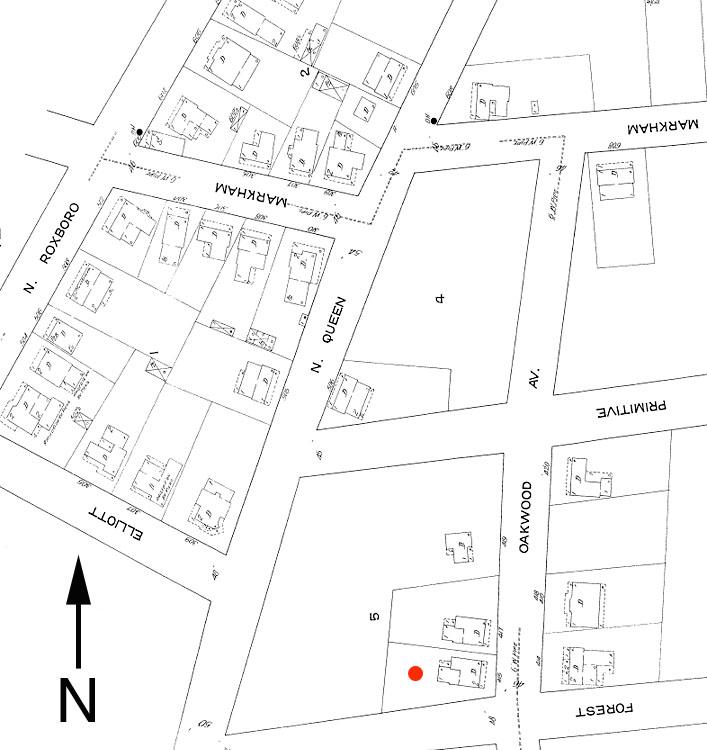 Above, the Sanborn Map of this portion of the neighborhood, 1913. 501 Oakwood is marked with the red dot.
The National Register nomination states:
A large, two-story simplified Queen Anne-style house stands prominently on the northwest corner of Oakwood and Ottawa Avenues. The two bay wide, double-pile house has a high hipped roof with a front gable on the right (north) end of the facade. The house stands on a brick foundation, is covered with German-profile wood siding, and has an asphalt-shingled roof. A onestory, wraparound porch features a granite foundation, piers, steps, and kneewalls, all with granite caps and prominent mortar joints. The porch has a standing-seam metal roof supported by grouped square posts on the stone piers with replacement lattice rails. The left side of the porch has been enclosed and the windows boarded. The house retains original multi-pane windows on the first floor and one-over-one wood windows on the second. A two-story, hip-roofed addition extends from the left (south) rear of the house and is in poor condition. A one-story, shed-roofed block extends behind the two-story addition. The house appears on the 1913 Sanborn map, but the earliest known resident is John Sears (medicines) in 1915/16.
When the entire southwest portion of this neighborhood was demolished in the 1960s, the neighborhood had been on a slow economic decline - many of the large houses turned into rooming houses or showing signs of deferred maintenance. Urban renewal was a good dose of strychnine to the ailing patient.

Despite this, the remaining neighborhood north of Holloway remained stable for a number of years - primarily due to the owner-occupancy of an older generation that remembered the neighborhood from an earlier era.

Here is 501 Oakwood, sometime during the 1970s.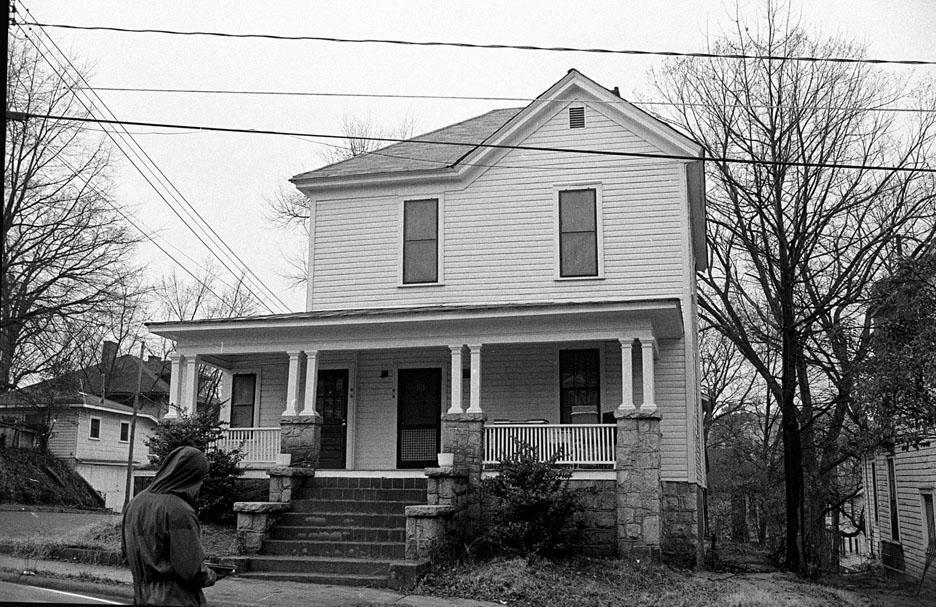 Looking west.

The neighborhood has had an increasingly rougher time over the past 20 years, as that generation passed on. More and more houses boarded up, drugs, violence, etc.

501 Oakwood is a symptom of that problem - abandoned for way too long and with foundation issues, it deserves renovation. Unfortunately, the person with that vision has to step forward now - as in by Friday - because NIS has their bulldozers revved, ready to pop the clutch.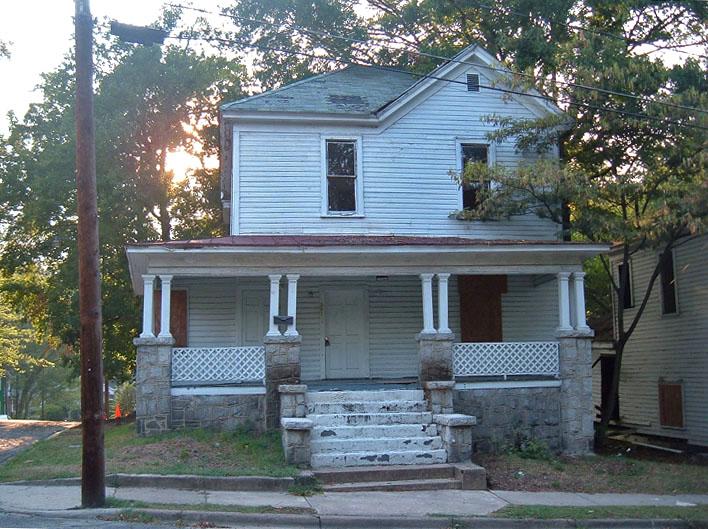 501 Oakwood, looking west, 2007.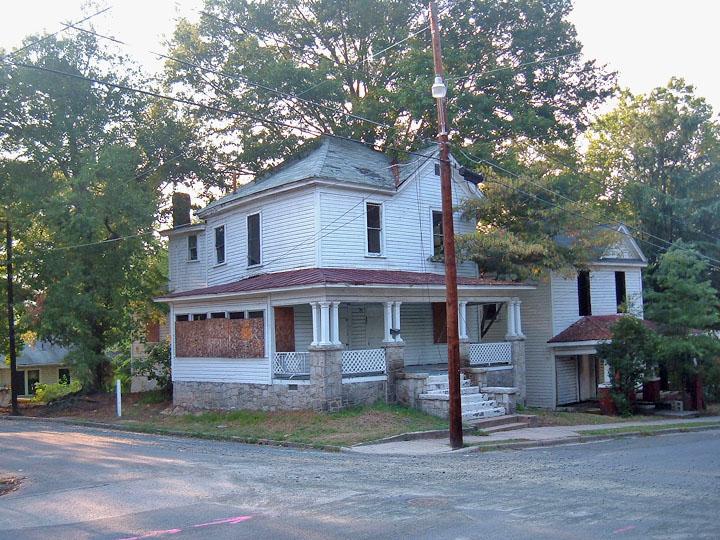 501 Oakwood and 503 Oakwood (which unfortunately was just gutted and the windows removed)

This is one of those sagas in the housing world of Durham. I finally managed to track down the 'owner' of this house a few months ago - an elderly man in Hillsborough and his grown children in Asheville, who told me that they had donated it to the Mary E. Wilson Foundation for a home for at-risk women. They promptly sold it off/gave it to a ne'er do well woman who said she is a contractor. She stated at the housing appeals board meeting that she was planning to fix it up for a shelter for victims of some sort. I was present at that meeting with multiple neighbors, who beseeched the housing board and NIS not to tear it down. Gray Dawson was utterly exasperated by the thought of a repair-only order, but the housing appeals board listened to the neighborhood. Only the 'contractor' was lying, because earlier that day, she had already sold it to an owner of multiple rooming houses in the neighborhood who thought he would do the same with this house.

He hasn't gotten around to it.

Supposedly, this house was going to be sold to a realtor/developer who had signed a memorandum of understanding with NIS. But he backed out. So now NIS, understandably impatient, wants to get this over with and tear the thing down.

Unfortunately, that penalizes the neighbors, who clearly want to save the house, more than anyone.

Word on the street - because Preservation Durham didn't tell me about it - is that PD needs $16,000 by Friday to - ? purchase the house - and save it from demolition. I don't know any more details, but if you want to save an extremely important structure in Cleveland-Holloway, I'd get in touch with Preservation Durham ASAP. Their number is (919) 682-3036.

Update 3:05pm: NIS now reports:

Have some news that might be encouraging. The owner for 501 Oakwood came in today and was granted an extension till Aug 31 to bring in a MOU.

MOU is a "Memorandum of Understanding", which is an agreement between owner and NIS to repair the house. I would not be confident that this means anything except a temporary delay. Neighbors encountered the owner out on the street today saying "want to buy a house? Make a great deal.."

As I've mentioned before, we simply don't have enough tools in our policy arsenal to deal with this problem - and I can respect that problem. How do you get an owner to repair? I'm not convinced that NIS has a culture that would respect the community's wishes, even if it had better tools though. As one woman was told by NIS earlier today, per her report, "[501 Oakwood is] long overdue to be demolished." This is what keeps NIS from exploring more creative, realistic ways to make this happen in the short-term, and instead has them focusing on things like 'property deconstruction' as a 'solution'.

Update: 10/2/2010

I must admit, the thought that there would still be a house for me to write an update about on this lot in 2010 seemed like a remote possibility 3 years ago. Happily, the house is under renovation, and has been purchased by a couple to be owner occupied later this year.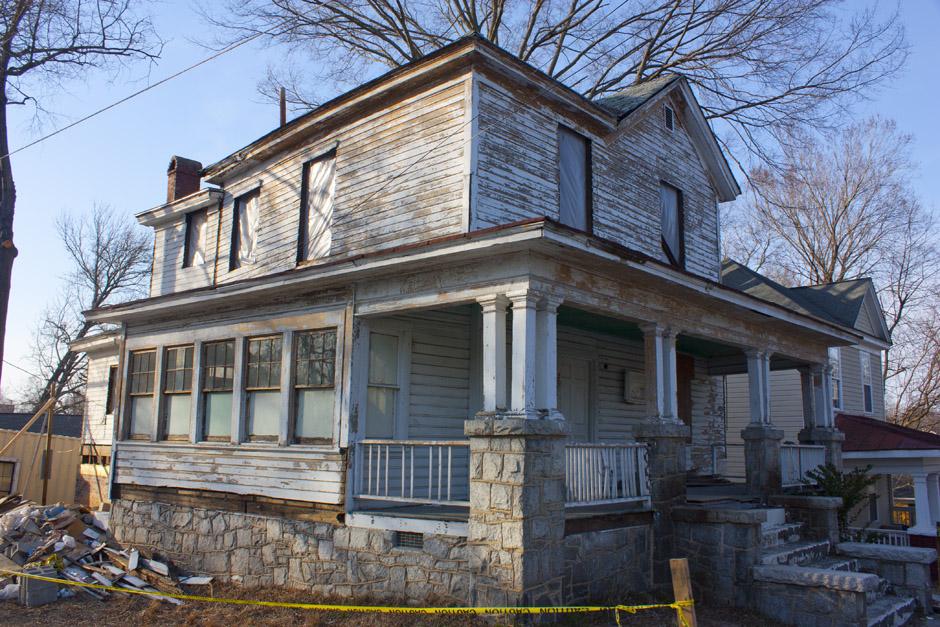 501 Oakwood, 02.21.10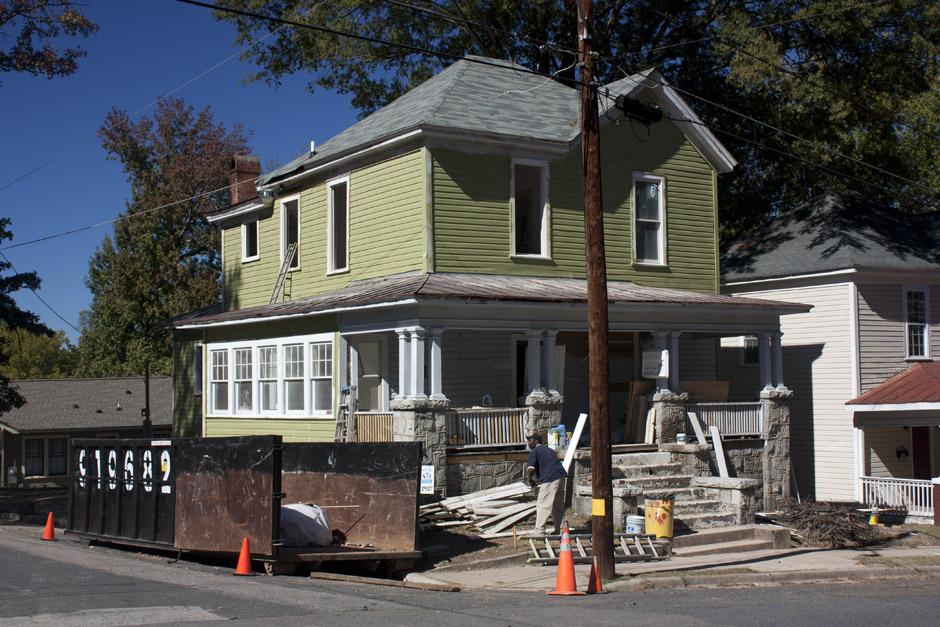 501 Oakwood, 10.29.10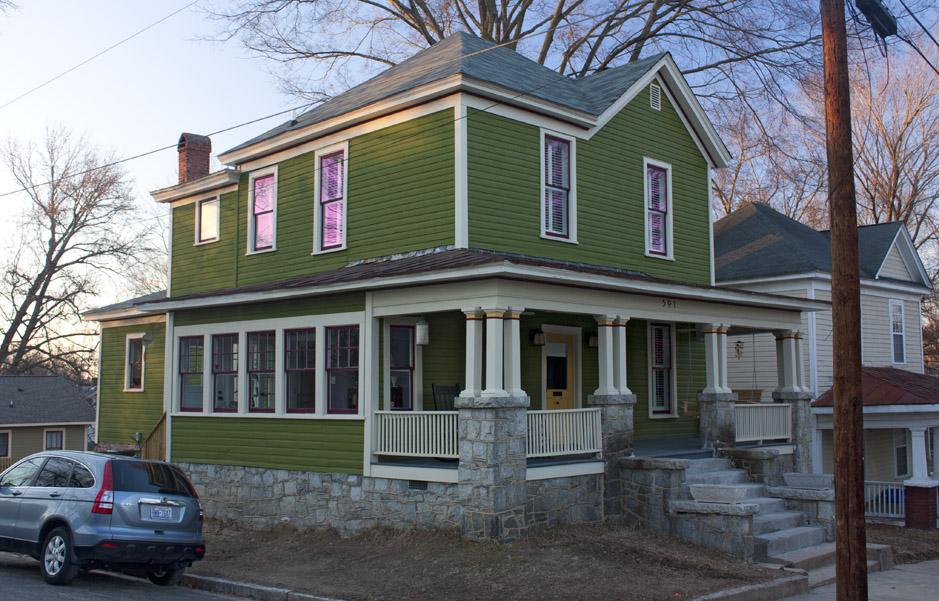 Now occupied for the first time in over a decade - 01.15.11