35.971268569639, -78.901738029232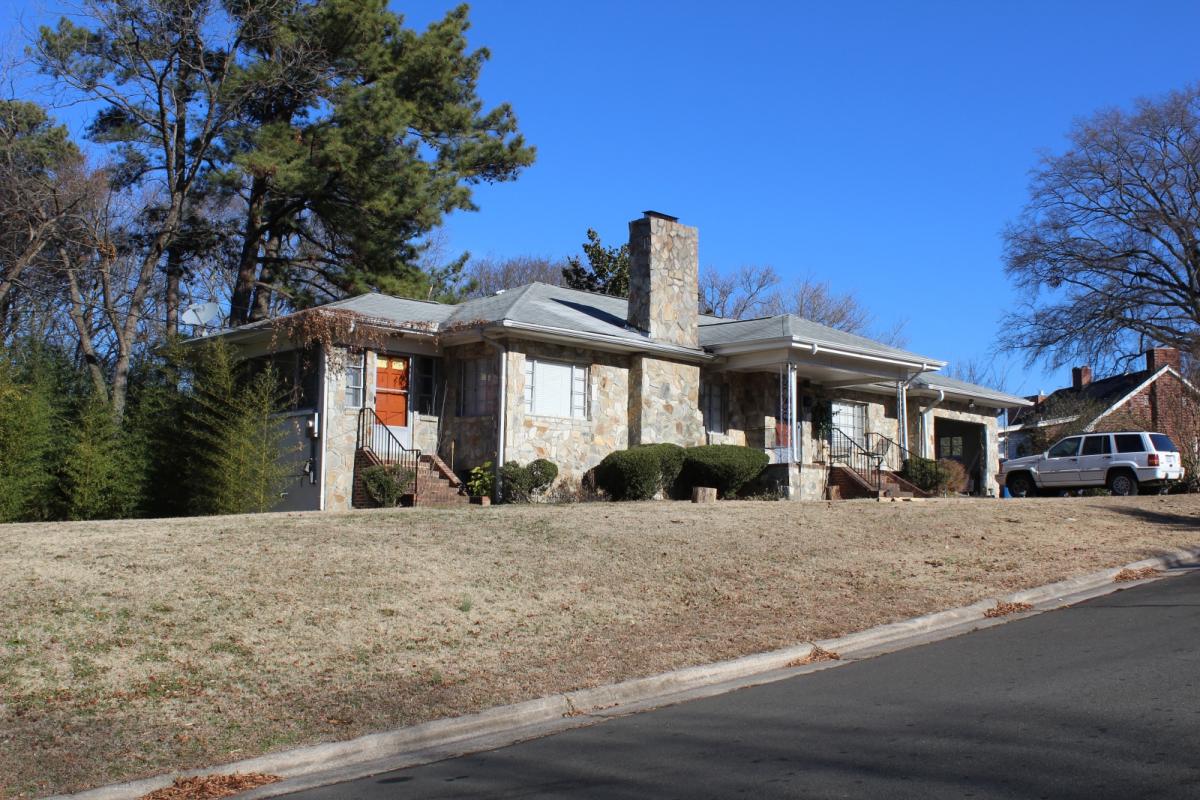 Photograph taken by Cheri Szcodronski, National Historic District Submission, January 2018
This one-story, hip-roofed Ranch house has a distinctive stone veneer on the façade only. The house is five bays wide and double-pile with a concrete block exterior on the side and rear elevations and metal-framed casement windows throughout, including flanking a metal-framed picture window on the left (west) end of the façade. To the right (east) of the picture window, is an exterior stone chimney. A two-light-over-four-panel door near the center of the façade is located in a projecting bay and is sheltered by a hip-roofed porch on decorative metal posts that also shelters paired four-light windows to the left of the door. A projecting hip-roofed wing on the right end of the façade has an open garage bay on its front and paired four-light windows on its right elevation. There is a projecting, hip-roofed wing at the right rear (northeast) with an interior brick chimney. A hip-roofed wing on the left elevation is likely an enclosed porch. It has full height stone piers at the corners, stacked metal-framed awnings windows, and a two-light-over-four-panel door on its façade, accessed by brick steps with a metal railing. County tax records date the building to 1955 and the building is listed as vacant in the 1961 city directories. The earliest known occupants are Robert E. Page, of Page Plumbing & Heating Company, and his wife, Catherine B. Page.
County deed records do not show the Page family as owners of this property.  The legal description states North Carolina College Project.  According to a neighbor, this house was moved from George Street on the North Carolina College campus to this location.  When the house was moved, it was much smaller and was a stucco house.  Once the house was in place, it was enlarged and the stone veneer added.  I have been unable to locate records about the move or the renovation.
The earliest verifiable records about this property show that Thomas A. Allen and Clarence Geraldine Allen and owners and occupants in 1974.  Mrs. Allen died in 2011 with Monica Lynn Allen Bowen as executor of her estate.  On July 27, 2015, Monica Lynn Allen Bowen and Kimberly Jaye Allen conveyed the property to Kimberly Jaye Allen.
In the summer of 2020, this house sustained major fire damage.  As of December 2020, there was no evidence of repairs being made to the structure.