35.971164373907, -78.902134996167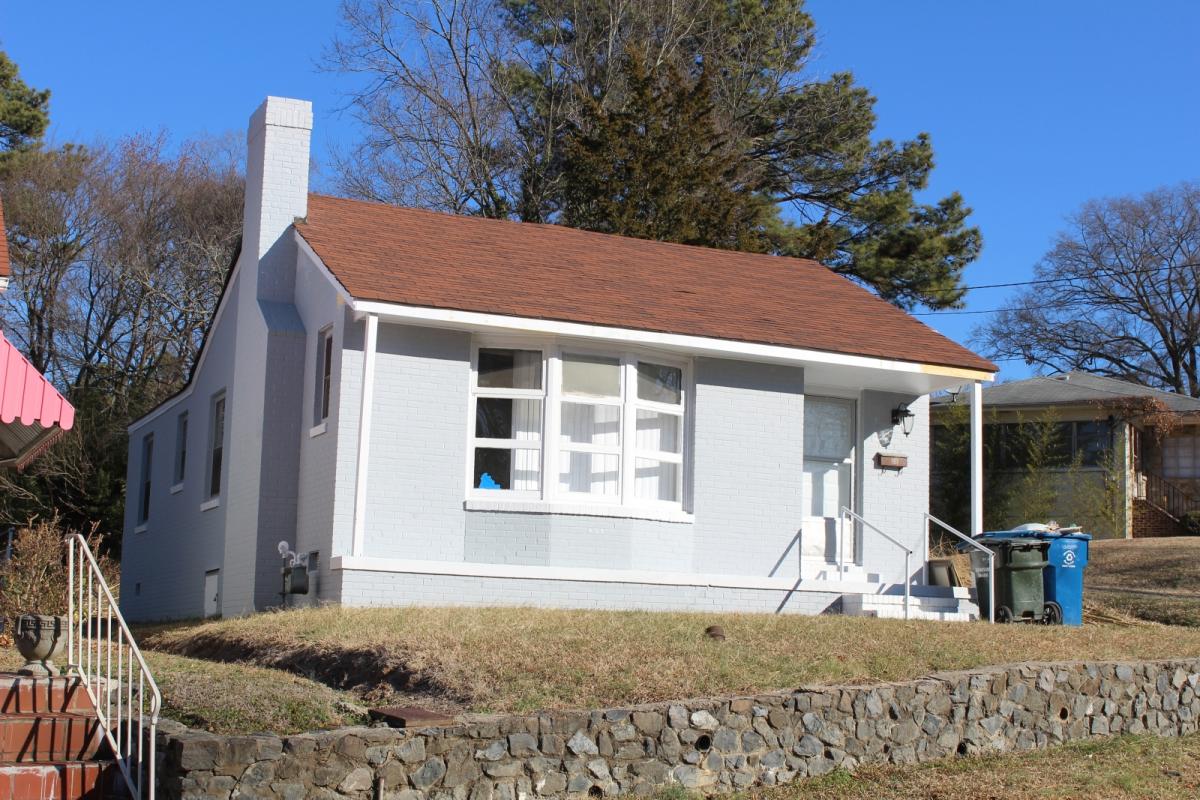 Photograph taken by Cheri Szcodronski, National Historic District Submission, January 2018
With a distinctive nine-light bay window on the left side of the façade, this one-story, side-gabled Ranch house is two bays wide and four pile, due to a full-width gabled rear wing. The house has a painted brick veneer, flush eaves, and two-over-two horizontal-pane wood-sash windows on the right (east) elevation. A replacement six-panel door is located in an inset bay on the right end of the facade and is sheltered by a shallow inset porch supported by a square post at the outside corner. The porch floor continues as a shallow projection across the entire façade. An exterior brick chimney on the left (west) elevation is flanked by small, four-light wood-sash windows. There is an interior brick chimney in the rear wing and a three-light-over-three-panel door on the right elevation of the rear wing. A stone wall extends across the front of the property and there is a prefabricated metal shed at the rear. County tax records date the house to 1953 and the earliest known occupants are Jason M. Husband, a machinist at Liggett & Myers Tobacco Company, and his wife, Laura S. Husband, a cashier at Center Theatre, in 1955.
According to County Deed records, Jennie Hayes conveyed this lot to Walter H. Hayes on October 8, 1940.   Walter Hayes and his wife, Roberta C. Hayes sold the lot to Lillian E. Husband and William Husband.  Property records do not show the transfer or sell to Jason and Laura Husband.  The relationship of the Husbands is not indicated.  The 1955 City Directory shows Jason and Laura Husband as owners of the property and the 1960 City Directory does as well.  Interestingly, the 1960 Directory also shows Jason and Laura Husband as owners and occupants on Dunbar Street.  Reviewing county deed documents, it appears that the house was vacant for long periods of time. 
On March 5, 2019, Tobacco Road Realty LLC sold the property to Mohammed Rahim Juman, who is the current owner. .