35.973265627923, -78.901877504101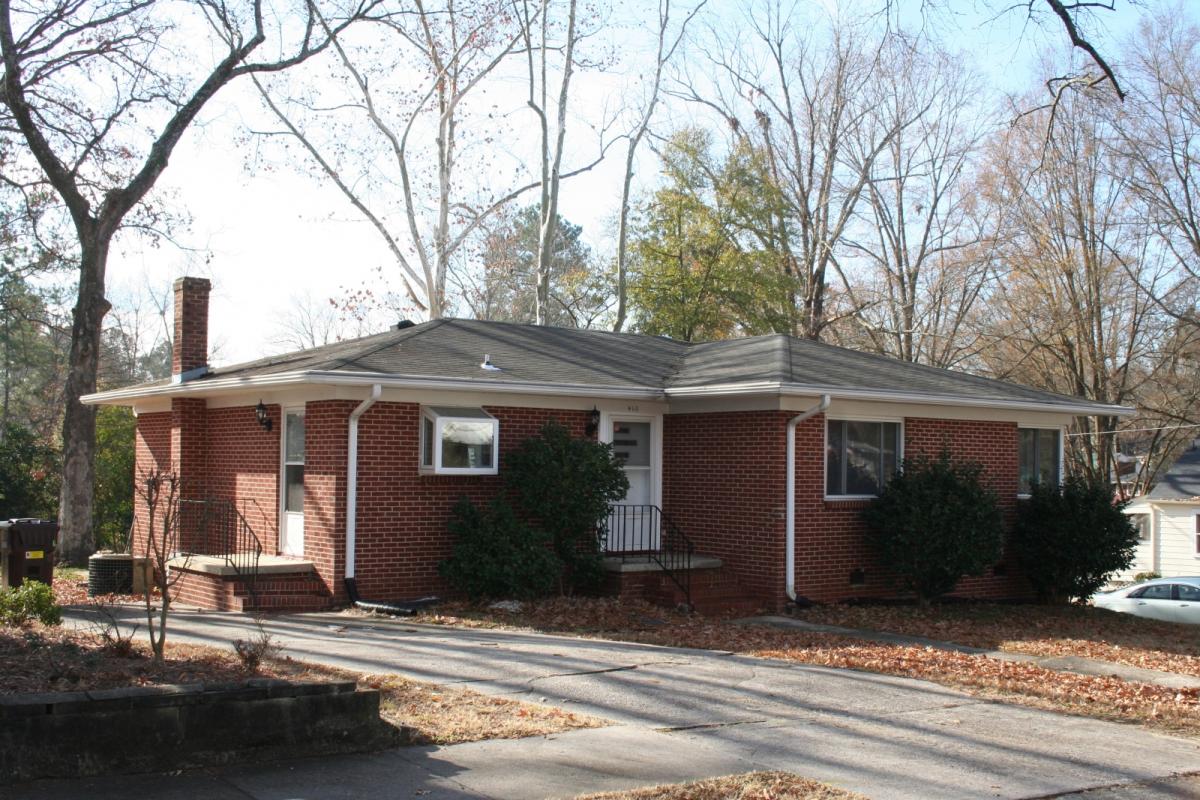 Photograph taken by Heather Slane, National Historic Register Submission, December 2017
Typical of 1950s Ranch houses, this one-story, hip-roofed house is four bays wide and double-pile with a projecting, hip-roofed wing on the right (west) end of the façade, resulting in an L-shaped plan. The house has a brick veneer, deep eaves, and vinyl windows with rowlock sills throughout, including windows that extend all the way to the corner at the right end of the projecting front wing. An original solid wood door with three horizontal lights is located to the left of the projecting wing and is accessed by an uncovered concrete stoop with brick stair. A later garden window is located on the left (east) end of the façade. The left elevation features a second entrance with matching stoop and an exterior brick chimney. A basement level on the right elevation features a three-light-over-two-panel door and a vinyl overhead garage door, accessed from Duncan Street. Sliding patio doors on the left end of the rear elevation (southeast) are accessed by wood steps. County tax records date the house to 1955 and the earliest known occupants are William H. Cole Jr., Supervisor of Music for Durham County Schools, and his wife, Olivia W. Cole, clerk at NC Mutual Life Insurance Company, in 1960.
North Carolina Mutual Life Insurance Company sold the lot to William H. Cole, Jr. and his wife, Olivia on November 1, 1944.  On August 5, 1955, the property line was resurveyed and a strip of the southern end on Duncan Street was transferred to E.L.Totten at 2105 Duncan Street.
Prior to becoming Supervisor of Music for the Durham County Schools, Mr. Cole was the music teacher at Merrick Moore High School.  In the neighborhood, as well as around the city, his nickname was "Lanky" for his height, or "88 Keys" fo his masterful playing of the piano.  The Coles liked to entertain and frequently had gatherings at their home for neighbors and friends.  Mr. Cole played with various local jazz bands as well.
After the deaths of Mr. and Mrs. Cole, their niece, Doris Cole, inherited the house and lived there until 1998.  The house remained vacant and was sold on February 1, 2017 by Belle B. Cole, via power of attorney, to Collaborative Properties, LLC.  The house remained vacant because it needed major repairs to the interior and plumbing system.  Collaborative Properties, LLC rehabilitated the house and rented it to tenants in 2019.