35.973617290243, -78.902102824038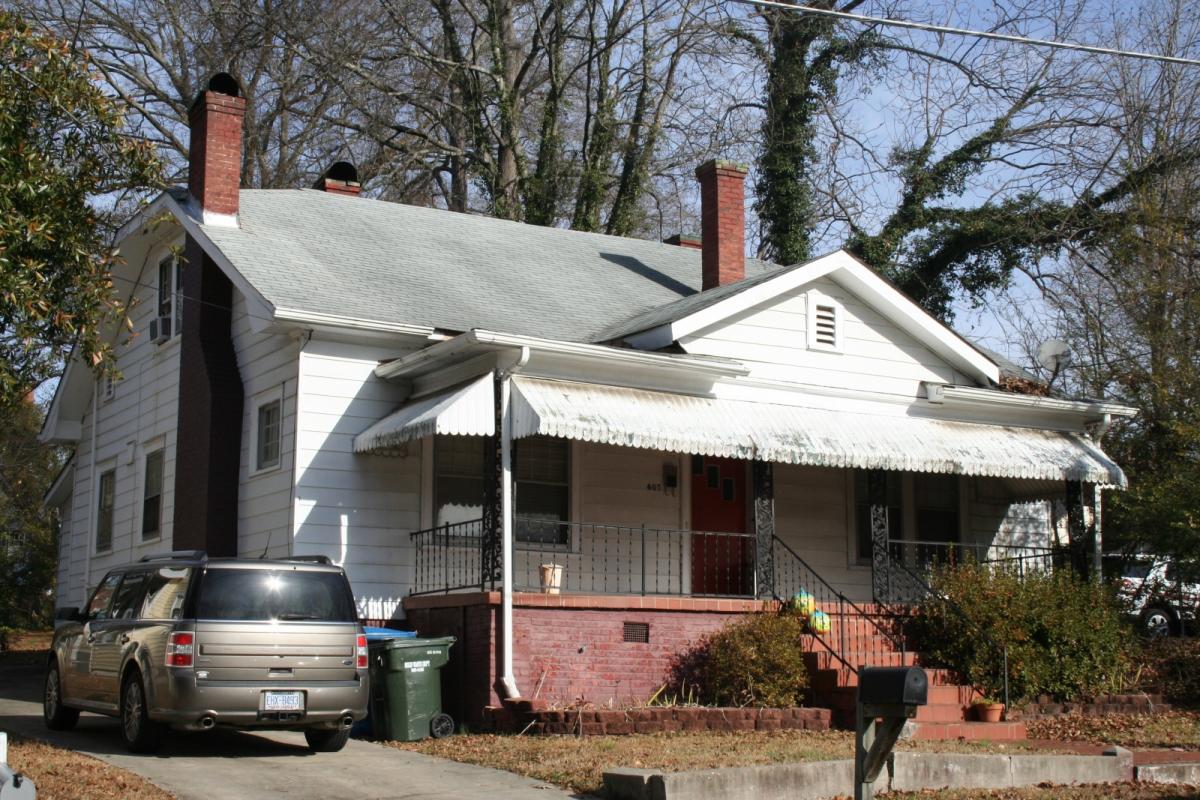 Photograph taken by Heather Slane (hmwPreservation) for National Register application, December 2017
This one-story, clipped-side-gabled bungalow is three bays wide and triple-pile. It has aluminum siding, nine-over-one wood-sash windows, and three interior brick chimneys. The entrance, a solid wood door with three lights, is centered on the façade and flanked by paired windows. A wide, hip-roofed porch has a gable at the center bay and is supported by decorative metal posts with a metal railing, shaded by later aluminum awnings, and accessed by a centered brick stair with metal railings. There is a rectangular louvered vent in the porch gable. An exterior brick chimney on the left elevation is flanked by nine-light wood-sash windows and there are paired six-over-one windows in the side gables. There is a small, shed-roofed dormer on the rear (north) elevation and a shed-roofed wing, likely an enclosed porch, at the left rear (northwest). The earliest known occupants are William H. Shearin, a laborer, and his wife, Aurelia N. Shearin, clerk at Royal Knights of King David, in 1930.
Even though City Directories in 1928 and 1930, show William Shearin and Aurelia Shearin as residents of this property, deed records show that C. J. Gates purchased the house on August 4, 1928 from H.L. Wilson.  The 1940 City Directory shows Mr. Gates as the owner and resident of this house.  Caswell Jerry Gates was a prominent civil rights attorney in Durham and practiced for over 43 years.  He and his first wife had one daughter.  In 11938, he argued a case on behalf ofEllen Harris after she was arrested in Durham because she refused to giveher seat on a bus to a white man.  The decision was then appealed to the N..C. State Supreme Court and Attorney Gates was successful in getting the decision reversed.  He collaborated on numerous cases with other College Heights attorneys on several civil rights cases.  He was one of the first African Americans to serve as a delegate and attend the North Carolina State Democratic Convention in 1950.  Mr. Gates died on August 3, 1970.
On August 13, 1997, Donald G. Webster (executor of the Isabel Gates Webster estate), Donald E. Webster and wife, Susan Nix Webster, Karen Elaine Webster, and Michael Gregory Webster, sold the hose to Jerry Greene.  On December 17, 1999, Jerry B. Greene and his wife, Angela Greene sold the property to Torraine A. Williams.  Since that time, the house has been a rental investment with several tenants.
Caswell Jerry Gates, Carolina Times, August 8, 1970