A bounce back to the east side of town today for a shout-out to my friends in the Cleveland-Holloway neighborhood who temporarily averted the demolition of a great little Craftsman house is their neighborhood, 407 Ottawa St.


407 Ottawa, 1970s
(Courtesy NC State Historic Preservation Office)

Much of Cleveland-Holloway away from the main streets was developed in the 1920s and 1930s, thus the Craftsman bungalow is a common housing type, with multiple gables, large, unadorned brackets and multi-light windows. Per the National Register listing for this house:
This one-story, cross-gabled Craftsman bungalow is three bays wide and quadruple-pile with a partially engaged front porch. The house rests on a brick foundation, is covered with vinyl siding, and has an asphalt-shingled roof. The soffits and brackets in the front and side gables are also covered with vinyl. Beneath the vinyl, German-profile wood siding, scooped rafter tails, and knee brackets are visible. The house has Craftsman-style nine-over-one windows with a large center pane surrounded by smaller lights. The gabled porch roof is supported by battered posts on brick piers with concrete caps, joined by a replacement rail. The first known resident is Vance O. Isenhour (office manager, Interstate Telegraph & Telephone Company) in 1929.

This fine little example has had a repair-only order placed on it by Neighborhood Improvement Services for housing code violations and began fining the owner. The owner in this case is actually a trustee for an estate. In our housing violation system, an expedient way to make the fines stop is to demolish the house, which is what this trustee opted for.

Only because a neighbor happened to be home from work yesterday was the big yellow piece of equipment noticed before demolition began.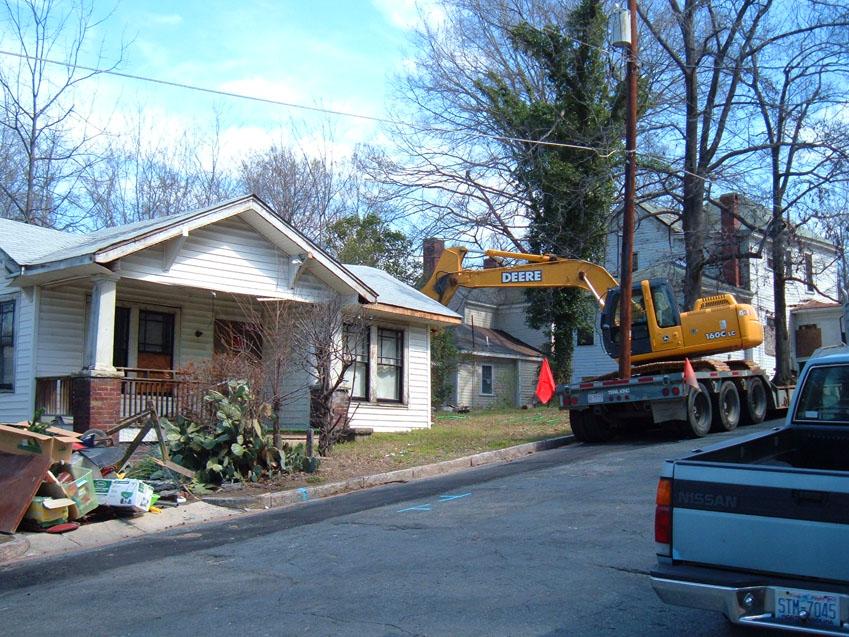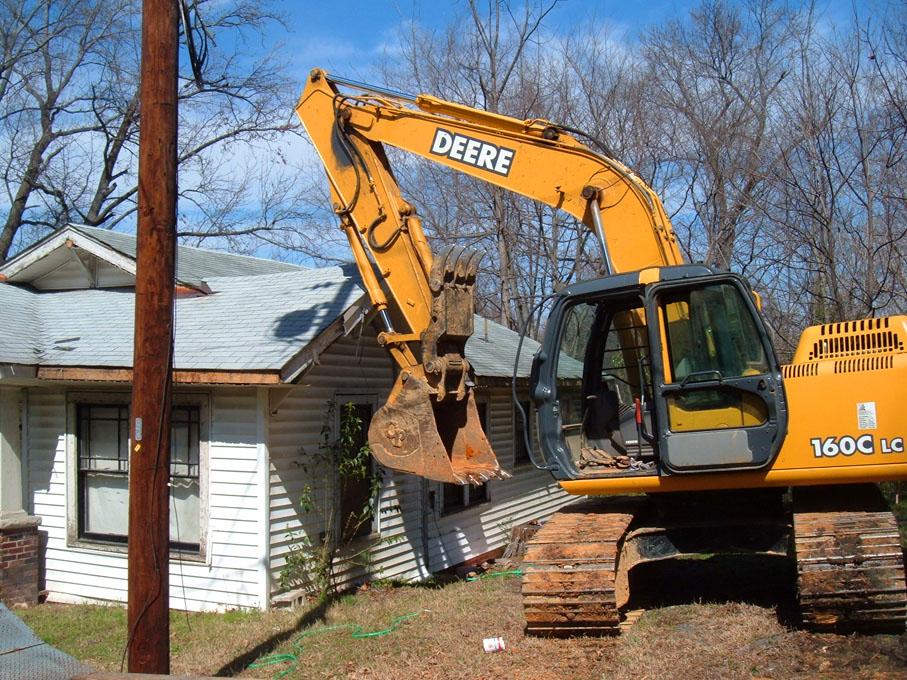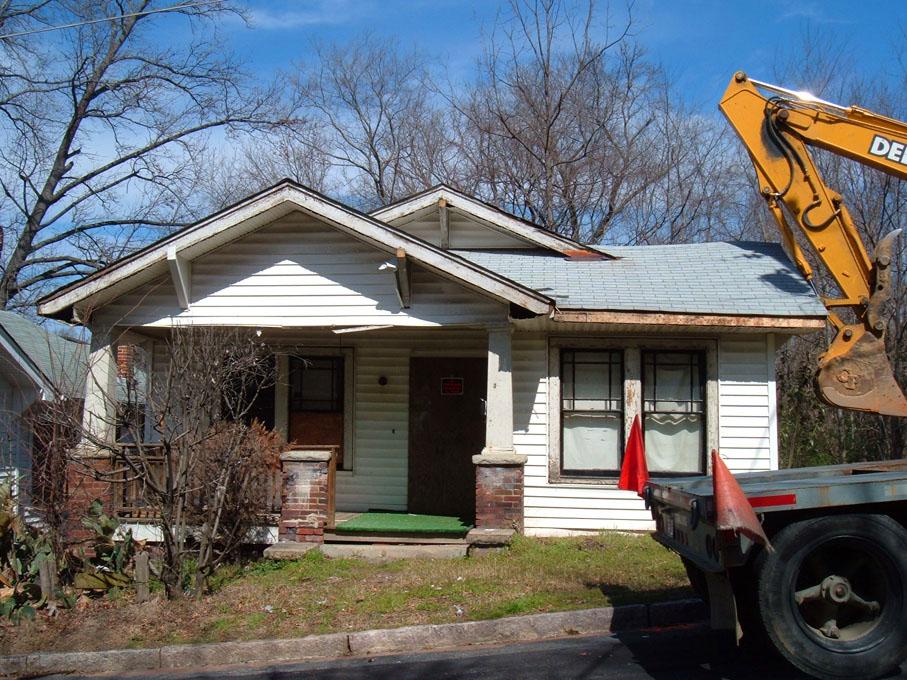 After all matter of pleading and reinforcements and press, the neighbors prevailed upon the demolition company - to the tune of $900 - to go away.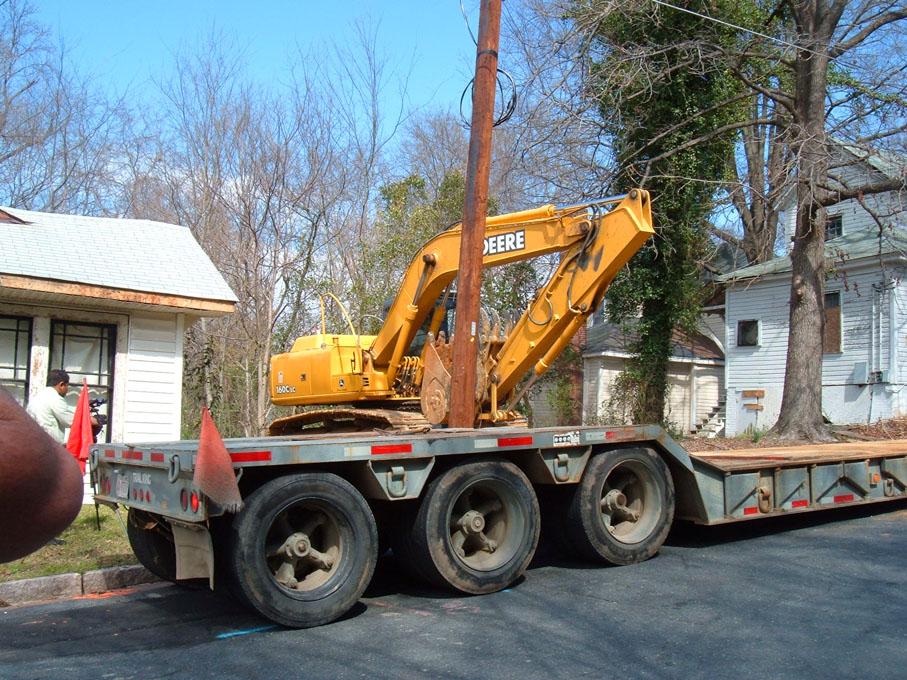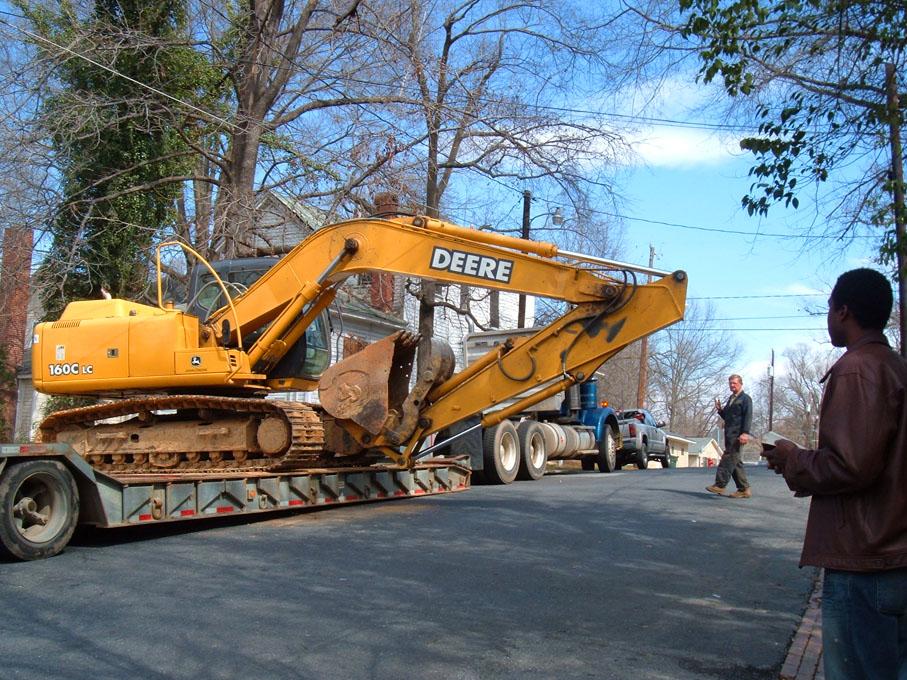 You'll notice in the background of several shots the back of 501 Oakwood, another house that the neighborhood rallied to save from the city bulldozers.

These people care so passionately about the preservation of their neighborhood, they are willing to personally sacrifice to ensure its viability - a viability that is still threatened on all sides. One neighbor has called up the trustee and offered to pay him $10,000 for the house - primarily to prevent it from being torn down. (I'm sure she doesn't really want another house.)

To be clear, these weren't city bulldozers this time. But the city - council- needs to do more to protect the integrity of the historic areas of our city. This portion of Cleveland-Holloway is not yet a local historic district, although they are working hard to become one.

And that's just it - the citizens, all of whom have jobs and lives to live are required to fight tooth and nail to simply keep the neighborhood they have. The onus is on them, rather than the city making proactive efforts to have preservation be a priority. The departments will say "we can't do [whatever]" - and it's true, because the leadership of this city does not promote historic preservation. My understanding is that the mayor's appointee position on the Historic Preservation Commission has sat vacant for - a year? Members of the council want to eliminate property tax reductions for individual local landmarks. The Historic Commission has been disempowered by a city finding that, if NIS deems a property unsafe, demolition permits can be issued without the consent of the HPC.

Why must citizens like those in Cleveland-Holloway swim upstream constantly to save their neighborhoods? Why is the quickest and easiest way for a property owner to deal with fines from code enforcement to proceed with demolition? Why isn't the city leadership their partner, by creating city policy that protects these resources - rather than making the barriers to preservation ever-harder to overcome?

I come back to the city, because they are the only ones who have sufficient power to change this paradigm. Neighbors need more than shrugged shoulders when faced with demolitions that would permanently scar their neighborhood.

Update: This house and its twin neighbor were save, renovated and are happily inhabited.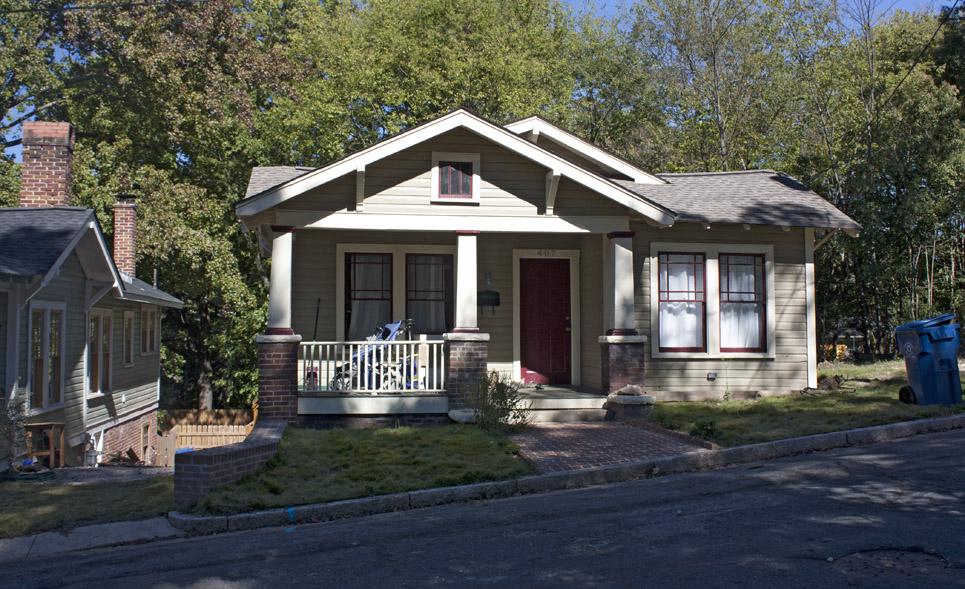 407 Ottawa, 10.22.10