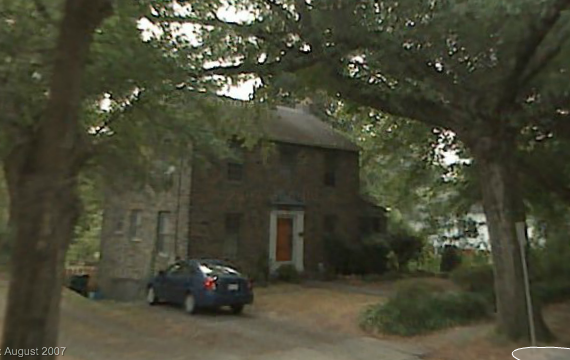 (Below in italics is from the 2004 East Durham National Register listing; not verified for accuracy by this author.)
Hurley Parrish House. 2-story side-gable Colonial Revival-style house of random- coursed stone rubble, with a gable end chinmey and 6-over-6 sash windows with flat arches. The entrance has a fluted pilasters and a classical pediment. On the south side is a screened shed porch. The house occupies a large lot. 1935-40 CDs: Hurley Parrish owner/occupant (mgr. East Durham Branch, The Fidelity Bank). 
This is one of the more unique homes built in East Durham. Colonials, in general, are a rarity, and the stone facade further sets it apart from the wood frame bungalows in the neighborhood. There are a few stone homes off of Vickers near Forest Hills that come to mind that are of similar construction. During the 1930's the home was owned by Hurley Parrish (fantastic name), who was the manager at the Fidelity Bank down the block(fantastic building). 
In Hill's Durham City Directory from 1935, Hurley I. Parrish is listed at being the resident at 410 N. Driver St., and the East Durham Historic District inventory lists this house as 410, but according to both google maps and Durham County tax records, #410 does not exist, and the house number of the photo above is now 406 N. Driver St. 
Hurley Irwin Parrish was born on December 12, 1895 and lived until November 21, 1965. He was married to Lily Mae Pickett Parrish and they are both buried at the O'Kelly Chapel Christian Church Cemetery down 751 on the way out of town. They are two of the "freshest" graves in the cemetery, which is filled with prominant Durham Methodist families from the 1800's and early 1900's. 
I wonder if Mr. Parrish walked to work on a sunny day? It's a straight shot 7 block walk down Driver Street, which, back in the day, was a main commercial district. Coming at him from the opposite direction every morning  would've been school children on their way to East Durham Junior High, which is directly across the street from the house (now called Holton Center).  He would've passed grocers lining up produce at the market, the firemen washing their truck, the ladies gossiping outside the five and dime, the postman loading up at the post office. Driver Street was a happening place.