35.971685351193, -78.901373248807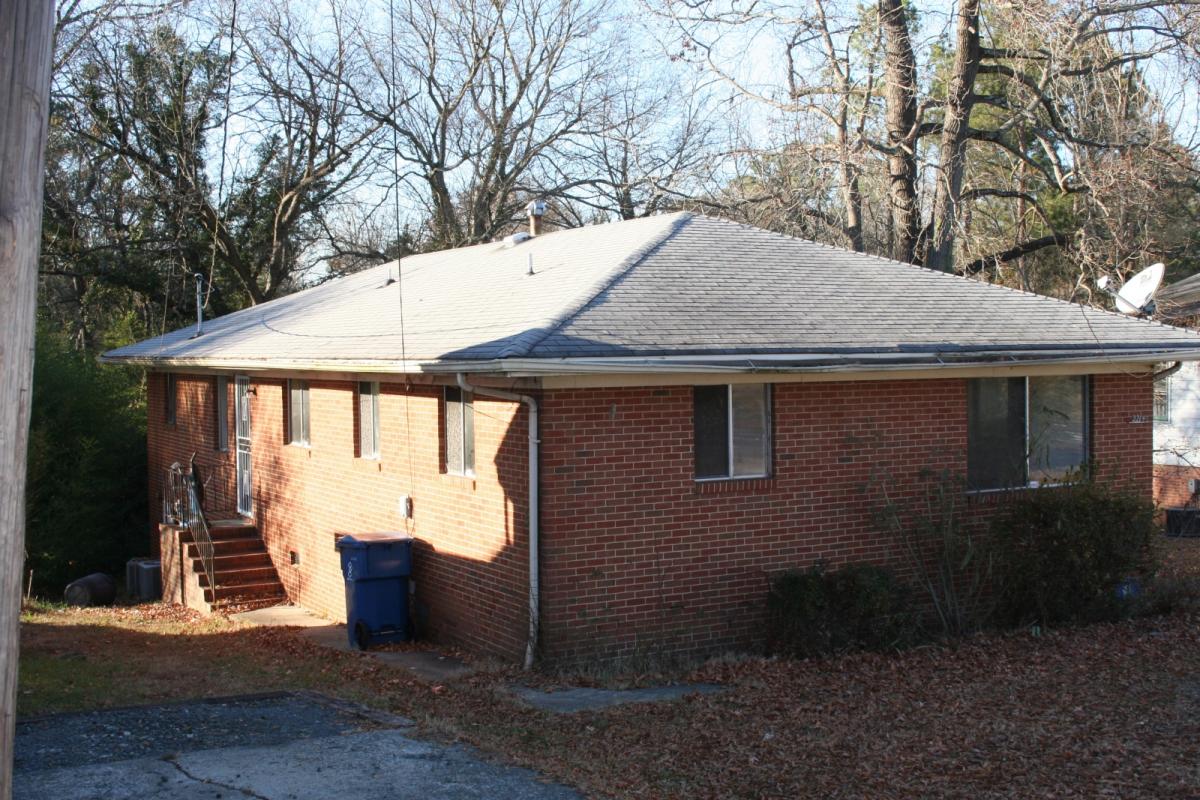 Photograph taken by Heather Slane, National Historic Preservation Submission, December 2017
This one-story, hip-roofed brick duplex is oriented to face north with the left end facing Fayetteville Street. The building is six-bays wide with a projecting, hip-roofed wing on the right (west) end of the façade. It has aluminum slider windows throughout and three doors, each a solid wood door with three lights, two on the façade and one on the left (east) side of the front wing. The doors are sheltered by a shallow, flat-roofed porch supported by decorative metal posts. An entrance at the rear (south) elevation is accessed by an uncovered brick stoop. The earliest known occupants are Raymond Williams, a defense worker, and his wife, Patty G. Williams, in 1945.
County deed records show T.A. Grady and his wife, Dovie B. Grady sold this lot to Raymond Williams and wife, Pallie G. Williams.  On March 2, 1962, Raymond Willaims sold the property to Samuel F. Gantt.
Reverend T.A. Grady and his wife, Dovie B. Grady were the parents of Alvis O. Grady, Sr. of 420 Nelson Street.  Reverend Grady was one of the founders, as well as pastor, of Ebenezer Baptist Church, then on Glenn Street.  T.A. Grady Commmunity Center on Lakeland Street was named in his honor.
As a child, I remember this property being Bowman's Grocery Store.  In the 1950 and 1955 City Directories, the store's address is listed as 2208 Fayetteville Street, indicating a  property number change.  The 1960, 1962, and 1963 City Directories show the address of the store listed as 2214 Fayetteville Street.  It was not a duplex.  Deed records do not show when it was converted into a duplex or renovated.  The store was a frame structure.
Mr. Raymond Williams converted this building to a duplex, after he purchased it, at a later date.  The property remains in the Williams family and is residential investment property.